To fully enjoy all Cancun offers, you must get proper transportation to and from the city. Uber is a convenient way to get around in the US, so you might wonder if it's also cheaper to use in Cancun instead of taxis. 
It is generally more expensive to take a taxi than an Uber. However, for short rides, Uber can be as low as around 1 to 2 USD within the hotel zone. Since a dollar is equivalent to around 20 pesos, you can expect around 20 to 40 pesos which is cheaper than a taxi.
When visiting Cancun, you should know that a taxi union compromises the Uber service in the city. As such, it's best to avoid Uber rides despite being cheaper than a taxi. However, don't worry since there are better alternatives, which we'll tackle as we go on.
Without further ado, let's get into it!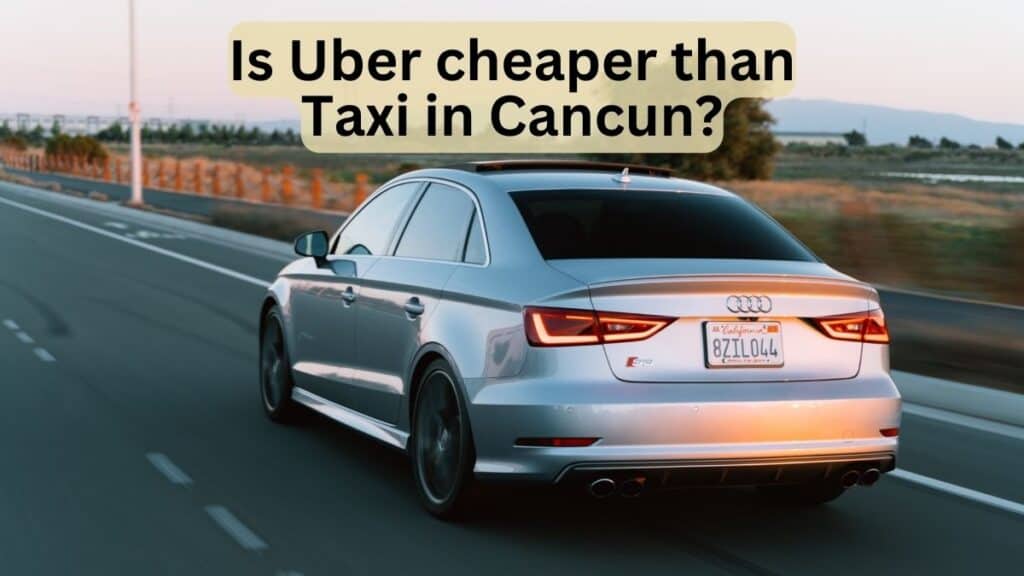 Is Uber Expensive in Cancun?
Ubers are relatively inexpensive in Cancun, especially when compared to taxis. In general, the fares for Uber in Cancun are lower than those in the US.
If it's your first time visiting Cancun and you wonder how Uber works in the city, read Does Cancun have Uber?
If you were to make a trip from the Cancun airport to Playa del Carmen, it would cost approximately 15 to 20 USD (to give you an idea). So you would have to pay around 40 USD for the same ride in the US.
Best Alternatives to Uber in Cancun
While Uber has been trying to provide its services throughout Cancun, some issues still need to be resolved; therefore, we advise against using this service.
Due to Cancun's airport location, Cancun travelers should opt to use bus service or book Cancun Airport Shuttle services. Or, you can also opt for private transfers through your hotel to reach your accommodation.
However, here are the best alternatives to Uber if you want to roam around Cancun: 
Bus (Most Recommended)
If you are staying in the Cancun Hotel Zone, you can take the local bus instead of Uber. A bus ride is the cheapest option since it costs only 8.5 Mexican Pesos (less than a dollar). If you plan to travel to Isla Mujeres, you can ask your hotel to arrange a service to pick you up at the nearby ferry dock.
Didi or Cabify
Besides Uber, similar services in Cancun are more economical than taxis. Among these are Didi or Cabify, which offer the same services as Uber. 
Taxi (Least Recommended)
Taxis are accessible in Cancun, and you'll find one on almost every corner. However, we only recommend such if you're in a rush. 
The reason is that taxis in the city are unregulated, and drivers tend to overcharge, especially when they see you as a tourist. 
From Cancun Airport (CUN) to Cancun Hotel Zone or downtown, taxis can charge high fares, around 10 to 16 USD.
The same thing applies to taxis at the airport. Since they are affiliated with the airport, the rates can be as high as 24 USD for up to three passengers or 8 USD per passenger.
Thus, we recommend riding a taxi only when necessary and haggling for the price to avoid overcharging.
If you want to know more about the safety concerns when riding a taxi, read Are Taxis Safe in Cancun?
What Is the Best Way to Get Around Cancun?
The bus is the most popular way to travel around Cancun. By bus, you can get to just about everything on your bucket list, including the Hotel Zone, the Boulevard Kukulcán Downtown, and the Avenida Tulum.
Cancun has an excellent bus system, and it's also cheap. As such, we recommend maximizing its use, especially when you're only staying in Cancun and will roam around the city most of the time. To know more, read our article about Taking a Bus in Cancun.
Can I Uber from Cancun Airport to Hotel?
The Cancun Airport doesn't accommodate Uber services, mainly because the Taxi drivers aren't keen on having competition around. 
Also, these taxi drivers protest these transportation services, saying it affects their income. As such, it's always best to ask your hotel to arrange an airport transfer.
This way, you will be able to reach your hotel upon arriving in Cancun. It's also best since taking a bus can be a hassle if you have lots of luggage.
Conclusion
While you may find Uber services in Cancun as a cheaper alternative to taxis, the complication and hassle it entails aren't worth it. Of course, you can always book an Uber whenever it's available. However, the bus will always be reliable if you want the best and cheapest way to move around the city.