Lanzarote is considered one of the best tourist destinations in the world. As a tourist, you can have the time of your life while vacationing in Lanzarote since there is so much to do and explore here.
While talking about things to do in Lanzarote, we cannot ignore the Jet ski experience. This amazing sport is for people above 18 years of age and can last for 20 to 120 minutes depending on your stamina and energy level!
If you want to try something different on your vacation, it is highly recommended to try this sport. There is no particular skill required to enjoy this experience, and you can go alone or with a partner.
In this article, I will talk about Jet skis, riding on jet skis in Lanzarote, renting charges for Jet skis, best places to rent Jet skis in Lanzarote, and a lot more. So, let us get started with this guide without wasting any further time.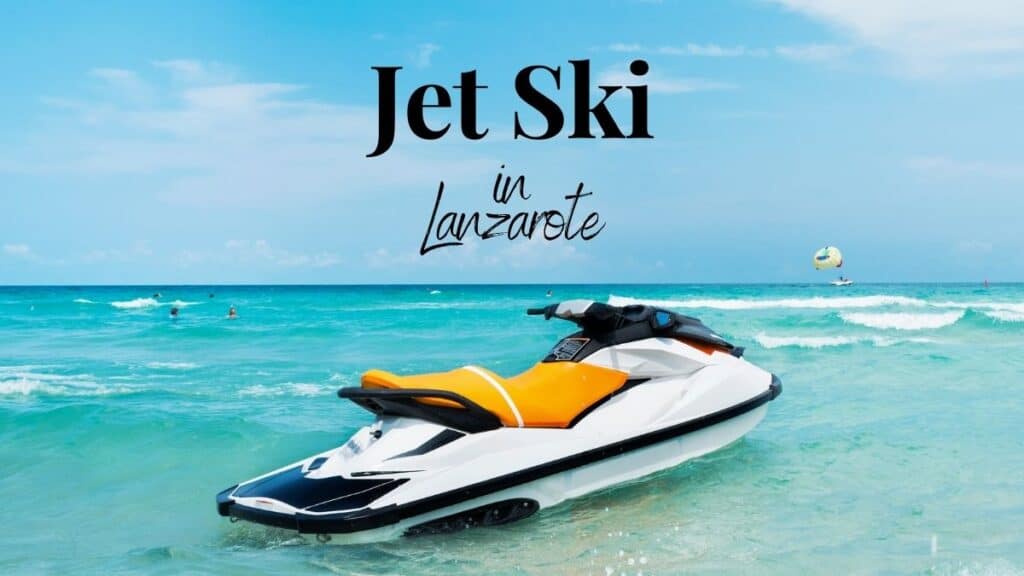 What is Jet ski?
Jet Ski is the brand name of personal watercraft designed and created by Kawasaki. Still, over time, the term Jet ski has generally referred to all kinds of individual and personal watercraft used for recreational purposes.
A Jet ski can sit 1-3 people on it and allow them to maneuver and ride over the surface of the water. Most beaches and tourist spots surrounded by water have jet skis you can rent and experience.
Over the past few years, the Jet ski craze has taken over other forms of personal watercraft likings, which is why you are going to want to ride a Jet ski with your friends and family when you are on an Island on the beachside.
Types of Jet Ski
Before going on a Jet ski ride, you must know what kind you are paying for. The types of Jet skis differ depending upon the size, capability, room, and a few other factors. Let us take a look at the three common types of Jet skis you might find near beaches in tourist hotspots.
Recreational
This is the most common type of jet ski. Recreation jet skis have room for 2 to 3 people and a low-powered motor capable of pulling tubes or a waterski. They are less expensive than luxury types and offer simple braking and reverse features.
Luxury
The name says it all. Luxury jet skis have a lot to offer. They are spacious and can fit three or more people on them. However, the main highlight is the set of features. These jet skis come with custom color schemes, speakers, GPS, adjustable steering, and powerful motors. Unfortunately, they are also on the more expensive side.
Rec-lite
Rec-lite jet skis are the most affordable of them all. They are usually meant for individuals and can quickly be taken from one place to another. The engines are low-powered, and the frames of these jet skis are light. So you can have a lot of fun with them even though they are pretty simple.
Can you jet ski in Lanzarote?
Lanzarote is one of the main Islands in the cluster of the Canary Islands, which the Atlantic Ocean surrounds. So, naturally, there are a lot of beaches in Lanzarote where you can find a lot of tourists almost all the time, especially in summers.
So, you can ride Jet skis when in Lanzarote. You will get multiple options, and you can choose to rent from whichever Jet ski company offers the best prices. You will have a great time riding Jet skis on the beaches of Lanzarote.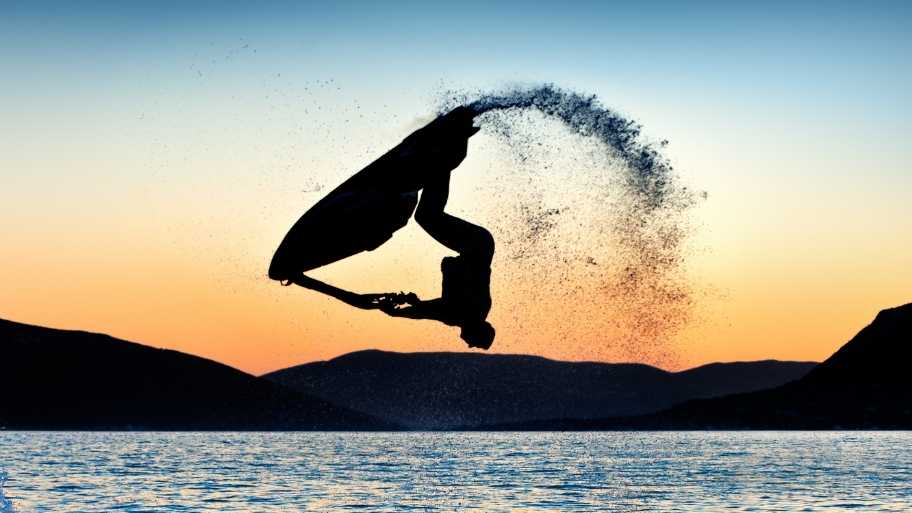 Standard Charges for Renting Jet Skis in Lanzarote
Different companies and renting service providers offer additional charges for renting their Jet skis. It also depends on what kind of Jet ski you want to rent and how long.
Usually, personal watercraft are expensive to rent and the maximum time suggested for renting a Jet ski if you are just at the beach with your loved ones is around 2 hours.
If we look at the average rent charges for 2 hours of a recreational Jet ski anywhere on the multitude of beaches in Lanzarote, the average rate turns out to be around 200 euros.
But that does not mean you cannot have the Jet ski experience for less than that. You can pay less if you use the Jet ski for lesser periods. For 40 minutes of riding, Jet skis can be rented for an average of 100 euros. So, getting a bit of the Jet ski experience is possible for everyone.
Best Places to hire Jet Ski in Lanzarote
So, you are thinking of riding Jet skis with your loved ones on the beaches of Lanzarote; Well, you might be wondering, what is the best place to rent Jet skis in Lanzarote.
If that is the case, you are lucky because I have made a list of the best beaches and places to find Jet skis and all the information you will need to have the best Jet ski experience on the Island. So, let us check them out.
Jet Ski in Costa Teguise
Costa Teguise is a small coastal town on the east coast of the Spanish island of Lanzarote. It is known to have excellent natural scenes and a lot of beautiful tourist spots. However, the best beach in the area is the Playa de Las Cucharas, also known as one of the leading water sports hubs in the Canary Islands.
If you want to have a fantastic Jet skiing experience in Costa Teguise, you will be able to. Several Jet ski and water sports companies offer these machines for rent there.
The typical duration of jet skiing in the Costa Teguise region is around 1 to 2 hours. The hotel's pickup and drop service are available, excellent service for tourists.
The average price of jet ski renting for around 1 hour in Costa Teguise is 100 euros, and in this price range, the recreational experience of riding a Jet ski will be enjoyable for you. So, whenever you are in the area, make sure you visit and have a great time there.
Read other fun things to do in Costa Teguise: Aquapark Costa Teguise, Lanzarote
Jet Ski in Puerto del Carmen
Puerto del Carmen is a resort town on the southeast coast of the island of Lanzarote and is one of the most beautiful places in the Canary Islands. It is home to sandy beaches like Matagorda and Playa Grande, where water sports are top-rated and common for residents and tourists alike.
If you genuinely want to experience something new and change the usual bar going and sitting on the beach, then renting a jet ski in the Puerto del Carmen region of Lanzarote will be a good decision for you.
You will have a fantastic experience and adventure with the jet skis available in Puerto del Carmen. The durations are available for Jet ski renting range between 20, 40, 60, and 120 minutes.
There are many different options for Jet ski lovers available as well. You can pick out which ones are best for you, from different colors to single and double jets. The prices are pretty reasonable. They start from 50 euros and then go up from there depending on how long you rent the Jet ski.
Read more about Puerto del Carmen here: Puerto Del Carmen – Lanzarote
Jet Ski in Playa Blanca
Playa Blanca is the southernmost town of the Spanish island of Lanzarote. It is the newest resort in the area and is incredibly beautiful. The Playa Blanca Beach is filled with fantastic water sports opportunities, including jet skis, safaris, ski buses, and flyboards.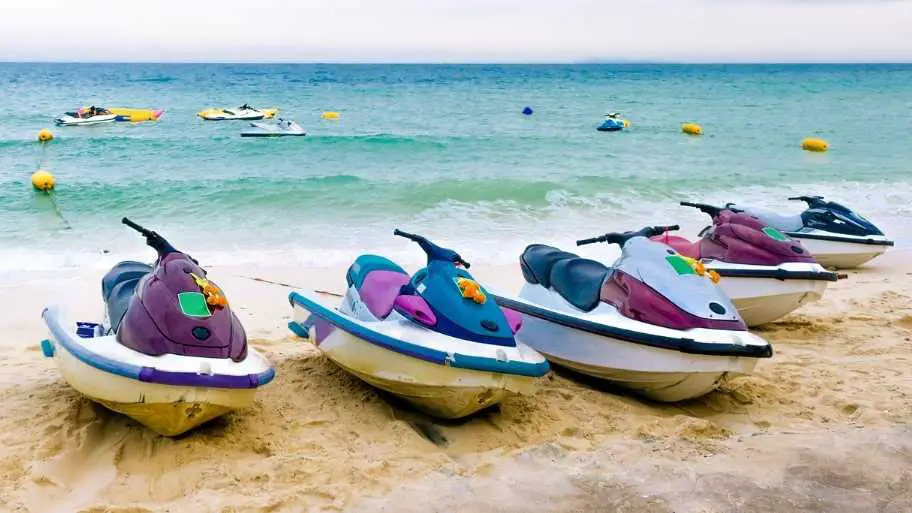 If you are looking for a great adventure and you want to mix things up and try out the Jet skis in this region of Lanzarote, you are going to want to head to Marina Rubicon because it is the place where you are going to find a lot of options for jet skis.
For people who want to experience fascinating speeds on the surface of water and thrill in their lives, the Jet ski rentals of Paracraft watersports in Lanzarote will be the perfect ride.
The rental jet skis are available in multiple colors and types, depending on size and capacity. As long as you are willing to spend a decent amount on the entertainment of your loved ones, you are going to have a wonderful experience checking out these Jet skis and riding around the shore for 1 to 2 hours. It will indeed be a wonderful experience where you will enjoy yourself with your loved ones a lot.
Read more about Playa Blanca here: Playa Blanca – «The White Beach»
Conclusion
Jet Skis are a primary source of attraction for tourists in Lanzarote. No matter which beach you are going to, you will be able to find excellent offers on Jet skis, and you will be able to rent them for your friends and family.
You might want to read this: Are there sharks in the Canary Islands?
The experience is going to be amazing. I hope you learned a lot from this article and that you will have a lot of fun riding Jet skis in Lanzarote. So, pack your bags and get ready for your next trip to Lanzarote!