When it comes to tourist attractions and water sports, Lanzarote is among the best Islands in the Canaries. One sport among them is trendy and amazingly thrilling and fun. Yes, you guessed it; we are talking about the Kitesurfing sport.
You might be wondering where you should go in Lanzarote to have an excellent time with kitesurfing. If that is the case, you are in the right place because that is what I am here to tell you.
In this article, I am going to talk about kitesurfing, the equipment required for it, rental charges for Kitesurfing in Lanzarote, along with a list of the best places for kitesurfing and other water sports on the Island of Lanzarote.
So, let us get started with this guide without wasting any further time.
What is kitesurfing?
Kitesurfing is a kind of extreme water sport where the kiter utilizes wind power with the help of a large kite to be pulled on the water with a surfboard. This sport is an advanced level one and amalgamates several different water sports.
It combines the aspects of paragliding, surfboarding, wakeboarding, windsurfing, and even skateboarding. The experience is incredibly thrilling and entertaining. If you have experience, you will have a great time wherever you go.
If, however, you are a beginner, getting a bit of practice and guidance would help because you might face difficulties without any coaching. The sport itself is not costly, but you will have a good time.
The kitesurfing sport is becoming very popular with time, and more beaches and tourism spots worldwide offer rental kitesurfing services. So, I suggest you do not knock it until you try it yourself.
Equipment required for kitesurfing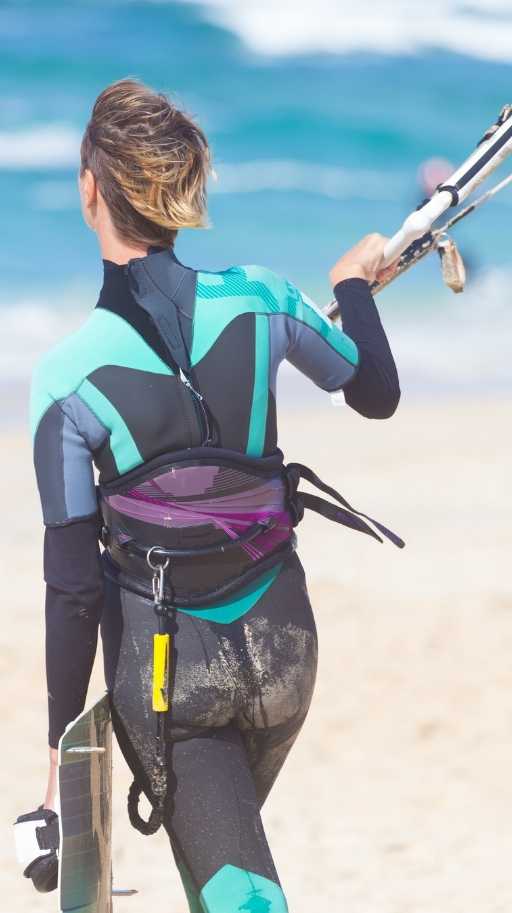 Kitesurfing is a sport that requires a lot of equipment if you want to own one yourself. So, if you are thinking of getting into the sport, here are the things you will need to start your journey.
Kite
The essential equipment required for kitesurfing, without which it will not be possible to do this sport, is undoubtedly a power kite. Make sure the kite is not torn in any place and does not have any holes or leaks in it that might damage the overall experience or create safety issues for you while playing this sport.
Seat Harness
Although it is not required for a professional, you must use a seat harness for safety if you are beginning with your kitesurfing journey. It ensures that you stay in your place and do not accidentally trip over and injure yourself.
Bar
The bar is crucial. It would help if you made sure there were no cuts in the lines. Starting with a bar with five lines is good because it allows you to learn how to relaunch.
Safety Leash
Without using a safety leash, you are not going to want to go into the water for kitesurfing. So whether you are a professional or a beginner, safety leashes are crucial.
Kitesurfing Board
The last and most crucial element of kitesurfing is a kitesurfing board known as a door board. A board with a larger surface area would be better for beginners because it will be easier to balance. So, make sure you get the right board for yourself.
Is Lanzarote good for kitesurfing?
Lanzarote is a tourist location that has it all. Especially if we talk about water sports, there are a lot of opportunities in Lanzarote. You might be wondering, is Kitesurfing a thing in Lanzarote or just something that people want to do there.
Well, you will be pretty happy to know that Lanzarote is very famous for being a kitesurfing hub. There are a lot of different beaches where you can kitesurf and have a great time. So, you would want to head to Lanzarote and kitesurf with your loved ones.
Kitesurfing Rental Charges in Lanzarote
If you do not have a kitesurfing kit for yourself, but you still want to experience the sport on the Island of Lanzarote, renting kitesurfing equipment on the beaches is a perfect option for you.
The rates for kitesurfing rentals are not that high if you have a bit of the equipment with you. However, if you only need the kitesurfing board and harnesses, it will set you back around 20-30 euros on average.
But if you do not have any equipment, the rates will be a bit higher. The hourly rate for renting kitesurfing equipment in Lanzarote on average is around 30-40 euros. The rate might offer better value as duration increases and whatnot.
Best Kitesurfing Spots in Lanzarote
If you are thinking of having a great time kitesurfing with your friends and family, there are a lot of spots in Lanzarote where you can go. Lucky for you, I have made a list of the best kitesurfing spots in Lanzarote. So, let us check them out.
Famara
Famara is the central mountainous massif located north of the island of Lanzarote in the Canary Islands. The mountains are located on the shore of a large body of water, where tons of water are sports opportunities for tourists and residents.
People from all over the Canary Islands come to Famara for Kitesurfing. Therefore, Famara is also known as the home of kitesurfing. The winds on this part of the island are very consistent, so kitesurfing is prevalent in this region.
If you want to come to Famara with your loved ones to kitesurf, you will have a great experience because the price of renting the kitesurfing equipment is not that high and the conditions are ideal for surfing. So, have a great time there.
Costa Teguise
On the east coast of Lanzarote, Costa Teguise is a small resort area known for its fantastic sandy beaches. The best thing about Costa Teguise is that it is considered one of the leading water sports hubs in Lanzarote, which is perfect for kitesurfers.
The beaches in Costa Teguise are tremendous, and the winds are also pretty heavy and unique. You will find a bunch of great rental places where you can get kitesurfing equipment and training from. It will indeed be an excellent experience for you.
The prices of renting equipment in Costa Teguise are a bit expensive, but it will be worth your while. Make sure you take your loved ones to Costa Teguise with you if you are thinking of kitesurfing because you are going to make unforgettable memories that you will always cherish as you splash the water around you and have a thrilling kitesurfing experience.
If you are at Costa Teguise, you should visit: Aquapark Costa Teguise, Lanzarote
Puerto del Carmen
Puerto del Carmen is a resort town on the southeast coast of the island of Lanzarote in the cluster of the Spanish Canary Islands. It is home to a bunch of fabulous sandy beaches. There are a lot of great fun and exciting things you can do in Puerto del Carmen.
There are a lot of companies offering rental kitesurfing equipment and even places that sell the equipment. So, whether you are a beginner or a professional, you can get your particular fix of kitesurfing equipment so that you can have a great time there.
Puerto del Carmen is one of the loveliest places. Visiting Puerto del Carmen with your family and friends and then having the kitesurfing experience there will be simply excellent for you. So, make sure you get that experience when you are in Puerto del Carmen.
Read more about Puerto Del Carmen here: Puerto Del Carmen – Lanzarote
Playa Honda
Playa Honda is one of the most perfectly placed locations for tourists in Lanzarote. It is located right in the center of the island, has a lot of tourist spots, a lovely beach, and tons of opportunities for several water sports, including kitesurfing.
This area is famous for kitesurfing because the conditions are excellent and the water is pretty nice. The beach is filled with many tourists in the summertime because the water is not as cold as it gets in the winters.
The winds in the summertime are also pretty good, so people tend to bring their kites and even rent kites for surfing near the beach.
Whether you are a beginner or a professional at Kitesurfing, Playa Honda will serve as a proper location for your experience. The prices depend upon the time duration you will rent the equipment, so make sure you get the best deal for yourself.
Conclusion
Some people may not have heard about this unique sport called kitesurfing, but they will be delighted to learn that it is an enjoyable and exciting sport. You will want to go kitesurfing all the time if you try it out once on the Island of Lanzarote with your friends and family.
Remember to read this article: Are there sharks in the Canary Islands?
It will surely be a wonderful experience, and you will learn a lot of skills through this sport. And the best thing, it is legal to practice this sport in Lanzarote.
Want more fun? Check out this article: Jet Ski in Lanzarote – Best Places to Rent
I hope you learned a lot from this article and that you will try out kitesurfing when you are touring the Island of Lanzarote. So, pack your bags and get your loved ones ready for a fantastic trip to Lanzarote and get prepared to have a great time!
Want more? Read the best places for regular surfing here: Canary Islands Surfing – The Best Places