Menorca is the second-largest island in the Balearic Islands archipelago and is also quite well-known for tourism and owning fantastic tourist attractions to attract people from around the world everywhere.
But when it comes to touring any place in the world, the most crucial question that people have is how is the weather there? So, how good is the weather in Menorca?
In this article, I'm going to talk about the weather in Menorca through different months of the year, how hot Menorca gets throughout the peak, comparison between the weather in Mallorca and Menorca, and the temperature in different regions of the Island as well as the best time to visit Menorca. 
So, without wasting any further time, let's just get started.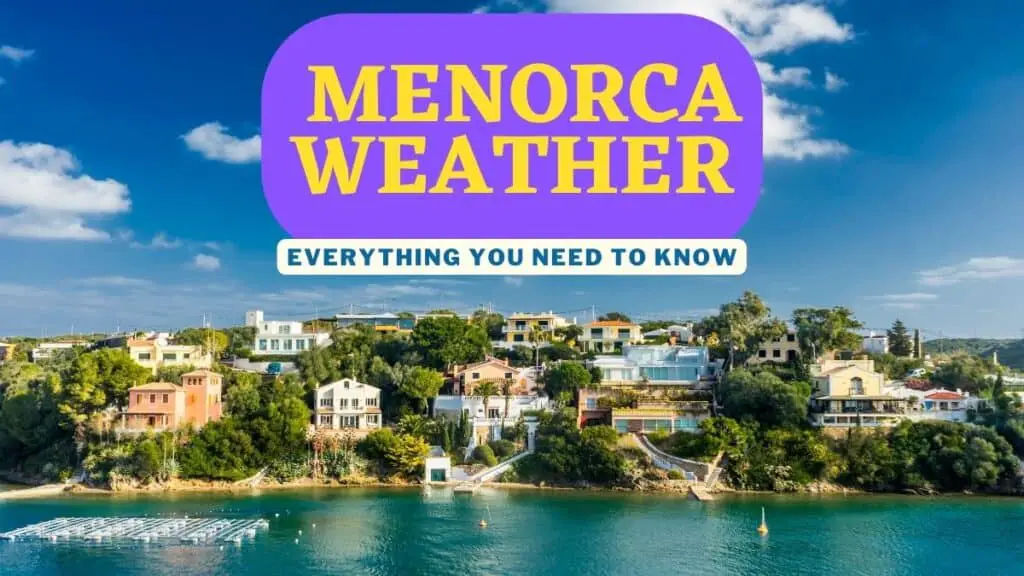 Menorca Weather by Different Months
Even though Menorca is warm throughout the year most of the time, the weather is colder than others when it comes to some months. So, let's take a look at the weather in Menorca throughout the year in different clusters of months and see how the Island behaves for tourists.
January to March
January starts as the wettest month of the year, with a cold temperature of around 13 °C (55 °F) on average. In February, the weather is still cold, and there's not much difference.
Right around March is when the weather starts getting a bit warmer, with an average temperature of around 16 °C (61 °F), so if you're thinking of visiting Menorca in this cluster of months, you need to be prepared for cold weather and less sunshine time. 
Other than that, the beauty will still be just as captivating as ever.
April to July
This cluster of months is when Menorca is perfect for visiting simply because it isn't peak summertime and there aren't many tourists while the weather is pretty amazing anyway.
In April, the weather starts getting a bit humid, while in May, the average temperature is around 20 °C (68 °F) which only increases in June. Finally, in July, the hottest month of the year, it gets to about 25 °C (77 °F) on average. 
So, the appeal is there if you're a sunshine and warmth lover and you want to visit the Balearic Islands. 
August to September
Although peak summertime is over, the weather is still pretty hot in August. The average is around 22 °C (72 °F), and as the year passes on to September, you can still expect pretty decent weather in terms of sunshine and warmth.
Visiting at this time of the year won't be a bad idea either since the peak tourism season would've just ended, and there would be fewer tourists all around. So, if you want to visit Menorca between August and September, you can get your loved ones to go there. 
October to December
The Winter season is finally arriving in Menorca. This winter won't be the typical one you might see in other regions of the world. In October, the weather starts getting colder, with an average of 20 °C (68 °F).
Around November, the weather takes a dip, and in December, the weather is pretty cold, lying around 15 °C (59 °F) on average, which isn't the best if you're looking for beach days on the Island. So, it would be best if you waited around a bit before you visited Menorca at this time of the year.
How Hot Does Menorca Get?
Menorca can get extremely hot in the summer, especially in July, where the temperature average is maintained at around 25 °C (77 °F) and approximately 11 hours of sunshine daily. This is when you're going to see extreme warmth on the Island.
If you're quite an avid lover of sunshine and you're thinking of visiting in peak summertime when tourists are flooding in, staying in this month will also be a good decision, but the trip will be expensive. However, if you're a sunshine lover, it will be worth it.
Menorca or Mallorca: Which is Hotter?
If we compare the weather and temperatures of Mallorca with Menorca, the former is definitely hotter because of one reason; it is more continental with higher temperatures in the summer and lower in the winter.
On the other hand, Menorca is also warm, but it is also the rainiest of the Balearic Islands, with rain reaching 600mm per year at times, despite there being no hills or mountains in Menorca. Menorca is more prone to colder times, so it is less hot than Mallorca.
Here is an article on the temperature in Mallorca: Mallorca Weather – Everything you need to know
Menorca Weather by Popular Places
So, you're thinking of visiting Menorca, but you're not sure which place to pick? Well, by learning about which place has the best weather, you can easily decide where to stay. So, let's take a look at the weather in Menorca's popular sites and how it fairs in comparison to others.
Weather in Cala'n Bosch
One of the most famous regions of Menorca, Cala'n Bosch, has a very decent average temperature. When it comes to the average temperature throughout the year, it is pretty warm compared to other places on the Island.
The average temperature of this region is around 22 °C (72 °F). So, you can definitely choose to stay here and have a great time when you're touring Menorca. It will be fun and exciting, and you're going to like the warmth as well.
Weather in Cala en Forcat
Arguably one of the most beautiful places in the Menorca region, Cala en Forcat is filled with unforgettable scenes and crystal-clear water that you're going to witness. The temperature of this area is around 22 °C (72 °F) as well.
This means that this place remains on the warmer side throughout the year and doesn't get too cold. So, if you're in Menorca, you're going to want to visit Cala en Forcat and have an epic time exploring and enjoying there.
Weather in Mahon
When it comes to tourist activity, there's going to be a lot of it in Mahon. The temperature of Mahon in Menorca is around 20 °C (68 °F) on average throughout the year. 
This basically means that it will be a warm and sunny affair when you're visiting. Even if you find accommodation there, you're going to have a good time, and you won't have any difficulties there when it comes to cold weather or low temperatures. 
Weather in Santo Tomas
Santo Tomas is a beautiful little village in Menorca that is more prone to winters and coldness. In the winters, the temperature can fall to around 10 °C (50 °F), while the weather is mild and better to stay in in the summers. 
So, if you're visiting in the summertime, you'll have a better experience but if you're going in the winter, make sure you're packed with warm clothes, and you and your family are weather-proofed. 
Weather in Son Bou
There aren't many villages as stunning in the Balearic Islands as Son Bou in Menorca. There's so much greenery and beautiful contrasting colors of the trees and the water, and it is like therapy for your eyes.
When it comes to the temperature, Son Bou boasts of a warmer temperature throughout the year. So, when you're in Menorca, staying in Son Bou will definitely be a good decision for you and your family.
Weather in Punta Prima
Punta Prima has kind of a mild temperature in comparison to the other regions of the Island. Mediterranean warm summer breezes characterize the climate of Punta Prima, and the temperature is also in the mild region, around 18 °C (64 °F) on average. 
So, the experience will be pretty pleased if you end up staying in Punta Prima with your friends and family on a trip to Menorca. It will surely be a good time for you. 
What is the Best Time to Visit Menorca?
The best time to visit Menorca is between the months of April and May. These months are surprisingly warm, but the weather isn't too hot for tourists and locals to not be able to enjoy their time outside.
At the same time, there will be fewer tourists in the area and beaches because peak summer is yet to arrive in Menorca. So, you might even be able to get some cheap tickets and accommodation as well. Ultimately, you're going to have a great time within this span of the year.
Conclusion
Menorca is a beautiful island despite not being as mainstream and famous as Ibiza or Mallorca in the Balearic Islands cluster. With stunning visuals and fascinating looks, Menorca has everything you'd ever want from it as a tourist visiting with friends and family.
Want to know the size of Menorca? Read this article: How Big is Menorca?
The winters in Menorca are short and mild. However, if you are a sun seeker, you would like the place more from June to August. The end of October welcomes cold wind from the northern side, which is when tourists typically get a break from visiting the place.  
Nevertheless, it's never the wrong time to pack your bags with your family and friends and plan a trip to Menorca. Let it be a start of a great vacation!