When you search for Mexico City, the images will always give you two things: an endless pack of buildings and sunny weather. As such, if you're a traveler constantly visiting places to search for some sun and fun, you may wonder if this city is an excellent option.
In general, Mexico City offers pleasant sunny weather for its visitors. Here, you can expect sunny weather all year; rain and cold seasons are rare and mild. As such, most activities are best when the sun shines.
If you love sunny days and are interested in visiting Mexico City, this article is for you. Here, we'll cover everything you need to know about what weather to expect in the city. This way, you can decide whether it will be an excellent destination.
Without further ado, let's get into it!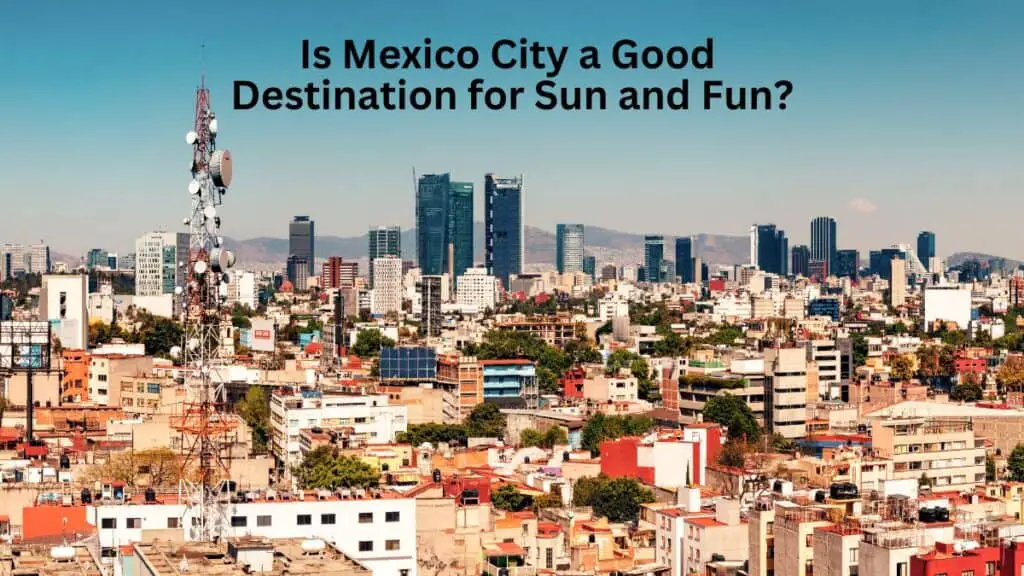 Does Mexico City Have Good Weather?
Mexico City has temperate, pleasant weather almost yearly because of its position in a mountainous area and its height (more than seven thousand feet). While colder than the summers, it has exceptionally moderate winters.
For this reason, it's an ideal destination for someone who seeks sunny days and isn't fond of low temperatures.
With ideal weather (average temperatures in the low 70s and high 60s until September) and fewer visitors than other periods of the year, April to May and September to October are lucky. Therefore, the leading travel seasons for travelers are from June through August and the holiday season.
What Is the Weather like in Mexico City?
Known for its hot summers and moderate winters, Mexico City enjoys a subtropical highland climate. As a result, the city comes with average temperatures averaging 64 degrees Fahrenheit (18 degrees Celsius) each year. 
Even though the year-round temperature tends to vary from mild to hot over the year, May is the hottest month, and January is the coldest, with a risk of night frosts in January.
How Often Does It Rain in Mexico City?
There isn't much chance of rain in the city, so you aren't likely to encounter it often. October through May in the city has relatively little rain, referred to as the "dry season," whereas June to September is when most of the city experiences heavy rain. 
Throughout the summer, on average, it rains every day. However, it rarely lasts longer than a few hours at a time.
Mexico City experiences its rainy season between June and September. September is the wettest month of the rainy season, with an average rainfall of 3.55 inches annually. 
June and August are the driest months of Mexico City's rainy season, with an average of 1.58 inches of rainfall every year.
Activities to Enjoy in Mexico When the Weather is Nice
As a city that's often sunny and warm, most activities are best when the sun is out and shining. Nonetheless, you'll appreciate the following activities at their best when the sky is clear and sunny.
Visit Chapultepec Park
Chapultepec Park is the largest park in Mexico City, and it offers a vast space filled with plants, trees, and many tourist spots. Like any park, this one is best visited when the sun is out. Most locals generally explore the park and rest under the shade of its trees when it's too hot in their homes. 
You can find other parks in the city if you want. If you want to know more options, read our article about our Guide to Mexico City's Most Beautiful Parks. 
Besides a relaxing tour in the park, you can also visit other popular establishments located within. For instance, you can find the National Museum of Anthropology here if it gets too hot outside.
Explore Teotihuacan Archaeological Site
The Teotihuacan Archaeological Site is another popular option to check out on a sunny day due to the discovered artifacts on the site. Aztec artifacts dating back centuries and a rich history of the Aztecs can be found here.
One thing to note is that it's 45 minutes from the city, which means it's worth exploring for a day. Nonetheless, it's astonishing to see the ruins on a sunny day. If you're visiting, wear sunscreen, a hat, and shades to protect yourself from the sun.
Roam Around Zocalo
The Zocalo is a vast square lying amidst the city, and it's not something you'll want to explore on a rainy or gloomy day. As such, roaming in the city during sunny weather is another option.
Various activities, events, parades, protests, and more happen here. With its vast space, the Zocalo is one of the largest in the world. 
You can find many popular establishments and buildings surrounding the square. Therefore, it's something worth exploring along with these spots. El Templo Mayor and the Metropolitan Cathedral are nearby establishments.
El Templo Mayor
If you're out in Mexico City on a sunny day, exploring El Templo Mayor is best since it's easily accessible. Before Mexico became the world's capital, Templo Mayor was an Aztec center. 
The Spaniards destroyed the ruins of the Aztec structures when they conquered the city in 1521. However, the stone ruins were used as the foundation for the church that sits beside the ruins. This area is home to both the museum and the archaeological site.
For this reason, the ruins are always best to visit when the sun is out. If it gets too hot, you'll find a museum to explore while waiting for the weather to cool down.
The Angel of Independence
The Angel of Independence symbolizes Mexico City, and it's something you shouldn't miss when you're around. 
This monument is a golden angel on a roundabout near one of the city's major highways. As such, it's one of the things you'll see best in the city on a sunny day. But, of course, you can also see it at night if you don't like too much heat.
Tours, activities, protests, and parades often begin at this towering monument, visible from several locations around the city. You cannot leave Mexico City without visiting this place. The statue is bronze, but it is covered with 24-karat gold.
Conclusion
Overall, visitors to Mexico City can enjoy pleasant sunny weather. Throughout the year, you'll find sunny weather and mild temperatures during winter. However, the city is best visited when it is up and shining. Therefore, most activities are enjoyable on a sunny day. For this reason, any tourist who enjoys exploring places under the sun will surely be satisfied in this city.