If you like to visit places and destinations but always forego the plan because of your kids, sometimes you decide to bring them along. However, that's only sometimes an option because some places aren't suitable for young ones. For example, if you're interested in visiting this city, you may wonder if it's an excellent place for kids.
Mexico City is different from where you'd think of bringing your kids. It's packed with so many people, and there may have been rumors about specific dangers and risks. Nonetheless, it may surprise you to know that this city has lots to offer to kids and that your entire family will enjoy your time here.
It's typical for every first-timer in this city to think it is not a kid-friendly destination. However, you will have a new perspective once you read this guide. In this article, we'll cover the best places in the city that you and your kids will surely enjoy. Moreover, we'll share some tips to help you plan a family trip to the city so it will run without any hitch.
Without further ado, let's get into it!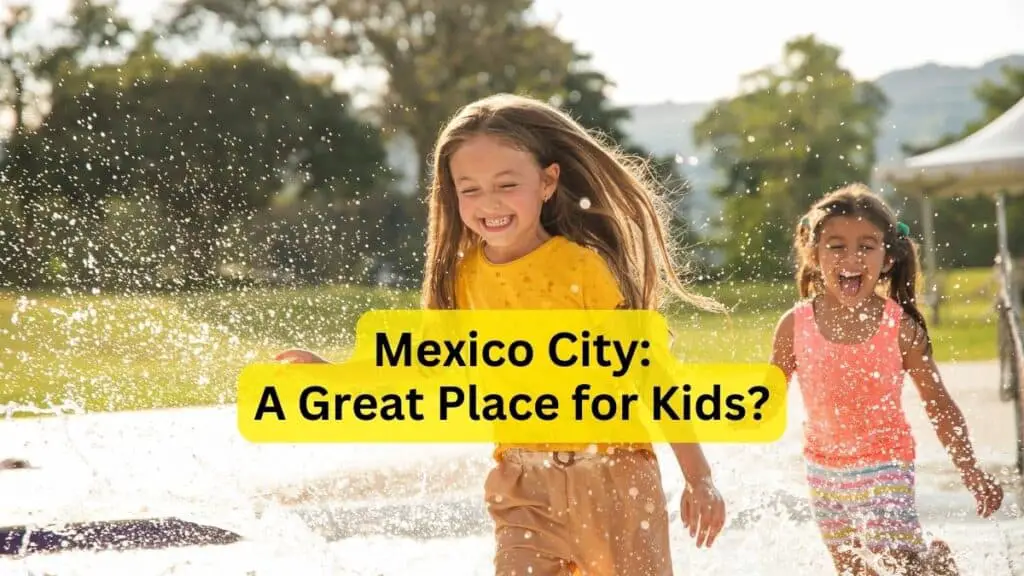 Is Mexico City Good to Visit with Kids?
As mentioned earlier, you might be surprised to see Mexico City as family-friendly or kid-friendly. As much as it seems overwhelming with crowds, heavy traffic, and potential risks, the city holds some of the best things that your kids will enjoy.
For instance, this city has acres of green parks, hundreds of top museums, and excellent weather throughout the year. As such, it's a fail-safe destination if you're planning your family vacation. 
Overall, this city is surprisingly fun, even for kids. Enjoy endless food options, many kid-friendly accommodations, and many kid-friendly activities.
If you're wondering whether this city is safe for an entire family, it actually is. To learn more about the safety concerns for families in the city, read: Mexico City: A Safe Destination for Families?
Below are some of the things you'll like about this city being kid-friendly:
Kid-Friendly Neighborhoods to Book in Mexico City
Of course, the first thing to plan is the area where you'll stay in the city with your kids. The last thing we want is for our kids to stay in an area filled with risks and potential dangers.
Now, while the city has some areas to avoid, it also has several areas where you and your kids will feel comfortable and safe. Further, these areas are filled with lots of things to do that you don't have to go far to enjoy.
For instance, the neighborhoods of Roma Norte, Roma Sur, and La Condesa are some of the best kid-friendly places. You'll have access to the best spots, such as the Centro Historico and Chapultepec Park.
Further, these neighborhoods are generally safe, high-class, and well-patrolled. These areas are also major tourist spots on their own. As such, you'll feel safe roaming and staying in the area throughout your entire trip.
Family-Friendly Accommodations in Mexico City
If you search online for family-friendly accommodations in this city, you'll find many options. However, if you're staying in either the Roma or La Condesa neighborhoods, you'll find these places to be the best:
Hotel Stanza
Address: Av. Álvaro Obregón 13, Roma Nte., Cuauhtémoc, 06700 Ciudad de México, CDMX, Mexico
Phone Number: +52 55 5208 0052
Website: Stanza Hotel
Casa Decu
Address: Culiacan 10, Colonia Condesa, Cuauhtémoc, 06100 Ciudad de México, CDMX, Mexico
Phone Number: +52 558 116 9821
Website: Casa Decu
Sheraton Mexico City Maria Isabel Hotel
Address: Av. Paseo de la Reforma 325, Cuauhtémoc, 06500 Ciudad de México, CDMX, Mexico
Phone Number: +52 555 242 5555
Website: Sheraton Mexico City Maria Isabel Hotel
If you want more options, read our article about the Best Hotels in Mexico City for Families.
How to Get Around Mexico City with Kids?
Mexico City has so much art, history, and open space that kids will enjoy exploring! Traveling with a large group, especially kids, can be a hassle. As such, we recommend using Uber as your primary mode of transportation.
While this city has plenty of convenient modes of transportation, Uber will work well, especially with kids. This way, you can go to the exact spots you like to reach. 
Of course, you can try the Metro, the Metrobus, and other forms of public transportation. However, they can be crowded and may not suit your kids. It may work for adults, couples, and solo travelers, but it could be better for kids.
Uber is also an excellent alternative to taxis because they are cheaper. However, while Uber is efficient, traffic is a never-ending headache, so keep that in mind when planning your days.
Things to See and Do in Mexico City with Kids
Now, here's the fun part. Once you have booked your accommodation and settled on your primary mode of transportation, you can plan your itinerary. To help you with it, here are the best things to see and do in this city with your kids:
Explore the Centro Historico
When traveling with your family to this city, you must visit the Centro Historico first. In this part of the city, you will find the center of the city and Tenochtitlan, the Aztec capital years ago.
You can begin your tour at Mexico's most significant and busiest square, the Zocalo, where you will find beautiful structures and the Metropolitan Cathedral.
You can also visit Templo Mayor, a museum and excavated site that preserves the Aztec empire's ruins. You can access it from the square within a few steps; free admission.
As you leave the Templo Mayor, stop by the Azujelos House and the Palace of Fine Arts to take two equally impressive pictures.
To get a bird's eye view of the stunning amber dome, climb to the roof of the famous Sears structure next door!
The last stop on your walking tour is the Citadel's, Artisan Market. Even though it has a large tourist following, you'll find this quiet market with the city's best handmade products. 
You can expect colorful dresses, stuffed animals, wooden toys, and beaded bracelets. In addition, you may bring home many souvenirs from your trip to this site!
See the Coyoacan
The vibrant Coyoacan neighborhood is a must-see, and you should include it in your places to visit when in the city. 
The area is located in the southern part of the city and is famous for being the former residence of Frida Kahlo. You can explore the area for a day and see what it offers.
You can begin your day by visiting the famous spots nearby. In addition, there are a bunch of street markets in the nearby park and Plaza Hildalgo. 
The nearby Mexican Artisan Market is also worth visiting (although it could be more impressive than La Ciudadela).
Whenever you visit Coyoacan, you should not miss Casa Azul, once home to Frida Kahlo. If you prefer to avoid waiting in long lines, purchase your tickets online in advance for the Frida Kahlo Museum, which is dedicated to the life and work of the artist.
Visit the Chapultepec Park
The city is home to museums, exhibitions, and events within three miles of Chapultepec Park. Additionally, it's a popular destination for those seeking a getaway from city life's hustle and bustle. The weekend brings out families here in droves.
Chapultepec is one of those places where you can easily spend five days if you plan.
Every family should include Bosque de Chapultepec on their bucket list. 
In 1785, this castle was a royal residence but had changed hands multiple times before becoming the Museo Nacional De Historia. This architectural gem offers breathtaking views, gardens, and architecture atop a hill with views of the city below.
Among the famous museums in Bosque de Chapultepec is Museo Tamayo, a contemporary art museum that exhibits paintings and sculptures. You can also find Mexico's Museo Nacional de Antropologia here, where you can learn about its ancient civilizations.
This park offers many fun activities for the whole family as well! One of the area's most popular children's museums is Papalote Museo del Nino, which features interactive exhibits and is so big it is possible to spend all day there. 
Children will love exploring the Zoologica de Chapultepec if they want something quick.
Playground Tamayo, the Jardin Botanico, and the Lago de Chapultepec are all excellent places for families to unwind.
Take a tour of Xochimilco.
To visit Xochimilco's canals on your own, you can use public transportation, although it might be a bit of a hassle. 
Alternatively, you can take an Uber. According to reviews, Xochimilco was the top embarcadero to begin the morning.
You must hire your trajinera or vessel if you aren't traveling on a guided tour. Boats are currently rented for 500 MXN an hour. However, you can arrange for an extended cruise.
See the Teotihuacan Pyramids
A day trip to the Teotihuacan pyramids is one of the city's most popular. This historical city is situated approximately 25 miles to the north of the city. Overall, it is the dream of any adventurous family looking for a new adventure.
Since Teotihuacan is one of the most tourist-friendly places in the world, it's best to take a tour to escape the hordes of tourists in the area. 
Check out La Condesa and Roma Neighborhoods
On your last day in the city, we highly recommend you stroll in La Condesa and Roma, even if you are away.
These two high-class neighborhoods are best experienced through food! Everywhere you turn, you'll find new murals and sidewalk cafes as you wander the lushly green streets. Stop off at Roma Market, too, to get a taste of it all, a fancy food hall.
A visit to these neighborhoods would only be complete with a visit to Churreria El Moro. Although it's not their original location, it's one of the most picturesque!
Take a stroll through the plazas in between bites and observe the people. Parque Mexico is, of course, a must-see. 
On weekends, vendors set up food carts and children's activities in this park in Condesa. Also, Parque, Mexico, has one of the city's best playgrounds! As such, your kids will surely enjoy their time here.
If you want to know more about what to experience in the city, read our article about the best things to see and do in Mexico City.
Conclusion 
Overall, Mexico City offers plenty of things to see and enjoy for kids, making it an ideal destination for your family trip. If you can't leave your kids with you, you could bring them here and enjoy this beautiful city. With this guide, you'll have a fantastic time in the city, and it's better since you'll get to do it with your family.