If you love to travel, but you also have children with you, you know there are many things to consider. Eventually, you cancel the plans because you can't leave your kids behind. In other cases, you'll want to push through and bring your kids with you. However, not all destinations are family-friendly. So, if you're interested in Mexico City, you may wonder if it's a safe destination for families.
In general, Mexico City is a safe destination for families. However, you can only achieve this if you research well about the city, plan your tour, and prepare well. If you know what to do, you can enjoy a trip with your family without a hitch, despite the rumors of potential dangers.
We know that it can be challenging to plan a family trip, especially if the destination is Mexico City, since you'll have many things to consider. As such, we made this article to help you learn what you need to enjoy the city with your family while staying safe and away from potential dangers and risks.
Without further ado, let's get into it!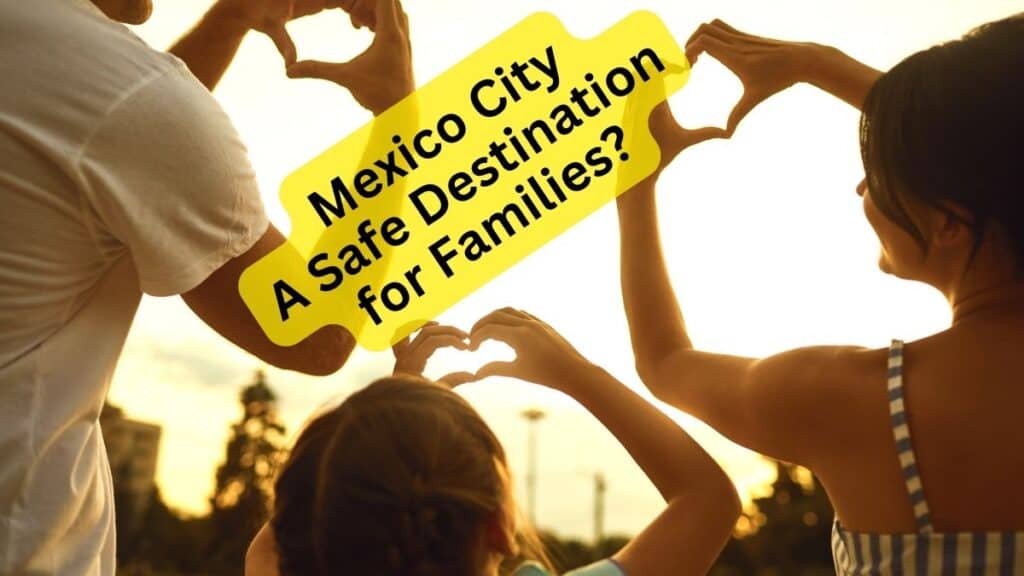 Is Mexico City Safe for Families?
As mentioned earlier, Mexico City is a safe destination for families. While most people think of Mexico City as dangerous, it's possible to have a safe trip as long as you stay cautious.
The city is easy to visit, with many places and activities to see and do. While it might be overwhelming for many tourists to bring their kids to such a crowded metro, you'll see that it's convenient to enjoy the place as long as you understand a bit more about it.
As long as you have researched the spots you'd like to see and the activities you want to do, you can enjoy the city without hitches. According to statistics, Mexico City has a significantly lower crime rate than the nation and is safer than the rest of Mexico.
Is Mexico City Safe for Kids to Travel?
Mexico is a safe destination for kids to travel. But, of course, you need to be extra cautious, especially if you're taking kids on a Mexico City trip.
If it's your first time visiting the city, seeing the crowds on almost every corner of the city can be overwhelming. After all, this place is one of the most populated in the world, and it's not surprising to see why.
Being more responsible when traveling with kids is a general rule of thumb. For instance, you must always watch these young ones, as they like to loiter or run around.
Also, you'll have to ensure you're only taking them somewhere secure and avoid, at any cost, leading them to places where you can have a high chance of losing them.
While Mexico City has a few places to avoid due to dangers and risks, you'll also enjoy plenty of secure spots.
As with all other destinations, Mexico City is a safe place to travel with kids. The entire family can enjoy it if you remain responsible, cautious, and prepared.
Now, if it's your first time visiting Mexico City, you may wonder if it's an enjoyable destination for kids. Read: Mexico City: A Great Place for Kids?
10 Safety Tips When Traveling with Kids to Mexico City
If you're planning a trip to Mexico City with your kids, here are some safety tips to help you.
Always keep an eye on your child.
Kids are always playful, roaming around whenever they can. You must watch your child if you're visiting parks, attractions, museums, or other places in the city.
Of course, you can always hold their hands or have a leash that connects your hand with theirs. However, they might not enjoy such. For this reason, it's best to let them explore whenever you're in a less crowded spot. 
However, it's also best to never take your eyes off them to ensure they are safe and know you're around when they need you.
Make sure your kids know your contact information.
The last thing you'll want is for your kids to get lost and have no idea how to reach out to you. For this reason, it's best to have your contact information attached to them. 
You can have a card in their pockets or tag their bags. What's even better is if you can help your kids memorize your phone number and hotel name. This way, they know what to do when they get lost.
Bring basic medicines
Kids are more sensitive to sickness, especially when traveling. As such, it's best to bring the essential medicines for cough, cold, and fever. It's also best to have the medicine ready for headaches and travel sickness. 
Of course, you can buy such medicines in the city, but having some with you removes the effort of finding a nearby pharmacy.
Take an Uber When Necessary
While most attractions in Mexico City are located in the center, you can't reach all of them on foot. Further, it's a vast city to walk past streets with so many passing vehicles. When you have kids, you'll want to avoid crossing streets as much as possible. 
Luckily, the city has various ridesharing services through apps like Uber or DiDi. So if you need to explore one destination from another, you can book an Uber for your family. This way, you can have a ride of your own without worrying about how to reach the place.
If you want to know more about the use 
Avoid Hotel Hopping
Mexico City offers many accommodations, and picking which one suits you best can be overwhelming. Some tourists' common mistake is to book for a night and then try to find another one for the second night. 
While it may work for couples, adults, or solo travelers, it can be a hassle if you're always bringing your entire luggage with you, not to mention you'll have to keep an eye on your kids. 
As such, it's best to avoid hotel hopping and book one hotel for your entire stay. This way, you'll have a comfortable place to rest and keep your belongings whenever you explore.
Always be flexible
As someone who travels with kids, you need to be flexible and open to any changes and delays in your schedule. While you may move well and fast on your own or as a couple, the kids can be slow. Also, you'll have plenty of things to prepare whenever you go on a trip. 
If you want to stay safe, always be a flexible companion and work out the schedule. This way, you avoid rushing and going somewhere without preparation due to a delayed schedule.
Conclusion
In a nutshell, Mexico City is a safe destination for families, and you'll find many attractions to enjoy here. We know planning a safe trip is challenging, especially involving the kids. However, if you research the places you'll see and visit, plan your itinerary, and prepare everything necessary, you can enjoy the city with your kids safely.
Discover more about what to see and do in the city by reading our article about the best things to see and do in Mexico City.