One of the most critical aspects of planning a trip is the time of the visit. It's because every destination has its peak and off seasons, a time when it's best to visit and a time to avoid. As such, if you're planning to visit Mexico City, you may be wondering when to go for the best experience.
The best time to visit Mexico City is from March to May, but other tourists have different preferences. Some prefer the cheapest and the least busy time. On the other hand, some people prefer to visit when the weather is best and with various seasonal activities to enjoy.
In this article, we'll cover the best time to visit Mexico City for tourists with different preferences. Here, we'll cover the cheapest times, the least busy times, the best overall, and even the worst time to avoid visiting. After reading, you'll know the best time of the year to visit this city and know when to avoid Mexico, depending on your preference.
Without further ado, let's get into it!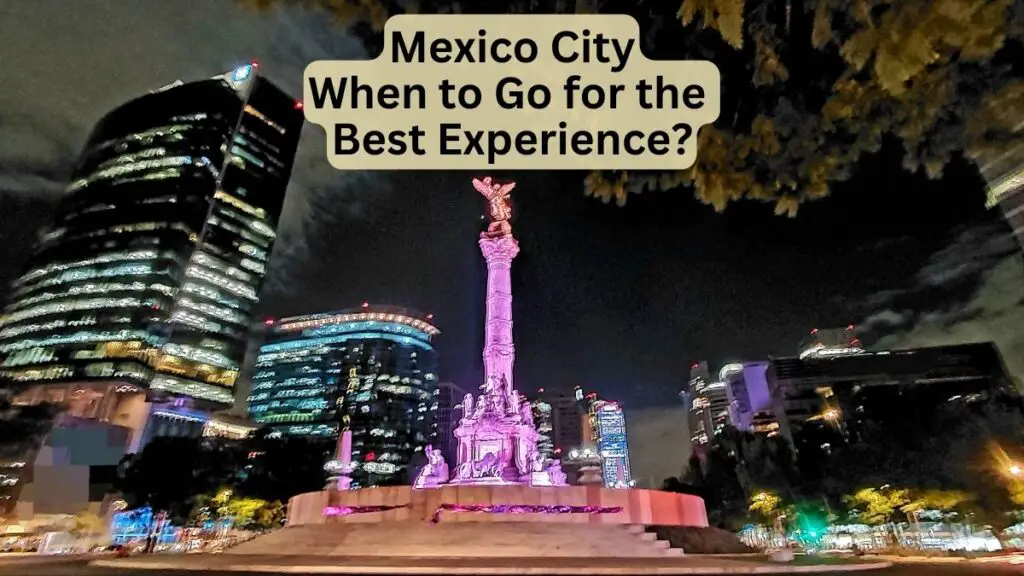 When Is the Best Time to Visit Mexico City?
Travelers to Mexico City are advised to visit during the dry season between March and May. Mexico City is usually busier in spring, except Easter, when people prefer to leave the city.
Despite the congested streets, it's worth braving about the fantastic weather. Mexico City experiences mild temperatures during spring, unlike other seasons.
A typical daytime temperature is between 70 and 80 degrees, while an average nighttime temperature is between 40 and 50 degrees.
When you travel in March, you'll have a better chance of seeing the breathtaking and vibrant jacaranda trees in bloom.
You should check out the Flower and Garden Festival, which takes place in April at the botanical gardens in Chapultepec Park.
One of the many events and festivals in Mexico City is the equinox celebration at Teotihuacán Archaeological Site, which is held just outside the city.
A walk through Chapultepec Park in the spring offers a great way to enjoy one of the most significant urban areas in the world. The park has over a thousand acres of attractions for kids and adults.
Best Time to Visit The City for Budget Travelers
If you want to take advantage of Mexico City's many deals, consider traveling there in January or February. Some of Mexico City's top hotels charge as little as 90 USD per night during these months due to fewer visitors.
Low temperatures of 40 degrees are experienced at night in the city in January and February, when temperatures are lower during the day. It is the coldest time of year in the city during these months. Since Mexico City lacks central heating, wearing an extra layer is a good idea.
To survive the frigid evenings, layer on a sweater and hide under a warm blanket to take advantage of the warm temperatures during the day and fantastic savings on hotels and plane tickets.
From January to February, Mexico City often has fewer visitors, which might make the experience more authentic. For example, you can watch a light show with soothing music in January or attend a festival celebrating animals.
Parades and festivities are held throughout the city early in February, and businesses, banks, and government offices are closed. It is also during February that Mexico City's most significant contemporary art market, Zona Maco, takes place.
Best Time to Visit The City with Fewer Crowds
The best time to visit Mexico City is from June to August, when it is the least busy. Despite this, there is only a rainfall average of 1.5 inches in June, 1.5 inches in August, and 2.3 inches in July in Mexico City.
When it rains most frequently in Mexico City during this time of year, there are many indoor activities to keep dry.
Whenever the rain stops, the weather becomes warm. High temperatures range from 70 degrees during the day to 50 degrees at night in these months.
When to Avoid Visiting Mexico City?
While Mexico has the ideal time for tourists to see, it also has times to avoid. Therefore, seasons each have advantages and considerations, depending on your preferences.
There is usually a daily afternoon rain shower in the summer. However, the air quality is typically the best. In summer, temperatures often reach the mid-fifties at night, even in the middle of the day.
Despite being a slower travel season in the city, the rainy season often offers discounted hotel rates.
With the season's end approaching and the city's tourists taking up again, costs in Mexico City rise.
Both natives and visitors will be thronging the city during the fall season. In the autumn, several well-known events, such as the Formula 1 Grand Prix and Day of the Dead, take place.
While Mexico City is frigid at night, it offers beautiful views during the day. As a result, the city attracts more visitors in December than in any other month.
Since so many establishments offer discounts throughout the winter, hotel rates remain affordable despite the significant number of visitors.
Visitors and residents throng to Mexico City's numerous museums, landmarks, and cantinas at the end of November and the beginning of January.
Rainy Season in the City
Mexico City's rainy season lasts from June to September. There are an average of 3.54 inches of rain in September, making it the wettest month during the rainy season. Conversely, the city's driest months are June and August, averaging 1.57 inches of rain annually.
Hottest Season in the City
May is typically the warmest month of the year in the city. It generally comes with an average high of 62 degrees Fahrenheit or almost 17 degrees Celsius. Daytime temperatures in Mexico City are low to around 80 degrees, while nighttime temperatures can go as low as 50 degrees.
Conclusion
Overall, Mexico City is an unforgettable vacation destination that offers a variety of activities to please everyone with you. While the best months for the best experience are from March to May, it still depends on your preferences. 
A little research, planning, and knowing what to expect from each season can help you make your trip to Mexico City one to remember.
It's best to visit Mexico City between March and May when the weather is ideal, and the prices are modest. If you want your trip to be as affordable as possible, plan it for January or February. You can avoid crowds in Mexico City by visiting during the rainy season from June to September to avoid as many as possible.
If you've already booked a hotel and flight to this city, another concern you may wonder about is the language. After all, Spanish is the primary language in the area. If so, read our article about English in Mexico City.