Barcelona is the second largest city in Spain, and you'll find many things to do and attractions to see around. However, with a city of this size, first-time visitors may find exploring and navigating a bit complex and challenging.
For this reason, many tourists spend a lot of money to hail cabs or book Ubers, which you don't want to do, especially if you're traveling on a budget. Luckily, public transport in the city is an excellent option. Though it might seem complicated, public transportation options offer most people a cheap, easy, and convenient choice.
In this article, we'll cover everything you need to know about public transport in Barcelona. This information will guide you in navigating the city like a local. Therefore, you can maximize affordable transportation while spending less than renting a car or hiring a taxi.
Without further ado, let's get into it!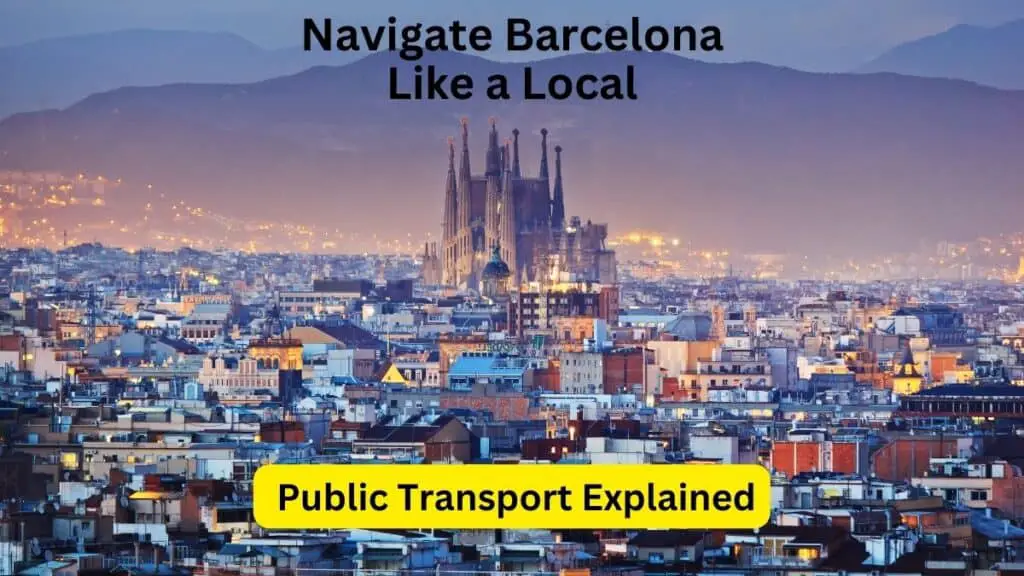 How Does the Public Transportation System Work in Barcelona?
The public transportation system in Barcelona covers the entire city and even the areas on the outskirts. Here, you can find plenty of bus and metro stations at every point, and it's accessible and affordable. Many tourists enjoy using it as well.
To understand how public transportation works, consider the options first. In the city, you'll find lots of public transportation options. But, of course, the bus, the Metro, taxis, and even bikes are the most popular. 
Out of all options, buses, commuter trains, and metros are the most popular and common. They're likely your options when you get to the city. 
Here's how each of the public transport options in the city works:
Metro
Metros are the most popular form of public transportation in Barcelona. TMB runs the Metro with low fares, an easy-to-use system, and frequent trains.
Usually, metro stations are identified by red and white signs with an M. To enter the station, use the turnstiles after purchasing a ticket from the machine. Instructions are written in several languages, such as English, Spanish, French, and Catalan.
If you plan to use the Metro, it costs 2.40 EUR for a single ticket and 11.35 EUR for a 10-journey pass. You can also use other travel cards like the Barcelona and Hola BCN.
To use the Metro, you can buy tickets at every station at ticketing machines. You can also buy online in advance and pick up your ticket at the said machines.
Note that the Metro runs every day from 5:00 AM until 12:00 AM. Follow the signs to the train station, where you will board your final destination train. Upon arrival, you can exit the station as usual.
Buses
In Barcelona, buses are another convenient way to get around town, plus you can see the city pass by while you ride. Similarly to the Metro, the bus system is operated by TMB.
Shelters and poles display the bus line numbers at bus stops in Barcelona. You can indicate to the driver that you want to board the bus by waving at it.
When you board the bus, make sure you validate your travel pass or travel card. If you don't have a ticket, you can buy one from the driver for €2.20. 
When paying in cash, note that the most significant bill you can pay is 10 EUR. As such, bringing small cash when riding the bus is best. 
To signal the driver, press the red button when your stop is approaching. Then, you can take the rear exit of the bus.
It is fast and cheap to travel by bus to Barcelona. You can generally find over two hundred bus lines in the city, connecting all parts. As such, you won't have any problems reaching one place to another with this transport option.
The bus option is more complicated than the Metro. However, it's easy to navigate as long as you know where your preferred attraction is located.
Regularly, buses run in Barcelona between 5:00 AM and 10:00 PM. However, note that each bus has a different schedule.
If you want to know more about the use of the bus and the mode of payment, read: How to Pay on a Bus in Barcelona?
Commuter Train
Rodalies is a suburban train network that covers the whole of Catalonia. The white R on an orange background identifies the system's stations. 
Overall, this is an excellent transport option if you plan on taking a day trip from Barcelona. However, the Metro or the bus will suffice when you only explore the city.
If you want to know more about the schedules and routes of these commuter trains, you can check them on the official website to learn the exact information upon arriving in the city.
Tram
Another excellent transport option when exploring outside Barcelona's city center is the tram. At this point, Barcelona's tram system isn't pervasive, but it can be a valuable tool for exploring beyond the city center. 
In general, you'll find six tram lines with a 30-km-long track. If you want to know more about the routes and schedules of the tram in the city, you can head to their official website. 
Public Transportation to and from the Airport
One of the main concerns for tourists is the transportation to use when going to the city center from the airport. However, you can use several options, including the Metro, the Aerobus, and the Train.
A single trip's fare is more expensive if you plan to use the Metro. Rather than 2.20 EUR, it costs 4.60 EUR. To ride the Metro from the airport, you need to find the L9 line. This Metro stops at both terminals in the city and the airport.
If you plan to use the bus, you must find the Aerobus since it connects the two terminals with Placa Catalunya. The use of this bus costs 5.90 EUR. 
If you plan to use the train, you can ride the L2, which only stops at Terminal 2. This train will give you access to the city center. If you want to know the exact fare, you can visit their website.
Other Ways of Getting Around Barcelona
While some people would be OK with studying public transportation in Barcelona to save money, others prefer to spend more on private transportation. Here are some other options to get around the city:
Taxis
Taxis are the most accessible mode of transportation in Barcelona since you can find them scattered throughout the area. When riding a taxi, make sure you only hop in official ones. You can find them painted in black with yellow doors. 
If you are a tourist in Barcelona, the easiest way to book an official taxi is via the AMB app in the Apple App Store or Google Play. After downloading the app, you can specify pickup and dropoff locations and times. It is possible to pay with cash or a credit card.
Car Rental
If you plan to explore Catalonia, renting a car would be the best way. However, it's different if you plan to explore Barcelona. 
In the city, you'll find so many people and cars that getting around can be challenging. Further, it can be a nuisance to drive since other drivers seem to ignore traffic laws. Finally, parking is hard to find, and even if you do, it's likely a paid parking space. 
For this reason, we advise against renting a car and using only public transportation. This way, you can save yourself some money and avoid any frustration out of it.
Bikes
Bikes are a suitable option if you want to explore the city but want to avoid being bothered by using public transportation or spending a lot on taxis. 
Since most of Barcelona's attractions are packed within the city, you'll find it easy to navigate and visit every attraction using a bike. 
The bike-sharing program in Barcelona, Bicing, has become one of the most popular methods of public transportation.
The program rents over six thousand mechanical and eight hundred electric bikes. As such, you'll find it a convenient and efficient way to get around town. 
Additionally, docking stations are conveniently located near metro stations and bus stops in Barcelona. Thus, it's easy to integrate these bikes with other modes of public transportation.
Uber
Uber is a popular option in many cities. But, unfortunately, it's rarely used in Barcelona. Still, if you want to use this ridesharing app, you can try and see if you find available Uber drivers near you.
One thing to note is that Uber is cheaper than taxis. In any case, it's true. However, in Barcelona, the fares of Uber and Taxis are similar.
If you have the time to wait for an Uber, feel free to use it. However, if you want a more accessible mode of transport, you can use the AMB taxi app rather than Uber.
To know more about this ridesharing app in the city, read: Does Barcelona have Uber?
Tips for Getting Around Barcelona
When getting around Barcelona, you may find the following tips helpful:
Beware of pickpockets.
Although Barcelona is generally safe, pickpocketing on public transport is expected. Watch your belongings and stay alert, especially in crowded metros.
Read Beat Barcelona's Pickpockets: A Traveler's Guide to learn more about these risks.
Always carry small bills.
Be prepared to pay for public transportation with small bills and coins. Ticketing machines only sometimes accept large bills, and drivers sometimes give change.
Try exploring on foot.
Walking around the city can be a lot of fun and rewarding. There's a lot to do on foot in Barcelona, and the most significant sights are all in one area.
Plan for the rush hours.
Barcelona's public transportation can get pretty crowded during rush hours, especially in the morning and evening. So plan accordingly or consider an alternative route if you're on a tight schedule.
Visit other beaches besides Barceloneta.
When visiting Barcelona in the summer, you'll probably want to check out one of its beaches. However, despite being close to the city center, you can expand beyond Barceloneta. Take public transportation instead; you'll likely have a much nicer time and meet more locals.
Conclusion
Barcelona is an exciting city to explore, and it's easy to do so with its excellent public transport system. It can be overwhelming to learn how to commute in this vast city. However, once you get the hang of it, you'll maximize the transport options and learn to navigate the city like a local.