If you are on vacation in Santorini, Oia is one of the best places to visit and stay. In Oia, there are multiple hotels you can stay at and restaurants to enjoy a nice meal. Unlike Fira, there will be less crowd and a more peaceful environment. You can enjoy a more relaxed family time. 
Oia is the second largest and most visited village on Santorini island. Oia is famous for its Cycladic beauty and magical sunsets. The town has blue-domed churches and white-washed houses with paved streets on an impressive cliff and is located 12 km away from Fira on the northern side. 
In this post I will share more information about Oia Santorini, restaurants to visit and hotels to stay at, and things to do in Santorini. 
About Oia Santorini
Oia is located in the northern part of the caldera and has traditional greek style homes, lovely restaurants, blue-domed churches, cave houses, and various conventional cultural landmarks. In addition, there are several shopping spots in the village. 
The whole Oia town is built along the cliffside. Furthermore, you can also visit Armeni Bay and Ammoudi bay quickly from Oia. In addition to this, there are several places where you can visit, and things to do. Let's get into more details about Hotels and restaurants in Oia.
Want to know the size of Santorini? Check this article: How big is Santorini?
Hotels in Oia Santorini
There are dozens of hotels in Oia. Unfortunately, we can not get into each one in detail, but we have picked out some that are worth mentioning.
Oia Mare Villas
Located above the Ammoudi bay and in the center of Oia, Oia Mare villas are an excellent place to check in. The room has a view of the beautiful deep blue Aegean sea. While staying in the Oia mare villas, you will have a sea view and enjoy a beautiful view of Cycladic attractions. Moreover, you will have your private terrace and balcony to enjoy the view. 
Canaves Oia Suites are at a short distance from Ammoudi Bay. The suites offer a beautiful view of Cycladic attractions. You can enjoy swimming in the magical sunset shades. The hotel has organic fabrics, cane walls, and marble furniture. 
Katikies hotel Santorini
If you are on a honeymoon trip, Katikies Hotel Santorini in Oia is the place to stay. The hotel has luxurious rooms with a fantastic view of the flooded caldera. Furthermore, there are several spa and pool areas. The rooms have beautiful balconies and terraces to take pictures and enjoy your cup of coffee. 
Oia Santorini restaurants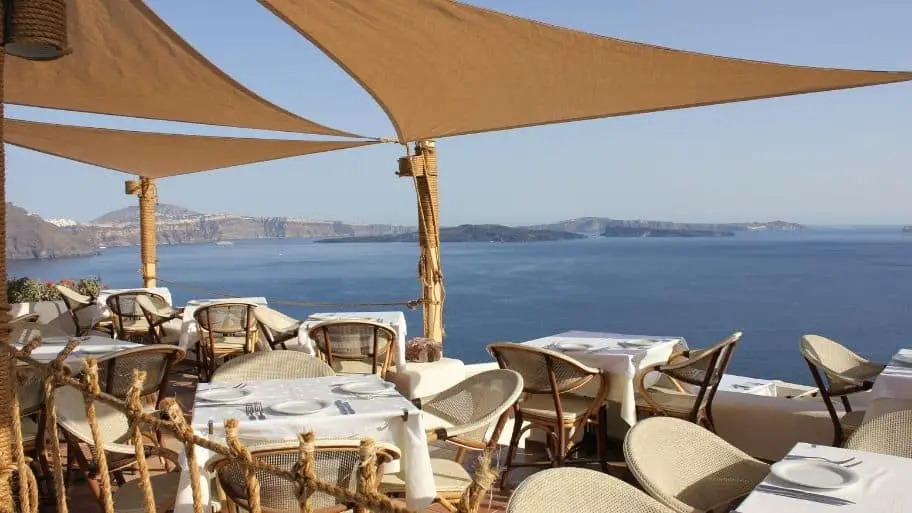 Oia Santorini is also an ideal location for food lovers. Many restaurants on cliff edges enjoy good wine and food from various cuisines. Here are some of our recommendations for the best restaurants in the village. 
Sunsets Bar Restaurant
As the name indicated, the restaurant is ideal if you admire the beautiful sunset view. The restaurant offers a splendid sight with delicious food to enjoy an unforgettable night whether you go alone, with friends, or on a date with your partner. This place is ideal for enjoying a cup of coffee and a meal in the magical sunset shades. 
Ochre Restaurant
If you want to enjoy a fresh pasta dish or Mediterranean Cuisine, then Ochre restaurants are the place to visit. They have some of the best selections of wine, and you can also enjoy their delicious salsas. The restaurant offers a beautiful landscape view with sunset views and is ideal for large group meals and couples' dates. 
Petra Restaurant
Petra restaurant is another best place for refined and sophisticated dining in Oia. You can enjoy Mediterranean cuisine, and it is an excellent option for scallops, spaghetti, and salad lovers. They are also famous for their delicious wine quality. From your table, you can enjoy the view of the Cyclades. 
Things to do in Oia Santorini
Oia is the most beautiful village in Santorini. It's the best place to get photographs and visit multiple traditional landmarks. There is so much in the town to explore. If you are in Santorini and don't know where to start, we are here to help. Here are some of the best things that you can do in Santorini. 
Amoudi Bay
Amoudi Bay is a port located below Oia in front of the sea. Amoudi Bay is the perfect place to visit the Caladre cliffs' red slope. A 300 steps staircase can take you from Oia to Amoudi Bay. Amoudi bay is a port where boats leave and come all day long. 
Amoudi Bay is a perfect place to see red volcanic rocks and enjoy the beach view. There are also several restaurants in Amoudi bay where you can enjoy different cuisines with some delicious wine. 
Armeni Bay
Armeni bay is also a port located below Oia in front of the sea. Through a staircase from Oia, you can reach Armeni bay, where there are multiple shipyards and warehouses. At one time, it was the main port of Oia. 
Later on, a large part of Armeni Bay was affected during the 1956 earthquake. Still, you can enjoy the best beach time here. Armeni Bay is also the best place to visit if you enjoy swimming in the sea. 
Magical sunset views
The most famous thing about Oia is its sunset views. You should capture some photos of the magical sunset times. You can enjoy it during your meal or with a cup of coffee in a restaurant. 
You can also go to some old castles to get fantastic photographs of you and your family. All you need to do is find the perfect angle to watch the sunset. Just a pro tip, not only sunsets, you can also get up early to enjoy sunrise moments in the village with less crowd and more quiet environment.
Castle of St Nicholas
The history of the castle of St Nicholas dates back to the 15th century. The castle was a place of highly educated people of the Byzantine empire and was also used to store crops. Unfortunately, a large part of the castle was destroyed during the earthquake of 1956. However, still, there is so much to see and explore. 
You can enjoy the incredible view of the castle during the sunset views. Many visitors come here to take photographs of the castle's ruins and sunset view. So a visit to the Castle of St Nicholas will be a great enjoyment and fun. 
Panagia Church
Another place to visit in Oia Santorini is the Panagia church. Panagia church is built in the castle and has arched windows. The church has large bells on the side and has a blue dome. The building has a square plan, and the church has five blue domes. 
The most worth seeing inside the church is holy utensils and frescoes. You can also see the icon of the Mother of God inside the church. The church, without any doubt, is a marvelous place to visit in Oia.
Private Fishing tour
Another thing that you can do in Oia is Fishing. A private fishing tour on a boat or cruise from Amoudi Bay and Armeni bay is excellent. Many tourists approach these beaches daily for fishing and exploring wildlife. 
If you want to visit any ancient landmark in Oia, then the Naval Maritime Museum is the place to go. The museum has the maritime history of Thira. In the 19th century, the museum was converted into a municipal museum, and now it's a tourist attraction in Oia. 
The museum also has a library that contains various documents and letters. The museum displays new and old Thiran ships, seamen's chests, historic photographs, old and new drawings, and nautical charts. 
Mnemossyne Gallery
Another famous spot in Oia is the Mnemossyne gallery that you can visit. The gallery is in the cave house, and it has an enjoyable atmosphere. In the gallery, you can see and buy the jewelry and photographs of the local artists. 
Katharos beach
Katharos beach is the most fabulous place to visit in Oia for beach lovers. It is one of the most beautiful beaches on the island. The beach is 1 km (1.6 miles) distance from Oia. There are also some bars on the beach where you can enjoy drinks. In addition, the beach is the perfect place for swimmers and divers.
Want to know how the weather is in Santorini? Check this article: Santorini Weather – Month by Month
Agios Georgios Church
To visit one of the best historic sites in Oia, you should visit the Agios Georgios church. The place is a landmark of architectural beauty and historical culture. The church has vivid yellow color flags and a blue dome. The historical beauty of the church makes it an ideal place to visit in Oia. 
Conclusion
If you plan to visit Santorini as your next destination, visiting Oia should be your top priority. If you have only one day to stay in Santorini, stay in Oia. You can enjoy the sunset views and beach beauty at the same time in Oia.
Some of the hotels and restaurants in the village give high-class customer services to tourists. Staying in any Oia hotel will be a pro as you will easily access all the famous destinations like Ammoudi Bay, St Nichols church, and other attractions.
So whether you are planning or already in Santorini, don't forget to explore this beautiful small village of Santorini.
Can't decide between Oia and Fira? You might want to read this: Oia or Fira – Which is better to visit and stay in?