One thing that makes Cabo San Lucas a perfect holiday or vacation destination is that you can enjoy plenty of things around. Here, you can enjoy the mountains, the deserts, and the ocean altogether. As such, whether you want a relaxing vacation or you want an activity-filled trip, this place is for you.
Now, if you have already booked your hotels and tickets, the next thing to do is plan your itinerary in Cabo San Lucas. For this reason, we made this guide to the best itineraries in the city. This way, you can enjoy the best experiences and activities, depending on your stay.
Without further ado, let's get into it!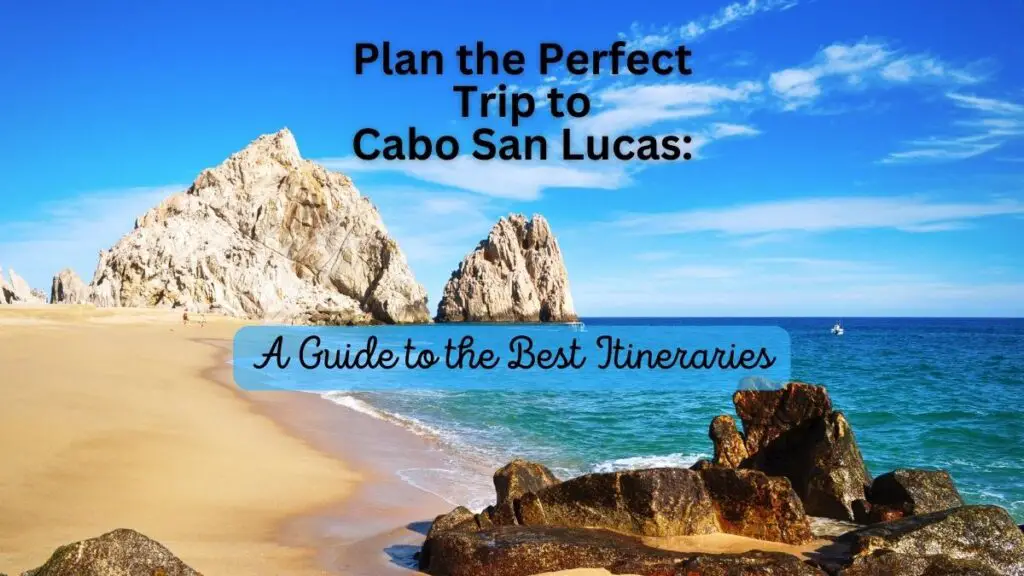 How Many Days Should You Stay in Cabo San Lucas?
If you have the budget and time, you'll enjoy Cabo at its best if you stay at least a week. However, most of us don't have the luxury of budget and time, and we only have long weekends and holidays to spare. 
However, if you plan on visiting Cabo San Lucas, we recommend staying at least three whole days and nights to enjoy the best things the city offers.
For this reason, we designed this itinerary for three whole days and nights to suit even budget travelers or travelers on a limited time.
It's also applicable if you stay for four or five days, even a week. The only thing to note is that the longer you stay, the more relaxing and enjoyable it will be since you don't have to pack so many activities in one day.
Cabo San Lucas Itinerary Guide
Below is a complete itinerary to help you plan your trip to Cabo San Lucas. This itinerary is designed for three whole days of staying. However, if you're staying longer, you can take it easy and skip some activities to enjoy the next day.
First Day at Cabo San Lucas
The first day at Cabo will always be about adjusting to the place, settling in, and relaxing after a long journey. If you arrive at night, it's best to relax at your hotel and start in the morning. However, if you're arriving in the morning, here's a guide you can follow:
Morning
Upon arrival at Los Cabos, you need to settle for transportation that will take you to your booked hotel. 
If you're traveling by plane, you can arrange an airport transfer to your hotel. Most resorts and hotels have a complimentary transfer, so talk to them about your flight schedule.
Now, if you don't have a hotel or resort yet, it's best to book in advance. If you want options, read our article: Escape to Paradise: The Best Places to Stay in Cabo San Lucas.
Once you reach your hotel or resort, give yourself a chance to relax and unwind. Grab some drinks or eat your lunch before you start your activities.
Afternoon
If you're ready to explore, go for a boat ride. It's a must that each Los Cabos tourist check out Land's End Arch, which straddles the Pacific Ocean and the Sea of Cortez. 
It is impossible to do this rock formation justice in photos. Hire a glass-bottom boat for a quick tour of the Arch if you're feeling energetic or prefer less effort, paddleboard or kayak out to it.
Afterward, you can stop by Playa del Amor, also known as Lover's Beach. It's also beside Playa del Divorcio, meaning you can check out these two beach areas in one day.
One thing to note is that this side of the beach contains some rough waves, so we do not recommend swimming in the area.
Evening
As always, you can spend the day on the beach and watch your first day ends with a beautiful view of the sunset. 
After the sun has set, you can explore the Marina. Here, you will find a boardwalk and enjoy the sight of locals and tourists dining outside eateries. 
You can have your dinner around the area and chill out if you're planning to enjoy some nightlife. You can also do some exploring on the nearby boutiques and local stores.
You can head to any seafood restaurant if you want a nice dinner. Most places serve delicious fresh seafood that will surely be a welcoming meal in Cabo San Lucas. Get some margarita or mezcal while you're at it.
If you still feel energetic late in the evening, you can enjoy some nightlife at Cabo Wabo or Squid Roe. Afterward, head to your hotel and get some rest for the second day.
Second Day at Cabo San Lucas
The second day at Cabo is a continuation of exploration throughout the area. While you can head out early, you can also relax and start your day by around 8 AM. Any time later will be ideal if you stay at Cabo San Lucas longer than three days.
Morning
To start your day, drink a coffee and enjoy breakfast at your hotel. Afterward, it's time to head to the neighboring town, which is San Jose del Cabo.
If you're up for some activity by the beach, you can try surfing at Playa Acapulquito, a popular surfing spot. 
Surfers worldwide love this spot, but it's usually uncrowded and has long waves.  It doesn't matter if you've never surfed before. Your instructor will be patient and helpful, guiding you on the shore.
Surfing may be a bit much for you early in the day, but birdwatching is a good alternative. Los Cabos Birding operates excursions through the estuary, a natural oasis where you can see some of the region's endemic species.
By noon, you can enjoy some cooking classes at Flora Farms or tour the property. It's a sustainable farm that pioneered the farm-to-table concept in Cabo San Lucas with its restaurant. 
If you prefer such things, you can also find a spa at Flora, a pastry shop, a farmer's market, and several boutiques.
Afternoon
The cooking class will help you appreciate the effort in preparing Mexican food. Later on, you'll realize how worthwhile it is when you enjoy a delicious meal made from the food you prepared. 
The best time to visit cultural destinations, souvenir shops, and art galleries of San Jose del Cabo is after the main heat of the day has passed.
Evening
When the day ends, join the Art Walk when roads are closed to traffic for visitors to stroll along the streets, visit art galleries, and listen to live music. However, it's only available every Thursday from November to June.
Later in the evening, you can eat tacos and drink mezcal or craft beer. Tacos al pastor and tacos with a cheese crust are Mexican specialties, so they're a must-try. You can also indulge in decadent flan or churros with chocolate sauce and ice cream.
If you still want to make the most of your second day, head to The Rooftop Bar and grab some cocktails to sip while enjoying the view. You can find this bar at The Cape.
Third Day at Cabo San Lucas
If you're only staying for three days, then the third day is meant for relaxation to prepare for your departure. However, if you're staying for more days or extending, you can head out and explore other activities.
Morning
You can enjoy your morning by sleeping for a few more hours and heading to Mama's Royal Cafe for brunch. They serve excellent coffee and Mexican dishes such as huevos rancheros and stuffed French toast with fruit and cream cheese.
By noon, you can head to El Medano beach for a pleasant stroll and see boats zipping across the water, parasailing overhead, and vendors selling wares.
Afternoon
In the afternoon, you probably need to get your adrenaline pumping after a leisurely morning. You can pick from several sports and activities at Wild Canyon adventure park on the Tourist Corridor.
Alternatively, ride a camel or ride an ATV through the Baja outback. The canyon also has ziplines and a glass gondola for bungee jumping. 
In the evening, you can enjoy a spa treatment at your hotel. Most resorts have an in-house spa offering hot rock massages alongside chocolate wraps before dinner.
Evening
If it's your final day at Cabo San Lucas, it's best to enjoy a nice dinner, and the best place is at Sunset Mona Lisa.
Located on the edge of a plateau, this restaurant offers spectacular scenery overlooking the ocean. 
If you make your reservation right before sunset, you can sip a cocktail as the sun slips into the rocks. 
You can continue the fun after dinner by going out for a night. At Blind Boar Cantina, traditional cocktails are reinvented in an elegant setting.
Head to Mandala Los Cabos for hip-hop and EDM if you're still not ready to turn in. Afterward, head back to the hotel and prepare for your next day's departure.
Summary
The Cabo itinerary I've put together is intended to make planning your Mexico beach vacation easier. Of course, you can constantly adjust the activities depending on how you see fit. After all, it's your vacation, and nothing is better than doing it your way.
Now, if you want to do an itinerary of your own, you should know the best things to do around the area. To know more, read Experience the Magic of Cabo San Lucas: Top 10 Things to Do.