With its beautiful beaches, world-class accommodations, eclectic nightlife, and exciting day trips and activities, Cancun will make your vacation worthwhile. However, planning a trip to Cancun can seem daunting and stressful. For this reason, we wrote this guide to help you.
Cancun is a Mexican city known for its stunning beaches, wild nightlife, high-end accommodations, and a handful of fun activities and entertainment. For this reason, it's best to maximize your stay and know everything you need about this city to enjoy it the best way possible.
In this article, you'll see our in-depth guide to planning a trip to Cancun. This information includes all the essential things you need to know and helpful tips to make your vacation more accessible, comfortable, and manageable. After reading, you'll have a better idea of this city, and you'll be able to prepare for your trip without problems.
Without further ado, let's get into it!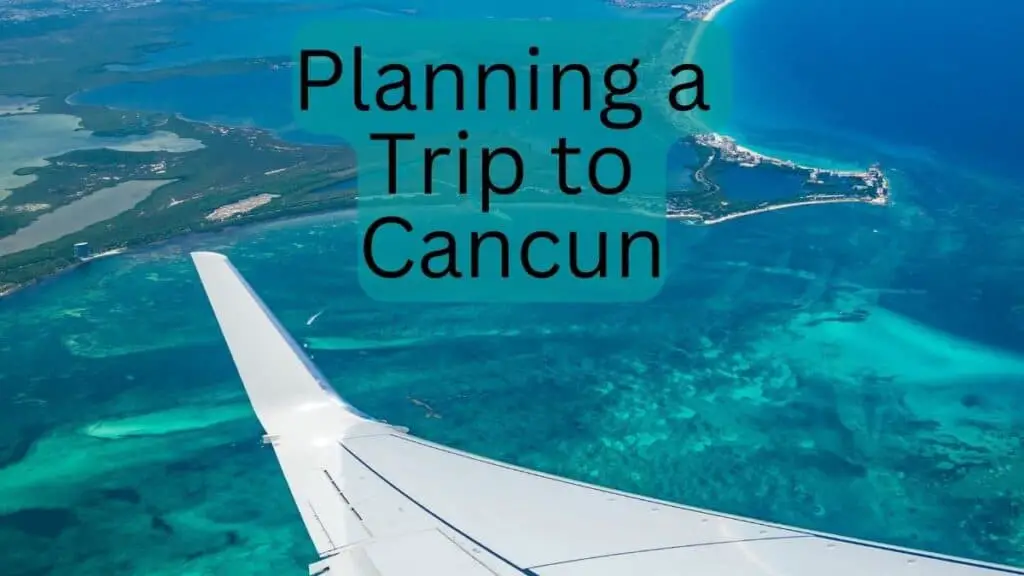 4 Basic Things to Know in Cancun
Cancun is a city in Mexico, and if you're not from this country, you need to know what to expect when you arrive. This information includes a few basic things to help you plan your trip.
Language
As a Mexican city, expect to hear lots of Spanish words and read Spanish signs. Now, while it may sound scary for tourists who don't know how to speak this language, don't worry. Cancun is a tourist destination, and almost everyone in this area knows and understands English.
In high-end hotels, almost every staff knows several languages, including Italian, French, and English. However, if you want to blend well, it's best to learn a few essential words in Spanish, such as greetings, numbers, and directions. 
Read Can You Go to Cancun if You Don't Speak Spanish?
Currency and Payment Methods
Another essential thing is the currency and payment method. Cancun uses the Mexican Peso as the local and central currency. As such, it's best to have some cash in local currency, especially when you're paying small fees and buying from local stores.
Cancun's high-end accommodations usually accept card payments and US dollars. However, if you're tipping, paying vendors, and paying entrance fees, it's best to do so in local currency to save yourself some additional charges and for convenience.
Safety
Cancun is a tourist destination, meaning you'll find yourself amidst all sorts of people, locals, and co-tourists. 
While the city is generally safe, it's not reason enough to lower your guard and be carefree. To learn more about safety concerns in this city, read Is Cancun Safe?
Climate
Cancun is tropical, so you can always expect sunny weather throughout the year. In general, the average temperature in this city is around 83 degrees Fahrenheit (28 degrees Celsius). 
The rainy season lasts from June to October, while the dry season lasts from December to April. We've written an in-depth article on this city's weather. To learn more, read: Cancun Weather.
Main Transportation Methods in Cancun
In general, the main transportation methods in this city are taxis and buses. However, you can always rent a car if you want flexibility. Here's our take on the transportation methods:
Buses
The best way to get around Cancun is by bus. Cancun's bus system has routes that will take you to common areas, popular destinations, and more. Further, it's cheap and accessible.
If you want to know about the fares, routes, and types of buses, read our article about Taking a Bus in Cancun.
Taxis
Taxis are easy to access in Cancun since you'll find lots of them around. However, in general, taxis can seem overwhelming, especially when you arrive at the airport. 
While taxis are accessible, we recommend taking them only when extremely necessary. Taxis in Cancun are not regulated, and the drivers may charge excessive fees, especially when they know you're a tourist. 
If you want to know more about taxis, especially their safety, read Are Taxis Safe in Cancun?
Car Rentals
Car rentals offer flexibility in terms of getting around. However, if you're staying in Cancun throughout your vacation, we suggest taking a bus rather than renting a car.
Now, if you're a family with plans on day trips to nearby areas, a car rental can offer you flexibility and save you from day trip packages by making a DIY day trip. Please read our article about the Best Car Rental in Cancun for the best options.
Two Main Areas in Cancun
Cancun is a vast city but is generally divided into two main areas: the downtown and the hotel zone. 
Cancun Downtown
Downtown Cancun is where locals reside. You can enjoy affordable accommodations like hostels, apartments, and boutique hotels here. If you want to shop for more affordable items, you'll also find some local stores and markets.
Cancun Hotel Zone
The hotel zone of Cancun is where most tourists stay, and you'll find the vibe utterly different in this area. Here, you can see towering buildings of all-inclusive hotels and resorts. Further, you'll find entertainment and business establishments around here. The party zone is also located in this place, along with the long coasts of stunning beaches of Cancun.
Where to Stay in Cancun
Accommodation is one of the first things to settle when planning a trip to Cancun, and it applies to every vacation. The two main areas will be the hotel zone and downtown. 
The downtown is ideal for tourists on a budget since you'll find cheaper accommodations around this area. 
On the other hand, the hotel zone is for tourists with a budget who want to enjoy the best of Cancun by staying at beachfront or all-inclusive resorts. It's also a place for those who wish to enjoy the nightlife near the party zone.
We made an in-depth article about this matter to help you choose the best option according to your needs. To know more, read our article about the Best Hotels to Stay at in Cancun.
Where to Eat in Cancun
Another concern of tourists would be the places to eat. As a tourist destination, Cancun offers many excellent food options.
If you've booked a stay at an all-inclusive resort, you won't have to worry about restaurants since you'll find a few restaurants within the hotel. In general, most all-inclusive hotels house at least 7-15 restaurants and bars.
Now, if you didn't avail of an all-inclusive package, you'll find plenty of options around downtown and the hotel zone. To know more about the best options, read our article about the Best Cancun Restaurants.
What to Do in Cancun
As a tourist destination, Cancun is a city that offers a handful of activities for its visitors. You can enjoy stunning beaches, wild nightlife, high-end accommodations, exciting day trips, and many more here. 
When planning a trip to Cancun, you need to know all the activities and pick the best ones that suit your preferences. 
It's an ideal way of maximizing your time, especially if you plan with a limited timeframe. Read our What to Do in Cancun article to learn more about the activities.
Cancun Travel Tips
Now that we've tackled the essential things, here are some travel tips we want to share to make your vacation more accessible, more comfortable, and more enjoyable.
Settle your Airport Transfer
Once you arrive at the airport in Cancun, you'll find it overwhelming to see tons of taxi drivers calling out. It's best to avoid them since they tend to charge too much when they see you as a tourist. 
For this reason, it's best to settle your airport transfer to reach downtown or the hotel zone conveniently. With your luggage, it can be a bit tiring for any tourist to commute. 
Most hotels in Cancun offer airport transfers as complementary. If not, these transfers are still more convenient, and you can pay them in advance to save yourself from the hassle.
Prioritize Buses when Getting Around
Cancun has an excellent bus system, and you can save a lot by maximizing the use of these buses. Furthermore, all buses in Cancun drive through popular areas and destinations. As such, you can enjoy a cheaper fare while quickly reaching the destinations.
Book the Suitable Hotel Depending on your Budget
Most of Cancun's premier resorts are in the Hotel Zone, which is also home to the city's most stunning beaches. Most options are all-inclusive, meaning daily meals, beverages, and other amenities are included in the accommodation charge. Although helpful, these options can have a higher price tag.
All Cancun hotels also charge daily resort charges to enjoy the on-site amenities. However, it would help if you kept in mind that rates vary from each hotel while creating your budget.
Try lodging downtown, which offers a more local feel than the touristic Hotel Zone, if you're seeking more cost-effective choices.
Enjoy Other Tourist Spots Around
Although we know you will want to invest all your time at the beach, Cancun also has a lot to offer in other areas.
The Museo Maya de Cancun, which gives you an insight into the region's rich cultural past, is located in the Hotel Zone. You may also explore archaeological sites in the region.
Enroll in a coastal parasailing trip for a great aerial perspective of Cancun if daring. Additionally, you might take a speedboat tour of Nichupte Lagoon and go snorkeling at the gorgeous marine national park at Punta Nizuc.
Get aboard a catamaran and travel to Isla Mujeres for some relaxation. Once there, spend some time strolling through the charming town and browsing the shops for keepsakes.
Go for some Daytrips
Enroll on tours that take you outside Cancun if you want to escape the city's bustle. The renowned Chichen Itza is one of Cancun's most popular day trip locations.
You can reserve a variety of Chichen Itza trips online. A few choices will also take you to some stunning cenotes, where you can swim in a lovely pool resembling a cave.
Additionally, you may sign up for an ATV excursion through the Yucatan Peninsula's deep jungle trails, where you can go on an exhilarating zipline course.
Also, it would be best if you took advantage of a day trip to Tulum to enjoy the famous Tulum Ruins. Visit the breathtaking Tulum ruins before diving at Mayan Beach amid the vibrant reefs and fish.
Explore Downtown Cancun
Downtown Cancun often has the most excellent cuisine. Particularly well-liked is Parque Las Palapas, which is open every night. Think of authentic Mexican food served from quaint street carts by devoted chefs. The joy of eating here is enhanced by the bustling atmosphere.
You may find the nicest handicrafts in the city in downtown Cancun. Instead of giving your friends and family the conventional airport or hotel souvenirs, consider giving them some handcrafted crafts and items. Start your hunt at the Mercado 28, a thriving flea market that offers both handcrafted goods and regional street cuisine.
Spare some Time to Adjust
Everyone has experienced the thrill of arriving at a destination for a vacation. However, we advise allowing your body ample time to acclimate to Cancun's heat and humidity if it's your first time experiencing tropical conditions. This tip applies if you come from an area with a different time zone.
Use Mexican Peso as Much as Possible
The US Dollar and Mexican Pesos are accepted at many Cancun resorts and eateries. However, not all of Cancun's tourist district businesses would take US dollars or card payments. So instead, get your pesos at a nearby ATM for the best currency exchange rates and affordable service charges.
Having pesos with you also makes tipping simpler, which is a bonus. So be ready to tip your server whether you're having dinner at a fancy restaurant or purchasing a beer at the bar. To know more about tipping, read our article about Tipping in Cancun.
Avoid Going During Rainy Season
The months of December through April are the ideal times to visit Cancun. The weather is almost ideal, even though this is the busiest travel season.
On the other hand, you should steer clear of booking your trip to Cancun between August and November, when the rainy season is in full swing. Despite the possibility of somewhat reduced rates, you'll spend most of your time indoors sheltering from the rain.
If you want to know more, read When Is Cancun Rainy Season?
Conclusion
Now that you have this complete guide, you can better understand what to expect on your Cancun vacation. Hopefully, this article will make planning your Cancun vacation more accessible, memorable, and enjoyable.