If you're searching for the best beach areas in Cancun, Playa Caracol always comes up on the list, and it's not surprising to see why. This beach area is frequented by locals and tourists alike, and it also boasts of the fine white sands and crystal clear blue waters of Cancun. Thus, it's always worth visiting this beach area if you're in the city.
Playa Caracol is situated at the heart of the hotel zone. As such, it's the beach nearest to many of Cancun's restaurants and shopping districts. In addition, locals and tourists prefer this beach area because it has a relatively flat seabed. Moreover, the waters are calmer here, unlike other beach areas.
Now, if you plan on visiting Playa Caracol, you need to know a few things before you head out. This article will cover everything you need to know about this beach, from location to establishments and even things to do in this area.
Without further ado, let's get into it!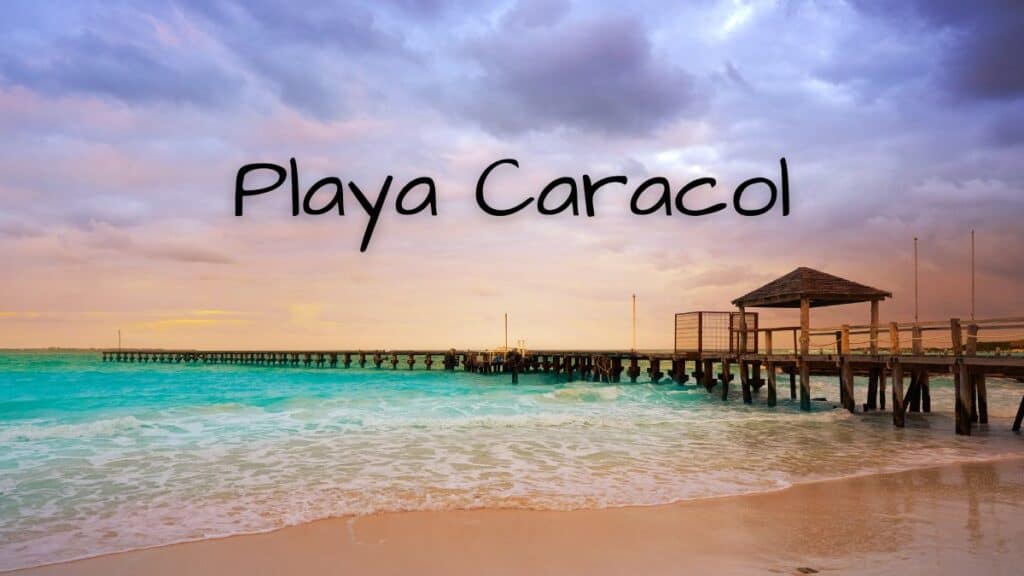 Location
Playa Caracol's location is easily accessible because it's on the northern tip of Cancun. Also, it's located in the middle of Cancun's hotel zone. So if you're searching for landmarks, it's close to Hotel RIU.
How to get there
Because Playa Caracol is only a few kilometers from Cancun's city center, getting to the place is simple. Furthermore, bus services, taxis, and automobiles are conveniently accessible due to their placement in the hotel zone.
Additionally, practically all Cancun's taxi and bus drivers are familiar with Playa Caracol because it is a well-known beach zone. Thus, you can board an R-1 or R-2 bus based on your jumping-off point. Or you could call a cab.
If you tell the driver you're going to Playa Caracol, they'll pull over close to the entrance to the beach area. Please read our post about Taking a Bus in Cancun to learn more about commuting in the city.
From Downtown Cancun
If you're coming from Cancun Downtown, the distance to Playa Caracol will likely be around 8.6 miles (13.9 kilometers). As such, it will take around 19 minutes of travel time.
From Cancun Hotel Zone
If you're coming from the center of the Cancun Hotel Zone, the distance to Playa Caracol is only around 0.1 miles (0.27 kilometers). Walking is best since it takes only seven minutes to reach the place.
Parking
The parking in Playa Caracol is limited, so it's best to visit early in the morning if you bring a car. Now, if you plan on visiting in the afternoon, it's best to commute to save time when finding parking space.
Restaurants
Since Playa Caracol is located within the hotel zone, you'll find plenty of restaurants and hotels nearby that serve food. Here are the three nearest restaurants in Playa Caracol:
Of course, you'll also find plenty of local vendors. In addition, since locals frequent this beach area, you'll find affordable dining nearby.
Hotels
Due to its location within the Cancun Hotel Zone, Playa Caracol has many accommodation options. Nonetheless, you'll find these three hotels and resorts near the beach area:
We have an article about the Best Hotels to Stay at in Cancun, where you can find the best options.
Beach Clubs
The nearby hotels offer beach clubs where you can order food and even rent sunbeds and lounge chairs, and you can rent per hour. 
On the northernmost point of Cancun's Hotel Zone, Playa Caracol is a cozy, less-crowded beach that is well-liked by both residents and tourists. Now, check out Playa Delfines if you want something secluded but still within the hotel zone.
Playa Caracol, tucked between two docks, is renowned for its stunning combination of silky white sand and Cancun's renowned blue seas.
Couples frequently choose this beach area as a romantic location because of its charming sunsets.
With its quiet, shallow waters and gentle currents, Playa Caracol is a favorite destination for families with young children.
Prices
Playa Caracol is a public beach, so you don't have to pay an entrance fee to access and enjoy the place. But, of course, you can always spend cash on renting sunbeds and umbrellas for around 400 pesos, and the 300 from it is consumable for food and drinks.
You can also find an Oxxo (which is like a Mexican convenience store) and a supermarket nearby where you can buy plenty of food and drinks to enjoy.
If you want to dine, you'll find several restaurants offering food at affordable prices. You'll also find plenty of vendors around offering different drinks and food.
Activities
When it comes to activities, you'll find plenty of things to do in Playa Caracol. For instance, you can try watersports like boat rentals, windsurfing, and stand-up paddle boarding. 
You can also do some snorkeling, especially if you have gear. It's an everyday activity since you'll enjoy a nearby coral reef that houses various marine life.
It's a free spot in Cancun to snorkel, but only if you have your gear. To know more about free snorkeling spots, read Where Can I Snorkel for Free in Cancun?
You'll always find a lifeguard on duty at this beach as you would with other public beaches. Now, if you're bringing kids with you, you can let them swim and play since the waters are shallow.
Nearby Attractions
Since Playa Caracol is situated in the hotel zone, it is close to the local attractions. The following are some of the area's top attractions:
Dolphin Discovery Cancun – 2.3 miles away
Torre Escénica del Embarcadero de Cancún – 4.4 miles away
Delphinus Punta Cancún – 0.37 miles away
You may always go to the nearby port and take a boat to Isla Mujeres if you want a better beach. From there, beaches and an abundance of aquatic life await, making snorkeling and diving ideal.
You may even observe and swim with whale sharks in some months. Read our post about Cancun Whale Sharks for more information.
Conclusion
The location of Playa Caracol is in the center of the hotel district. As a result, many of Cancun's dining and retail areas are closest to this beach. In addition, this beach location is popular among locals and visitors since the seafloor is relatively level. In contrast to other beach sites, the seas are also calmer here.
This article lets you know what to expect from this beach area. The rest of the concern is to visit and enjoy the place itself. If you want to know more about beach areas in the city, read 5 Best Beaches in Cancun.