Isla Mujeres, located just 15 minutes off the coast of Cancun, is a tiny island famous for its crystal-clear water and picture-perfect white-sandy beaches. This island is also popular with tourists looking for a quick beach break from the hustle and bustle of the city. 
Isla Mujeres is located only 48 miles from Playa del Carmen and is a popular day excursion for many vacationers searching for a picturesque beach retreat. We have found that the best ways to get from Playa del Carmen to Isla Mujeres include public transportation or a cab, followed by a ferry ride to the island.
Continue reading to learn more about Isla Mujeres, including why Isla Mujeres is considered a popular destination to visit, how far it's located from Playa del Carmen, as well as the most popular travel options to get from Playa del Carmen to Isla Mujeres, and more.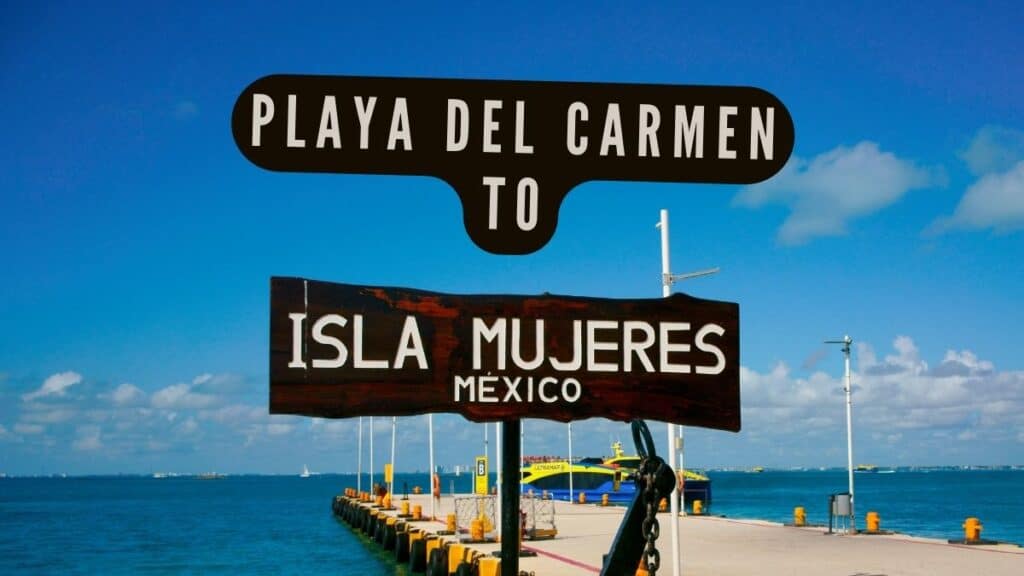 Why Go to Isla Mujeres?
While Isla Mujeres is a bit of a journey from Playa del Carmen, it is absolutely worth the trip and effort! After all, Isla Mujeres' beaches are considered far better than the beaches of Playa del Carmen.
Tourists flock to this tiny island since, year-round, the beaches of Isla Mujeres practically never see the buildup of seaweed that often occurs on many other Riviera Maya beaches. Basically, Isla Mujeres is the place to go if you're seeking a Mexican beach vacation devoid of seaweed.
The island is also conveniently accessible from Playa del Carmen or the Riviera Maya, making it a breathtaking day trip.
Where is Isla Mujeres?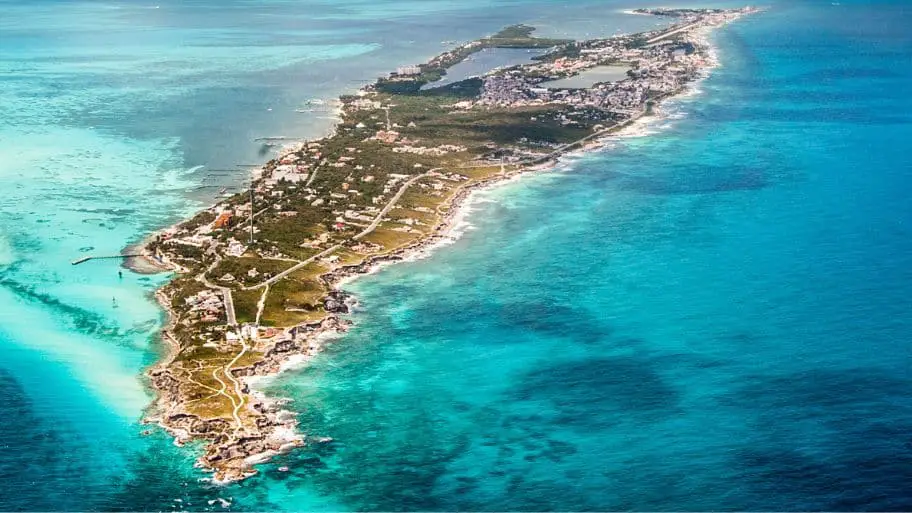 The small island of Isla Mujeres is located just east of Cancun, Mexico. Furthermore, Playa del Carmen is located only 48 miles from the island. 
Visitors who want to see the island will need to take a cab or other public transit to the ferry pier, where they will board the boat for the 15-minute journey to the island.
How to Get from Playa del Carmen to Isla Mujeres?
Travelling from Playa del Carmen to Isla Mujeres by Ferry
Everyone looking to take a day trip to Isla Mujeres from Playa del Carmen will eventually have to board the ferry. After all, unfortunately, cars we can drive across the water have yet to be invented. This ferry trip, depending on winds and weather, should only take about 15 minutes. 
Those who have visited the island before recommend putting away your electronics and enjoying the views as you take your short boat ride to the island.
Related article: Will my Phone work in Mexico? – Things to Know!
Overall, two ferry ports have regular boats traveling to the island daily. Depending on where you're staying, set your directions for Puerto Juarez or the Cancun hotel zone. The ferries at these locations come frequently and are considered inexpensive.
Travelling from Playa del Carmen to Isla Mujeres by Taxi
Taxis are one of the two options for getting from Playa del Carmen to Isla Mujeres. Unfortunately, this is the more expensive of the two solutions. After all, taxi charges can vary depending on which company you hail. 
These charges can range from paying by the mile to paying by the minute spent in the cab. Previous travelers have reported that taking this trip by taxi typically results in a $50-100 cab fare.
Travelling from Playa del Carmen to Isla Mujeres by Public Transport
The Playa Express is the most cost-effective method to go to Isla Mujeres from Playa del Carmen. 
The Playa Express can be boarded at the main bus terminal in Playa del Carmen, located at Calle 2 and Avenida 20. Once on the bus, take the Playa Express all the way to the terminal. This should take approximately an hour. This excursion should also cost no more than $5 USD per person.
Related article: Do You Need Pesos in Playa del Carmen?
When you disembark at the Playa Express, there will be a taxi queue waiting for you at the terminal. Take a cab to Puerto Juarez, also known as the Ultramar ferry station for Isla Mujeres. Take note that this cab will cost another $5 USD and take approximately 10 minutes.
How to Explore Isla Mujeres?
Getting Around By Taxi Service
When you arrive at Isla Mujeres' ferry station, there will be a queue of taxis waiting just outside. Taxis on Isla Mujeres are red and can be readily rented to different parts of the island.
Walking Around Isla Mujeres
Depending on your final destination, you may be able to walk from the ferry station. After all, most popular tourist attractions are known to be within a 15-minute walking distance. For example, it only takes 15 minutes to walk from the ferry to Playa Norte beach. This walk will also take you through downtown Isla Mujeres.
Using a Golf Cart to Get Around Isla Mujeres
Golf carts are another common mode of transportation on Isla Mujeres. Due to the island's tiny size, golf carts are more convenient for getting around on the narrower roadways.
In a golf cart, driving around Isla Mujeres takes roughly two hours. The island is approximately 5 miles long and 0.5 miles broad, making it rather small. That means you can travel from one side of the island to the other in a reasonable amount of time.
This method of transport is also considered a fun alternative to walking- and one you'll make memories of. After all, these golf carts are not just made to transverse the island roads but the beaches as well.
Final Thoughts
Located approximately 48 miles from Playa del Carmen, Isla Mujeres is a popular day trip for many travelers looking for a scenic beach escape. With so many travel options available, picking which is the best can sometimes be challenging. 
Overall, the best way for visitors to get from Playa del Carmen to Isla Mujeres is by taxi or public transport. These options will take tourists to Puerto Juarez, where they will also need to board a ferry for a 15-minute ride to the island.