Playa Delfines is one of the best beaches in Cancun, especially for people who don't love crowded places and want to avoid paying for a beach club entrance. As such, it's not surprising this place is one of the first things to visit in the city. If you want a secluded area but don't want to pay for anything, Playa Delfines is for you.
Playa Delfines is a public beach in Cancun offering stunning panoramic views of a stretch of fine white sand and clear turquoise waters. This beach is unique because it's unspoiled, without any hotels, restaurants, or structures nearby. Thus, this beach is a relaxing and peaceful place.
Now, if you plan to check out this beach, you should know a few helpful things to include. As such, this article will cover everything you need to know about Playa Delfines, including its location, the restaurants and hotels nearby, and even other things and activities it may offer.
Without further ado, let's get into it!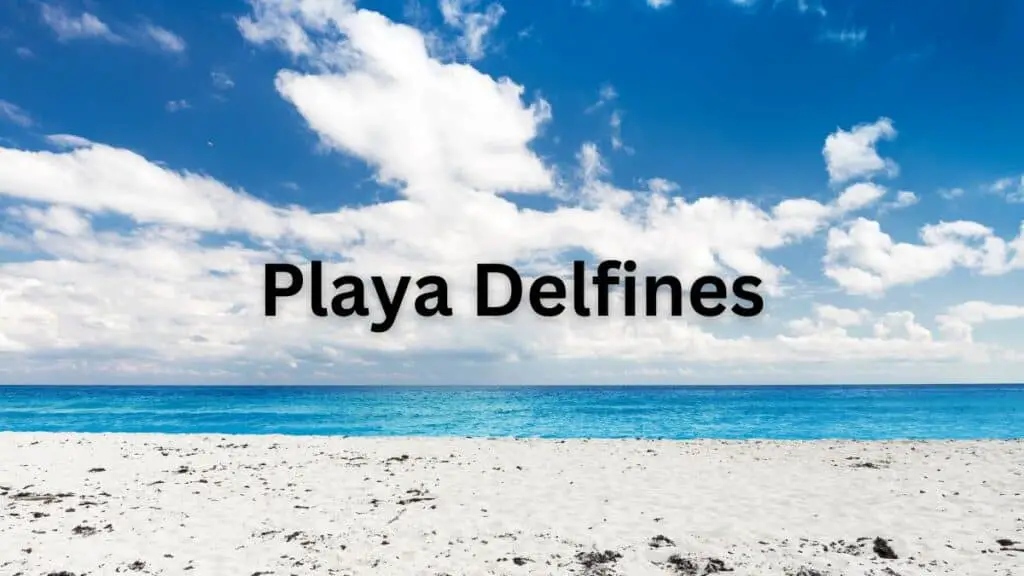 Location
Playa Delfines is located at KM 18 towards the southern part of the Cancun Hotel Zone. It's a few minutes of driving away from the city's other beaches and tourist spots.
How to get there
You can reach Playa Delfines either by car, bus, or taxi. Since it's located on the southern tip of the Cancun Hotel Zone, it takes a few minutes to travel, especially with traffic.
Since it's located in the Hotel Zone, Playa Delfines is easily accessible even if you're commuting. Of course, you can always rent a taxi, but it's cheaper and better to ride a bus instead.
From Downtown Cancun
If you're coming from downtown Cancun, the distance will be around 14.2 miles (23 kilometers) to reach Playa Delfines. As such, it will take around 28 minutes to half an hour to drive, depending on how fast you're going. 
If you're commuting, chances are the travel time will be longer since a bus may have a few stops. If you want to know more about commuting, buses in Cancun offer a convenient way of getting around. To learn more, read our article about Taking a Bus in Cancun.
From Cancun Hotel Zone
Playa Delfines is located at Cancun Hotel Zone. However, since it's on the southern end, you still need to travel around 6.6 miles (10.7 kilometers) if you're coming from the center of the Hotel Zone. That's still around 12 minutes of drive, but it's shorter.
Parking
Since Playa Delfines is a public beach, you may expect some paid parking or crowded parking in the area. However, you'll enjoy the on-site parking it offers, and it's also free. As such, Playa Delfines is a favorite destination for many people on a budget.
Restaurants
As mentioned earlier, you'll find no establishments and hotels near Playa Delfines since it's more on the underdeveloped side of the city. 
For this reason, it's best to bring your food, snacks, and drinks if you plan on spending an entire day or even several hours at this beach.
In general, you'll find some convenience stores nearby, but you won't find some restaurants nearby, so it's best to pack some food before you go.
Hotels
Hotels are also one of the things that are not available near Playa Delfines. The nearest ones still need around five to ten minutes of drive, which means there are no beachfront resorts and hotels around.
Due to the lack of nearby hotels, not many people stay at this beach, which makes it relaxing, quiet, and peaceful, something you won't find at the center of the hotel zone.
Beach Clubs
Since there are no hotels or restaurants nearby, so you'll also find no beach clubs. The thing about Playa Delfines is that you can find plenty of shady palapas, and each one is free to use.
You'll also find public bathrooms that are well-maintained and pretty clean, considering it's open to the public for free.
For this reason, you also won't find beach amenities for rent, such as chairs, sunbeds, hammocks, and even umbrellas. 
Thus, if you need such amenities, it's best to bring them. The beach is open to the public, and there's no entrance fee. As such, it's the budget-friendly beach in Cancun.
With a cooler, packed lunch, snacks, and drinks, you can enjoy a beach day in Cancun without paying for anything.
Prices
Playa Delfines has no beach clubs, hotels, and restaurants nearby. As such, you don't have to worry about prices or fees to pay.
From the moment you reach the beach, you can enjoy free parking for your car. Then, the palapas are free to use, which means you can enjoy the shade while you enjoy the beach without paying for anything.
Since there are no restaurants, you need to bring your food and drinks, saving you from such types of expenses as well. Now, if you're still preparing to visit the city, you may find our article about packing helpful. To know more, read What to Pack for Cancun.
The bathrooms are also clean and free to use, which means you won't find anything to pay for around here as long as you bring your necessities.
Activities
Playa Delfines is regarded by tourists as the classic escapist's beach since there are few merchants selling products and services and no umbrellas or shade. 
Remember that the beach is infamous for having strong currents and riptides. So while you may see some offers on kitesurfing, you will find little regarding activities in Playa Delfines.
If you visit with kids, you will be grateful that the beach has a playground to keep them occupied if they become bored relaxing or making sand castles.
If you need shade, palapas are available, so you may extend your excursion to Playa Delfines to include the entire day.
There won't be any opportunity to purchase beverages or snacks here, so be sure to pack your own. The vibrant "Cancun" sign that can be seen on several souvenirs and flyers can also be seen here.
Nearby Attractions
The nearest attraction to Playa Delfines is the hotel zone where you'll find Delphinus. However, that still involves around 12 minutes of drive since it's near the center of the hotel zone.
On the other side, the Punta Nizuc is a nearby place where you can snorkel and enjoy underwater sculptures, which are famous in Cancun. 
You'll find plenty of hotels, restaurants, and bars within five to ten minutes of driving in both directions. As such, you can always stop in between or go somewhere after lounging for a few hours at Playa Delfines.
Conclusion
Overall, Playa Delfines is a beach area in Cancun that offers a secluded area for those who want to enjoy the beach in peace. It's an underdeveloped area with no business, no restaurants, no shops, and fewer to no crowds. As a result, the beach creates a perfect secluded setting with nothing but a long stretch of white sand and clear turquoise waters. 
If you want to enjoy some peaceful time, hearing nothing but the crashing of waves and the blowing of winds, Playa Delfines is the beach area for you while in Cancun.
Now, if you want to enjoy the beach with some restaurants but still affordable, you can visit Playa Tortugas, a beach area frequented by locals.