Ibiza, one of the Balearic Islands, is a land in the sun. It is very popular for its warm temperatures and vast beaches that attract thousands of tourists every year. 
If you are one of those people who want to book their dream holiday on this party island, then you would need a good place to stay.
This article will talk about Playa d'en Bossa, the most popular luxury resort in Ibiza, and the one we will recommend to you here. Playa d'en Bossa boasts the longest beach in Ibiza, having numerous bars, beach activities, and recreational activities to do at sea.
There are comfy rooms to stay in, and the best part is that you can choose between staying at the beach or just a short walk away. The resort is one-of-a-kind for sure and attracts many tourists because of its many perks. 
If you want to know more about this luxury resort, keep reading.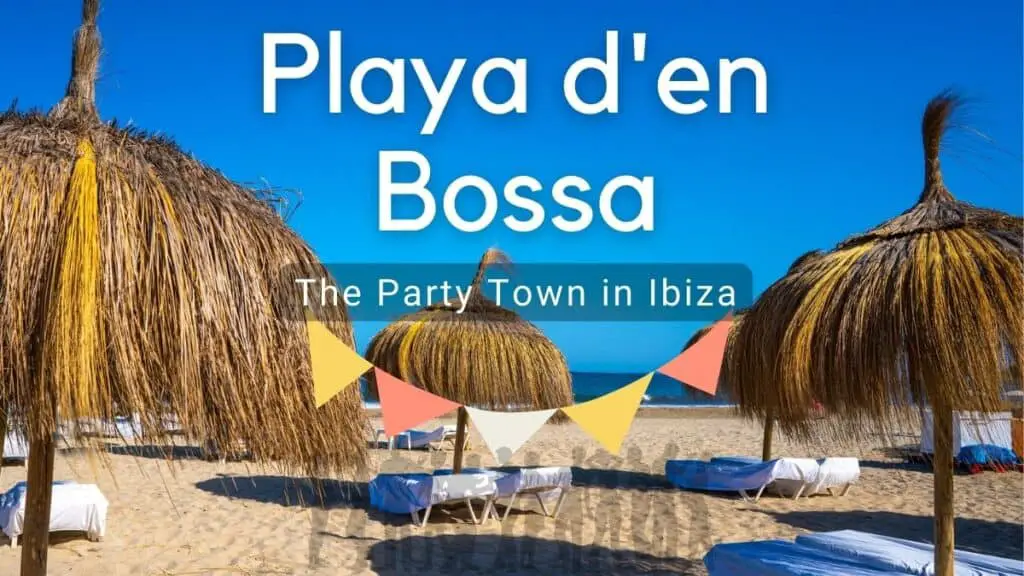 Where is Playa d'en Bossa?
Playa d'en Bossa is located right in the middle of the Ibiza airport and Ibiza town. You can find it pretty easy once you are in Ibiza since it's very popular there.
How Far is Ibiza Town from Playa d'en Bossa?
The distance from Playa d'en Bossa to Ibiza Town is approx 1.4 km (0.9 miles), and you can reach Ibiza town in just about 5 minutes by taxi. It would cost you about €10 to do so.
Here you can read more about Ibiza Town: Ibiza Town – It Has Everything You Want 
What to Do in Playa d'en Bossa?
You can pursue multiple activities here to keep yourself occupied and entertained. Things ranging from clubbing, golfing, swimming, boat parties, and surfing are pretty standard here.
Here are a few places you can check out while staying at Playa d'en Bossa. 
Sankeys Ibiza
Sankeys is a famous club in Playa d'en Bossa, with a capacity of over 1500 people. The place has an established culture that sets it apart from other newer clubs in the area. You will find people from all walks of life, which is an excellent opportunity to socialize with people while enjoying your vacation.
Nassau Beach Club
Nassau Beach Club is another popular club in Playa d'en Bossa. It is full of tourists looking for a relaxing time with a couple of drinks and some cocktails. Located on the beach, it is a unique bar experience that an island like Ibiza provides.
The food here is also nothing to scoff at. It's delicious, cultural, and varied, and you can get food at any time of the day. They provide breakfast, lunch, and dinner on their menu.
Playa d'en Bossa Hotels
You can find many hotels in Playa d'en Bossa, and you can find one in the price range you like. There are small hotels, and then there are big expensive luxury ones. All suited to your taste and requirements. 
Here we have listed a few.
Hotel Vibra Bossa Flow
This is a great place to stay in Playa d'en Bossa. It is located just 4 minutes away from the beach, so you can walk in and out of there every day on your way to the beach. The prices are also reasonable.
The hotel is located in a tranquil and peaceful place with easy access to almost all the necessary locations in Playa d'en Bossa. You also have free Wi-fi available to you, which is never a bad thing to have. Along with that you also get a refrigerator and a TV.  
Fiesta hotel
This hotel is located very close to the beach. You can walk to most places you want to go to if you stay here. They have an outdoor swimming pool for you to relax in and a gym and a restaurant.
Along with all these facilities, you will also get Free Wi-fi, newspapers, satellite TV, and access to a balcony. Make all your bookings in advance to get the best prices and no availability issues.
Palladium Palace Ibiza hotel
This is an all-inclusive hotel anyone can stay at whether they are with family or on a honeymoon. This place has something for you to look forward to. It is located close to the kids' club and the theater. ​
You will find a spa and another resort here that you can also choose to stay in if you desire. It has some excellent facilities that are available at a reasonable price. Nothing beats a relaxing afternoon at a spa, after all! 
Apartments Arlanza hotel
While hotels are the most popular accommodation option for tourists worldwide, it is not the only option at your disposal. In Playa d'en Bossa, you will also have the chance to stay in a private apartment that can be rented. 
However, the best option for you here is to stay in Arlanza. An apartment hotel where you can stay for a good price. It is affordable and still offers facilities that a top hotel does.  
You get air-conditioning, a kitchen and other necessary facilities needed in an apartment. You can book your room online and for a reasonable price without any hassle. If you are looking for a cheaper option in Ibiza, this is one to look out for.
Hard Rock Hotel
Last on this list but certainly not the least is Hard Rock Hotel. This is a popular hotel operating for years and has built a good reputation among tourists who repeatedly stay here during their visit to Playa d'en Bossa. 
Hard Rock Hotel has many facilities that a top-quality hotel ought to have. The rooms are spacious and comfortable. The beds are cleaned regularly, and the food is delicious. 
This hotel provides you with an LED TV, free Wi-fi, a refrigerator, and a minibar. You can book tickets online, and advanced booking is always recommended since it can get pretty crowded there in peak season.
Playa d'en Bossa Restaurants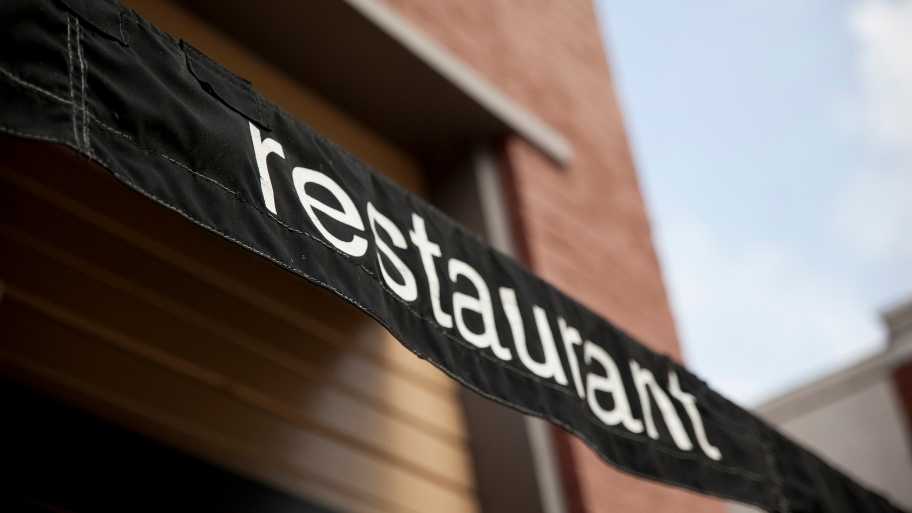 Food, as always, is one of the most important deciding factors for anyone who wants to stay somewhere. And it is one for Playa d'en Bossa as well. Here you can find some of the best restaurants present in Ibiza.
They provide beautiful views of the sunset from the beach and a relaxing atmosphere. The food is always high quality, both in taste and price. The most abundant cuisine to get here is the Mediterranean. Mouthwatering seafood also awaits you in Playa d'en Bossa.
Some of the most famous restaurants are El Limonero Ibiza, Ciao Ciao, DarumaRamen Ibiza, Bebel, Ohana Ibiza and Casa Manolo.
Here yo can read about other restaurants in Ibiza: Restaurants in Ibiza.
Playa d'en Bossa Beach
The beach in Playa d'en Bossa is the longest on the island. It has shallow waters all around and a wide shoreline with no shortage of beach bars and clubs. 
You can pursue a lot of fun activities here that include surfing, beach ball, kayaks, volleyball, jet ski, catamaran, and swimming. It is only 4 kilometers away from Ibiza Town and hence a trendy place among the tourists.
Lifeguards are always present, and there are proper security arrangements in place. If you are fond of long walks with beautiful scenery, it's the best place to go. 
The south end of the beach is more peaceful and quiet with very few people, so just walk your way to this area and enjoy some quality time with your loved ones. 
Wondering if there are sharks in Ibiza? Check out this article: Does Ibiza Have Sharks?
Playa d'en Bossa Nightlife
Nightlife in Playa d'en Bossa is all about partying, clubbing, and drinking. There are a lot of clubs here that you can visit at night. Some of the most famous DJs are found in the clubs of Playa d'en Bossa.
Clubbing is a unique experience since so many people from diverse cultures gather in one place. The parties and the dancing never stop, and neither does the fun. Drink responsibly, and you are going to have a blast.
At night you will find many bars and restaurants. Here, you can bring your friends who enjoy the nightlife and many other people crowding the city even late at night. Playa d'en Bossa never truly sleeps.
Conclusion
Playa d'en Bossa is a resort for anyone who wants to have the best time they can have in Ibiza. It encapsulates everything there is about a holiday in Ibiza. Once there, you will have a great time with your family and friends. Or even if you are traveling alone.
I hope you learned a lot from this guide and are now ready to pack your bags and relish your vacation in Ibiza while staying at this luxury resort. Don't forget to enjoy all the activities discussed in this post and the exclusive nightlife at Playa d'en Bossa.