If you're a beach enthusiast and want to explore every beach in Tulum, you may have encountered Playa Pescadores. With so many beach areas in this town, Playa Pescadores is among the ones to stand out, and there's a reason why.
Playa Pescadores is a small area that is part of Playa Paraiso, one of the best beach areas around Tulum and even in the entire of Mexico. This area is a public beach, and everyone can access it easily. Further, it has a line of palm trees offering shade to its guests.
Now, if you want to spend some time at Playa Pescadores and enjoy this area, you'll want to know its essential things to ensure you maximize your time and note everything. This article will cover all these things, including its location, nearby hotels, restaurants, and even activities. 
Without further ado, let's get into it!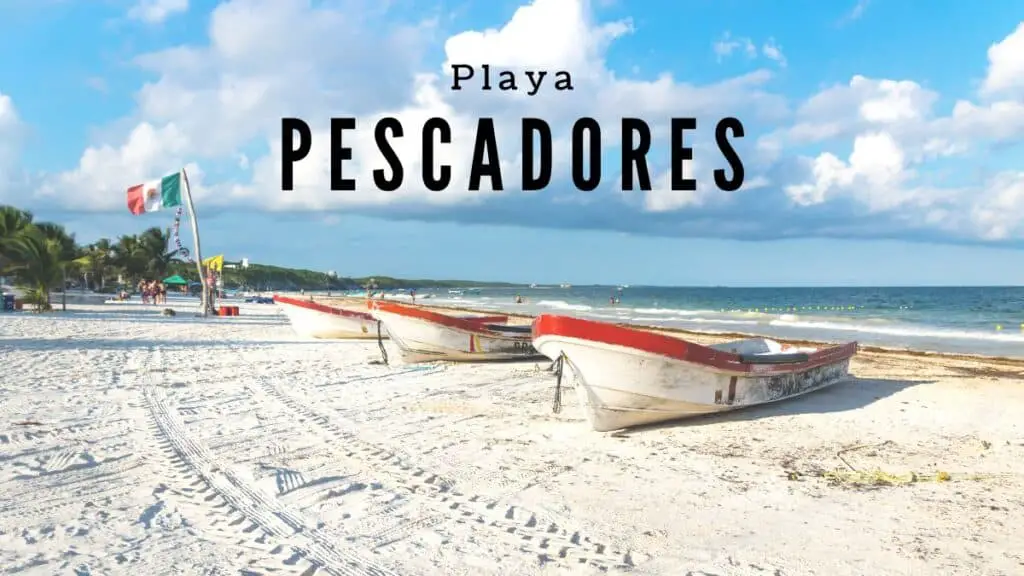 Location
Playa Pescadores is a part of Playa Paraiso, the center of Tulum's North Beach. As such, it's often overlooked due to the area's popularity. Here, you can enjoy the long stretch of fine white sand that welcomes the crystal-clear blue waters of the Caribbean.
In general, the location of Playa Pescadores is easily accessible through Tulum Beach Road. As such, you'll find it easy to reach this particular beach area.
How to get there
You can get to Playa Pescadores Beach in Tulum in a few minutes if you decide to check it out. The best way to get there is to drive or rent a bike.
From Tulum Pueblo
If you're coming from Tulum Pueblo, Playa Pescadores is 4.4 miles (7.2 kilometers) away. As such, it will only take around 16 minutes to drive or 21 minutes if you ride a bike.
From Hotel Zone
If you're coming from the center of the Hotel Zone near Kore Tulum, Playa Pescadores is only 1.6 miles (2.7 kilometers away). As such, it should only take 7 minutes to drive or 8  minutes if you ride a bike.
Parking
Since Playa Pescadores is situated beside Tulum Beach Road, you can find plenty of parking beside the road. Of course, this space can be limited during peak season, but it's always secure and free to use. 
If you're in Tulum during peak season, it's best to hit Playa Pescadores early to make sure you have a parking space available.
The area also has some space for bike riders to place their bikes. Make sure your bike has a lock to secure it in place.
Restaurants
As part of Playa Paraiso, Playa Pescadores houses several restaurants for you to enjoy. Some of these restaurants are:
You can find other options nearby when you explore a bit further throughout the area. Each restaurant usually has an outdoor dining setting, giving you good food that you can enjoy with the fantastic view of Playa Pescadores.
Hotels
Now, booking a nearby hotel is the best way to maximize your stay in Playa Pescadores.
You can find several nearby hotels if you want to stay in Playa Pescadores. 
Besides luxurious accommodations, many places to stay are all-inclusive, consistently highly rated, and located in pleasant areas. Some of the nearby hotels are:
Now, if you want other beachfront options, we have scoured the best ones for you to consider. These hotels are not in Playa Pescadores, but they offer a great view of Tulum Beach that will make your stay enjoyable. You can check out the Best Beachfront Hotels in Tulum for more information.
Beach Clubs
Since Playa Pescadores is an open and public beach, you don't have to pay to walk through and enjoy the area. Still, it will be more enjoyable if you have shade and even some tables and chairs if you don't want to sit in the sand.
Luckily, Playa Pescadores houses several beach clubs. Among these are Villa Pescadores Beach Club, Santa Fe Tulum Beach Club, and La Diosa Tulum Beach Club.
Each beach club offers different types of beach amenities. However, the common ones for rent in this area are:
Oversized beach beds
Sunbeds
Beach umbrellas
Tables
Chairs
Alternatively, you may rent these items or furniture if you're not staying at the hotel, and it's more affordable if you're at a budget hotel. However, if you book at these hotels, you may enjoy these beach amenities for free as a complimentary inclusion to your booking.
Prices
As I mentioned, Playa Pescadores is a public beach you can enjoy without paying anything. However, you'll need to pay fees if you want to rent beach amenities or enjoy some activities.
Generally, most beach clubs offer furniture for rent, starting at around 100 to 500 pesos each. Depending on the furniture you rent, these prices may range from 1000 to 3000 pesos per bed.
Some beach clubs don't require furniture rental but only a minimum spend at their restaurant or bar. 
Thus, if you're also planning to order some food or drinks, you may as well go to beach clubs with such an offer to save you from the rental fees.
One thing to note about payments is that most beach clubs also accept foreign currency. However, you should pay in local currency to avoid high prices with their conversion rates.
To find the best places to exchange money in Tulum, check out our guide to the Best Places to Exchange Money in Tulum.
If you want to save as much money as possible, bring your towels, chairs, and snacks.
Activities
There are plenty of activities to choose from in Playa Pescadores. Since this is a public beach, it's likely crowded with many people, and locals may provide activities there.
Among the activities, you can enjoy here are snorkeling, boat rides, scuba diving, beach sports, and massages by the beach.
Now, if you want to relax, you can rent some lounge chairs, umbrellas, or hammocks. Or, you can enjoy some refreshments by ordering at beach clubs and bars.
Nearby Attractions
You can find several nearby attractions if you want to maximize your time and explore a bit more. These attractions are only within a mile away. Thus, if you have a car or a bike, a few minutes of travel time will be enough to explore some attractions.
Some of the nearby attractions are:
Tulum Archaeological Zone – 0.9 miles
National Park of Tulum – 1.3 miles
Now, if you're planning an entire Tulum itinerary, you'll need to know every activity and place to check out in Tulum. For more info, check out the 24 Things to Do in Tulum.
Conclusion
As one of Tulum's popular beach areas, Playa Pescadores offers a scenic view without needing to pay a high price to hotels and beach clubs. The number of restaurants and the availability of beach amenities are worth considering if you're on a budget but still want to enjoy Tulum's beach.
With this information, we hope you can make your plans and include Playa Pescadores as one of the beach areas in Tulum that you'll enjoy.