Lanzarote is one of the most beautiful Islands in the cluster of the Canary Islands. If you are visiting Lanzarote, it would be ideal to choose to stay in Puerto Del Carmen.
Puerto Del Carmen is the main tourist town on Lanzarote Island, which hosts most of the million visitors every year. It is located in the municipality of Tias.
At this point, you might be thinking, why is Puerto del Carmen the perfect tourist location, and what does it have to offer? Well, if that is what you are looking to know, you are in the right place.
In this article, I will talk about Puerto del Carmen, the hotels it has, restaurants you can find there, the beaches, and things to do if you are in Puerto del Carmen as a tourist with your friends and family. So, let us get started with this tour guide without wasting any further time.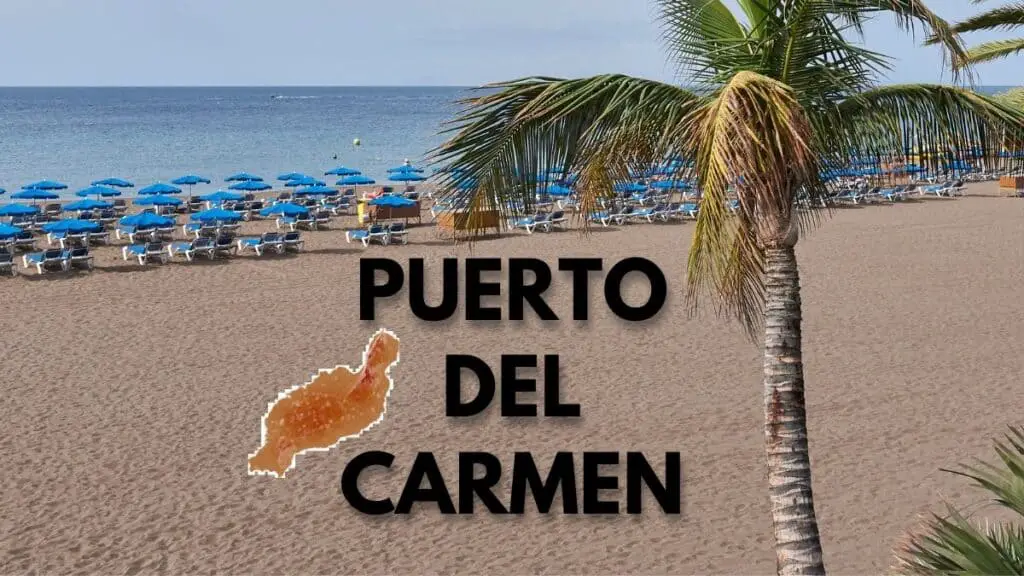 Hotels in Puerto Del Carmen
Puerto del Carmen is rich in hotels and apartments but finding the perfect one could be difficult if you are visiting the town for a serene and sublime vacation with your loved ones. That is why I have taken the leisure to provide you with a few of the best hotel choices available in Puerto Del Carmen in terms of value, look, price, and availabilities. So let us take a look at them.
Apartments Cinco Plazas
Apartments Cinco Plazas is an excellent hotel with stunning looks, fantastic architecture, and many great amenities to offer. It is located just 350 meters away from the beach, with a pool view from the windows of the rooms.
The service in this hotel is excellent, the prices of the rooms are low, and the overall feeling and staying experience are amazing as well. So, you should consider this hotel if you are in Puerto del Carmen.
Apartmentos Parque Tropical
Apartmentos Parque Tropical has a very Island-type vibe and a luxurious setting for the visitors. The outdoor pool is large-sized and stunning-looking, perfect for individuals who like to take a dip or sit poolside taking in the warmth of the direct sun.
The hotel is located in Calle Anzuelo, and the prices of rooms are high, so be on the lookout for that. Other than that, there is a lot that this hotel has to offer, and you are going to love every bit of it. So if you visit, get ready to have a great time there.
Suite Hotel Fariones
Talking about stunning hotels with large-sized outdoor pools, Suite Hotel Fariones Puerto del Carmen is the top pick for many visitors, including myself. The Island setting and the architecture, along with the crystal-clear pool water, are just fantastic.
It is also on the more expensive end, but the overall experience there will be unlike any other.
Restaurants in Puerto Del Carmen
Whenever you travel, one of the biggest things to consider is food. Eating local food, delicious meals that are great in value is the goal. In Puerto Del Carmen, many restaurants offer local and international meals. Here are some of the best restaurants and eateries available there.
The Little Elm Restaurant
The Little Elm Restaurant is a popular English and European restaurant that serves delicious and simple meals. The look and aesthetic of the restaurant are pretty decent, and the ambiance is calm.
It is located in Avenida de Las Playas Centro Commercial La Penita. You will have a great eating experience there since they also cater to vegan and gluten-free eaters. So, do visit them when you are in the area.
La Carmencita del Puerto
La Carmencita del Puerto is a high-quality eatery in Puerto del Carmen serving delicious Spanish, European, and Mediterranean meals that look good and taste even better.
It is located in Avenida de Las Playas Maritimo Mall. The restaurant's ambiance is quite lovely, and the Spanish theme is pretty impressive as well. Eating at La Carmencita del Puerto would be a great decision if you are in the Puerto del Carmen region.
The Good Old Days Bar & Kitchen
One of Puerto del Carmen's best-looking restaurants and bars is The Good Old Days Bar and Kitchen. The beachside ambiance and the look and aesthetic are just unique.
The restaurant is located in Avenida de las Playas. It serves up all kinds of meals, including International, Spanish, Vegan-friendly, Healthy, and British options. You will have an excellent eating and drinking experience in The Good Old Days Bar & Kitchen.
Did you know this: Which Canary Island Is the Hottest?
Biosfera Plaza and Shopping Center in Puerto Del Carmen
Biosfera Plaza Shopping and Leisure Centre is one of the biggest shopping malls and centers in Puerto del Carmen, Lanzarote. The architecture and design of this plaza are unique. It looks pretty huge and impressive and hosts dozens of shops and restaurants you can go to.
Whether you are looking to get delicious food, buy drinks, or get gifts for your loved ones back home, Biosfera Plaza and Shopping Center would be the perfect place to go. If you are thinking of going, you will find Biosfera Plaza in Avenida de Juan Carlos I. You are going to have a great time there.
Beaches in Puerto Del Carmen
Visiting beaches when you are in the Canary Islands should have on your bucket list as a tourist. Lucky for you, Puerto Del Carmen has a couple of great beaches you can choose between if you want to sunbathe and relax with your loved ones. So let us check them out.
Playa Grande
Playa Grande is one of the most extensive beaches in the Canary Islands. It is situated on the coast of Puerto del Carmen, filled with beautiful white sand, and surrounded by the deepest blue waters.
There are a lot of refreshments and eating options near the beach, and you can relax on the beachside with your umbrella and chair, sunbathe in all your glory while the kids can play in the water, or build sandcastles. The experience of Playa Grande will be quite an epic one.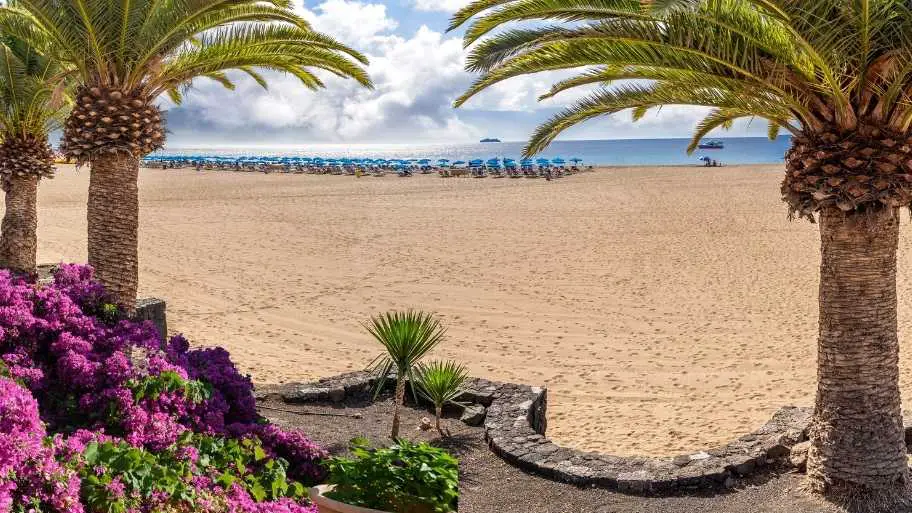 Playa de los Pocillos
Another famous beach in the vicinity of Puerto del Carmen is Playa de Los Pocillos beach. It is less crowded than Playa Grande and has a more relaxed look and aesthetic.
There is not much traffic on the way, and the visuals are also pretty beautiful. So if you are looking for a relaxing and calm beach environment, Playa de Los Pocillos would be the best destination for you to head to.
Things to do in Puerto Del Carmen
When you are in Puerto Del Carmen, you will experience a lot of opportunities to have fun and enjoy your stay. There are a bunch of activities and places to visit in this town. If you are not sure what to do and where to go, here is a list of some of the essential things to do when you are in Puerto Del Carmen:
Lanzarote's Best Sunset Cruise
Lanzarote's Best Sunset Cruise is an exciting activity, especially for families and couples, which takes them on a cruise, with complimentary drinks and even snacks while giving a beautiful tour of the coast side of Lanzarote. It will be a wonderful experience, and that is why you should take a day out for taking this sunset cruise.
Old Town Harbor
The history of Puerto del Carmen is that it was also a pretty lovely and small fishing village. The Old Town Harbor is one of the original locations and pieces of history in Puerto del Carmen, where you can find a lot of great restaurants and bars along with entertainment centers. So, visiting Old Town Harbor would be an excellent decision for you.
Rancho Texas Lanzarote Park
Rancho Texas Lanzarote Park is one of the few waterparks and zoo combinations in Puerto del Carmen. Therefore, it is one of the best places to bring your children if you want to have a good and memorable time. In addition, there are a lot of activities and shows that happen in Rancho Texas Lanzarote Park that you can take part in, so make sure you visit.
Conclusion
Puerto Del Carmen is a lovely place to visit if you plan to spend your vacation in the Canary Islands Lanzarote region. There is so much to do here and so much to see and experience in this town that you will not have a single moment of boredom.
Have you read this article: Playa Blanca – «The White Beach»
If you are ever planning to head to the Canaries with your friends and family, make sure you go and visit Puerto Del Carmen. From visiting parks and zoos to enjoying water activities and excellent food, you are going to have a great time regardless of your interests. I hope you learned a lot from this article and started planning ahead of your trip.