If traveling is your forte and the holiday season is coming your way, you might be thinking of going on a relaxing and fun vacation with your family. The Canaries, and especially Puerto Rico, Gran Canaria, is one of the best travel destinations you can choose to go to.
That must make you wonder, why is Puerto Rico a good tourist destination, and what can we do for fun in the resort if we take a vacation there?
In this article, I will talk about Puerto Rico, Gran Canaria, and everything about it. From the weather to the attractions, things to do, places to go to, markets, shopping centers, the best time to visit, to all things Puerto Rico Gran Canaria offers.
So, without wasting any further time, let us get started.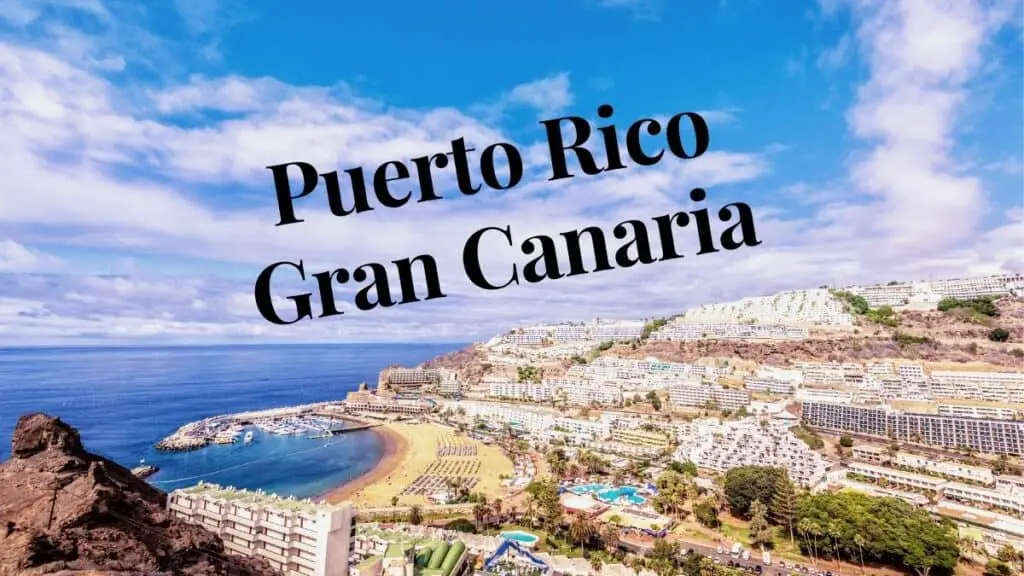 Where is Puerto Rico Gran Canaria?
Puerto Rico is a holiday resort on the southwest coast of Gran Canaria Island. It is a place packed with tourists, holiday vibes, fantastic food, and tons of fun and exciting activities.
Due to the volcanic presence in the Canaries, Puerto Rico has a lot of coastal ruggedness with tons of holiday installations where you can have great adventures with your loved ones.
The Canaries have always been a great place to visit if you are a beach and sea lover, but with the recent developments in Islands like Gran Canaria, they have become even more tourist-friendly.
Gran Canaria is the third-largest and second-most populous island in the group of the Canary Islands in the Atlantic Ocean off the coast of Africa, in Spain. And Puerto Rico Gran Canaria is a must-travel location in the Canaries.
So, if you are thinking of having a blast, sipping on cocktails, eating tasty food, and enjoying every second of your vacation, then Puerto Rico in Gran Canaria needs to be on your travel bucket list.
What Makes Puerto Rico, Gran Canaria So Special?
At this point, you must be thinking to yourself, what makes Puerto Rico Gran Canaria such a special place for tourism? Well, that is a great question. What is special about Puerto Rico is that it is a holiday resort that has all the elements of a good travel destination where you can sit back, relax, and even party if you want to.
There are tons of luxurious hotels, apartment options, and tons of tourist attractions, surrounded by the Atlantic Ocean, beaches, and many other activities. But the best thing, in my opinion, is that the prices are not too jacked up like many other tourist destinations.
If you are an eater, there are many restaurants with tons of cultural options, local food vendors, street food options, cheap eats, and dozens of bars and drinking options. Are you looking for souvenirs and gifts to bring back to your friends, family, and loved ones? Well, there are a lot of great shopping centers, markets, malls, and gift centers you can pay a visit to.
If thrill and adventure are what you seek, you can head to the beaches and swim with Angel sharks if you want to. There are no limits to the holiday excitement in Puerto Rico, and that is precisely what makes Puerto Rico de Gran Canaria one of the best tourist spots in the world.
Puerto Rico Gran Canaria Weather
Gran Canaria is known for the warm tropical feel and atmosphere it has. Of all the Canary Islands, Gran Canaria is one of the best in terms of modest temperatures and decent weather throughout the year. And since Puerto Rico is a crucial part of Gran Canaria, the weather there is also pretty great.
Temperature in Gran Canaria

| JAN | FEB | MAR | APR | MAY | JUN | JUL | AUG | SEP | OCT | NOV | DEC |
| --- | --- | --- | --- | --- | --- | --- | --- | --- | --- | --- | --- |
| 64 °F | 64 °F | 66 °F | 66 °F | 68 °F | 72 °F | 73 °F | 75 °F | 75 °F | 72 °F | 71 °F | 66 °F |
| 18 °C | 18 °C | 19 °C | 19 °C | 20 °C | 22 °C | 23 °C | 24 °C | 24 °C | 22 °C | 22 °C | 19 °C |
The thing about Puerto Rico, Gran Canaria, is that it is the perfect place for beach lovers who want to swim near the shore in the beautiful waters, build sandcastles, and sunbathe while viewing the amazing natural scenes of the Island.
But to make sure you get the best experience, learning about the different weather conditions, average temperatures, and atmosphere throughout the year is essential. So let us take a look at the weather in the Puerto Rico resort and Gran Canaria in general.
November to February
Between these months, Puerto Rico experiences mild winter in comparison to other parts of Spain and Europe. The temperatures stay between 64-72 degrees Fahrenheit (18-22 degrees Celsius), and in terms of sunshine, you will find a lot of it.
The weather in Puerto Rico Gran Canaria is such that you will get ample sunlight even in the coldest months due to the tropical vibe of the island resort.
In these months, going out for a tour and swimming around in the sea, the beach, and the different tourist attractions will be great because of the mild temperatures.
March to April
Spring season in the world means the arrival of summer is close in Puerto Rico. The weather in these months is slightly warmer than winter but still not at its peak.
In these months, the temperature average in Gran Canaria Island ranges anywhere between 64-68 degrees Fahrenheit (18-20 degrees Celsius) which is a pretty good temperature for touring the place.
The beaches, resorts, restaurants, hotels, shopping centers, and everything else in Puerto Rico will start getting packed in the months of March and April because the peak season is about to approach.
May to July
We have proper summer months between May and July where the season's peak has approached, and tons of tourists and locals have started to gather in the famous spots.
The average temperature in the hottest month of the year in Puerto Rico, Gran Canaria, is 73-77 degrees Fahrenheit (23-25 degrees Celsius) in July. At the same time, other months have an average range of temperature being around 68-73 degrees Fahrenheit (20-23 degrees Celsius).
In these months, all the beaches, the hotels, restaurants, and every other place will be packed, but the sunlight, the warmth, the temperature, and the overall tropical vibe will be amazing.
August to October
After the peak summer months of May, June, and July have passed, we get to August, where things are still pretty warm but not as much as the hottest month of the year.
The average temperature in August is around 75 degree Fahrenheit (24 degree Celsius) as well, and after this month, September arrives and brings with itself the season of Autumn, which means winter is close.
However, as we talked about before, the winter in Puerto Rico is very mild. So, visiting these months would not be a bad idea since the weather and the temperature are both pretty neat.
Check out our other article: Which Canary Island Is the Hottest?
Best Time to Visit Puerto Rico Gran Canaria
Now that you know what the weather is like throughout the year in Puerto Rico, you must be wondering, what is the best time to visit the resort in the Grand Canary Island?
Well, it depends actually on several factors. So let us look at some of the important factors that will affect your decision to head to Puerto Rico Gran Canaria.
Temperature Liking
The first and foremost factor is the temperature and weather of the area. Well, if you are a fan of the warmer summer temperature with direct sunlight, hot vibes, and a beach-ready atmosphere, then you should visit in the summer months.
However, if that is not the case and you are not looking to visit in the warm months, you want to stay in mild and calmer weather, then the best time to visit Puerto Rico de Gran Canaria for you would be either Autumn or Spring season months.
Entertainment Value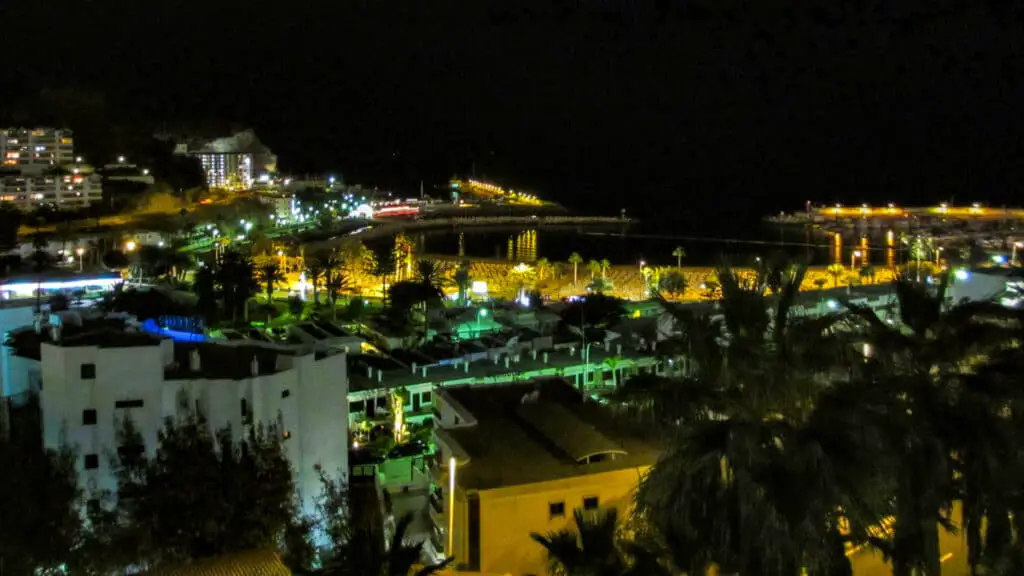 Not everyone has weather and temperature as their top priority, especially if they visit alone instead of staying with friends, family, and children. If you are coming to Puerto Rico with your loved one, going to the clubs, bars, and beaches would be great, and all of these places are at the peak of popularity in June and July.
So, that is the best time for you to visit the resort. But if you are coming with children or a large group of people, seeing the attractions, witnessing the natural views, playing beach ball, and other activities are what you will indulge in. So, any time of the year is excellent for these activities.
Beach Love
There is also the factor of being a beach bum. If you love going to the beach and the main reason for your arrival in Puerto Rico, Gran Canaria, is the beach vibes of the resort, then visiting in a warmer climate around July or August would be a good decision.
But if you are not visiting solely for beaching, you can stay in the milder months of the year simply because you will be able to go to the beach even in those months because of the continuous sunlight throughout the year. So I would suggest the best time to visit for you would be around March.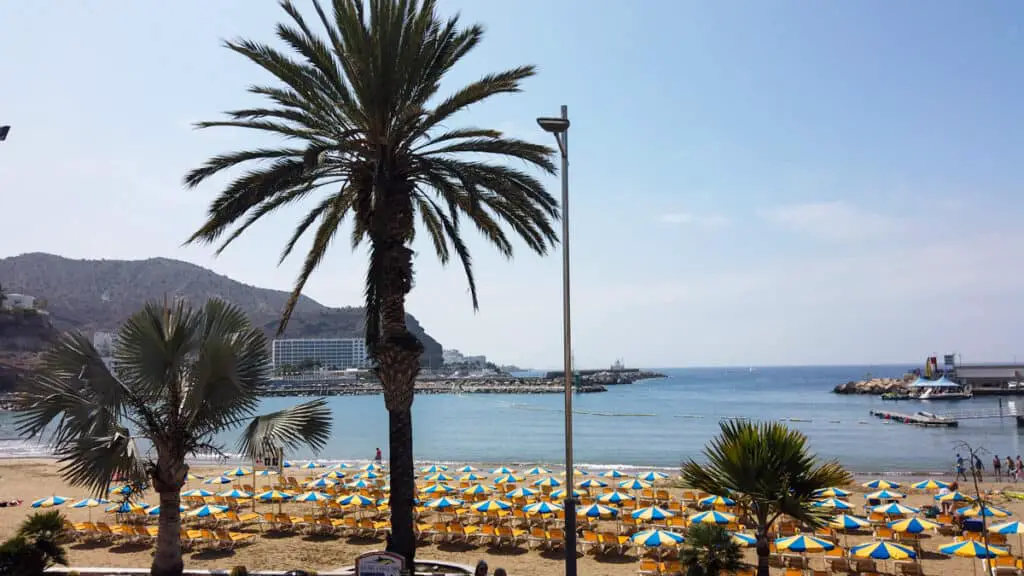 Crowdedness
If you are not a fan of crowded tourist places, you will want to visit Puerto Rico at the right time. Since most of the tourists are visiting in the wintertime visiting in between June to August would be good.
But if you do not have a problem with many people around and enjoy the company, I would say visiting, especially between the summer months, will ensure your opportunity to get to know new people. So, the best time to visit the island and the resort, in this case, would be between June and August.
Depending on all these factors, you can choose your own best time to visit the place. However, in my view, the warmer climate and the months of June to August are the best time to visit Puerto Rico, Gran Canaria, because of the whole tropical vibe and fantastic atmosphere.
Best Places to Visit when staying in Puerto Rico
Puerto Rico, Gran Canaria is a great place to stay if you want to visit some of the best tourist attractions in Gran Canaria Island. To make things simple for you, I have made a list of the best places to visit near the Puerto Rico resort to have a great time when you go on your trip.
Aqualand Maspalomas
If you are visiting with your entire family, children, and loved ones, then visiting Aqualand is a definite yes for you! This beautiful waterpark on the beach in the resort is full of watersports, slides, sea lion exhibits, and many amazing dining options.
If you are someone who loves to enjoy in waterparks, have a great time with your family, and enjoy the tropical climate of the Islands, then the Aqualand Maspalomas Water Park is the place for you to be at around 16 minutes of drive.
Amadores and Playa Puerto Rico Beaches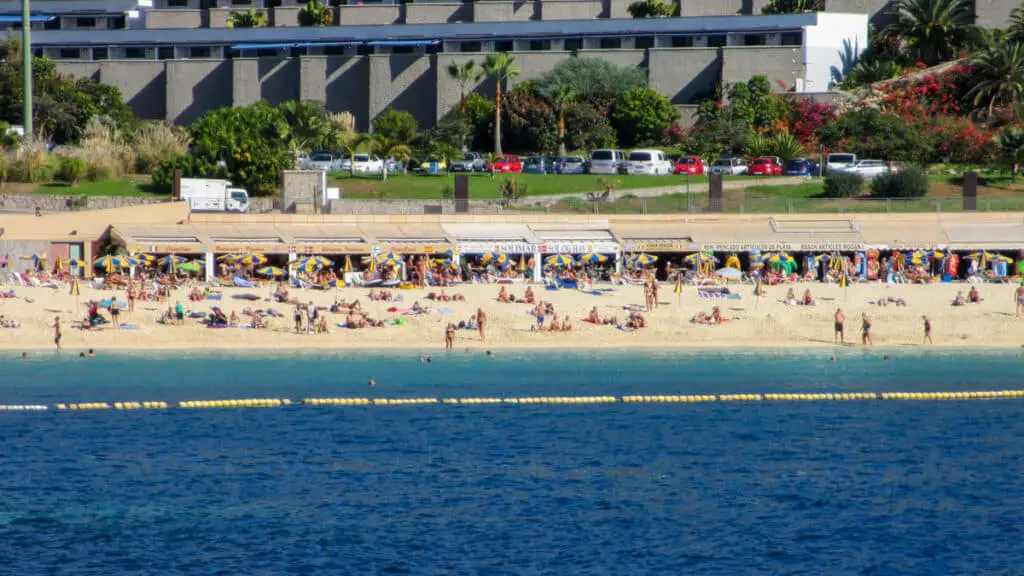 Are you staying in the Puerto Rico de Gran Canaria resort? Well, there are two excellent beaches that you should definitely go swimming around, sunbathe on, and build sandcastles with your children.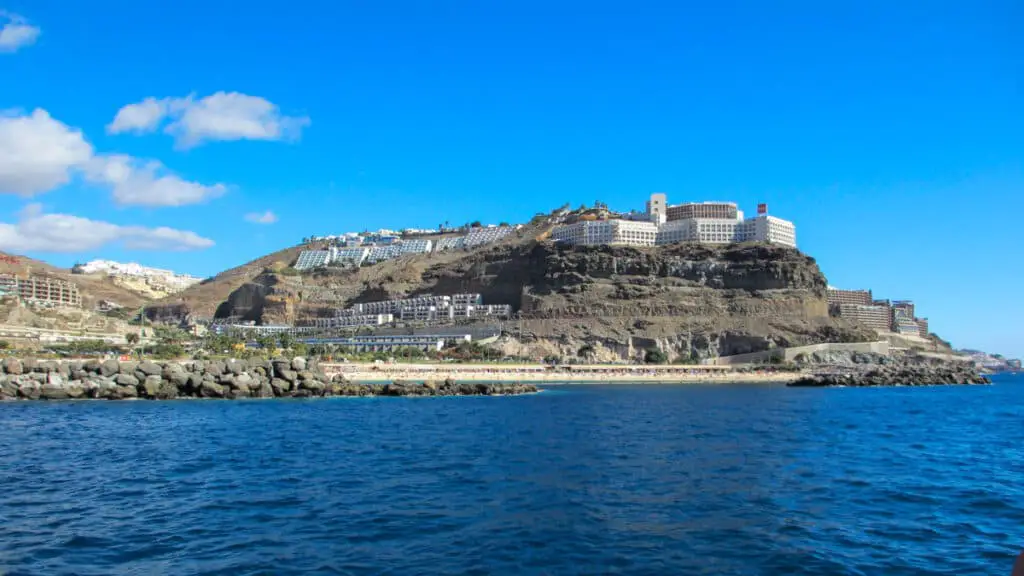 These beaches are Amadores, just 890 meters away from Puerto Rico, and Playa Puerto Rico beach. The latter is just a 20-minute walk away from the resort. The quality of the sand, the luscious water, and the weather are always superb on these beaches, so visiting would be a treat for sure.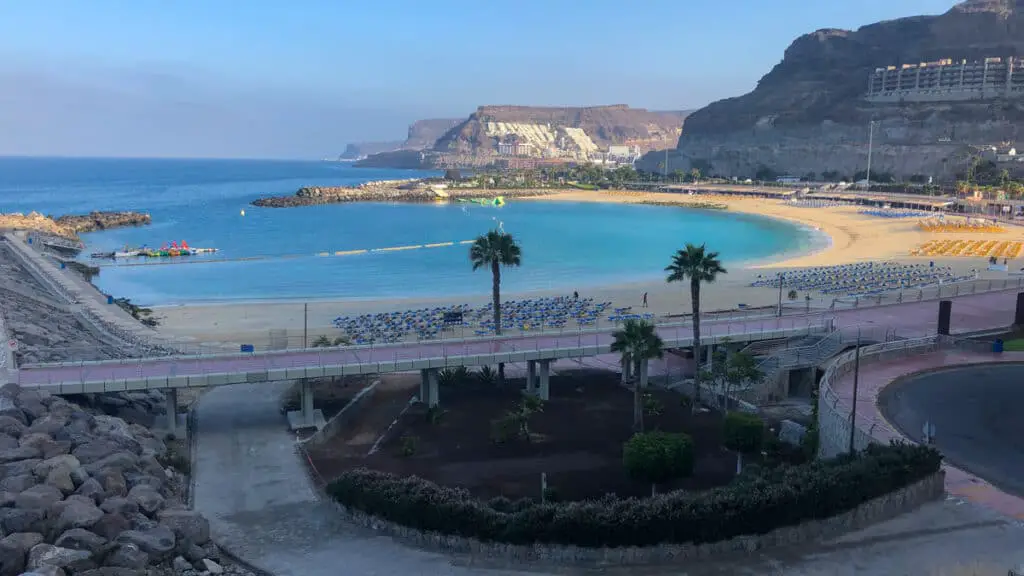 Cactualdea Park
Usually, when you think about wonderful natural parks and gardens, Cacti do not come to mind. But Puerto Rico de Gran Canaria knows how to make everything more beautiful.
That is precisely why Cactualdea Park, the largest Cactus Garden and natural park in Gran Canaria, is the place where you should go if you want to witness beautiful Cacti, amazing natural visuals, and hand-crafted gardens. It has dozens of species of flowers and plants that will bring anyone to awe.
There are also many animals like turtles, birds, and donkeys that you can feed there. You will spend hours exploring this incredible park if you are visiting with your family and children. So, make sure you go to the Cactualdea park in Gran Canaria on your trip to Puerto Rico.
Las Palmas
Las Palmas, the Capital of the Gran Canaria, is a beautiful place that is incredibly modern, luscious, architecturally advanced, and perfectly crafted for the ultimate tourist experience. It is a straight 68km drive from Puerto Rico, but it will be worth it.
If you are staying in Puerto Rico, Gran Canaria, make sure you take a couple of days from your vacation to take a trip to Las Palmas. Here you will witness the incredible tourism experience it has to offer with stunning views, beautiful mountains, and great tourist attractions.
Maspalomas Dunes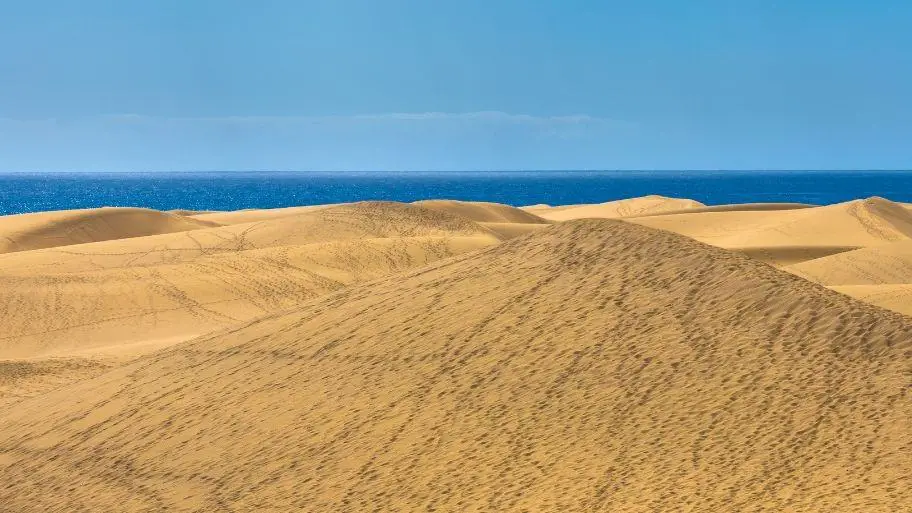 One of the least expected places on an island known for its tropical weather, luscious beaches, and crystal-clear waters surrounding it would be a sand dune, wouldn't it?
Well, if you can go to Las Palmas from Puerto Rico, then paying a visit to the Maspalomas Dunes will be an excellent tour for you. You will experience the Sahara Desert-like feeling on the south coast of Gran Canaria. It is just an 18-min drive from Puerto Rico.
Angry Birds Activity Park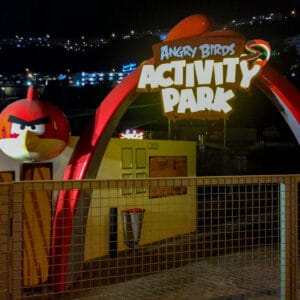 The Gran Canaria Angry Birds Activity Park is where to go if you have children and young ones with you. The Angry Birds-themed Park has all kinds of delicious foods, unique activities, and fun joyrides, toys, and games you can play.
There are even laser mazes, zip-lines, gift centers, and multiple playgrounds as well. It is truly heaven for children, and the colors, vibrance, and cute atmosphere are something your kids will never forget.
No Disney world in Gran Canaria; No worries, because Angry Birds Activity Park has your back. So, you and your children are going to be very happy with the experience if you go. So, make sure you pay a visit if you are in the Puerto Rico resort. It is reviewed 4.5 out of 5 stars all over the internet.
Hotels and Apartments in Puerto Rico
Accommodation can be difficult to find, especially if you are visiting in the peak seasons. So, if you want to stay at a hotel or apartment in Puerto Rico; The following hotel options are some of the bests in terms of reviews, quality, and overall experience:
El Greco
This is my favorite hotel. I think El Greco Hotel is one of the best hotels in Puerto Rico Gran Canaria.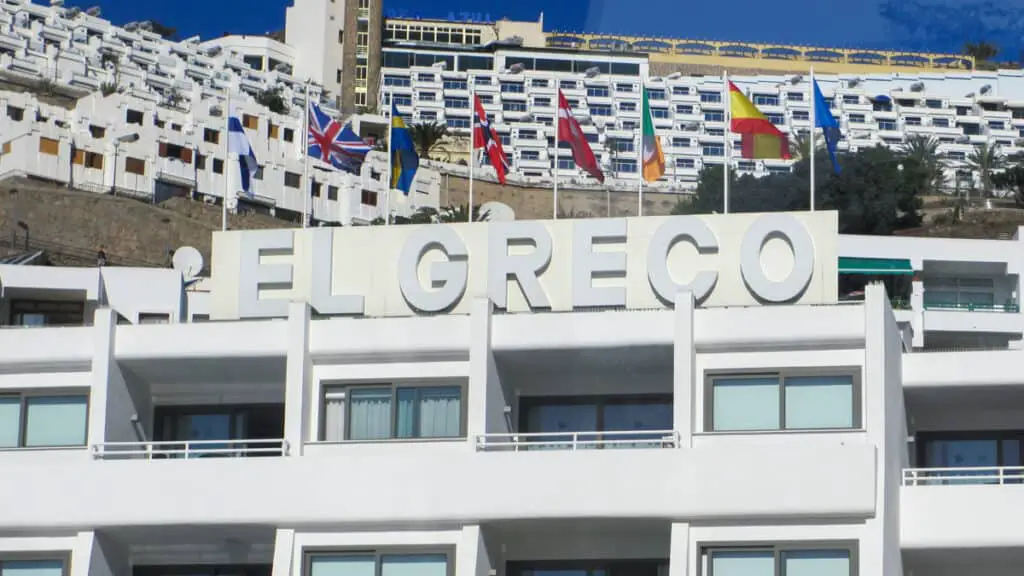 With many fantastic amenities and offerings for the tourists, including the swimming pool and hot tub with a direct view of the sea and the Marina, El Greco Puerto Rico holds the honor of being one of the busiest hotels in peak season.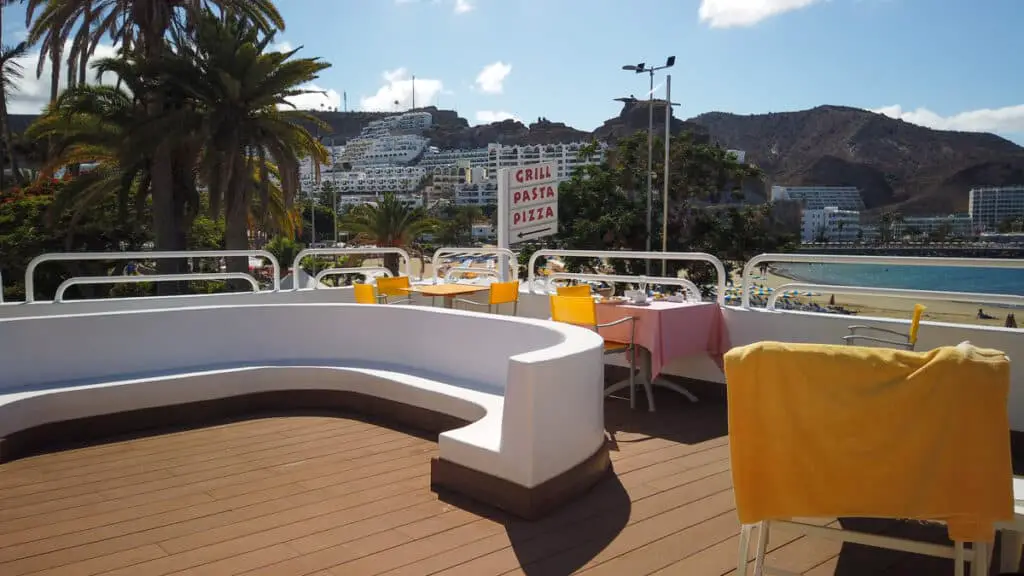 El Greco is just 30 minutes away from the airport so that you can get there by taxi pretty quickly. If food is what you are looking for, there are many options in the Hotel, including their own Snack Bar and restaurant. The best thing is that it is right at the beach.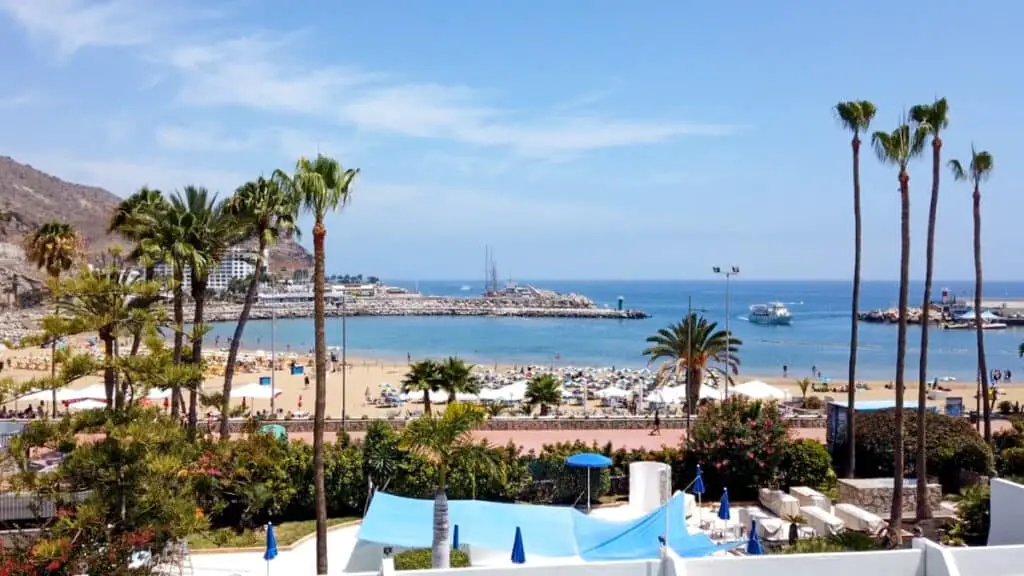 Montebello Apartments
A stunning large swimming pool, along with a white-themed beautiful multi-story building, is what you will see if you go to the Montebello Hotel in Puerto Rico, Gran Canaria. The sea is visible directly from the large terraces of the rooms in Montebello.
It is just 700 meters away from Puerto Rico beach, which is pretty great. Of course, the prices are high, but the experience will be unlike any other if you end up staying at this hotel. The rooms also have kitchens to cook up your own food if hygiene is a concern, so you are good in all conditions.
Maracaibo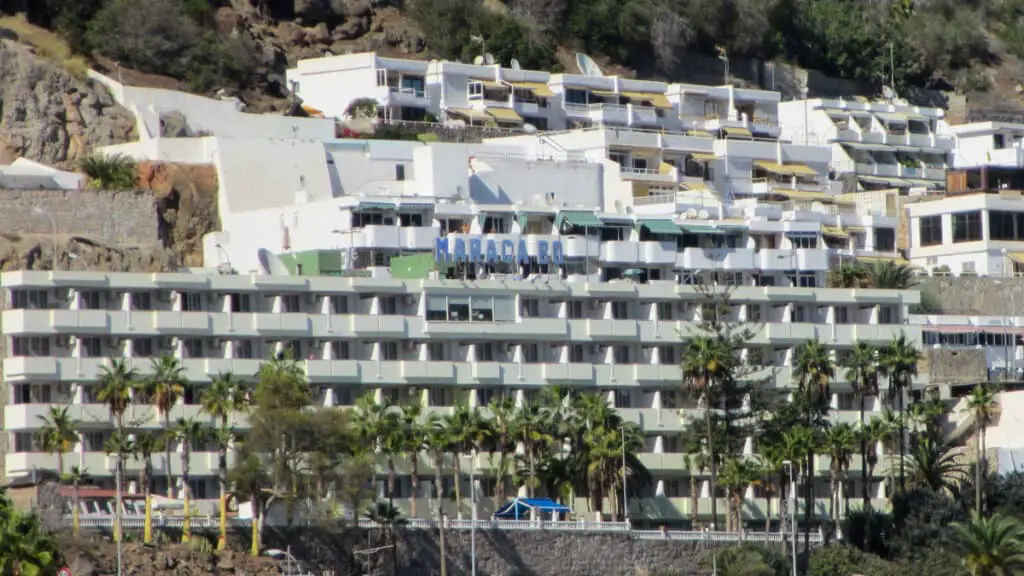 The Maracaibo aparthotel is an incredibly unique, high-quality hotel that is incredibly huge with over 102 rooms and has tons of amazing offerings for tourists and visitors, including the fun and exciting Chill Out Area that is open every day.
The architecture is beautiful, and the service is incredible. You will have a great time staying there because of the marvelous views of the sunset you will get from the balconies.
The distance from Puerto Rico beach is short, around 400 meters. To Amadores beach, the length is a short 15-min walk.
Rio Piedras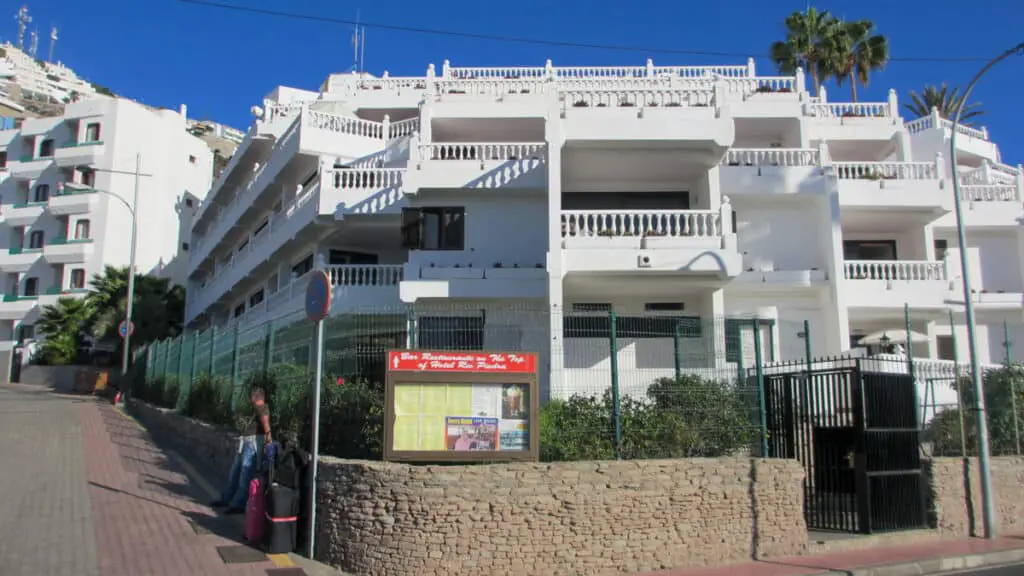 Rio Piedras is one of the better apartment hotels in the vicinity of Puerto Rico Gran Canaria, featuring a sun terrace on the rooftop. If we are talking about the distance from the Puerto Rico shopping center, it is just 5 minutes away on foot.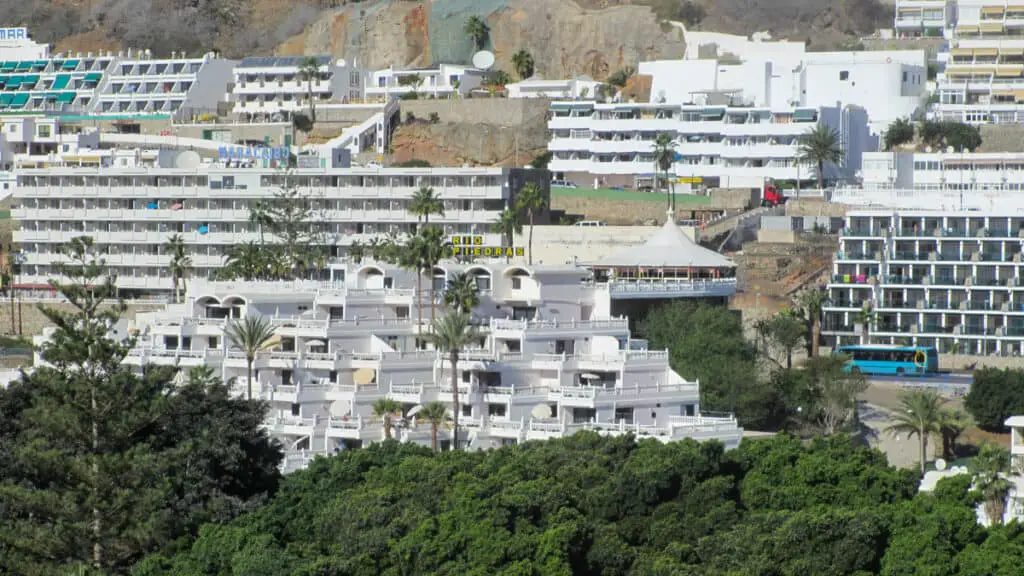 Each of the rooms has a balcony and a terrace along with a kitchen. The best thing about Rio Piedras, according to tourists, is the fact that there are three golf courses within 5 minutes walking distance of the apartments.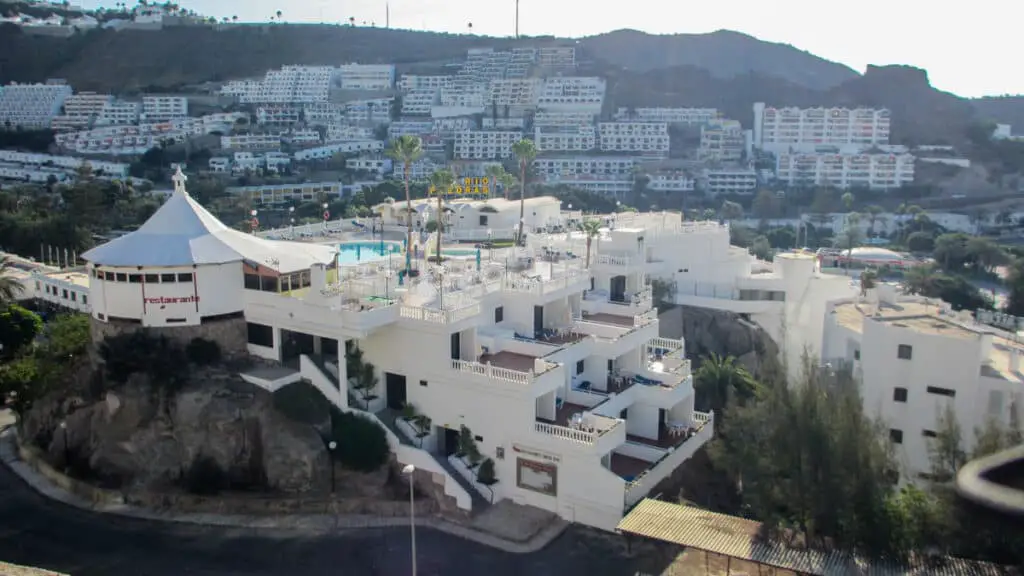 The lovely views of natural beauty along with good services make it the perfect place to stay on your trip. Also, it is only 100 meters away from the Puerto Rico beach, so you will have a great time if you go there.
Altamar Hotel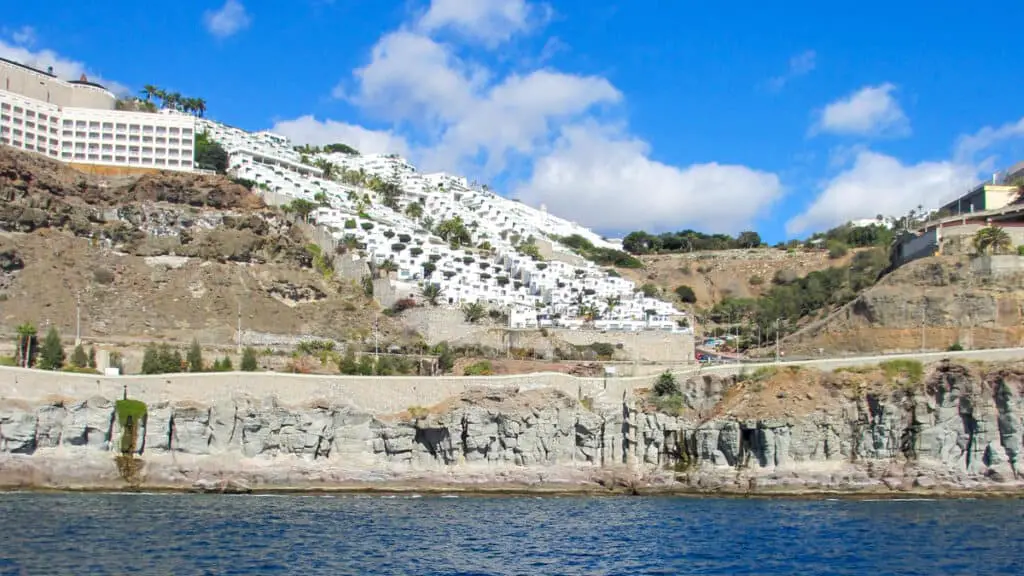 Without a doubt, one of the finest hotels with a stunning sea view, fantastic construction, and design, along with a vast number of amenities, is the Altamar Hotel.
The rooms of Altamar Hotel have Free Wifi, access to kitchens, and food delivery options. There are restaurants available within the hotel. If you are thinking of keeping up with your fitness, a gym is also available within the hotel.
You will love taking in the natural sunrise and sunset from the rooftop and balconies of the hotel. Of course, the price of staying is high, but I assure you that it will be worth your while, and the walk is only 17 minutes from the Puerto Rico beach.
What to do in Puerto Rico Gran Canaria
So, you are thinking of visiting Puerto Rico de Gran Canaria on your next holidays? Well, I have got great news for you, it is going to be an epic adventure. There is so much you can do there. To make your trip worth remembering and scheduled perfectly, I have made a list of all the fun and exciting must-do things you will want to try when you are in Puerto Rico. Let us take a look at them.
Swimming near the Beach Shores
One of the biggest attractions of the Canary Islands is the vast golden, black, and white sand beaches on the shores. There are several beaches near the Puerto Rico resort as well, and visiting them and swimming in the crystal-clear blue water around the shores with your loved ones is going to give you a feeling of immense thrill and excitement.
If you want to know more about surfing in The Canary Islands, check out our article here: Canary Islands Surfing – The Best Places
Sunbathing on the Beaches
If we are talking about beaches, swimming is not the only thing you can do there. Along with watersports, boating, and other opportunities, one of the most relaxing and calming activities you can engage in when on a tropical Island is sunbathing on the beach. You are going to get that perfect tan you have always been looking for.
Go to the Bars and Clubs
If you are an adult coming in with your partner or on your own, you will want to explore this option. There are several bars and clubs that you can pay a visit to. But make sure you drink responsibly. You are going to be able to try incredible drinks, have a good time, dance around, and meet new people who might be interested in getting to know you even more.
Witness the Natural Beauty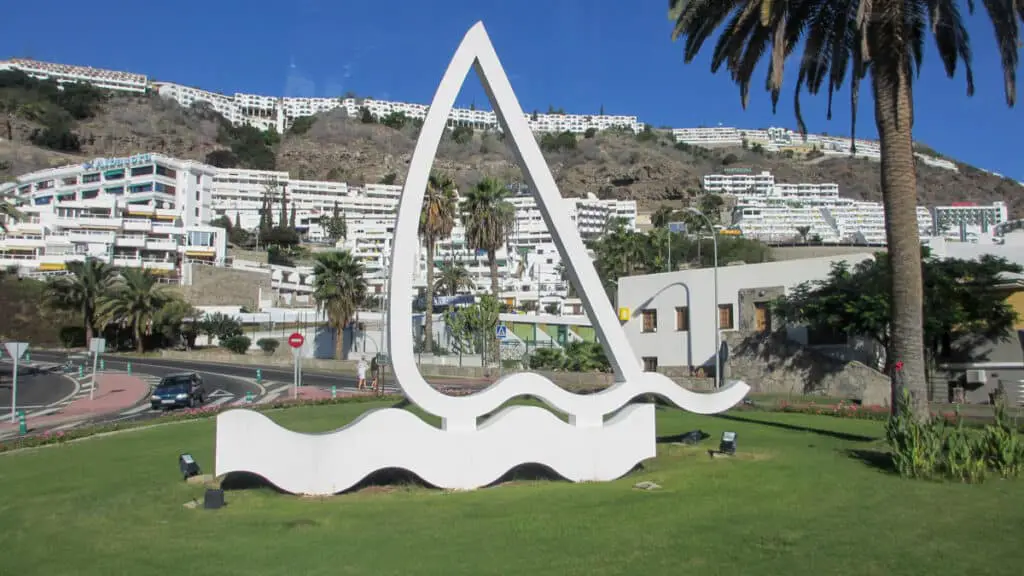 Gran Canaria is where the Puerto Rico resort is, and if you are in the area, there are so many stunningly beautiful natural wonders that you should check out. From the desert to the mountains, the greenery, the sunset, the beaches, and everything in between, you are going to fall in love with Puerto Rico if you love natural beauty.
Try the Vast Variety of food
So, you are a big foodie who loves to travel worldwide and eat the local cuisine along with their spin on dishes? The people of the Puerto Rico area are known for their food. You will find fantastic eatery options from local street food to luxury restaurants and food vendors from around the world, serving the best food to tourists and locals.
Malls and Shopping Centers
Puerto Rico is also very famous for one other thing, malls, and shopping centers. The Mogan Mall, the Puerto Rico Shopping Center, and the Europa Shopping Mall are three of the main attractions where you can find everything from food to gifts and souvenirs to bring back to your friends and family.
Check out our in-deep article about the Shopping Centers in Puerto Rico Gran Canaria.
Visit the market in Puerto de Mogán
Every Friday from 8:30 AM to 3:00 PM there is a market in Puerto de Mogán where you can buy souvenirs, clothes, shoes, local food, and lots of watches, perfumes, and other stuff like on most markets.
Read more here: Puerto de Mogán.
Food and Restaurants in Puerto Rico Gran Canaria
The food and restaurants in Gran Canaria and Puerto Rico specifically are excellent. You can find different cultural cuisines in the markets, streets, and resorts. Let us look at some of what I think is the best restaurants in puerto rico gran canaria.
Puerto Rico Shopping Center
The Puerto Rico Shopping Center is a megamall with amazing architecture and is filled with dozens of shops. It is within walking distance from the resort. Many of these shops are restaurants with both local dishes and unique continental cuisines. If you go there, make sure you visit Da Pinocchio because their Italian food is some of the best in the region.
Restaurant Waikiki Bar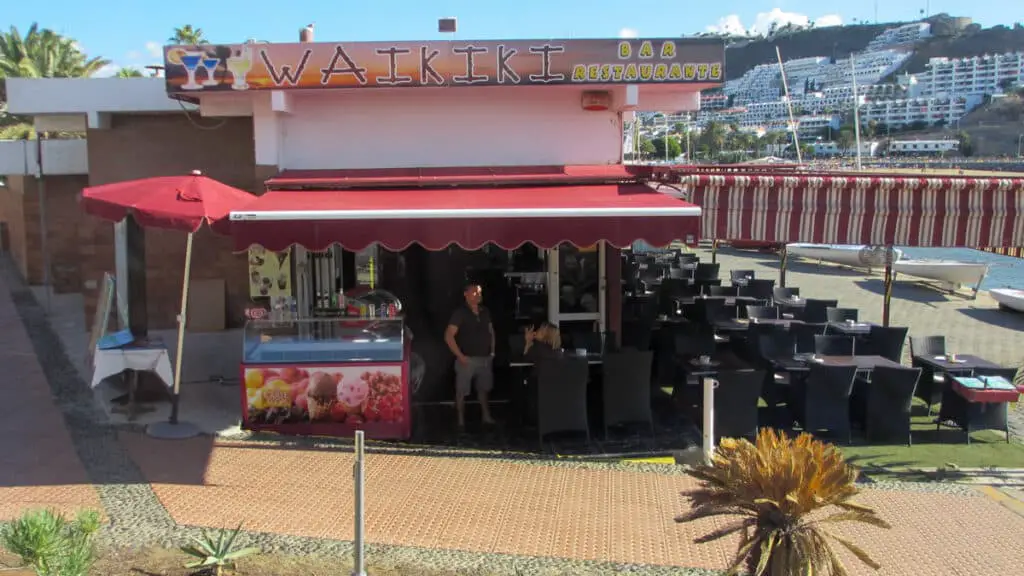 If you are anywhere close to the Marina, then you should visit the Restaurante Waikiki Bar. Not only does the restaurant look fantastic, the drinks there are beautiful, and the food is excellent. So, make sure you take your loved ones there and eat to your heart's content!
Grill Costa Mar
What is the point of coming to Gran Canaria and not eating any fresh and delicious fish there? Well, if you are a seafood lover, you are going to adore the grilled fish and other seafood options at Grill Costa Mar. You will be thanking me once you eat there, that is for sure. So, do pay a visit to this fantastic grill restaurant close to the Marina.
Distances to Places Around Puerto Rico
Suppose you have planned a holiday trip to Puerto Rico, Gran Canaria already. In that case, you are lucky because I have made a table of information about all the distances of famous places like the Airport, Maspalomas, etc., from the resort. So, you can take a look and schedule your trip accordingly.
From Puerto Rico Gran Canaria

| To | Distance | Driving time |
| --- | --- | --- |
| Airport (LPA) | 30 mi (48 km) | 35 min |
| Maspalomas | 11 mi (18 km) | 15 min |
| Playa del Ingles | 12 mi (20 km) | 20 min |
| Las Palmas | 45 mi (73 km) | 50 min |
| Puerto Mogan | 6 mi (10 km) | 13 min |
| Cactualdea Park | 22 mi (36 km) | 50 min |
| Aqualand Maspalomas | 12 mi (20 km) | 18 min |
Is It a Place Worth Traveling To?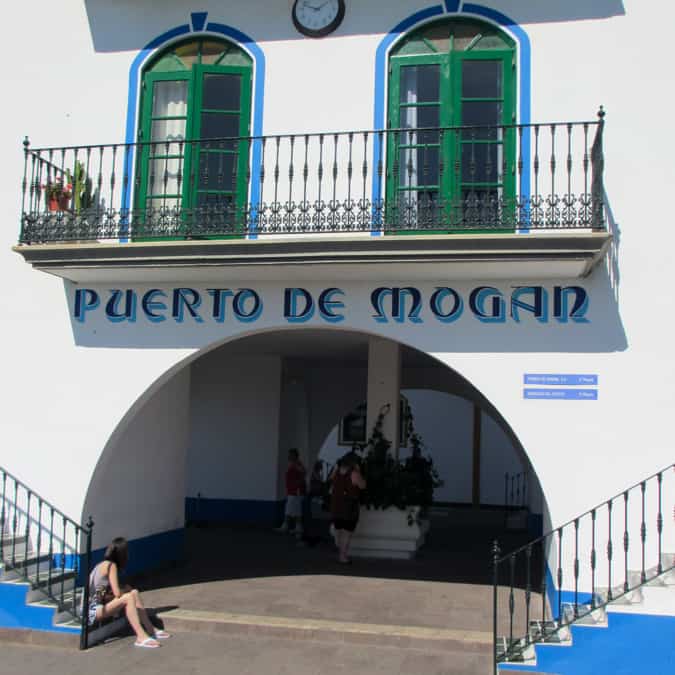 Now that you know everything you need to be, should you be heading to Puerto Rico de Gran Canaria this holiday season? If it already is not apparent from my opinion within the article, yes, you should go to Puerto Rico Gran Canaria.
The weather, the people, the places, the views, the food, the drinks, and the overall experience will be breathtaking. You should go and visit the location and make sure you take a bunch of your loved ones with you to witness vacation glory.
Final Thoughts
Puerto Rico, Gran Canaria is a lovely travel destination with a lot to offer for tourists of all kinds. Whether you are traveling alone or with family or friends, there are tons of activities to do and places to see here. If you are wondering about the weather or the best time to visit Gran Canaria, this article will prove to be a helpful guide.
To make things short and sweet, visiting this place will be one of the better decisions of your life. I hope you learned a lot from this guide and that you will have an epic time exploring the Island and attractions around Puerto Rico. So, get your bags packed and enjoy your trip!