Ibiza is one of the four famous Balearic Islands popular for its beaches and warm temperatures. But you already knew that. After all, you have potentially already planned a vacation to this land of the Sun.
Are you researching some of the best and the most affordable restaurants on the island to enhance your holiday experience? Well, you have come to the right place because here we have listed the most popular restaurants around this area. 
We will give you a brief tour of the best options available to you for meals such as breakfast, lunch, and dinner. 
The succulent Mediterranean meals are not only some of the tastiest cuisines in the world; they are also among the healthiest. And Ibiza might just be the best place to enjoy these delicacies.
So, let's get started!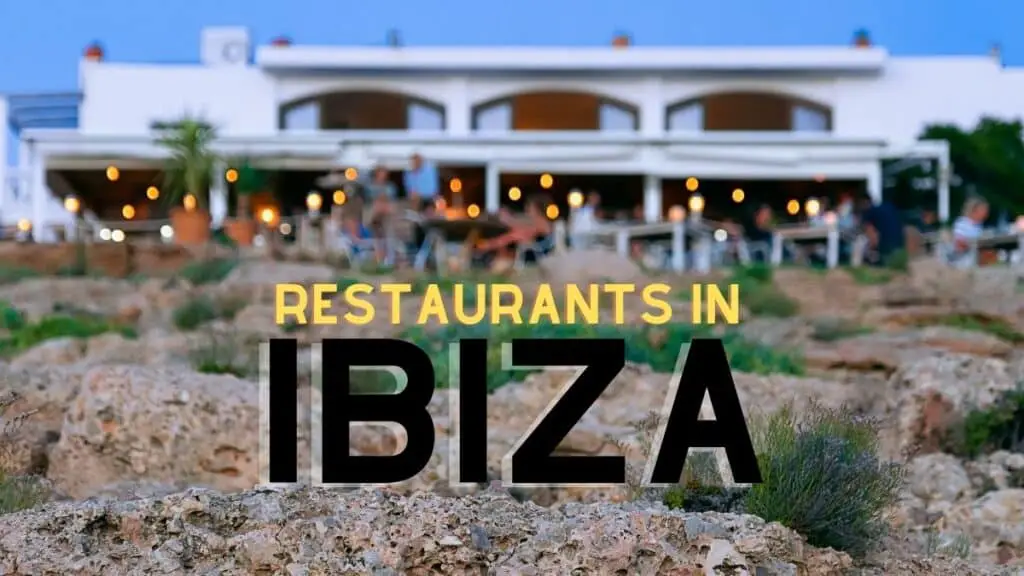 Best Restaurants in Ibiza
We have compiled a list of some of the best restaurants in Ibiza offering not just great food but also a pleasant, cozy atmosphere.
These restaurants have the best approval ratings on the island by locals and tourists alike. We have done all the hard work for you and have compiled this list, so you don't have to spend hours painstakingly looking at reviews for restaurants.
So, let's take a look at the top 8 best restaurants in Ibiza so you can start planning your journey. 
Es Tragón
Es Tragón is a 1 Michelin-star restaurant providing high-quality cuisines. They have a great variety of desserts that you can enjoy. Their seafood is particularly worth checking out as it's always fresh and quite delicious.
They cook their food with just the perfect blend of seasoning and flavors that neither gets overwhelming nor bland. The staff is very friendly and supportive, and the wait times never get too long.
We give this place a solid recommendation and suggest you have your dinner here at least once when you are in Ibiza. The beautiful Ibiza sunsets provide a perfect background for your dinners and make the experience even more special.
Es Terral
Es Terral is a Michelin Bib Gourmand restaurant located on a busy pedestrian street in Ibiza. It provides meals from different cuisines all around the world. The tapas are a popular appetizer that is a must-have if you are dining in Es Terral.
The fine dining experience here is truly one of a kind that is hard to get anywhere else on the island with its varied set of cuisines in a cozy environment. The prices are reasonable, and you will be welcomed by warm smiles by the wonderful staff and the husband-wife co-owners.
You should look to book in advance if you plan to go fine dining on the weekends as the restaurant can get packed on these days and you might have to wait long hours to find a table. The facilities in the place are modern and satisfactory.
Mirador de Dalt Vila
This is a well-known luxury hotel with a great restaurant to go with it for a high-class fine dining experience. The hotel provides an excellent view of the sunset along the beach.
The food here is excellent, and while most of the dishes are on the expensive side, it's hard to blame the price tag because the quality of the food is just unmatched. The local food flavors truly come to light in these dishes that you should try if you can.
Apart from the food itself, the place provides a luxurious experience that you are bound to love if you have a taste for such a setting. 
You are going to find friendly waiters, cozy chairs, and an ambient environment genuinely unique and worth experiencing. We give Es Mirador Restaurant a solid seal of approval.
Jondal
Jondal is located right along the beach, this place might take the cake for being one of the best restaurants on this list. This place is relatively newer; however, it certainly has already made a name for itself through its mouthwatering Mediterranean cuisine. Once again, the seafood here is scintillating.
The best part here is that you can do your fine dining at the beach. When you go there, make sure to order the tapas as they are one of their best-made dishes along with their entire dinner course, which is the most popular option in the restaurant.
Owned by a Dutch couple, this is a family-oriented business that has been serving a lot of satisfied and happy customers. You will find a professional staff and good service and wait times you are bound to appreciate.
Es Xarcu
Just like many other restaurants on this list, Es Xarcu is best known for its amazing seafood and Mediterranean cuisine. The food is high quality in both presentation and taste. 
They charge reasonable prices, and fine dining is a good affordable experience that is underrated by many.
You can expect to have tasty, affordable, and relaxing meals in this restaurant that have been perfected through years of service, winning them lifelong customers and loyal patrons. 
Remember to make all your bookings in advance and avoid going there without reserving seats in advance on weekends as peak season usually keeps the place occupied during dinner time.
Es Boldado
This beautiful restaurant in Ibiza is known for its breath-taking view and fantastic sunset visible from the eating area. You are missing big time if you aren't going to Es boldado for your fine dining experience in Ibiza.
The seafood is among the best you will find anywhere in the world. Paella and tapas are the two most popular dishes that we recommend you to try when you go there. It's a Michelin star restaurant, and it lives up to its status.
You will find some of the most authentic Mediterranean cuisines here for very attractive prices. However, along with the amazing food, the beautiful view from the beach elevates the experience of dining there to another level which we recommend it so highly for.
Sa Punta Ibiza
Located no more than just 5 minutes away from Ibiza Town, Sa Punta Ibiza is in a prime location offering outstanding Mediterranean cuisine that locals and tourists come together to enjoy and savor. 
This restaurant is known for its irresistible seafood cooked to perfection by experienced chefs who carefully make your every meal with finesse. 
Apart from the brilliant food, the main décor of the restaurant is modern and beautiful. You can appreciate the beautiful sunsets as you enjoy your dinner and have some cool refreshing drinks to go with them.
The desserts here are known to be among the best in Ibiza. This extra perk makes for a fantastic full-course meal at a reasonable price. The restaurant is very busy on most days due to its proximity to Ibiza town, a great reputation built through hard work, and quality products.
Can Mimosa
The Can Mimosa restaurant will give you the authentic tapas bar experience, one that is not something you want to miss out on if you are having a vacation in Ibiza. They grow some of their own ingredients, making this restaurant one of the healthiest options on this list.
Here you will find your favorite seafood and Mediterranean cuisine or just some causal drinks if you want them. They have a designated play area for kids, so you don't have to worry about them.
The prices are very good in this restaurant, and thus there are a good amount of people eating here even on normal days. You should reserve yourself a table in advance. 
When you go, make sure to try their different salads, which are made from homegrown ingredients. They are not just fresh but also quite tasty. The restaurant is great for families as there are many options to choose from and you can definitely find something for the kids as well. 
Conclusion
Restaurants are an essential place to visit every day when you are a tourist in a different country. One thing we all want is a combo of good food and a memorable fine dining experience, especially when we are vacationing.
The restaurants in Ibiza that we have included in this review do exactly that for you. They give you a great fine dining experience with mouthwatering Mediterranean cuisine dishes that you don't want to miss out on.
Need a place to stay in Ibiza? Check this article: Where to Stay in Ibiza
Ibiza is a hotspot for tourists looking to have relaxing vacations or exciting parties on the coast. Being the diverse and beautiful place that it is, it also provides extensive options for you to dine in. 
Remember to read: What To Do in Ibiza?
These restaurants have been serving their customers for years and have built good reputations for themselves. Most people who have eaten here recommend these places and they are quite impressed by their food and ambiance.
Remember to check out the weather here: Ibiza Weather – Everything you need to know
And the best thing is, many of these places are not very expensive. So, get ready for the most unforgettable fine dining experience of your life while you vacation in Ibiza.