If you're traveling to Mexico City for the first time, you may have heard about the risks involved when exploring the city, such as scams, pickpockets, and other petty crimes. As such, one of the main concerns is learning about the city's safest transportation. After all, you don't want to find yourself riding something risky and unsafe while you're supposed to have fun.
In this article, we'll cover everything you need to know about moving around the city safely. This way, you can enjoy your stay while worrying less about the potential risks you might encounter when choosing the wrong transportation.
Without further ado, let's get into it!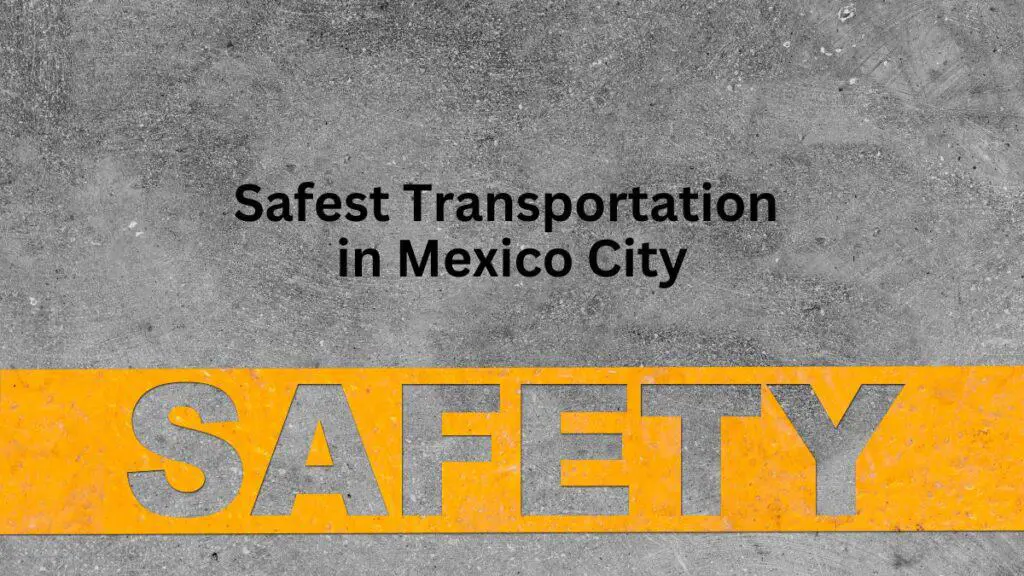 What Is the Safest Way to Get Around Mexico City?
In general, most of the public transportation in Mexico City is safe, so you don't have to worry about picking several options that suit your preference and situation.
As such, it's different than the type of transportation, but the particular vehicle you should be wary of when exploring the city. For this reason, we made this list of the safest modes of transportation in the city to help you easily explore.
Metro
The metro or subway is among the safest modes of transportation in the city, especially since you'll find carriages exclusive for women and children. 
It's also the most effective and affordable option, especially when traveling a long distance. With the subway, you can enjoy on-time travel since it's not affected by heavy traffic. 
Further, you'll find security cameras and police roaming around the metro stations in the city. As such, calling someone when something goes wrong is easy, making transportation less risky for petty crimes. 
Of course, being safe doesn't mean you won't encounter any risks at all with this transportation method. For instance, many incidents have been reported where pickpockets can roam around.
Overall, the metro is one of the best transport modes to consider, and it's safe as long as you keep your valuables in check and be observant of whoever comes near you.
It's also safe to use during the day and will save you a lot of time since it won't go through any notorious traffic jams in the city.
If you like to use the metro, it operates from 5:00 AM to 12:00 AM from Mondays to Fridays and 6:00 AM to 12:00 AM on Saturdays. 
The metro operates from 7:00 AM to 12:00 AM during Sundays and holidays. The ticket price is also affordable, around 5 MXN (around 0.20 USD) for a one-way ticket.
Metrobus
The Metrobus is another safe option for tourists, and it's ideal if you want to enjoy some sightseeing in the city.
If you're a first-time traveler to this city, you'll want to enjoy seeing a bit of Mexico's capital. You'll appreciate it with the metro bus rather than subway transportation.
Of course, the downside is that you'll get through loads of traffic, especially during the day when you're exploring. 
Nonetheless, the Metrobus offers comfortable and safe transportation while letting you enjoy the scenes of the city as you travel. 
A Metrobus ticket is valid for commuting between any of the six lines covering 120 km around the city, just like the metro. So you can enjoy the urban landscape and not be in a hurry if you choose this option. 
Metrobus is a good alternative for those who need help using the subway and still believe Mexico City is dangerous.
If you're wondering about safety, Mexico City's police department tracks Metrobus buses in real-time, and the buses are also equipped with security cameras to ensure your safety. 
If you want to use this mode of transportation, Metrobus operates from 4:30 AM to 12:00 AM from Monday to Saturday. During Sundays and holidays, it operates from 5:00 AM to 12:00 AM. The ticket price for this trip is around 6 MXN (around 0.33 USD).
Light Train
The Light Train is the city's extension of its metro system, and it's also among the safe transportation options to consider if you're exploring the city.
Each light train unit has a security camera system and police officers, just like the metro. As such, you can ensure that your trip with this transportation is safe and secure.
If you plan to use the Light Train, it operates from 5:00 AM to 12:00 AM from Monday to Friday and 6:00 AM to 12:00 AM on Saturdays.
On Sundays and holidays, it operates from 7:00 AM to 12:00 AM. The ticket price is relatively low, only 3 MXN (around 0.17 USD).
Trolley bus
Although it may be risky to ride the Trolleybus to farther-flung destinations, it is incredibly safe. Every bus has specific bus stops and camera systems.
You can utilize any of the nine trolley bus lines whenever you choose. Some of these can be helpful if you're seeking Bus Centrals or even if you want to travel outside the city limits.
Hours and costs for trolleybuses differ based on the line because some go lesser distances. Despite this, traveling long or short distances in the city is safe, affordable, and simple with Trolleybus.
If you plan on using the trolley bus, it operates daily from 5:30 AM to 11:30 PM. The fare costs around 2 to 8 MXN (around 0.11 to 0.44 USD).
Bike
It's getting more popular to ride a bicycle in the city. The government actively supports this trend, which continues to fund new bicycle routes. For this reason, bike rental services are widely available, especially in the center.
Ecobici and Dezba are the most widespread. At the moment, Ecobici has the most extensive network of bike stations. However, Dezba mainly works in the city center.
If you're exploring the city center, you'll be safer on a bike, especially alone.
The city has more than hundred and seventy kilometers of bicycle paths, nine thousand bikes, and almost seven hundred bike stations.
Ecobici, owned by Mexico City's government, and Dezba, owned by a private company, require debit or credit cards. Thus, you'll need a credit or debit card, an official and up-to-date ID, and your info to use Ecobici or Dezba.
The rental prices for these bikes are around 50 MXN per hour (less than 3 USD). If you're renting for several days, the bikes can cost lower.
Taxi
In Mexico City, most taxis use taximeters and are typically reasonably economical, especially for shorter distances. 
If feasible, avoid interacting with unauthorized drivers (often, the license is visible on the car). Several things could be improved about city transportation, including the idea that using cabs in Mexico City is unsafe.
However, it is also advised that you confirm the usage of a taximeter before the journey begins. Negotiate the fare with the driver before hopping in to prevent unpleasant shocks. 
You should decline the service, hire another automobile, or utilize a ridesharing company like Uber if the pricing seems too good.
Riding in some metro terminals is incredibly safe because they are Sitio Taxis, where drivers can only pick up, make the trip, and then return.
If you plan to ride a taxi, you can do so anytime since they operate daily. Just note that there's a price increase of 20% at night.
If you're wondering more about the payments and other concerns with using this transport option in the city, read our article about Taxis in Mexico City.
Uber or DiDi
Like all other big cities, Mexico City now has various ridesharing apps available for you to use. In general, you'll find five ridesharing apps available in the city, but the two most prominent are Uber and DiDi.
These ridesharing apps are the best in safety since you'll get every information you need about the ride. This information includes the driver's name, the make and model of the car, and even the plate numbers. As such, among all options, it's by far the safest.
Another thing to note is that it's a significantly cheaper option than taxis. Further, you'll avoid the overcharging scams of taxis since you'll already have the fare amount before hopping in.
While you can try all five ridesharing options, Uber and DiDi offer the most availability due to the massive amount of operating vehicles they cover. 
Finally, ridesharing apps such as Uber and DiDi continually operate through your smartphone, so you can book in advance or on the spot whenever you need a ride. The fare will depend on the distance from your starting point to the destination, and it's already included in the app.
To know more about these ridesharing apps, read: Mexico City Goes Uber: Is it Available?
Safety Tips to Follow When Exploring Mexico City
Picking the suitable and safe transportation option will only mean a thing if you know how to handle the risks and dangers involved when exploring Mexico City. For this reason, we have listed these safety tips to help you easily explore the city.
Research before going out
It's best to search about the spot you're visiting to make sure you're not getting lost and to make sure you're getting into the proper transportation. In addition, it's best to have an itinerary to maximize your time and check the best exploration routes.
Always have a backup ID.
A backup identification at your hotel would be best when exploring the city. This way, you won't have to worry about losing your ID or passport while you tour the city.
Pay in local currency.
Most of the scams, especially with taxi drivers, are that they overcharge you when you pay in US dollars. However, when you bring small cash in pesos, you can pay the exact amount and avoid getting overcharged for your fares.
Always keep your eye on your valuables.
Ensure your valuables are secured and always with you whenever you travel and use public transport. Also, observe anyone who comes near you to be sure you avoid pickpockets and other scammers around the city.
Conclusion 
This article lets you get around the city comfortably, safely, and efficiently. However, the options we mentioned earlier have their benefits and downsides. Therefore, choosing the most suitable according to your preferences, conditions, and destinations would be best.
In general, the safest transportation will be the ridesharing apps like Uber or DiDi. However, if you want to spend less on transportation, the metro is also a safe option with a much lower fare and quick travel. Of course, in some instances, you'll find using both options is the best, with long travel using the metro and short travel using Uber or DiDi.
If you want to know the best options when traveling through the city, read: Mexico City: Best Transport Options Revealed.