Cancun's beaches are among the best in the world and the main things that help the city attract millions of tourists. However, while the beaches are stunning, they can also turn out the worst because of the sargassum or the seaweed problem. So if you're visiting Cancun, you should know more about the seaweed problem.
In this article, we'll walk you through everything you need about sargassum in Cancun. This article includes basic information about this problem, some alternative beaches without it, and alternative activities if you find a lot of sargassum on the city's beaches.
Without further ado, let's get into it!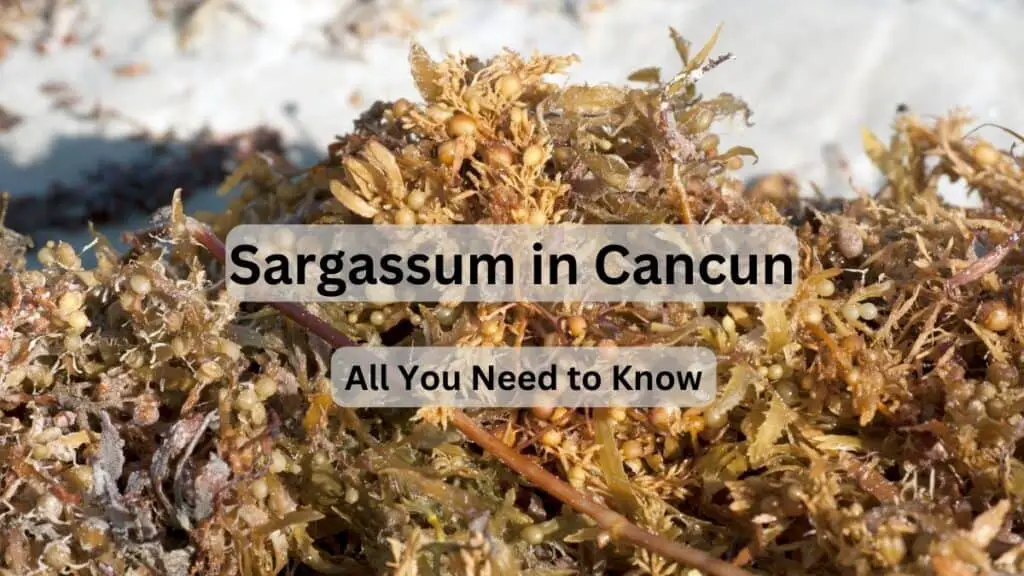 Is There a Seaweed Problem in Cancun?
Cancun has an issue with seaweed because it is a city on the Caribbean Sea. As such, you should plan and check if Cancun will have seaweed for your stay.
The seaweed, or sargassum in Spanish, is a species of macroalgae. It thrives in the waters of the Caribbean, particularly in the summer. As a result, the seaweed issue impacts Cancun's beaches and those in adjacent Playa del Carmen and Tulum.
Since seaweeds reproduce and spread when the seawaters are warm, the seaweed issues begin during the warm season. As a result, these seaweeds wind up on the Mexican coastline, and Cancun's coastline is one of many impacted.
Are there Beaches in Cancun Without Seaweed?
Cancun's beaches face the Caribbean waters, and since this sea is the primary source of seaweed, all the beaches are affected by such during seaweed season. However, don't fret because there are nearby islands and beaches where seaweed isn't a problem. We'll cover these areas later on.
What Happens When There's a Seaweed Problem?
Because of the hot and muggy summers, Cancun's seaweed problem worsens. The seaweed multiplies and expands in response to the heat, adding to all these brown algae near the coast.
As a result, seaweed accumulation on the shores prevents swimming. There may be employees at certain resorts to remove the seaweeds, but given their abundance, it may be challenging.
Additionally, the clearance leads to enormous mounds of unattractive seaweed along the coasts. What's more concerning is that the seaweed-impacted waters darken. Additionally, the stench these seaweeds emit is highly disagreeable and detectable from a distance.
Is Seaweed in Cancun Dangerous to Humans?
Generally speaking, sargassum or seaweed is not dangerous to humans when it is carried by ocean currents, which is the case in Cancun. The issue starts when the sargassum washes up on the seashore. On the seashore, sargassum begins to deteriorate and emit gaseous sulfur dioxide.
This vapor can irritate the eyes and interfere with breathing, even at small doses. Apart from that, bathing and other water sports are practically prohibited for tourists because of the foul smell of hydrogen sulfide gas, comparable to rotten eggs.
When Is the Best Time to Avoid the Seaweed Problem in Cancun?
Since seaweeds begin to grow during the warm season, November, December, and January are the ideal months to enjoy the city without them. This period applies to Cancun and the towns and coastlines along the Caribbean Sea.
So, if you intend to travel to Cancun, you must know when the seaweed first appears and when it worsens.
Seaweed is typically present along the shorelines throughout the year. Therefore, even if it begins in March and April, it will become apparent in May.
In the Yucatan, June and July are the year's warmest months. Thus seaweed grows more quickly when it's hot outside.
Hence, if you wish to avoid seaweed, stay away from the Caribbean shore throughout June, July, and August.
Beaches near Cancun without Sargassum
If you have already booked your vacation in Cancun during the seaweed season, you can still enjoy the beaches from time to time. Most beaches, especially in the hotel zone, still clean up the seaweed from time to time. 
Now, if you enjoy the best beach without any seaweed, you can always go to nearby islands affected by such because of their location. 
Let's check out each one!
Isla Mujeres
Isla Mujeres is an island located just across the city of Cancun. This island is a favorite island for snorkelers and divers. Still, its beaches are free from sargassum, making it an excellent alternative for a beach day in Cancun during seaweed season.
So even if a lot of seaweed plagues Cancun and other tourist destinations, this location's shoreline will still be delightful since they are seaweed-free.
Cozumel
If you're searching for a sargassum-free beach, the island of Cozumel can be an excellent option. Cozumel is the best place to find sargassum-free beaches on Mexico's Caribbean coast. 
Because of the island's unusual geographic location, sargassum is rarely seen on its beaches located on the western side. 
As such, you can enjoy pristine beaches like Playa El Cielo and Palancar Beach since these areas have no seaweed.
The east shore of Cozumel has seaweed. However, it serves as a buffer, preventing it from reaching the western coast of Cozumel.
Holbox
Just off of Yucatan's northernmost point is a little island named Holbox, whose beaches are often devoid of seaweed.
Holbox is quite different from Cancun because the former is more laid-back-natured. But, in general, this island remains an off-the-beaten-path area, offering an entirely serene vibe, unlike Cancun's urban beaches.
This location is well known for its richness of marine life, breathtaking sunsets, calm surroundings, and undeveloped white sand beaches.
Holbox is ideal if you wish to unwind and unwind in a peaceful setting with stunning white sand beaches free of sargassum.
7 Activities to Do During the Seaweed Season in Cancun
While the seaweed problem in Cancun can ruin your beach days, it's not the end of the world. Cancun is more than its beaches; you'll still find plenty of other enjoyable things in the city if the beaches are covered in seaweed.
Here are seven activities to do in Cancun if there are seaweeds on its beaches.
Enjoy some nightlife
The seaweed problem doesn't stop the nightlife of Cancun, and if you're staying in the city during the seaweed season, you might as well spend your nights having fun at Cancun's parties.
Cancun is undoubtedly among your top destinations if you like to party. Unquestionably, among the ideal places worldwide for nightlife is Cancun. 
Cancun turns into a swarm of energetic nightclubs as the night comes. Cancun is home to many bars and nightclubs where you can party all night. If you want to know where to party and enjoy the nightlife in the city, read Where Is the Party Zone In Cancun?
If you're going to Cancun Clubs but need to know the ideal outfit, read What to Wear In Cancun Clubs.
Go shopping
If you're frustrated because of the beaches filled with seaweed, you can always take out your stress by going shopping. Lucky for you, Cancun is the best place to go on a shopping spree!
Cancun is known for its top-notch retail complexes, besides its lively nightlife. Cancun is the ideal getaway for shopaholics because of its posh shops, plazas, and markets.
Cheap trinkets, fashionable jewelry, beauty products, fragrances, and traditional Mexican products, may all be found at these retail centers.
Among the busiest shopping districts in Cancun is Mercado 28, and we highly suggest going there.
Enjoy some adventurous activities
Enjoying the city's adventurous activities is among the best activities to do during the seaweed season in Cancun. Adventure seekers will always have activities to do and experience in Cancun, from ATV trips to cliff diving to forest boat cruises.
Go on a day trip to seaweed-free beaches
Don't worry if you enjoy the beach and just so happen to be visiting Cancun during the sargassum outbreak. Instead, visit Cozumel or Isla Mujeres for the day from Cancun. Cozumel and Isla Mujeres can be reached from Cancun in thirty and forty minutes, respectively, by ferry.
The Cozumel and Isla Mujeres islands offer unspoiled beach havens in Mexico that are famous for their immaculate shorelines and top-notch snorkeling spots. Because of the geographic position, Cozumel's and Isla Mujeres' beaches on the western side frequently exclude sargassum.
Cozumel and Isla Mujeres offer more beach encounters than Cancun because these islands are less marketed and congested.
Snorkel in the nearby cenotes
The cenotes are among the region's most prized possessions and are unreachable by seaweed. As such, it is an excellent option for snorkelers and those who want wet action. 
Natural swimming holes known as cenotes may be spotted in Mayan rainforests and are highly popular with visitors because of how refreshing they are.
Cenotes were incredibly significant to the Mayans because they thought they had healing powers. As such, even if sargassum prevents you from visiting Cancun's beaches, you can always take advantage of these enchantingly incredible cenotes.
If you need to know the best cenotes to explore, read our article about Cenotes near Cancun.
Explore Chichen Itza
If you cannot head to the beach, you can always go to the jungle and explore some ancient Mayan culture. For instance, the Chichen Itza is something you want to take advantage of, whether there are seaweeds in Cancun.
This mysterious Mayan city, about an hour away from Cancun, is worth a visit if you enjoy history. Chichen Itza was a significant place of worship and the residence of approximately thirty thousand Mayans.
Numerous historic Mayan structures, including temples, ruins, and graves, may currently be seen there. They offer an insight into the region's magical and stunning past.
Dive into the Underwater Museum
Despite the seaweed problem, you can always go on and explore the famous underwater museum of Cancun.
MUSA, or the Underwater Museum of Cancun, is a 30-foot-underwater attraction close to Cancun that houses more than five hundred life-size statues. Dive or snorkel to explore this attraction and the different life-size artworks inside.
It was constructed to protect Cancun's stunning reefs by giving divers a backup spot. Currently, one of Cancun's most well-liked sights is this exhibition.
Conclusion
Cancun, a city by the Caribbean sea, may see some serious issues due to the growing seaweed issue. Cancun, a city that mostly depends on tourism, is quickly impacted when seaweeds begin to grow and assemble on its coastlines.
However, you can always avoid the seaweed season, and as long as you go to Cancun during certain times of the year, you may enjoy the beaches there. You will, however, always enjoy a vacation in this city since it will consistently have a lot of things to offer you, even if you come during the seaweed season. 
If you wish to know more activities to enjoy in Cancun, you can read our article about What To Do in Cancun.