Whether you're a certified diver or looking to take your first dip in the diving world, Playa del Carmen has a lot to offer. From beautiful cenotes to extraordinary marine life, you'll find it hard to leave once you're here!
We've analyzed price, popularity, wildlife, and more to come up with the top places to scuba dive in Playa del Carmen. We'll also cover the cost of diving in Playa del Carmen and why it's one of the best options in Mexico.
This article will dive into diving at:
Cenote Dos Ojos
Mama Viña Sunken Ship
Arrecife Tortugas
Cenote Chac Mool
Pared Verde
Let's get started!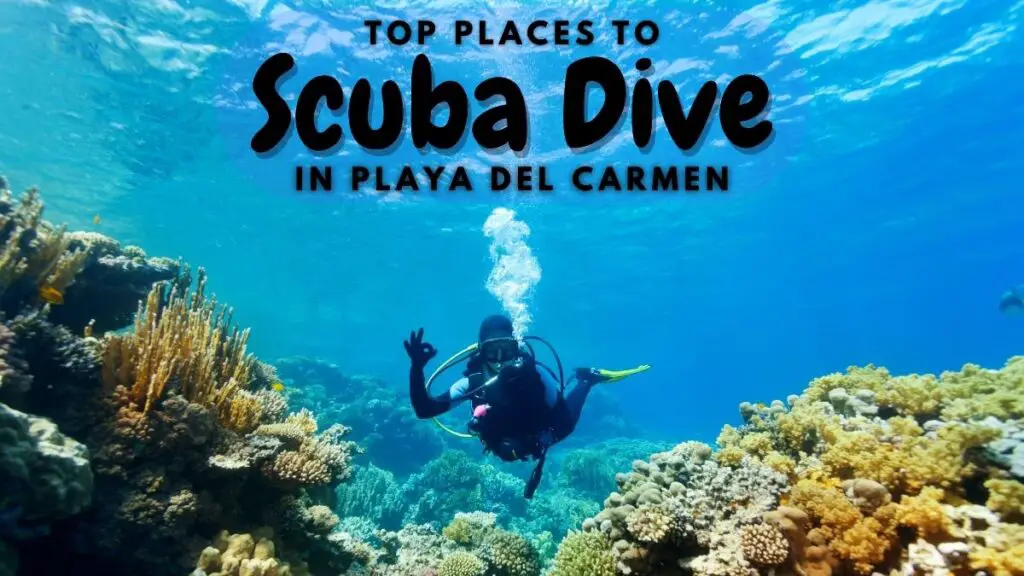 How Much Does It Cost to Scuba Dive in Playa del Carmen?
The cost of scuba diving in Playa del Carmen is pretty average, ranging from $70 to $215 per person per day, depending on the type of dive site you are interested in. Ocean diving is cheaper than cenote cavern diving, but both are recommended.
These prices reflect already certified scuba divers. If you want to get your SDI/PADI training, the cost will range from $125 to $400, depending on the type of course and how many dives are included.
Is Playa del Carmen Good for Scuba Diving?
Playa del Carmen is an excellent place for all levels of scuba divers. There are shallow and mid-depth areas best suited for beginners and also plenty of deep dives, some dropping around 80 feet (24 meters) for seasoned divers.
The Caribbean sea is warm, calm, and filled with all types of exotic sea life like female bull sharks, nurse sharks, hammerheads, angelfish, moray eels, rays, corals, tarpon, turtles, and huge barrel sponges.
Did you know you can buy shark repellent bands? Check out these: Shark Repellent Band
Playa del Carmen also has amazing temperatures all year round, as it's close to the equator with no true summer or winter. Instead, you can dive in temperate waters ranging from 77 to 85 degrees Fahrenheit (25 to 29.5 degrees Celsius).
This is also nice if you want to explore off-season to skip the crowds and the over-inflated prices, which would be any time of the year except the summer months.
Best Places to Scuba Dive in Playa del Carmen
Playa del Carmen has a unique variety of dive locations, from the second largest coral reef in the world to deep cenotes with underground rivers and even sunken ships. Here are our top five best places to scuba dive in Playa del Carmen.
Cenote Dos Ojos
As the name suggests, this cenote is two large sinkholes close together that look like turquoise eyes from above. They are connected by underground systems that reach 80 feet (24 meters) deep and run about 35.5 miles (57 km) long, making it the third-longest underground river in the world.
These cenotes are also connected to the greater Sac Actun system, making it part of Earth's largest underwater cave system. Under the crystal clear water, you can see ancient cave paintings and remains of prehistoric animals, and several stalactites and stalagmites.
Mama Viña Sunken Ship
This dive site is a unique spot in Playa del Carmen for experienced divers only as the current is strong and the dive can descend up to 75 feet (23 meters) deep. If you are up for the challenge, Mama Viña is the spot!
This old crab boat was sunk intentionally in 1995, becoming an artificial reef. Here, you can explore the interior of the ship and get up close and personal with corals and various marine life. You will have time to circle the ship a few times and explore it from top to bottom.
Underneath the boat lives a large green moray eel, and towards the back of the boat lies an entrance point to a single room filled with tiny fish. You will also most likely spot giant schools of jacks and barracudas swimming around.
Arrecife Tortugas
This dive site means Turtles' Reef in Spanish, so if you love turtles and want to see plenty in action, this is the spot for you. It's located just 30 minutes by boat from Playa del Carmen and goes 85 feet (26 meters) deep.
You also might want to read this article on turtles: When Can You See Turtles in Akumal?
You will be rewarded with an abundance of Hawksbill turtles, toad fishes, green moray eels, barracudas, parrotfish, lionfish, eagle rays, and plenty of other colorful fish.
This spot has an easy current, so it's more of a drift dive where you can go with the flow, feel like you're flying, and enjoy the views of the giant barrel sponges below as you leisurely sail past.
Cenote Chac Mool
This dive spot is ideal for intermediate-level divers with lots of unique areas to explore. You can explore two entrances: a large opening called "Downstream" and a smaller entrance to the side called "Little Brother."
This cenote also has two caverns where the sun shines through enough to see a jungle view underwater. There is also a dome-shaped cave area made of stalactites where you can see fossils and giant tree roots.
Chac Mool has many cool details to look out for a while diving as well. Keep your eyes peeled for "Cave Curtains." These are formations in the caves that resemble curtains ruffling in the wind.
There are also collapsed pieces of the cenote ceiling now resting on the floor with stalactites still connected.
You can also see "Easter Eggs," which are small pockets of crystals about the size of a basketball. Look inside and find small colonies of opaque tan crystals. In Chac Mool, the maximum depth is 43 feet (13 meters), and this spot is only 20 minutes from Playa del Carmen.
Pared Verde
Pared Verde translates to Green Wall, and as the name suggests, this is an epic reef full of vibrant green seascapes, including sea fans and sponges with small caves along the wall you can peek inside.
Here you will also see marine turtles, barracudas, and plenty of other colorful fish. From December to February, you can swim with sharks. This dive takes around 50 minutes and is best suited for intermediate divers due to the current and medium level of difficulty.