Visiting the Canary Islands in your holidays is going to be a memorable vacation for you, your family, and your loved ones. Especially Tenerife, the Capital of the Islands, has a lot to offer. From natural sites and restaurants to parks and historical landmarks, there is a lot to see.
One particular attraction is Siam Water Park, renowned worldwide as one of the best water and theme parks.
Now you might be wondering, what exactly does Siam Water Park have to offer that makes it such a great tourist attraction? Well, that is precisely what I am here to tell you.
In this article, I will talk about Siam Park, what it has to offer, attractions within, the famous Tower of Power, and many other things and hotels around it so you can easily commute your way to the Park. So without wasting any time at all, let us get started.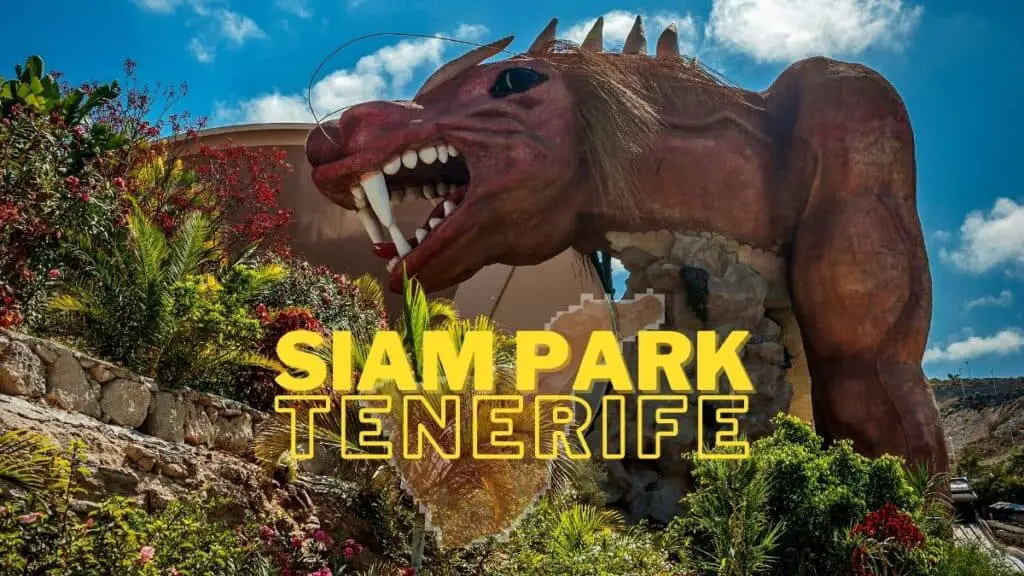 Siam Water Park Tenerife
Siam Park is a waterpark in the Adeje region of Tenerife in the Canary Islands, a coastal suburb that houses a lot of tourists. It features a Siamese Theme. The Park is full of unique attractions, slides, rides, and even farms and is the perfect tourism attraction for people of all ages.
This Park is considered one of the most popular all around the world. Millions of tourists visit the Canaries every year, and a large number of those tourists have made their way to the Siam Park in Tenerife to make their tour worthwhile, and that is what you should be placed to do as well.
Siam Park Tickets
To enter the Siam Park in Tenerife and have a great time, you are going to need a ticket. The ticket prices and packages are different in Siam Park Tenerife, and some are better than others.
The general tickets for tourists worldwide are €26, but for Canarian residents, the price is €13. However, if you are a couple and want to have a fun date, you can get the twin tickets for €45.50, which is a good deal.
If you are a frequent visitor to the Park and plan to come multiple times a year, you will want to go for the Yearly Card that comes for around €66. This is the best offer for people who like to visit Siam Park a lot.
Siam Park Attractions
Siam Park has something for everyone. If you are looking to chill, you have beaches there. If you are visiting with your family and children, there are animals, farms, daycares, and a lot of other excellent activities. And if you are the adventurous type, there are a lot of unique attractions as well.
Let us take a look at the top 3 most popular attractions in Siam Park to give you an idea of what you will get there.
Tower of Power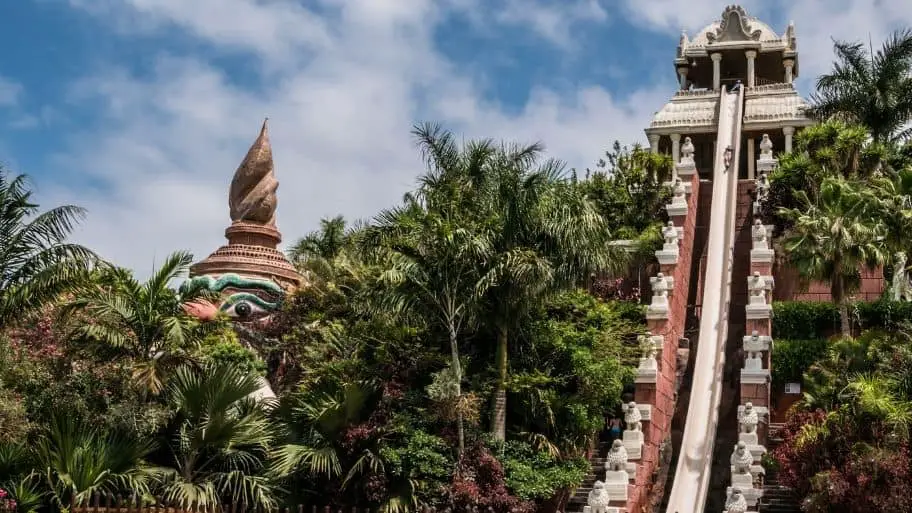 The Tower of Power is the most exciting and popular attraction in the Siam Water Park. It is a giant water slide that is going to raise adrenaline to the next level. If you are an adrenaline junkie, you are going to love this slide.
The length of this slide is 78 meters (256 feet), and at the top, you will see stunning visuals of the entire Park and the surroundings. In the end, you will pass through an opening where you will be able to see an aquarium full of sharks and mantas around you. So, it is going to be a fantastic experience.
How High is the Tower of Power in Siam Park?
The main highlight of the Tower of Power in Siam Park is the height of this monstrous structure. You will be sliding down into a pool of water from over 28 meters (92 feet) in the air. The slide itself is safe, but it is not for the fainthearted.
How Fast is the Tower of Power in Siam Park?
The real thrill that arrives whenever we talk about the Tower of Power is the speed that it launches you with. At the end of the slide, you will be moving at a rate of around 80km/h (50 mph), which is quite a lot.
Age Restrictions and Limitations
The Tower of Power is a great attraction, but it is not for everyone. If you want to go onto the slide, you need to be at least 14 years old. Also, there is a height limitation as well. To be perfectly eligible for going on the water slide, you need to be at least 1.4m or 4.6ft in height.
Dragon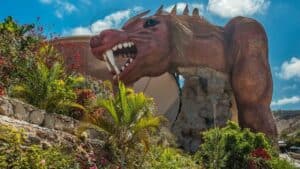 This attraction is one of the unique ones in all of Europe. The Dragon is a zero-gravity adrenaline booster where a group of 4 people are placed in a floating vessel safely and then moved around vertically, creating the effect of zero gravity.
This ride is not for the fainthearted either because of the 10m height (33 feet), along with the terrifying structure next to it. If you want to ride the Dragon, you need to be at least 1.25m (1.1 ft) in size, which is less than the limit for the Tower of Power.
Kinnaree
The Kinnaree is another incredible water slide that you are not going to want to miss out on. It stretches 213 meters (699 feet) and offers a complete visual experience throughout as you are going through the funnel.
You are going to see the secrets of the Goddess Kinara, a celestial being in Buddhism, as well as tons of fantastic vegetation and beautiful nature around you. The height requirement for you to be able to go on this adventure is 1.25 meters (1.1 ft) as well.
Can you stay at Siam Park Tenerife?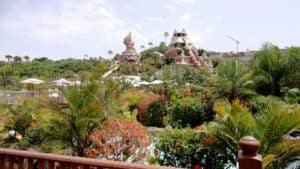 There are no hotels inside Siam Park itself, but one hidden fact that you might not have known if you are traveling there for the first time is the partnership between HD Parque Cristobal Tenerife and Siam Park.
If you stay at HD Parque Cristobal Tenerife, you will get free access to Siam Park and all of its rides and waterslides. They even provide shuttle surfaces towards Siam Park from the hotel grounds. So, you are going to get a bunch of benefits if you stay there.
Does Siam Park Have Animals?
If you are bringing children, you will want to know whether there are animals in Siam Park or not. Well, you are in luck because there is a proper farm in Siam Park where you can find varieties of parrots, ducks, goats, chickens, and even donkeys.
Did you know this: Are There Canaries in the Canary Islands?
There is also a child daycare center, so you can also let your kids have a good time there. As I said before, there is something for everyone in Siam Park Adeje, Tenerife.
Also, check out this article: Does Tenerife Have a Zoo? (A Guide to Attractions)
Is Siam Park Good for 6 year old?
Siam Park is great for people of all ages. If you are bringing a six-year-old or younger child, you do not need to be worried because they will love the Park. Even if you are bringing children smaller than six years of age, the daycare center is perfect there, and the authorities are very responsible and caring.
Hotels near Siam Park Tenerife
Siam Park is a must-go destination if you are in Tenerife, but it is also essential to reside near the Park if you want to easily commute from your hotel to the Park, have a great time, and come back. That is why I have made a list of some of the best hotels near the Siam Park region in Adeje, so let us check them out.
H10 Tenerife Hotel
The H10 Tenerife Hotel is an incredibly luxurious high-rise hotel that comes on the list of the top hotels in Tenerife. It is situated in Rafael Puig Lluvina, Adeje, Tenerife, Spain. The distance from this hotel to Siam Park is just under 0.3 miles which are pretty close, so that you would have no problem traveling to the Park from there.
Hotel Olé Tropical Tenerife
Hotel Olé Tropical Tenerife is another high-quality hotel that has quite a tropical island vibe to it. The size of the hotel and the crystal-clear pool are two of the main factors that make this hotel unique. It is located in Calle Bolivia, Adeje, Tenerife, Spain, and quite close to Siam Park.
Iberostar Bouganville Playa
Iberostar Bouganville Playa is one of the most beautiful hotels with a coastal view and luxurious amenities. It is located in Calle Eugenio Dominguez, Adeje, Tenerife, Spain. This hotel is around 0.4 miles away from Siam Park and a great place to stay visiting Tenerife. You will have a great time there.
Going different places? Check out this article: Do I Need a Car in Tenerife?
Conclusion
The Siam Water Park is a fantastic tourist attraction, and you are going to love every bit of the time spent there. It is highly recommended to head to this Park with your friends and families and have fun whenever you go to the Canaries. I hope you learned a lot from this article and that you will have a great time in the Canaries, especially in Siam Park Tenerife. May you have a great day ahead of you!