Taxis are one of the most accessible modes of transportation in Cabo San Lucas. As such, if you plan on visiting this city without a private vehicle, you may wonder how much you'll spend on your taxi expenses throughout your vacation.
Generally, the one-way fare from San Jose del Cabo to Cabo San Lucas is around 40 USD. However, when roaming the city, taxi fares can cost as low as 15 USD or as high as 70 USD. Thus, if you want to save some money, request the fare in Mexican pesos and pay in such. 
One thing to note about taxis in Cabo San Lucas is that they are not regulated, meaning the drivers can ask for a fare without any basis. As such, it can be tricky to ride cabs in the area, and you'll need to be aware of the reasonable prices to avoid getting overcharged or scammed.
In this article, we'll cover everything you need to know about the cost of taxi fares in Cabo San Lucas. This way, you can learn to negotiate a price and avoid getting scammed by taxi drivers in the city.
Without further ado, let's get into it!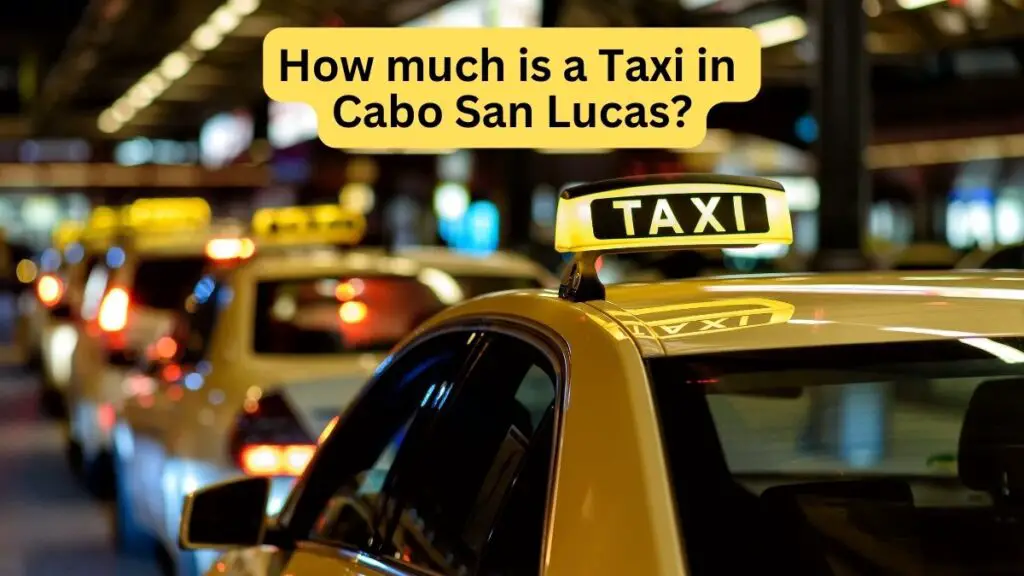 Estimated Taxi Fares in Cabo San Lucas
The taxi fares in Cabo San Lucas depend on several factors. However, distance is the basis of most taxi drivers around. As such, here are some of the estimated fares for you to know around the city.
Base Fare
You can generally find taxis everywhere in Cabo San Lucas and all of Los Cabos. The base fare of most taxis in the area is around 8 to 10 USD for every mile. However, it still depends on your starting point and the number of passengers riding the taxi.
From San Jose del Cabo
Most tourists travel between San Jose del Cabo and Cabo San Lucas as both areas have the most popular spots. 
If you're also traveling between the two, expect to pay around 35 to 40 USD for a one-way trip. It can depend on your starting point and destination.
From the Airport
If you're riding a taxi from the airport, the cost can be around 80 USD. This high price is due to the affiliation of the taxis to the airport. It's expected, so it's no use haggling for a fare lower than 80 USD.
If you need to familiarize yourself with the nearest airport to the city, read Cabo San Lucas – Nearest Airport.
How Much Is a Taxi Fare Per Person?
One thing to note about taxis in this city is that they have a large capacity. Most of them are large vans with a capacity of around 14 passengers. As such, you'll find the fare cheaper if you're a large group.
For instance, if you're coming from Los Cabos International Airport, the minimum fare is around 80 USD when going to Cabo San Lucas. However, this cost already covers around four people. 
If you're a group of 4, it will be around 20 USD each. Also, if you're more than four in the taxi, each additional person will be 20 USD.
However, if you're traveling as a couple from the airport to Cabo San Lucas, you're paying 40 USD each. So that fare is double the price, unlike the airport shuttle.
What Type of Taxi Runs in Cabo San Lucas?
As mentioned earlier, the most common type of taxi in Cabo San Lucas are large vans in blue. However, you can also find some taxis in turquoise color and some in white (rare).
If you're in the city, expect to see taxis running everywhere. As such, you will find it easy to go from one place to another, even at night.
Now, you can find government-certified taxis since they show a license with a driver's photo. You'll also notice the taxi number displayed for you to check.
Tips When Riding a Taxi in Cabo San Lucas
Taxis are available everywhere and can be reliable if you need more travel or transportation options. However, you'll find it better to ride taxis with these tips:
Always Negotiate the Price
Taxis in Cabo San Lucas need to be regulated, and drivers can overcharge you, especially if they see you as a tourist and you need to familiarize yourself with the price. As such, with the fare guide above, you should use and negotiate the price to ensure you pay a reasonable fare for your taxi ride.
More Means Cheaper
Taxis in this city have a base fare that can cover four people, and the driver will charge extra. As such, if you're traveling solo or as a couple, you'll find better options than taxis. If not, expect to pay more unless you're traveling with a group.
Always Carry Cash
Another thing to note is that Taxis in this city don't accept card payments or any form of online payment. Since they are solely on a cash basis, you'll need to carry cash.
Pay in Local Currency
Besides carrying cash, it's best to carry cash in local currency. Although cab drivers accept payment in US dollars, you'll find the rates higher and the conversion rates lower. As such, if you want to save some money, pay in local currency.
To know more about US dollars and Mexican pesos in the city, read: Can You Use US Dollars in Cabo San Lucas?
Tipping is Optional
Note that tipping isn't necessary with cab drivers. However, a tip will always be appreciated if the driver is helpful and doesn't try to overcharge you. 
Go Private If You Can
The taxi union in the entire Los Cabos is overwhelming. As such, most of them have expensive fares. For this reason, many travelers avoid taxis as much as possible, so you should do the same. 
If you have time, you can opt for a bus, and it's more affordable. If you still need to, you can always arrange a private tour.
Be Cautious of Taxi Vouchers
Another common scam to avoid is availing of cab vouchers. Most resorts and hotels offer such, stating that you're pre-paying for your trip. 
However, most drivers don't honor the vouchers, and you'll pay more. For this reason, avoid cab vouchers at all costs.
Conclusion
The availability of taxis in Cabo San Lucas makes it a reliable transportation, especially for tourists traveling at unusual hours. However, the expensive and unregulated fares can be reason enough to avoid them. 
As always, it's best only to take a taxi as a last option, and always remember the tips we have to ensure you avoid any problems related to this transportation option.
To know more ways of getting around the city, read: How to Get Around Cabo San Lucas?