Among Cabo's most iconic attractions is El Arco, also known as Land's End, a beautiful series of stone arches carved by nature that rise majestically from the sea to form the most iconic images associated with this place.  
A visit to Cabo San Lucas will only be complete with seeing this famous arch and taking pictures of it. As such, if you're planning to visit this famous arch of Cabo San Lucas, this article will guide you.
Here, we'll cover everything you need to know about visiting the famous arch of Cabo San Lucas. This way, you'll know how to get there, what activities you can do, and the nearby attractions you can visit.
Without further ado, let's get into it!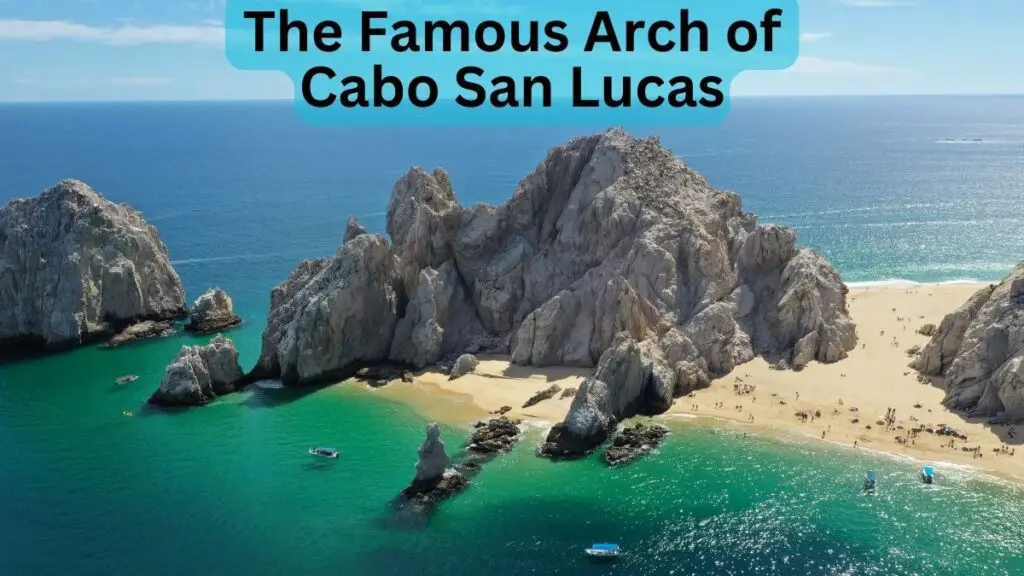 About The Famous Arch of Cabo San Lucas
The famous arch of Cabo San Lucas is known as El Arco (which means The Arch), and it also goes by the name Land's End. 
The famous arch is a rock from the sea and sits on the Baja California Peninsula's tip. This rock formation is also the meeting point of the Pacific Ocean and the Sea of Cortez. 
Overall, El Arco has been the subject of countless vacation photos and is a popular tourist attraction.
Location
The famous arch of Cabo San Lucas isn't a spot you can visit by car since it's located in the sea. However, you can hike on the rocks, and if it's low tide, you can even walk through it.
The arch sits on the tip of Cabo San Lucas and sits on the southernmost part of the Marina. As such, it's only a few minutes of a boat ride or an hour or two of a hike to see this landmark.
If you're still wondering about Cabo San Lucas, you'll want to know more about this popular tourist destination. If so, read our article: Discover the Magic of Cabo San Lucas: Where to Find It.
How to get there
Due to the extreme conditions of the waters at El Arco, it's not something you can visit by swimming or kayaking. 
The best way to visit this arch is by hopping on a water taxi, a private yacht, a panga (a small fishing boat), or booking a tour. In most cases, the starting point of such transportation is the Marina.
The price of a boat tour or water-taxi can vary anywhere from 10 to 50 USD per person depending on what kind of experience you want.
Can You Walk from the Beach to the Arch?
It's possible to walk from the beach to the arch. To do so, you must climb over some rocks and access Lover's Beach or Playa de Los Amantes. However, if you do so, you'll only be able to access the arch from the top, and you won't see the arch but only the rocks. For this reason, the best way is to hop on a boat to see the arch.
From Downtown Cabo San Lucas
If you're coming from downtown, you'll want to head to the Marina and book transportation there. It can be a water taxi, a small boat, or a private yacht (if you're fancy). However, you can book a tour to check out nearby attractions if you want to maximize your time.
You can also head to Lover's Beach since it's a popular pick-up and drop-off spot when visiting the arch.
Parking
When it comes to parking, you'll find plenty of parking spaces at the Marina. However, since you can't access the arch with a car, you'll need to leave it at the pick-up point and ride a boat.
Hotels and Restaurants
As mentioned earlier, the arch sits on the tip of the Marina, and it's only accessible by boat. As such, the nearest hotels and restaurants you can find if you want easy access to the arch are the ones within the Marina.
If you're unfamiliar with this area, it's one of the centers of activity at Cabo San Lucas. You'll find a dock surrounded by plenty of hotels, shops, and restaurants. It's also the starting point of most tours going to the arch. 
To know the hotels and restaurants in this area, read our article about Cabo San Lucas Marina.
Activities
From a distance, you may need to realize El Arco has beaches where you can enjoy the water or sand during your visit. From right here, you can embark on a snorkeling or scuba diving trip and discover Land's End's beauty under the sea. 
On one side, there is Lover's Beach with safe swimming, and on the other side, there is Divorce Beach, which is not recommended for swimming.  
A calm current and comfortable water temperature make snorkeling and diving at El Arco an enjoyable experience. The ocean's abundance of sea life will amaze you with its diverse marine life. Pelicans also breed here, diving into the water for tasty snacks.
Nearby Attractions
When you book a tour of the arch of Cabo San Lucas, you can also enjoy the nearby attractions. You can visit popular attractions such as the Sea Lions Colony, the Pirate's Cave, and the Pelican Rock. You can also check out nearby beach areas such as Lovers and Divorce Beach. 
Conclusion
Overall, the famous arch of Cabo San Lucas is a must-visit, and no Cabo San Lucas trip will ever be complete without even seeing this spot. But, as always, note that the best way to enjoy this arch is through a boat ride, and you should visit the other nearby attractions to make your trip worthwhile.
Of course, you'll want to know more about the city's top things to do if you want to make the most of your stay. To learn more, read our article: Experience the Magic of Cabo San Lucas: Top 10 Things to Do.