As the city that sits beside the most visited border in the world, it can be interesting to consider exploring Tijuana, especially in or near San Diego. You can get into the city in the morning and return to San Diego before the day ends. However, if you're unfamiliar with Tijuana, you may wonder what the city is known for.
This article will show you 15 things Tijuana is known for. Here, you'll find the best places in Tijuana and enjoy the best the city offers if you decide to visit. After reading, you can learn more about this Mexican city and the things you can experience while in it.
Without further ado, let's get into it!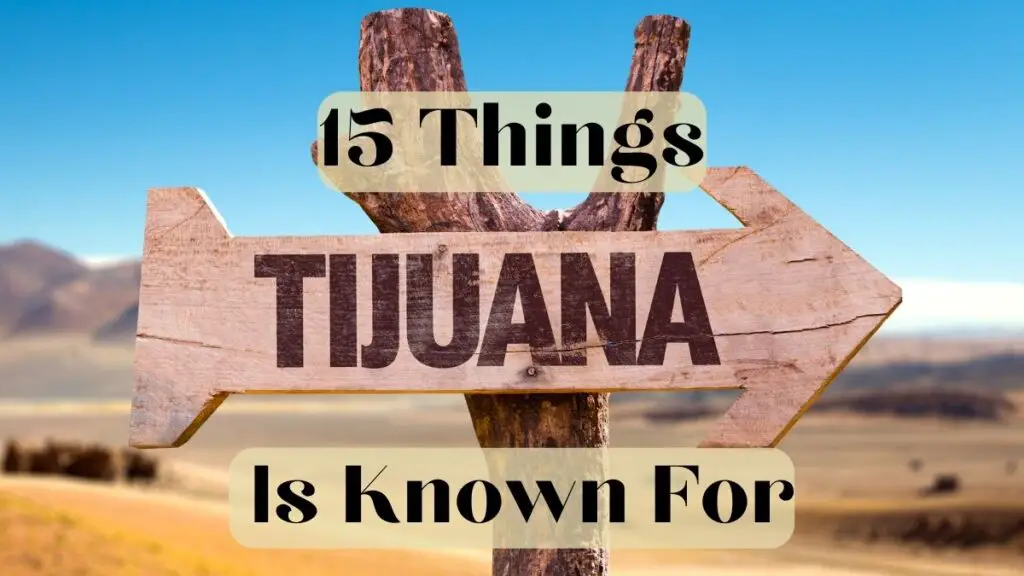 1. Avenida Revolucion
When we speak of Tijuana, Avenida Revolucion is one of the places that pop up first. In general, Avenida Revolucion is where you'll find most of Tijuana's cafes and restaurants. It's also a place to visit if you're searching for souvenirs to purchase.
At Avenida Revolucion, you'll enjoy handicrafts made by local artisans, and most of them are affordable, making it a place for budget travelers to shop.
Here, you'll also find local and international cuisine. As such, if you're a food lover, you can head to this area and enjoy a day of trying different types of food.
If you plan on visiting Tijuana from San Diego, you can read How to Get to Tijuana from San Diego?
2. Zona Rio
Zona Rio is the place where most commerce and trades occur. Although it's the real downtown, most people flock to Avenida Revolucion, but here, you can enjoy most of the Mexican restaurants.
You can find Mercado Hidalgo in this area, and it's the best spot to visit if you want to enjoy local Tijuana dishes. You'll also enjoy other Mexican food, especially tortillas, coffee, and candies.
3. Playas de Tijuana
San Diego might have plenty of beaches, but if you're tired of such beaches, you can head to Playas de Tijuana. This beach area is situated near downtown, offering plenty of attractions and Instagram-worthy spots.
Here, you'll find the Azteca Park that goes to the US Border that ends at the Pacific Ocean. You'll also find a boardwalk that consists of bridges for crossing.
If you're searching for Tijuana on the internet, you'll find the border's end as one of the first images to pop up.
You can have a lovely time at the beaches in Playas de Tijuana and eat the freshest fish in the world. It is mainly a tourist destination due to its pleasant beaches and relaxed atmosphere.
To know more about this beach, read our article about Playas de Tijuana.
4. Pasaje Rodríguez
Pasaje Rodriguez is a fantastic location to see Tijuana's colorful culture since it is packed with delicious local cuisine, enthusiastic people, and beautiful street art.
This area was a task that locals took up and completed by hand in 2009. Since then, the neighborhood has always been populated with photographs and painters. 
Tourists are drawn in by the lively environment and don't want to go. Many small art galleries and public art installations in this area now encourage aspiring artists to work hard.
5. Exciting Nightlife
The US Citizens are known for crossing the border to party for a couple of nights. They have used Tijuana as a destination for pleasure for years.
For most visitors, the word Tijuana is nearly comparable with tequila, and this city is renowned for its vibrant nightlife.
The two common areas containing some of the best pubs and bars in the city are Avenida Revolución and Zona Centro. However, consider going to Calle Basil to explore the city's most upscale and pricey bars.
6. Plaza Rio Tijuana
Plaza Rio Tijuana is, without a doubt, one of Mexico's top shopping centers. It has a retail area of approximately 73,500 square meters. But unfortunately, Mexican shopping centers needed more contemporary amenities in the past.
In 1981, the state decided to build an American-style retail complex. In the complex, you'll find several domestic and foreign stores. In addition, food stalls and two cinemas are also located in the mall.
7. Spherical Tijuana Cultural Center
Apart from the cuisine and tequila, there is just one item in Tijuana that visitors are fascinated by: Tijuana Cultural Center. It is situated in the Zona Rio area of Tijuana, not far from the border.
The distinctive spherical form of the cultural center makes it visible from a great distance.
It was built in the eighties and is now regarded as one of the city's most recognizable landmarks.
8. El Trompo
El Trompo promises to instruct its audience in science through various activities and exhibits. A wide range of events and activities are available at the location throughout the year.
El Trompo provides tourists with a singular experience by encouraging a desire for knowledge and even letting them carry out the tests hands-on.
Besides the multi-function hall, the venue has a theatre with seating for nearly four thousand people and a multi-purpose hall.
You can find many meeting spaces and performance venues to meet your needs.
9. El Popo Market
If you want to spend the day living like a local in Tijuana, you can visit El Popo Market. This place is among the small marketplaces in Mexico renowned for their locally sourced goods.
Once you approach the market, you'll immediately notice the fragrant freshness of genuine Mexican items. In addition, you'll be amazed by the variety of spices and tastes in the curry.
Here, you'll find a plethora of local Mexican products for sale. This place is a colorful site where you'll find colors exploding out of nowhere.
10. Parque Morelos
Tijuana offers a variety of intimate experiences for couples, including a day trip to Parque Morelos. This 1987-founded natural park offers a variety of attractions for guests to use.
You could enjoy a toy train trip, a zoo, designated picnic areas, and lovely walking trails. It also contains a theme park, various landscapes, and an artificial lake.
You'll surely enjoy a wonderful day in this area if you come with someone you love. It's the perfect site to create new experiences with your partner because of the sparkling lake, picture-perfect flower gardens, and zip line.
You can also visit the zoo to enjoy rare animals up close or cool off in the fantastic splash area.
11. Caesar's
If you're into salads, Tijuana is a place of interest. If you don't know, Tijuana is the original place of Caesar's Salad, and it's in the place called Caesar's. 
Consuming Caesar salad in Tijuana is equivalent to eating an authentic Mexican meal in the country of origin.
Initially, the Caesar salad was explicitly developed for Caesar's Diner by Caesar Cardini, the diner's owner.
The famous Caesar's restaurant is still open today, so if you want to experience the famous meal where it all began, you can do so there.
12. Casa de la Cultura
In the mid-70s, Casa de la Cultura was designated as a cultural property despite originally being intended as a primary school.
Additionally, there is a playhouse and a Literature Cafe in the area, as well as other exhibits and seminars. As a result, Casa de la Culture is one of the most popular tourist destinations in the city.
The visitor count for this cultural landmark is estimated to be around twenty-five thousand every year.
13. Plaza Santa Cecilia 
If you want to travel in time and see Tijuana as it once was, Plaza Santa Cecilia is the spot to visit. The original place where First Street and La Revu meet is where Tijuana was founded.
Even though the region is constantly developing, one can sense by the décor and atmosphere that this area is the original section of Tijuana.
This area of Tijuana has had a business boom, as demonstrated by the number of shops and contemporary stores. You'll notice several vibrant flags floating above if you angle your head.
14. Caliente Casino
Caliente Casino is one of the most well-known casinos in Mexico, with a wide selection of modern slot machines at its disposal.
Along with more than two thousand slot games, you'll enjoy many table games, events, and motorsports betting opportunities. During your stay in Tijuana, you can test your luck inside this grand casino to have new experiences.
This institution offers a variety of gambling machines, poker tables, and an excellent bingo evening. In addition, it profits from betting on various sports in its sportsbook, including horse racing and boxing.
15. Estadio Caliente
Estadio Caliente, primarily used for football, also accommodates several other occasions, including athletic events and concerts. At one time, the place could entertain more than twenty-seven thousand individuals.
All sports enthusiasts should check it out due to its comfortable seating, cutting-edge technology, cutting-edge illumination and audio systems, and other advantages. You'll also find a pro football team from Mexico named Club Tijuana.
Based on the schedule, this arena can accommodate great live shows besides other athletic events. You may watch a gripping football match or a thrilling boxing match when you're there.
Conclusion
Tijuana is mainly known for being the busiest and most visited border city. However, looking at Tijuana, besides the border it houses, you'll see plenty of places to visit and activities to experience. This list lets you know what you can enjoy in this area. As such, you'll surely enjoy this city, whether visiting for a day or more.
To know more about beautiful places in Tijuana, read our article Is Tijuana Pretty?