Whenever we travel to a particular place, one of the things we always consider is the area to stay. So, for example, in Mexico City, you'll find hundreds, if not thousands, of hotels and all types of accommodation scattered in many areas. 
However, we always want to know the best areas before choosing the hotel. This way, we don't wind up in dangerous or high-risk areas and always stay on the safe side. We also do this to ensure easy access to the city's best offers.
This article will cover the top neighborhoods to rest in the city. This way, you can know where to book a hotel, avoid high-risk areas, and only stay in the best neighborhoods as you explore the city.
Without further ado, let's get into it!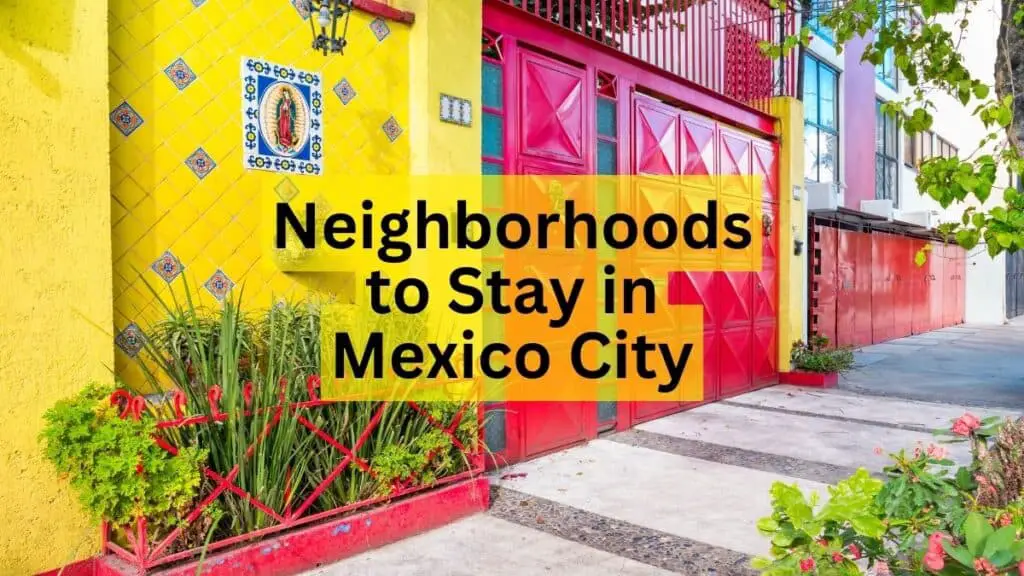 What Is the Best Neighborhood to Stay in in Mexico City?
If you're searching for the best neighborhood to rest in the city, you'll have three top options: La Condesa, Centro Historico, and Zona Rosa. 
These areas are the best because they are all within the city's center, and you'll find lots of activities, hotels, and restaurants in each one. Moreover, they are tourist spots, which means they are safe, well-patrolled, and always filled with tourists.
Let's have a look at each one below:
La Condesa
La Condesa is one of the best areas in the city because it houses some of the best chic and elegant-looking boutique hotels. Further, La Condesa is in the middle of Mexico City's most desirable neighborhoods.  
You'll generally find La Condesa a beautiful neighborhood with top-notch restaurants and inviting boutique hotels. For almost any traveler to Mexico City, it's a terrific place to stay since it's both fashionable, secure, and convenient to other areas. 
Condesa's one drawback is its popularity as a place to rest in the city. As a result, the lodging can become quite pricey, and it is common for them to sell out quickly. Therefore, make reservations in advance if you want to guarantee a spot in Condesa. 
In this neighborhood, you can enjoy many high-end bars for exciting nightlife. You'll also always have options for food since it has plenty of Mexican Restaurants.
You can stroll through excellent areas like Roma if you're up for explorations. Overall, it's a trendy neighborhood that you'll find enjoyable during your stay in the city.
While this area might sound convincing to tourists, beware that its popularity and security are also its downsides. Due to such things, you'll find hotels around here a bit pricier than the rest. 
Also, it may be hard to book since hotel rooms are always fully booked. As such, you'll need a higher budget and to book in advance to stay here.
Please read our guide article about La Condesa to know more about this neighborhood.
Centro Historico
The Centro Historico is another excellent neighborhood to book a hotel in Mexico City, especially if you're a tourist with an itinerary of history and museum tours.
First-time travelers and tourists generally frequent this area since it's accessible to some of the top museums in the city. For instance, this area is close to Zocalo Square and Palacio de Bellas Artes. 
When it comes to food, you'll find plenty of street food around to enjoy local cuisine while staying on a budget since you'll find the food prices cheaper around the area.
If you plan to stay in this neighborhood, you'll enjoy a pleasant stay since it's the best for first-time travelers. You'll also enjoy lots of historical establishments like museums and parks around. 
Whether traveling on a budget or having plenty to spare, you'll find several accommodation options. Finally, you won't have a problem exploring around since it's near many city attractions.
Now, beware that you'll also find some flaws in the area. For instance, the Centro Historico is a central tourist area, which can get crowded, especially during the day. Also, if you're driving, expect heavy traffic, as street vendors can block the roads. 
Finally, it's best to take extra caution to avoid becoming a victim of petty crimes like pickpockets, scams, and other problems.
Zona Rosa
Zona Rosa is another excellent choice for travelers who want to stay in the city's best neighborhoods. This area is frequented by party-goers and people who love a good nightlife experience. 
If you want to be near the party in the city, Zona Rosa is the finest neighborhood to stay in. Many bars in the LGBTQ-friendly area range from posh cocktail bars to dumps. 
Further, you can expect a big celebration if you visit Zona Rosa in June because the LGBT pride parade is a big deal there. 
Additionally, Zona Rosa offers a good selection of establishments to browse, including a surprising number of Korean supermarkets and eateries. Finally, by visiting local Asian supermarkets, you'll enjoy your first taste of Asian cuisine if you haven't tried one yet.
Overall, you'll enjoy this neighborhood because of its nightlife vibe and accessibility to public transportation. You'll also find affordable accommodation if you travel to the city on a budget.
The Zona Rosa isn't the place for you if you'd like a good night's rest since it gets pretty loud until the wee hours. 
However, if you like to party during your stay in the city, you have to check out this area.
Areas to Avoid in Mexico City
Since Mexico City is a large city, you'll find plenty of areas to explore. However, you must beware of areas to avoid.
When visiting Mexico City, avoid booking hotel rooms in Doctores, Iztapalapa, or Tepito. These districts are known as the city's highest-risk areas, even though they change yearly. 
While you may explore such areas during the day, it's something you'll want to avoid passing through or staying, especially at night.
Best Areas to Stay in Mexico City for First-Timers
If you're visiting the city for the first time, you'll want to enjoy the city's best offers. As such, you'll need to stay in an area that's accessible to the must-visit spots of the city, and that's either La Condesa or Centro Historico.
Tourists visiting the city for the first time should book a hotel in Condesa or Centro Historico. Due to its proximity to numerous tourist hotspots, including the Zocalo, Centro Historico is a beautiful location. In addition, due to its proximity to other neighborhoods like Zona Rosa and Roma, La Condesa is an excellent neighborhood to stay. 
If you want to know more about the places you shouldn't miss in the city, read our article about the best Things to See and Do in Mexico City.
Overall Best Areas to Explore in Mexico City
Condesa, Polanco, and Roma are the three best living areas in Mexico City. First, however, you have to know what you are searching for in the city and what you expect to find. 
If you've a large budget and wish to spend it on living a high life in luxury, then the best place to go is Polanco. 
On the other hand, Zona Rosa is a great neighborhood to stay in if you prefer somewhere that offers a vibrant nightlife and you are okay with a bit of noise. 
Finally, if you are exploring the city with your kids, perhaps you should explore the less populated Colonia Nápoles neighborhood.
Conclusion
The top neighborhoods to stay in in the city are La Condesa, Centro Historico, and Zona Rosa. These areas are the best ones for tourists visiting and exploring the city. You'll find numerous restaurants, hotels, attractions, and activities with such options. 
As always, keep your distance from risky neighborhoods, or at least take extra caution if you can't help but pass through these areas.