The Teotihuacan Archaeological Site is one of the best day trip destinations when visiting Mexico City. If you're unfamiliar with it, it's the home of the famous pyramids near the country's capital. 
Now, if you want to see these pyramids and you're in Mexico City, you may wonder how far is the distance between the two and how to travel from the city to this area. If so, this article is for you.
Here, we'll cover all the information you need to know about these pyramids, mainly about traveling to this place from Mexico City. It includes the exact distance, travel time, and transportation modes to enjoy your trip to the pyramids.
Without further ado, let's get into it!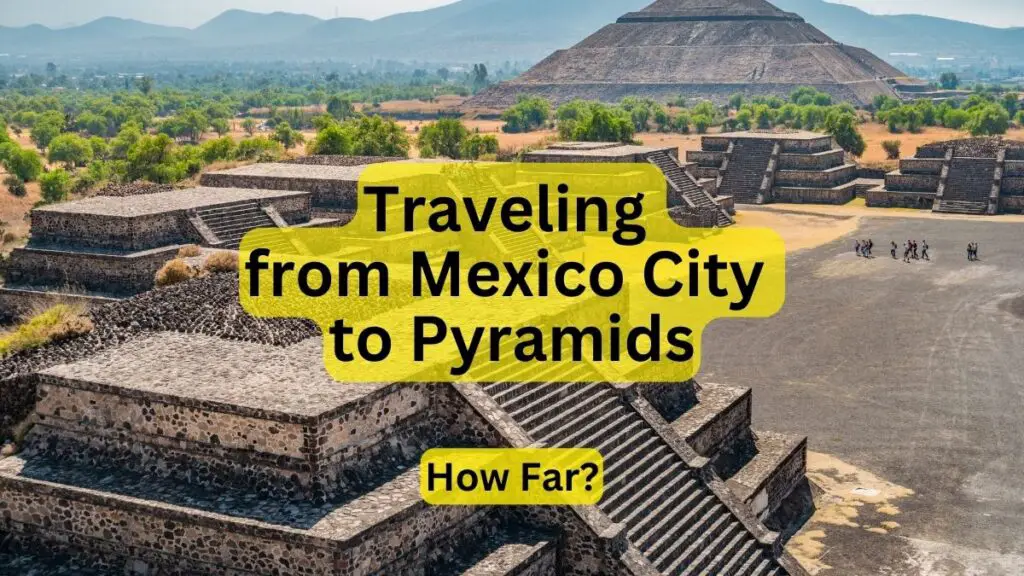 How Far Are the Pyramids from Mexico City?
The famous pyramids are located in the Teotihuacan Archaeological Site. While most locals already know the place when you say pyramids, you'll find it better to navigate when searching for Teotihuacan.
Distance From Mexico City to the Pyramids
If you're coming from the center of Mexico City, the pyramids are located 31.4 miles or 50.6 kilometers away in the northwestern direction. Another longer route would be around 34.1 miles or 55 kilometers.
Travel Time From Mexico City to the Pyramids
If you're taking the route we mentioned above, the travel time would be around an hour to an hour and eight minutes. However, it can be longer when you're commuting.
For instance, commuting by bus and taxi can take longer, from one hour and thirty-four minutes to two hours and 18 minutes.
Travel Fare From Mexico City to the Pyramids
The most common mode of transportation for commuters is the bus. It's around 93 MXN (around 5 USD) to 142 MXN (Around 8 USD).
One thing that might need clarification is that the bus tickets and fares differ since some tickets are for the town, which is San Juan Teotihuacan. In contrast, others are directly headed to the Archaeological Site, the Pyramids.
For this reason, book the bus tickets to the site. Then, you won't have any problem since the tickets have marks of "Pyramides" on them.
How Do You Get to the Pyramids from Mexico City?
Now that we have discussed the exact distance, travel time, and estimated fares from Mexico City to the Pyramids, let's talk about how to get there.
You can get to the pyramids from Mexico City in three ways: Car, Bus Taxi, Uber, and Tours.
By Car
Whether you bring your car to Mexico City or rent one, you can reach the pyramids from Mexico City within an hour of travel, and it's the most flexible and easiest way to do so.
As mentioned earlier, the route you can take from the city center to the pyramids is around 31.4 miles or 50.6 kilometers. You can also take another longer route at around 34.1 miles or 55 kilometers.
By Bus
Some may say it's challenging to reach the pyramids from Mexico City by bus. However, that's not true. The city offers an excellent bus system that goes directly from the city proper to Teotihuacan Archaeological Site, where the pyramids sit.
To do so, you'll have to reach the North Terminal in the city. It's located next to Autobus del Norte Metro Station and is accessible using the Yellow Line or Metro Line 5.
From there, you must get to Gate 8 to see the buses going to Teotihuacan. Look for "Los Piramides" or "Zona Archaeologico" signs since other buses will go to the Town Proper nearby. This area is also where you can buy tickets.
As mentioned earlier, a round-trip ticket costs around 105 MXN, around 5 USD. The staff here can speak and understand English so that you can ask for assistance without worries.
Another thing to note is that the bus tickets are meant for a specific bus, so you must ensure you're there on time before the bus departs.
Also, your ticket has a separate seat written on it. As such, you won't get to choose the seat when you hop aboard.
Overall, the trip takes around an hour and fifteen minutes. After such, you'll arrive at either the archaeological site's first or second gate. From there, the pyramids are only a walking distance away.
Bus Schedule
The first bus trip leaves at around 7:00 AM, which means you'll be at the pyramids by 8:00 in the morning if you take this trip. However, the archaeological site is still closed during that time. 
The rest of the buses depart every twenty minutes. So if you want to arrive when the gates open, you should take the bus that leaves at around 7:40 AM.
If you want to spend all day at the pyramids and plan to ride the bus again back to the city, you need to know the last trip. The last bus leaves Teotihuacan to Mexico City at around 6:00 PM.
By Uber or Taxi
Uber or taxi is another mode of transportation you can use if you have the budget and want your travel time to be more flexible. 
Unlike buses, these two are more convenient but also pricier. You can also ask your hotel to arrange a private service for you. This one's better than the two, but it's also more expensive.
By Tour
Since the pyramids are one of the most popular day trip destinations from Mexico City, you'll find endless tour companies offering guided tours to these areas.
With such a tour, you'll enjoy a guided excursion to the site, including round-trip transportation and even food in some cases.
The best thing about Teotihuacan guided tours from Mexico City is that they are filled with local stories and legends, many of which are not found in travel guides. 
Check out these highly-rated guided tours if you want an immersive Teotihuacan experience or want to avoid planning a DIY trip to the pyramids.
Full-Day Tour to Teotihuacan
A full-day tour of the pyramids will always be worthwhile. This time will let you thoroughly explore the sites and archaeological museum. Also, a full-day tour includes a stop at the Our Lady of Guadalupe Shrine. If you want this tour, you can book it here.
Tour with Early Access
Since the pyramids attract hundreds of visitors daily, you may find the crowds unpleasant when exploring. As such, you can book an early-access tour to explore the site before opening. This way, you'll have the site and a more private excursion. Also, you'll get to enjoy other activities such as mezcal tastings and many more.
If you want to consider this tour, you can book it here.
Private Tour
Some tourists prefer a private tour, especially if they visit as groups or families. If you're searching for a private tour of the pyramids, you can book it here.
Tour with Hot Air Balloon 
One of the best (pricey yet best) activities to do around is to enjoy the sight of the pyramids from above by riding a hot air balloon. It's best done in the morning, and you'll enjoy a stunning view from the skies through the hot air balloon.
If you want this tour, you can book it here.
Best Time to Visit the Pyramids
The Pyramids are best visited early in the morning, immediately after it opens. Then, the weather will be more favorable, and the place will be relatively empty.
Most tour buses arrive after 10:00 AM, with most tourists arriving around noon. Unfortunately, the sun is also directly overhead at noon, making climbing the pyramids difficult. 
Ideally, you would finish the pyramids earlier in the day and then go to the museums around noon.
When it comes to seasons, spring and fall are the best times to visit the pyramids because the temperatures are mild, and climbing and walking are easy.
On Mondays, Teotihuacan is open, unlike many other heritage sites throughout Mexico. While it may sound like the best time to visit, it's not since everyone flocks there. 
Further, it's not a good idea to enter on Sundays since Mexicans and residents don't have to pay, and they usually visit during such a day.
Overall, the area is less crowded from Tuesday to Friday. As such, these days are the best ones for visiting.
Conclusion
The pyramids of Teotihuacan offer a stunning and exciting day trip destination for tourists in Mexico City. With only around an hour of travel, you'll find it an excellent spot to check out for a day. You can read our guide article about the Teotihuacan Archaeological Site to know more about this place.