The Beach Road is one of the highlights that tourists and travelers marvel at about Tulum. This road runs parallel to the Caribbean shore before turning into the dirt at the archway entrance to Sian Ka'an Biosphere. As such, you may wonder what Tulum beach road has to offer.
Tulum beach road is a narrow road that starts south of the famous Tulum Mayan Ruins and ends at the picturesque Sian Ka'an Biosphere. This long road sits beside the beautiful Caribbean waters, housing Tulum's best hotels, bars, and beaches.
Tulum beach road is where tourists and travelers spend their time in town. It starts and ends with Tulum's popular tourist spots. Moreover, it welcomes the Caribbean waters and the best things to see in Tulum. So if you want to learn more about this road, you've come to the right place.
This article will cover everything you can find on Tulum beach road. It includes how you can reach the place, along with the hotels, bars, and beaches that come with it. After reading this article, you'll know what to expect from Tulum beach road and how you can roam your way around it.
Let's get started!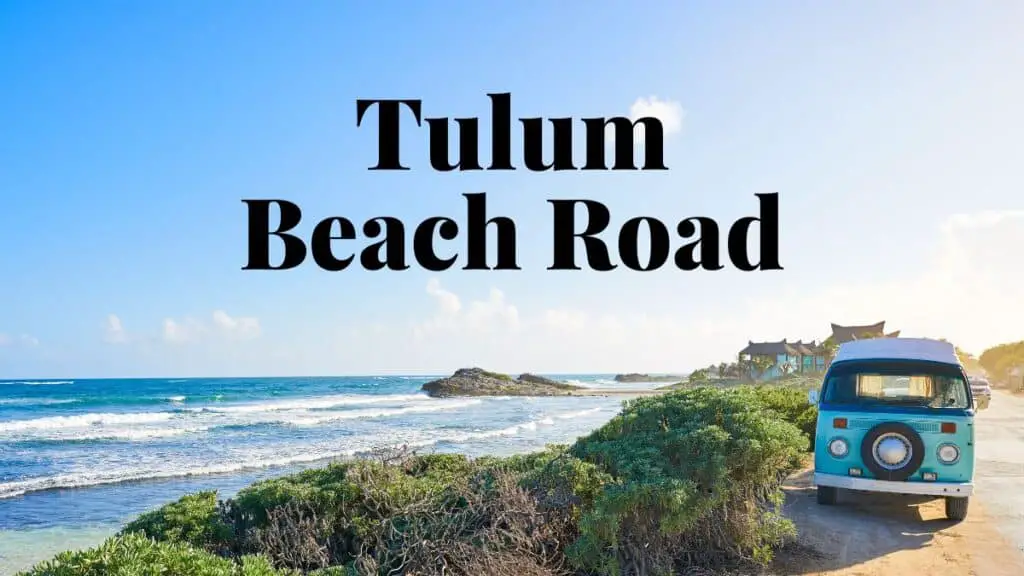 How to Go to Tulum Beach Road?
Tulum beach road is located 5.8 kilometers from Tulum proper, popularly known as Tulum Pueblo. From Tulum Pueblo, you can take the Av. Coba/QROO 15 road and travel time is around 11 minutes on a drive, 15 minutes on a bike, and 45 minutes on foot.
Can You Walk From Tulum Pueblo to Tulum Beach Road?
Since the distance from Tulum Pueblo to Tulum beach road is 5.8 kilometers, walking can take around 45 minutes. Still, the entire road is pedestrian-friendly if you're up for a long walk.
Most travelers and tourists would prefer a short drive. However, bike rentals are available if you don't want to drive or spend a lot on a taxi that can rip you off. 
If you prefer riding a taxi, ensure you know the price and negotiate with the drivers to avoid excessive and unnecessary fares. With this in mind, you'll want to read more on: How Much are Taxis in Tulum?
If you rent a bike, it will only take 15 minutes from Tulum Pueblo to reach Tulum beach road. Further, this will save you some from exhaustion while enjoying the road on the way to the beach. However, once you reach the beach, the bike lanes will end, so it's best to continue on foot by then.
Now, if you're driving, you need to keep an eye out for bikers and pedestrians. Drive slowly as many people share this road.
What can you find on Tulum Beach Road?
Tulum beach road is visually stunning. It holds the Caribbean Sea on one side, lush jungle on the other, and cenotes and boutiques in between. Also, there is a lot of activity, so keep your eyes out for them.
There are many small cabana resorts, beach bars and clubs, shopping stores, and restaurants along this paved beach road. On the beach road, you'll also find more than a hundred cabana resorts with less than 30 rooms.
Hotels on Tulum Beach Road
The best hotels in Tulum are located on Tulum beach road. Thus, most hotels offer guests beachfront access. As such, it's convenient for guests checked in in such hotels to visit the beach.
If you're not checked in in such hotels, the beach is always open in public. In addition, most hotels will allow you to walk through their property free, while some may charge a small fee.
Tulum beach isn't cheap, so be prepared to pay a lot to stay there. While staying at a Tulum beach resort, you'll enjoy its best beach and one of the most famous beaches in the world.
There is no shortage of excellent options for hotels on Tulum Beach Road. However, we have several recommendations to help you decide. 
To give you a quick taste, here are the best beachfront hotels in Tulum:
Pros of staying on Tulum beach:
The beach sits right across the street from your room.
The famous Tulum ruins are accessible on foot.
The best restaurants in Tulum are within walking distance.
Cons of staying on Tulum beach:
The prices of accommodation and food can be pricey.
The prices are not budget-friendly, especially for long-term vacations.
The location is far from Tulum Pueblo, where most of the nightlife happens.
Bars on Tulum Beach Road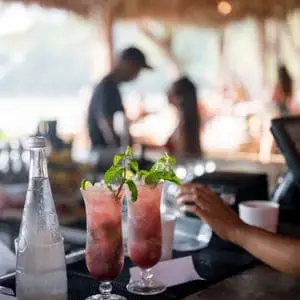 The bars on Tulum beach road are also the best ones in town. However, they are pricier than the ones you'll find in Tulum Pueblo or Tulum town. 
Still, you'll enjoy good nightlife with most bars, especially on particular days when some bars offer a special event or activity.
Almost every bar on Tulum beach road is a great choice. However, we rounded up everything and ended up with the best three bars in the area. These are:
We also have some recommendations for rooftop bars and budget-friendly bars. To learn more about the best bars and the overall view of nightlife in Tulum, check out our article about Tulum Nightlife.
Beaches on Tulum Beach Road
Because of the Tulum beach road, the beaches in Tulum are pretty accessible. What makes it better is that the entire stretch of the beach is open to the public, and anyone can access all of it without paying anything. 
However, some beaches are only accessible through a hotel or private property. While some will let you pass without fees, others may ask for a small fee to let you walk through.
Now, the long stretch of beach is divided into two main areas, the north beach, and the south beach. The north and the south beaches offer different things, so you should know both.
Tulum North Beach 
The north beach in Tulum is probably one of the most excellent public beaches I've been to. Technically speaking, this area consists of three different beaches (although they all sort of blend together):
Las Palmas Beach – located at the southern end
Playa Paraiso (also known as Paradise Beach) – located in the middle
Playa Ruinas – located at the northern end near the Tulum Mayan Ruins
The northern end (Playa Ruinas) offers eye-pleasing blue waters that meet the cliffs of the famous Tulum Maya ruins. 
Another thing to note is that tourists are prohibited from entering the north end of the ruins as a turtle nesting ground.
Overall, all three beaches have gorgeous white sand that's always satisfying for the eyes to behold.
The north beach of Tulum has been spared from overdevelopment. For this reason, these beaches offer a more expansive beachfront. It's also more relaxing, especially since it's far from clubs and establishments if that's what you prefer.
Pros of visiting Tulum's north beaches:
Convenient public beach access
The bars' prices are more affordable
Only a short distance away from the Tulum Mayan ruins
Easy access to snorkeling and boat ride activities
Wide open space
Cons of Tulum's North Beaches: 
High season can make it more crowded
Cabanas and chairs on the beach are fewer
Tulum South Beach
The south beach of Tulum is lined with luxury Riviera Maya hotels and beach clubs. Unfortunately, the beach is primarily accessible through Tulum's hotels, as resorts aim to keep their guests as exclusive as possible.
Even so, Tulum's south beach is well worth a visit on its own. Unfortunately, while the sand and water are still excellent, they aren't quite as beautiful as those in the north of Tulum.
Alternatively, you can rent a day bed at a beach club or stay in a boutique Tulum hotel or beach resort.
Pros of visiting south beach:
Enjoy the white sand
The beaches are less crowded
There are plenty of excellent beach clubs
There are activities like kitesurfing
Cons of Tulum's South Beaches:
Public access can be limited and restricted
There's not much space for public parking
You'll need to pay for pricey club fees and cabanas
Conclusion
The Tulum beach road is more than just a simple two-way pavement in town. This road connects Tulum's treasures, from well-known spots to hotels, restaurants, bars, and beaches. As such, your stay in Tulum would be unforgettable if you spent most of your time on this road.
Now that you know more about Tulum beach road, the rest is meant for you to explore it and enjoy everything it has to offer. But, of course, there are other places in Tulum besides the ones on and near this road, so be sure to check them out!