Planning a vacation is exciting, especially when you haven't done it for a while. If you're still familiar with Tulum, you'll need a few pointers and insights to guide you. Once you've booked your flights, you're a step closer to vacation. The next thing to do is to plan an itinerary.
Here's a detailed itinerary you can follow if you visit Tulum. Here, we'll cover the basic things you need when planning and the must-do things and places to visit in town.
After reading this article, you can make your own or use the itinerary we made for you. Whether staying for three, five, or seven days, you'll maximize your stay in Tulum with this guide.
Without further ado, let's get started!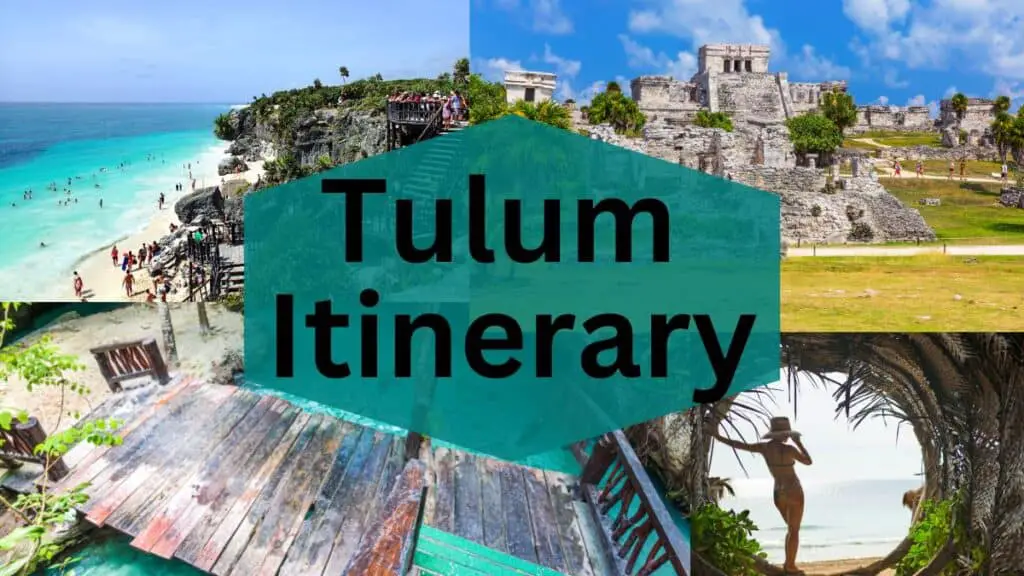 How Many Days in Tulum?
It's difficult to say how many days you need in Tulum since you can spend weeks or even months in town, and more is needed.
Still, the answer to this question depends on the things you want to do and the spots you want to visit. Also, it will depend on places or activities you would be okay with missing during your stay in town.
To give you a more concrete answer, you'll need at least the following:
Three days to explore Tulum Pueblo and Tulum Beach;
Five days if you want to add some cenote hopping and snorkeling; and
Seven days if you want to visit neighboring towns and cities for a day trip.
Now, you can always maximize your time by doing more activities and visiting more places and spots on fewer days. However, you will only be able to savor and enjoy Tulum if you'll do everything in a rush.
Further, Tulum is a laid-back town meant for relaxation—as such, doing things in a rush isn't the way in this town. As much as possible, you do an activity or visit a spot one at a time.
For this reason, it would be best if you make an itinerary covering all the places you want to visit and the activities you want to do. This way, you can have a better idea and estimate the days you need to enjoy Tulum in the best way possible.
Planning a Trip to Tulum
When planning a trip to Tulum, you'll need a few things to settle first. After doing so, you'll end up with a planned itinerary, and the rest of the concern is to enjoy your entire stay in town.
Make a flexible schedule
The first thing to note is that your itinerary, especially the schedule, should be flexible, as you can enjoy more or less time in a particular activity or spot. 
You don't have to overdo the planning by adding an actual time for each activity. Such a thing takes away the fun of vacation. In short, make your planning time fun. After all, we know that planning a vacation is one of the most exciting things to do.
The best thing to do is to line out the activities for the day and let it roll from there. This way, you won't be conscious of what needs to be done and what places to visit.
Know your priorities
Do you want to spend an entire day by Tulum's beach? Do you want to snorkel and swim in cenotes? Do you want to enjoy the nightlife in Tulum? Whatever it is you're looking forward to when visiting Tulum should be among the priority.
It doesn't matter what the most popular is in Tulum. What matters is the activity you want to do or the place you want to see first. 
You will only visit Tulum if you look forward to something in it in the first place. Thus, it's best to set your priorities to ensure you enjoy them throughout your stay in town.
List down some optional things
List the activities you wouldn't mind doing and the places you wouldn't mind missing. Then, you can add them to the bottom of the list as an optional thing.
You can do these activities or visit these places if you still have plenty of time in town. Otherwise, it's not something you'll regret missing should you run out of time and can't afford to extend.
Check your budget
Can you splurge on a whole week or even a month in Tulum? If so, you can do everything at your own pace and be lazy whenever possible.
However, if your budget limits you to only a few days in town, it plays a part in your plan. Once you have the budget, you can use it to plan your accommodation, food, and the other fees and expenses you need during your entire stay.
5 Must Do in Tulum
As I mentioned earlier, planning a Tulum vacation entirely depends on your preference. However, we can acknowledge that there are some things you should notice when visiting the town. Thus, regardless of how long you'll stay, you must experience these five things in Tulum.
1. Check out Tulum Beach
Tulum Beach is the most sought-after spot in Tulum. The beautiful scenery it offers is something you should always consider when you're in town. At the very least, you should spend half a day or an entire day by the beach to enjoy its beauty. To have a better idea, read our article about the Best Beaches in Tulum.
2. Swim or snorkel in Cenotes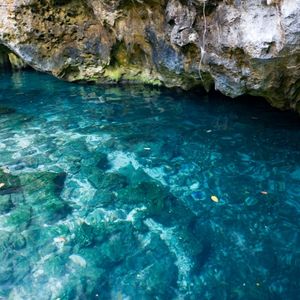 Besides the beach, the cenotes are another natural wonder you shouldn't miss. While Tulum is home to a long stretch of beach, it also houses hundreds of cenotes that offer different vibes, views, and activities. These cenotes are natural sinkholes, each offering a different scene from the other. Now, if you have a limited time, you can only visit one to three of the best options in Tulum. To know more, read our article about the Best Cenotes in Tulum.
3. Explore the Mayan Ruins
While you can explore beaches and cenotes in other parts of Mexico, you won't be able to visit the iconic Tulum Ruins. This spot is among the most visited destination in town, and it's something you'll want to take advantage of. The Tulum Ruins is situated on a beautiful cliff facing the Caribbean coast. If you want to learn more, read our article about Tulum Ruins.
4. Shop and Eat at Tulum Pueblo
Your Tulum vacation and the trip will only be complete with exploring Tulum Pueblo. The downtown of Tulum offers chic shops, affordable restaurants, and eclectic nightlife. Tulum Pueblo also houses some of the Instagram-worthy spots that will ensure you tell your followers that you're in the beautiful town of Tulum. 
5. Explore the Sian Ka'an Biosphere
Some people consider Sian Ka'an Biosphere an optional destination. However, even if you're in Tulum for only a few days, you can already explore this Biosphere Reserve. Here, you can savor the beauty of unspoiled nature and see rich and diverse wildlife. As such, you can maximize your stay in Tulum if you have a trip to this protected area.
Recommended Daily Itinerary in Tulum
Whether staying in Tulum for three to seven days, this daily itinerary may serve as your guide. Here, we prioritize the best things to do in Tulum and extend it depending on how many days you're staying. Then, you can read each to guide your day-to-day exploration in Tulum.
Day 1
Upon arrival in Tulum, you'll want to take it easy by enjoying some simple things. The first day should be around Tulum Pueblo, as it's the first spot you'll reach. 
If you arrive in the morning or afternoon, you can rent a bike and explore the town with it. This way, you can enjoy some fresh breeze while avoiding traffic around town.
You can also use your bike on the Tulum street art tour. This way, you can explore the colorful streets in town and experience local life.
Now, if you arrive at night, you can always enjoy some affordable street food markets to savor Mexican cuisine as a welcoming treat. You can even hit some bars for nightlife if you're not so tired from the travel.
Day 2
On the second day, it's time to hit the beach and explore Tulum Ruins. Unfortunately, the excursion to Tulum Ruins only takes around an hour or two. Thus, it's best to start with it, then spend the rest of your day by the beach.
In general, the best beaches in town are the public beaches. The most popular are the Playa Ruinas, Playa Paraiso, Playa Santa Fe, and Playa Pescadores.
Overall, these beach areas blend to make a long stretch of beach. Thus, you'll get lost with the names, but enjoy the long stretch of fine white sand and crystal clear turquoise waters of the Caribbean. 
Now, the best way to end the day is to explore the Hotel Zone, wherein you can find bars, restaurants, and even some jungle-themed parties.
Day 3
On the third day, you'll have to visit some cenotes to do some swimming or snorkeling.
My tip is to start your day early to maximize your time. Then, if it's your last day, visit at least two to three cenotes to experience its vibe. 
Also, if it's your last day, pay a visit to the famous Ven A La Luz art at the front of Ahau Tulum. Or, you can tuck it during the second day as you visit the Hotel Zone.
Day 4
If you're staying more than three days in town, you should spend the 4th day entirely in the area near Sian Ka'an Biosphere. Here, you can avail of a tour package and enjoy the Reserve and the nearby Muyil Ruins.
In the Sian Ka'an Biosphere, the best thing to do is explore through a boat ride through the lagoons of Sian Ka'an. 
To enjoy the experience, you need at least three hours of exploration. Thus, if you start by eight in the morning, you'll be back in town by lunch.
Day 5
If you still have an extra day to spare, you'll want to make a short trip to Coba and explore its ruins, together with some underground cenotes.
The travel time takes around 45 minutes, which is still possible for a day trip. Here, you can explore the ruins through a bike ride and hike its pyramid to enjoy a view of the vast jungle surrounding it.
Day 6
During your 6th day, you can explore more cenotes and visit the Ka'an Luum Lagoon. Of course, if you love the vibe of cenotes, you can always prioritize them, but it's something you can handle if you stay around for six days or longer.
Another thing you can do is go on a whole day of scuba diving or snorkeling. You can find dive shops in Tulum offering these tours, and you can enjoy an entire day visiting particular spots that are famous for snorkelers and divers. 
Day 7
Now, if you're staying for another day in Tulum, you can make this day a free day after several days of activities. You can tour Tulum, visit some Instagram-worthy spots, and explore some restaurants. 
It's also a great day to spend the night at a bar or attend a party in one of the beach clubs in the hotel zone. 
Itinerary for 3 Days in Tulum
If you're only staying in Tulum for three days, you'll visit the spots within the town and avoid long travels and day trips. However, since Tulum's tourist spots and activities are packed in town, you can maximize your Tulum vacation even in just three days.
You can follow the itinerary I mentioned above until Day 3 or squeeze in some extra activities if you want to enjoy more of Tulum with a limited time.
Itinerary for 5 Days in Tulum
If you're staying in Tulum for five days, you can use the extra two days to explore the Sian Ka'an Biosphere and a day trip to Coba. 
The first three days would also be more relaxing as you're not in a hurry, but if you want to do more, you can always squeeze in some extra activity like yoga or spa treatments.
You can use the daily itinerary I mentioned earlier for a complete and detailed itinerary. For example, since you're staying in town for five days, you can use the itinerary until day 5. 
Itinerary for 7 Days in Tulum
If you're staying in Tulum for seven days, we recommend spending an entire day doing water activities such as snorkeling or diving, either in the sea or in cenotes. But, of course, you can always choose other day trip destinations if you prefer to avoid these water activities. 
You can use the daily itinerary I mentioned earlier for a complete and detailed itinerary. For example, since you're staying in town for seven days, you can use the itinerary until day 7. 
Conclusion
Within 3, 5, or 7 days, you can enjoy Tulum and all the best things it has to offer, be it activities to do or spots to visit. As I mentioned earlier, you have the flexibility of adjusting every itinerary to whichever suits you. In the end, as long as you have done every activity you want and visited every place you like in Tulum, you'll end up with a vacation that you surely won't forget.