Tulum is known for its picturesque white-sand beaches, jungles, and Mayan ruins, and all these things are enjoyable during the day. So, you may wonder what this town has to offer at night. Luckily, in addition to these sights, Tulum offers a nightlife that can keep you entertained throughout your entire stay in town.
Tulum's nightlife isn't that hardcore compared to cities and places like Cancun and Playa del Carmen. Still, its nightlife scene offers satisfying options for delicious drinks, music, and fun, all in a more relaxing and chill atmosphere.
If you're curious about Tulum's nightlife, you've come to the right place. Here, we'll cover everything you need about Tulum's nightlife. This information includes the most recommended bars to visit, the closing time, an overview of the vibe, and even some tips for enjoying your night in this town.
Let's get started.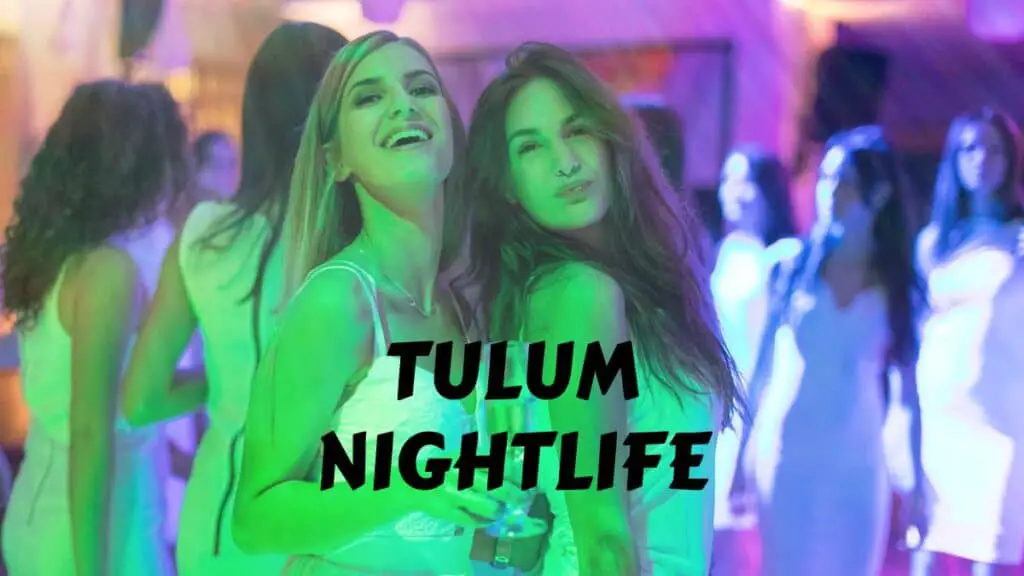 What Is Tulum Nightlife Like?
As mentioned earlier, the nightlife in Tulum isn't as intense as the ones you'll find in Playa del Carmen, Cancun, and other cities. Instead, this town's nightlife is more akin to American nightlife, with world-renowned electronic music events and DJs playing in jungle-like surroundings.
Now that you know what to expect with Tulum's nightlife, the next thing to know is where to find the best bars that offer such vibes.
Where Are the Bars in Tulum?
When discussing nightlife in Tulum, you have two places to check out. You can either party at bars in town or enjoy some bars near the beach.
Bars in Tulum Pueblo
Tulum Pueblo is the term locals and tourists know when they talk about the town proper. This area is located on the highway, which you'll encounter if you're heading south from Cancun or Playa del Carmen.
Tulum Pueblo is the center of town. You'll find budget-friendly accommodation, cheap eats, and affordable clubs and bars here. Thus, it's the area where budget travelers check out when they seek some nightlife once the sun has set.
If you're traveling on a budget, you'll need more information besides learning about the affordable bars in Tulum. For this reason, you may want to read our article on How To Do Tulum On A Budget.
The bars in Tulum Pueblo are located on the street called Calle Centauro. This street is in the midst of the main shopping strip and features an exclave of bars and restaurants.
Amidst the main shopping strip, Calle Centauro is a fantastic enclave of restaurants and bars.
Bars in the Beach Zone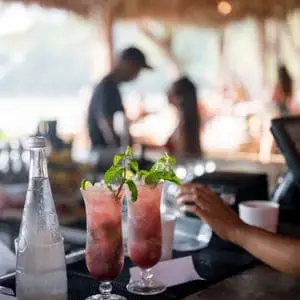 Besides the town center, you'll also find bars near the beach zone to enjoy some nightlife. It's only a 10-minute drive from the pueblo to the beach.
In this area, you'll discover more chic and upscale restaurants. In addition, there are boutique hotels on the beach, and some offer visitors access to their beach clubs during the day.
The bars in this area are mainly found on the jungle side of the road, with outdoor seating. Unlike the bars in Tulum Pueblo, the bars here can be a bit pricier, but they are more laid-back and relaxing.
Many restaurants and bars here can be described as "rustic chic" establishments where you can sip on tropical cocktails, munch on tapas, and listen to EDM and salsa beats.
Best Bars to Check Out in Tulum
Here's a quick view to learn about the best bars in Tulum
| | | |
| --- | --- | --- |
| Chill & Rooftop Bars | Lively Bars (on the affordable side)  | Elegant Bars (on the pricey side) |
| Mateo's Mexican Grill | Batey Mojito & Guarapo Bar | Casa Jaguar |
| Puro Corazón | Santino Bar Tulum | Gitano |
| Nana Rooftop Bars | | La Zebra Hotel |
Here's a rundown of the best bars to check out in Tulum.
Puro Corazón
Located near the beach, Puro Corazón has its sunset observation deck known as Ciel Rose Sunset Bar. This bar offers vegan options like coconut ceviche.
Overall, there is no better place to view the nightly spectacle of colors unfolding over the Mayan jungle than this spot. Here, you can enjoy floating on the gentle breeze of the Caribbean while sipping a delicious cocktail.
Naná Rooftop Bar
The Naná Rooftop Bar offers a truly unforgettable experience with sweeping views and specialty drinks. You can find this bar in Tulum Pueblo, and here you can enjoy several mezcals, fresh juice fruits, and herb cocktails.
The atmosphere is casual and relaxed at the same time. Besides the DJ playing electronic and house music, this bar has a relaxed atmosphere thanks to its DJ. 
Mateo's Mexican Grill
The Mateo's Mexican Grill is a restaurant and bar with multiple levels. You can take advantage of the rooftop deck and order burgers, burritos, or fish tacos as the sun sets over the jungle.
Hammocks are dotted around the lower terrace. You can often enjoy a fun, casual sunset party with a DJ or live music. 
Santino Bar Tulum
If you want to know where locals like to enjoy the nightlife, then your choice would be Santino Bar Tulum. In this place, tourists and locals flock to drink, unwind and dance to reggaeton music.
Since this bar offers an affordable option, many locals go here, and it's also the choice for budget travelers staying in Tulum.
Batey Mojito & Guarapo Bar
Located in the center of Tulum Pueblo, Batey Mojito & Guarapo Bar offers various alcoholic drinks. Their mojitos are made with fresh sugar cane from a converted Volkswagen beetle, one of the top attractions.
You can try a classic mojito, one made with prickly pear, cucumber basil, or a fun combination. Most nights in this bar feature live music, so it's your choice if live music is your thing. 
La Zebra Hotel
If you're feeling fancy, La Zebra Hotel might be a thing for you. This hotel offers a bar on Tulum's beachfront, with the Caribbean sea on the horizon.
A seasonal pop-up, The Mulberry Project, serves bespoke cocktails and local cuisine crafted by renowned chef Eleazar Bonilla. In addition, the place plays some live music on Friday afternoons, and on Sundays, you can enjoy yourself with some Salsa dancing.
Casa Jaguar
If you're up for some Caribbean jungle vibe, the Casa Jaguar is a trendy bar you'll want to check out. This restaurant gives out a Caribbean vibe thanks to its open-air jungle setup.
Whether you want to dine, drink, or dance, you can do so any night. However, a jungle party takes place on their back terrace each Thursday evening around 11 PM, so keep it in mind if this one matches your liking. Local and international DJs play electro and house music.
Gitano
Gitano is a sophisticated restaurant with a sultry mezcal bar in the back and hosts bohemian live DJ nights.
There's no better place to be on Friday nights than Gitano. DJ sets start around 11 PM, and dancing and drinking will continue throughout the night.
Additionally, they host smaller parties on Fridays. Finally, live bands play on Sundays, Wednesdays, and Thursdays early in the evening, making it an enticing choice for a Tulum dinner.
What Time Do Bars Close In Tulum?
The closing times of bars in Tulum differ from each other. Some bars close as early as 10:30 PM, while others close around 3:00 AM. Overall, the average closing time of bars is around 1:00 AM to 2:00 AM.
Tips for Enjoying Nightlife in Tulum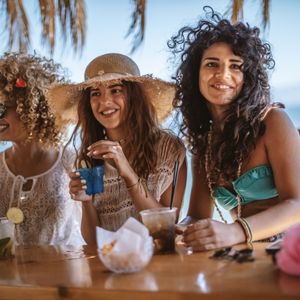 Tulum's nightlife is often enjoyable due to its laid-back and relaxing nature. Still, if you want the best nightlife, you may want to know the following tips.
Know Which Bars to Visit Each Day
While most bars in Tulum are open throughout the week, some nightlife action is highlighted in particular spots depending on the days.
For instance, Monday nights are generally quiet in Tulum. So you can enjoy some time in a chill bar without much to think about.
On the other hand, you may want to check out Battey Mojito & Guarapo Bar on Tuesday and Wednesday nights since they are active during that time.
Casa Jaguar is also the place to visit since they host jungle parties on Tuesday. Lastly, the Gitano bar is where you can check out on Fridays.
Always Pay With Local Currency
Most bars in Tulum only accept cash, so it's best to have some handy. This tip applies even when you check out high-end bars.
Of course, a few bars accept dollars, but you'll be better off with local currency since you'll be surprised with the exchange rate they have around.
Also, it would be best if you avoided spending through your credit cards since most bars add some fees or surcharges. Now, if you don't know where to get some local currency, here are the Best Places to Exchange Money in Tulum. 
Tips are Customary
Tips are customary in Tulum, so it would be best that you're aware of them before lounging in bars. Most tips range from 10 to 15 percent, so you should tip accordingly.
Still, some bars add the tip to your total bill, so be sure to check it before tipping to see if they already included such. Of course, like the tip earlier, it's best to use local currency.
Wear Casual but Nice Clothes
If you're a fashionista, Bohemian chich is the style that suits Tulum. Also, when you enjoy the nightlife in this town, it's best to be in comfortable clothes to keep you cool. It's best not to wear your beach attire and leave your heels so you can move comfortably.
Apply Some Mosquito Repellant
Most bars in Tulum offer an open-air setup. Unfortunately, while the breeze may seem relaxing, you're also at risk of insects like mosquitoes.
For this reason, it's always best to apply some bug repellant and continue to do so throughout your stay in bars. In general, dealing with mosquitoes is essential information to know when staying in Tulum. As such, you should read our article about mosquitoes in Tulum to know more.
Conclusion
The nightlife in Tulum isn't the same as in cities and popular places like Cancun and Playa del Carmen. Still, it offers its unique approach to nightlife, and many people (tourists and locals alike) seem to prefer this laid-back town for nightlife.
With all the information above, we hope you have enough insights to understand how nightlife goes in Tulum. What remains is for you to go out there and enjoy the nights of your stay in Tulum.