When we travel somewhere for a vacation, we always have a checklist of things to pack, and outfits are always one of them. While some people don't care much about fashion, it's something to consider, especially if you're going to a chic and beautiful place like Tulum.
Whether you're a fashionista going for that Instagram-worthy look or don't want to feel out of place, understanding Tulum fashion is a must. Outfits are also more than fashion. The right outfit in Tulum will also make your vacation more enjoyable since you will feel comfortable.
For this reason, we have made a comprehensive guide on Tulum outfits to help you. This way, you'll know what to wear when you're in Tulum and have the best look while feeling comfortable. We also added a list of things to pack to make your Tulum vacation more convenient.
Without further ado, let's get started!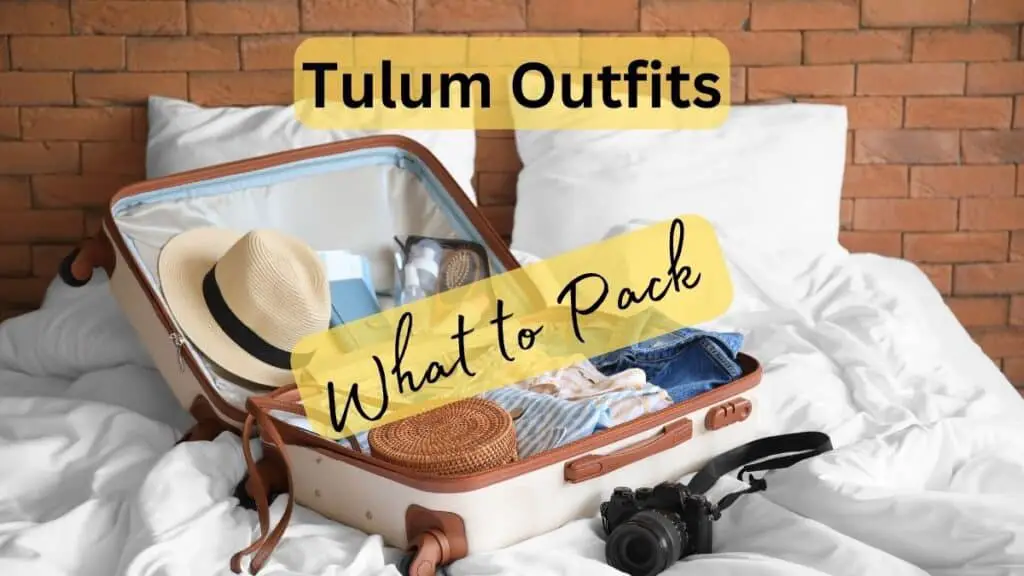 What to Wear in Tulum
Although Tulum is a laid-back town, it attracts a particular type of traveler. Of course, you can find all kinds of travelers from time to time, like backpackers, solo travelers, budget travelers, couples, digital nomads, and many more.
However, when you visit the beach, you'll see a pretty upscale and stylish crowd. Such a vibe is not surprising, given the picturesque scene of Tulum that almost feels like a perfect paradise and tropical getaway.
For this reason, you may want to know what to wear while in town. It's not mandatory, and you can always wear anything you like. However, this style will allow you to blend in with the lifestyle and enjoy the place while being comfortable.
Outfit during the day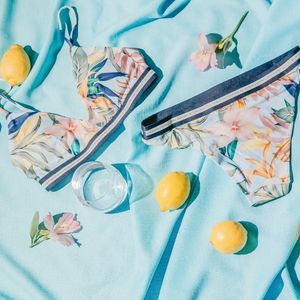 As a tropical town, any outfit is usually alright during the day. However, it's best to wear something thin and breathable, as it can be pretty hot in town, especially during summer. 
Some outfits you can wear are shorts, a bikini, a loose shirt, a romper, a short dress, and a pair of sandals or slippers.
It would also be best to wear sunglasses and a hat to protect you from the sun's direct heat. 
In general, a beach outfit that will keep you cool and your body breathing makes a great outfit in Tulum. During the day, it's all about comfort, as the temperatures can rise, especially during summer.
Outfit during the night
As evening sets in Tulum, people get a bit more dressed. Of course, you can always wear whatever outfit you want. However, if you want to blend with the crowd, we suggest you wear something fashionable, rustic, and chic. 
Such an outfit works well if you plan on enjoying some Tulum Nightlife or even attending some parties (which you should). The jungle-themed parties at the hotel zone will be a perfect way to flaunt your fashion.
Now, if you're in a relaxing or chill mode and you're staying at the hotel to enjoy the evening, anything comfortable will work, even some pajamas.
Tulum remains a laid-back town, so you don't have to overdo your outfit. A simple flowy dress will work perfectly fine. As long as you're comfortable, the beauty of Tulum will always do its thing for you.
Outfit for Beach
As mentioned earlier, Tulum is a laid-back yet chic town. You can always go for something flowy when visiting the beach. 
This is the place where you can flaunt your bikini, but if you do, it's best to apply some sunscreen to protect your skin. 
When you visit restaurants near the beach, you can wear some beach cover-ups, but it would be nice to dress up if you plan on eating somewhere fancy.
As a general rule of thumb, always go for that effortlessly chic look, and the rest of the style will flow on you.
Outfit for Ruins
The famous Tulum Ruins are a must-visit place when you're in Tulum. If you fancy such things, you can also enjoy the Coba and Muyil Ruins. 
In such places, the ideal outfit is still something breathable, something that will keep you cool. As such, you can go for short dresses, tank tops, shorts, skirts, and other similar outfits.
One thing to note is that the ruins can be pretty hot, especially during the day. Thus, you should wear hats, sunglasses, and even umbrellas to protect yourself from direct heat. 
If you find umbrellas a hassle, it's best to use large straw hats to keep yourself from direct sunlight. 
Using some comfortable shoes is also best, as walking can be endless when exploring. A nice pair of walking shoes will make your excursion enjoyable and save you from the pain of long walks.
Tulum Party Outfits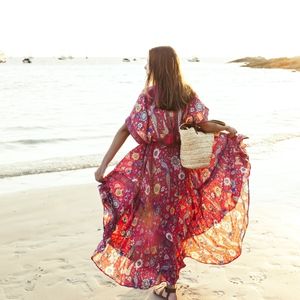 As I mentioned earlier, nightlife and parties are a thing in Tulum, though they are not as hard as in Cancun or other cities. 
You don't have to overdo your outfit at a Tulum party. A simple flowy dress and a pair of chic sandals should let you blend well into these parties. 
As a general rule of thumb, go for a chic boho style, as it blends well with jungle-themed and beach parties in town.
Footwear
The footwear is also simple in Tulum. A simple flip-flop should be alright if you're on the beach. During the evening, in fancy restaurants, and in parties, a chic pair of sandals will suit you well.
Tulum Packing List
When packing for Tulum, the outfit isn't the only concern. You also need some things to make your stay more comfortable. In general, you can find all these things in local stores in town. However, it will save you a lot if you won't have to buy everything you need. 
Clothing:
Here's a packing list of essential clothing you should have when visiting Tulum:
Undergarments
Beach Attire
Swimsuits and beach coverups 
Shorts
Tank tops and shirts
Cardigan sweater – If you're going to Tulum during the cold season
Sunglasses – To protect your eyes from the sun
Footwear – For the beach, parties, and long walks
Hat – To keep you from direct heat
Items
Here's a packing list of essential items you should have when visiting Tulum:
Bag – for Nightlife
Beach tote – to secure your beach essentials
Sleepwear
Socks – If you plan on bringing shoes
Water Bottle – We recommend an insulated water bottle to keep your drinks warm or cold. You can also check out these water filter bottles that remove tap water impurities Water Filter Bottles.
Charger Adapter – Check our article on the subject here: Electrical Outlets in Mexico – What Do You Need? and use this adapter: adapter for two-prong outlets.
Sunscreen – To keep your skin protected against the sunny weather of Tulum
Medications – for common problems such as colds, coughs, and digestion problems
Cash in Mexican Pesos – Most Tulum establishments only accept local currency, so it's best to have some on hand. If you don't have any, here are the Best Places to Exchange Money in Tulum.
Day Pack – to help bring your essentials if you're going on a Tulum excursion
Mosquito Repellant – Mosquitoes and bugs can be a problem in Tulum, so it's best to bring some repellant. Here are some you can use: Travel Size Mosquito Repellent Spray
Camera – A mirrorless camera or a phone camera works to capture your moments in Tulum
Extras
The following items are only optional for a Tulum Trip. However, some of these things may come in handy depending on the activities you'll do in town. You can check each one to see if any item is essential for you.
Tulum Ruins Excursion
Sneakers or Walking Shoes – For a more accessible and more comfortable walking
Cenote Excursion, Snorkeling, and Scuba Diving
If you plan on visiting cenotes and doing water activities such as snorkeling and scuba diving, here are some things you'll likely need:
Plastic Bag – To carry your wet bathing suits and towels
Action Camera – To capture your underwater adventures. Here are some we recommend of the different brands: GoPro, DJI, and Insta360.
Snorkeling gear – To save you from rental fees (only ideal if you have your own)
Quick-dry Towel – We recommend some microfibre towels.
For more info about cenotes, snorkeling, and scuba diving, read: Best Cenotes in Tulum and Snorkeling in Tulum.
Boat Rids and Cruise
There are some day trips in Tulum that require boat or ferry rides. If you have such plans, it's best to bring:
Dry bag – to secure your gear and gadgets from getting wet
Meclizine – To help you if you have motion sickness. Check out these Meclizine Motion Sickness Pills.
Yoga Classes
You can find yoga items all around Tulum shops. However, if you're planning on doing regular yoga sessions in Tulum, you can save money by bringing these things:
Yoga Pants and Tops
Yoga Mat – It's optional since you can rent or borrow, but it's nice to have your own to save some rental fees.
Bike Rides
If you plan on renting a bike and riding it throughout your entire stay in Tulum as your mode of travel, it's best to bring the following:
Flashlight or Headlight – To guide your bike ride in case you travel late in the evening
Biking shoes – To make your ride more comfortable
Backpack or sling bag – To secure and carry your essentials while you roam in a bike
Hotels
While your hotel may have all the amenities you need, these things may still come in handy:
Battery Pack – In case your hotel has limited electricity. Check out these power banks.
Detergent Packets – To rinse and handwash your bathing suits. Like these: Travel Size Detergent Packets.
Ziplock bags – If you always have snacks
Conclusion
Tulum's simplicity and laid-back nature make it an easy place to blend in with simple fashion. Here, you don't have to overdo it with fancy clothes. In general, anything comfortable in a tropical town will work here. However, if you are a fashionista by heart, going for a chic boho style will suit you well.
With the comprehensive list of things to pack and a general idea of Tulum outfits, you're now set with Tulum. The rest of the concern is for you to enjoy the town with a complete set and a comfortable yet fashionable outfit and style.