If you have already considered a Tulum vacation, the next thing you need to do is plan your visit. For this reason, you need a complete travel guide, and this article will give you everything you need to prepare for your trip.
Tulum is a chic but laid-back town located in Quintana Roo. It's famous for its stunning beaches, cenotes, and Mayan ruins. Thus, it's not surprising to see many tourists attracted to this town.
Below, you'll have our in-depth Tulum Travel Guide to help you plan your trip. Here, you can learn the essential things you need and some tips to make your vacation more straightforward and manageable. 
After reading, you'll better understand the town, know what to do, and prepare for your vacation.
Without further ado, let's get into it!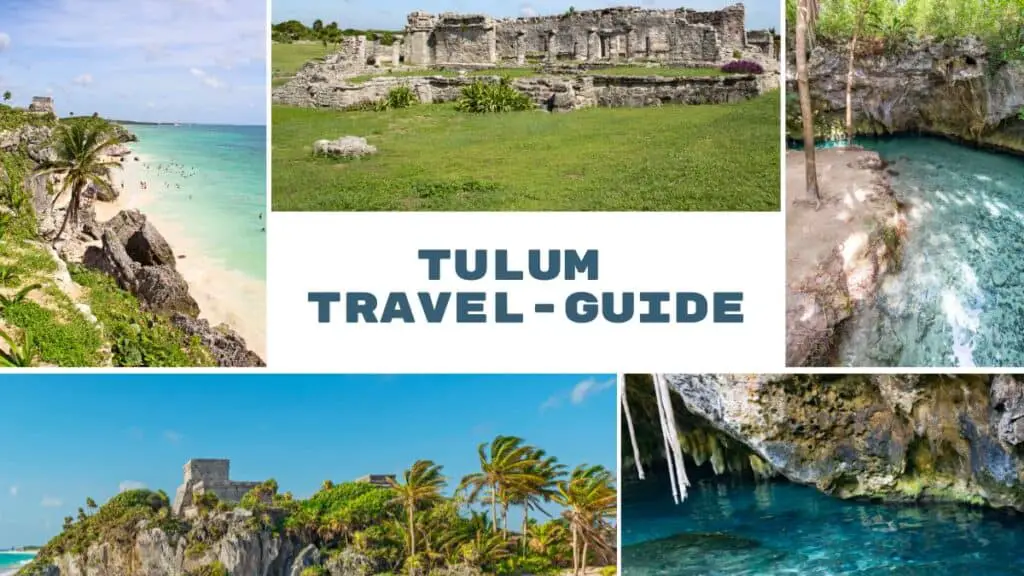 4 Basic Things to Know in Tulum
Before you visit Tulum, you need to know the basics about it to help you plan your trip and know what to expect from this town.
Language
The primary language in Tulum is Spanish, the common language of the locals. However, you don't have to worry since almost everyone can speak English, as it's a town flocked by tourists all year.
Currency and Payment Methods
Tulum uses the Mexican Peso as its local currency, and it's something you'll want to have, especially when paying small fees. While some restaurants and hotels accept US dollars, you may find it more expensive. 
Thus, it's best to exchange your money for Mexican pesos to save a lot of high exchange rates in town. We have compiled the Best Places to Exchange Money in Tulum to guide you.
Safety
Although Tulum is safe, leaving your belongings unattended is not reason enough. Also, it would be best to be aware of your surroundings even though Tulum is a safe town for solo travelers. To learn more about safety, read our article: Is Tulum Good for Singles?
Climate
Tulum is a tropical town, so expect frequent sunny weather throughout the year. The average temperature is around 80 degrees Fahrenheit (30 degrees Celsius). 
You'll find the rainy season around June to October, while the peak season is the dry season around December to April. 
We've made an in-depth article to explain about the weather in town. To learn more, read: Tulum Weather.
Getting Around in Tulum 
Although Tulum is a small town, you'll find three main areas where tourists and locals flock. Unfortunately, these areas are a bit distant, so consider renting a bike if you plan on going back and forth.
Tulum Pueblo
Tulum Pueblo is the center of Tulum, located on Highway 307. The downtown area is far from the beach, but it's where you'll find local shops, affordable accommodations, and cheap and local restaurants. You'll also enjoy some affordable nightlife, cafes, banks, and stores around downtown. 
Tulum Beach and Hotel Zone
The Hotel Zone is located along Tulum Beach Road, a long road parallel to Tulum Beach. You can enjoy public beaches, private hotels, resorts, beach clubs, and bars here. You can also enjoy some spas and other restaurants around this area.
Tulum Ruins
The Tulum Ruins are another main area in Tulum, also known as Archaeological Zone. Here, you can find the famous Tulum Ruins and explore their beauty on the edge of a cliff facing the Caribbean sea. To learn more about this spot, check out our article about Tulum Ruins.
Where to Stay in Tulum
One of the essential things to settle when planning your stay in Tulum is accommodation. To give you a better idea, you'll find two main areas to stay: Tulum Pueblo and the Hotel Zone.
Tulum Pueblo is for people on a budget, as you'll find cheaper accommodations downtown as it's far from the beach. You can find hostels, budget hotels, and even Airbnb properties here. It's also near restaurants, cafes, and shops.  
On the other hand, the Hotel Zone is for people who want to enjoy the most out of Tulum Beach. You'll find plenty of boutique hotels and resorts that offer beachfront access here. However, these options are expensive.
To give you a better idea, check out our complete overview of Where To Stay In Tulum. Here, you can find links to our recommended accommodation options to help you choose where to stay.  
Where to Eat in Tulum
You'll never run out of options since Tulum houses many restaurants and places to eat. Here, you can find cheap options from street foods to local restaurants and some expensive options serving high-end and quality cuisine.
If you're on a budget, your best bet is the ones in Tulum town. On the other hand, most restaurants near Tulum beach offer a pleasant dining setting along with a high-end menu.
To help you with this concern, we compiled the Best Restaurants in Tulum to guide you in choosing the best ones in town.
What to Do in Tulum
Tulum is well known for its picturesque beaches, water activities, Mayan ruins excursions, cenote hopping, and local Mexican vibe. For this reason, this town attracts more Western travelers.
Moreover, Tulum is often seen as a place of health and wellness, someplace where you can enjoy yoga, spa treatments, and local healing ceremonies. 
Now, if you're curious to know more about the activities in Tulum and the places to visit, read our article about the 24 Things to Do in Tulum.
If you want a guided itinerary to go along with your plan, read our recommended Tulum Itinerary.
Tulum Travel Tips
Now that we've tackled the essential things, here are some travel tips we want to share to make your vacation more accessible, more comfortable, and more enjoyable.
Pay with Local Currency
As I mentioned earlier, you'll find most establishments in Tulum asking for local currency as a mode of payment. Only a few shops, restaurants, and hotels accept credit cards and US dollars, so it's best to have some local currency available.
Wi-Fi and Signal
Most establishments offer free Wi-Fi, and it's best to use it since phone signals can be limited in some areas, especially by the beach.
Tipping is Customary
You should note that tipping is customary in Tulum, but it's not mandatory. As a general rule of thumb, you can tip around 10% to 20% to show appreciation for excellent service.
Adapters for charger
Like all other Mexican towns, Tulum requires type A and B plugs. Therefore, you don't need adapters living in the US, Canada, Japan, and Central America. However, you'll need to buy an adapter if you're not from these countries.
Health Tips
When it comes to drinking water, always drink bottled or filtered water. This way, you can avoid food poisoning. You'll find pharmacies or stores offering essential medicines if you get sick. However, if you need to visit a hospital, you can visit CostaMed, located within Pueblo.
Use Mosquito Repellant
Mosquitoes are always a problem in Tulum, especially at night. Thus, if you enjoy some parties and nightlife, applying mosquito repellant is best. To learn more about mosquitoes, read Does Tulum Have Mosquitoes? 
Transport
Taxis are the standard mode of transportation in Tulum. However, we only recommend such for distant trips such as going to another nearby town or beach area. If you're only exploring the town, it's best to ride a bike.
Now, if you need to rent a taxi, it's best to negotiate with the taxi driver to have a reasonable fare and avoid overpricing. To learn more about the prices, read our article How Much Are Taxis in Tulum?
Secure yourself and your valuables
While Tulum is safe, it's always a traveler's responsibility to secure yourself and your valuables. As a tourist, you can be prone to being a victim of pickpockets, so always keep your things secure. It would also be best to roam in public and well-lit areas at night and avoid dark streets.
Budget
When it comes to expenses, you should prepare at least $100 to $400 per day if you're a solo traveler. However, expect around $200 to $700 daily if you're with someone.
We recommend renting bikes instead of taxis when exploring, as it will save you a lot of money. It's also best to book from January to March and August to December, as accommodations are cheaper. To learn more about budget travel in town, read How To Do Tulum On A Budget?
Conclusion
This complete guide gives you a general overview of what the Tulum vacation will be like. We hope this article will help you in planning your trip, and we also hope that it will make your Tulum vacation easy, memorable, and enjoyable.