When going on a vacation, the weather condition plays an important role, as it can make your vacation better or worse. As such, weather checking is always an essential step in making a good vacation plan. 
If you're planning to have a vacation in Tulum, the principle of weather checking also applies. For this reason, we made this article to guide you with weather checking by giving you an overview of Tulum's weather. In addition, we also included a monthly weather condition in Tulum to give you a particular view of Tulum's weather each month.
Using our complete weather guide, you'll be able to plan and enjoy a relaxing holiday on the island without worrying about unforeseen weather conditions.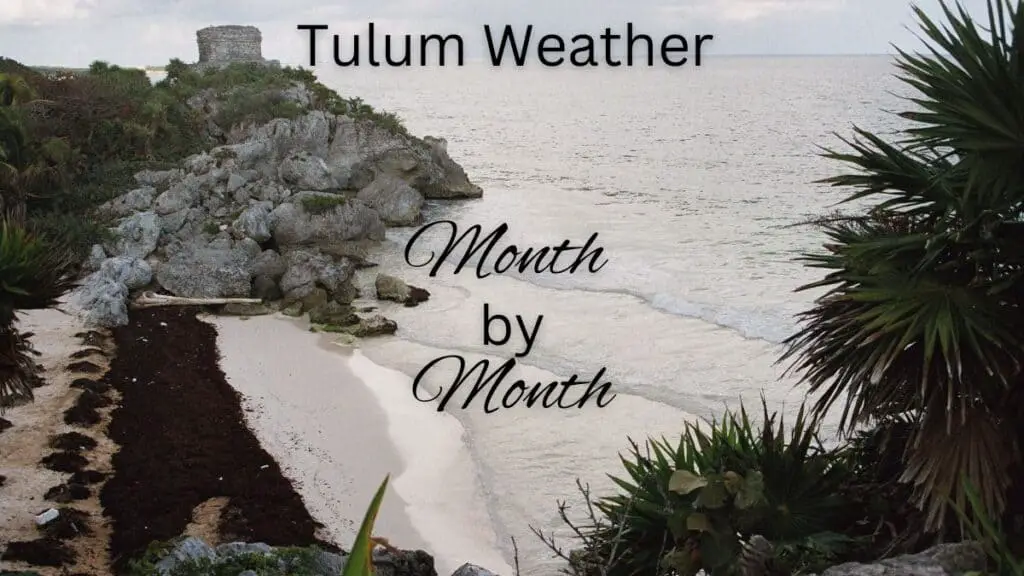 Quick Overview of Tulum Weather Month by Month
Tulum Weather
| | | | | | | | | | | | |
| --- | --- | --- | --- | --- | --- | --- | --- | --- | --- | --- | --- |
| JAN | FEB | MAR | APR | MAY | JUN | JUL | AUG | SEP | OCT | NOV | DEC |
| 67-82°F | 67-83°F | 69-84°F | 72-87°F | 75-89°F | 77-89°F | 76-91°F | 75-91°F | 75-90°F | 74-88°F | 70-84°F | 67-83°F |
| 19.2-27.6°C | 19.4-28.4°C | 20.4-29.1°C | 22.2-30.4°C | 23.9-31.6°C | 25-31.8°C | 24.5-32.5°C | 24.1-32.8°C | 23.8-32°C | 23.2-30.9°C | 20.9-29.1°C | 19.7-28.1°C |
What Is the Weather Like in Tulum?
As a tropical town, Tulum's weather is usually hot all year. However, there are also rainy seasons which usually happen from May to October. There's also a cool and dry season from November to April. At the same time, the month of December and January comes with a bit of wind and cloudiness. 
Of course, there's distinct weather each month in Tulum. As such, it's best to look at the monthly weather, especially if you plan to visit Tulum on a particular date or month.
January
The weather in Tulum during January is mild and dry, with an average temperature of around 23 degrees Celsius. During this month, you can often enjoy clear skies, and rain showers are rare.
Although it is frequently humid where Tulum is located—on the border of a tropical jungle—January is one of the least humid months, with an average humidity of around 59%.
On a windy beach day, nobody even notices. However, it's a good idea to pack a lightweight sweater because the nights may become cool.
This month is ideal for seeing inland sights like the Coba, or Chichen Itza ruins due to the almost ideal weather. However, read Best Tulum Tours if you want more day trip ideas like Coba and Chichen Itza.
Although the ocean is often colder than usual, swimming and snorkeling are extremely pleasant. As such, you can still enjoy some activities by Tulum Beach.
February
The weather in Tulum during February comes with warmer temperatures and a drier one than in January. With just 58% humidity, February is the least humid of the year. 
Long sleeves are a bright idea if you intend to walk outside at night because nighttime temperatures usually drop to around 19 degrees Celsius. Although the sea is at its coldest in February, it is still warm enough for all water sports.
March
March is the driest month of the year in Tulum. As a result, expect bright, sunny days and excellent beach weather. Increased humidity is expected, particularly near the month's conclusion.
If you intend to eat out or enjoy some Tulum Nightlife, prepare for the 20 degrees celsius nighttime temperature. The temperature of the ocean is starting to rise once more. 
April
The month of April marks the end of the dry season in Tulum. As a result, you can enjoy the fewest rainy days and bright skies. April is the sunniest month of the year, making great beach days. 
The days start to grow quite warm, especially in the late afternoons, and they get even warmer as the month closes. As a result, the ocean is warm, and the nighttime temperatures are pleasant, making it the ideal location for diving and snorkeling.
It's also the best time to visit Tulum's cenotes. If you want to know the best ones, you can read Best Cenotes in Tulum.
May
The month of May still involves a bulk of clear and sunny days. However, by the end of the month, the rainy season already starts in Tulum. 
With an average temperature of 28 degrees Celsius and occasional highs of 34 degrees Celsius, May is one of the warmest months of the year, vying with August.
The majority of the days are muggy due to rising humidity. Carry a water bottle with you if you intend to see the ruins because the humidity increases as you travel farther inland. 
The water is quite warm, actually mirroring the day's temperatures. Whale sharks will arrive later in the month when the first few sea turtles arrive to start building their eggs on the beaches.
June
The weather in June marks the start of Hurricane season in Tulum. However, most of the storms last only around an hour. 
As such, most days in June are still pretty clear and sunny. Although the hurricane season technically begins in June, hurricanes often occur later in the year. 
Starting in June and over the next several months, humidity is extreme, with most days at or near 100%. However, while scorching, the temperatures are slightly lower than in May. 
The water is still reasonably warm. The weather is perfect for going to the beach, but it's too hot to explore the roads. Nesting turtles and whale sharks should both be active right now.
July
The weather in July in Tulum has substantially less rain and shorter showers than in June, and summer is still hot and humid. However, even though it is technically the rainy season, tourists will find plenty of sunny days for going to the beach. 
On the coast, sea breezes keep the temperature comfortable, but as you travel inland, the humidity will intensify, so visit a cenote to cool yourself. 
The ocean is becoming warmer, which is lovely for extended diving, snorkeling, or swimming days. The first few young sea turtles should have hatched by now and are heading out to sea every evening.
August
The warmest month in Tulum is often August, when highs routinely approach 34 degrees Celsius and average 32 degrees Celsius. Most days, the humidity is 100%, making the actual temperature seem considerably hotter. 
The frequency of rainy days is the same as in the two months prior, although the rain is a little heavier. However, even on days when it rains, there are still several hours of sunshine, and most days are still dry. 
Even though the ocean is relatively warm, most cenotes are pleasantly chilly all summer. Therefore, August is Tulum's best month to engage with marine life. During this month, you can enjoy watching whale sharks, nesting adult turtles, and hundreds of young sea turtles hatch simultaneously.
September
The month of September in Tulum comes with the highest humidity and rain. t rains on roughly half of the days, although the showers are often short-lived, and the sun quickly emerges. 
Although still warm throughout the day, the temperature has dropped since August. Even though the water is at its hottest, many cenotes are still cold. Whale sharks are at their peak in September, disappearing for the most part during the second period of the month.
October
Even though October is the second-rainiest month of the year, a decent number of days will still be ideal for going to the beach. Unfortunately, the first part of the month is when most rainy days occur. 
Even though the month's average temperatures gradually fall and the humidity starts to decline, the days are often still somewhat humid. The ocean's temperature doesn't change. Though eggs are still hatching, this is the year's last phase of turtle nesting.
November
November's weather in Tulum improves as temperatures drop, humidity levels fall, and the dry season returns. The bulk of the month is clear or partly sunny, with temperatures averaging 25 degrees Celsius. 
Both daytime and nighttime temperatures are still pleasant. So expect plenty of perfect beach days and great days for exploring the forest or seeing the ruins, around late November, especially.
December
December is one of the most incredible months to visit Tulum because of the bright skies, abundant sunshine, and pleasant temperatures. Average daily temperatures are a pleasant 23 degrees Celsius, with a reasonable level of humidity that is only somewhat muggy. 
The end of the month is when the sunniest days occur. Even while ocean temperatures drop, they remain ideal for swimming. However, the temperature is chilly right after bars close in the early morning hours. 
The jungle, ancient sites, and beach are the perfect places to explore this month. In addition, the season's last few hatchling turtles are currently moving toward the ocean.
Conclusion
As one of the towns in Mexico, Tulum enjoys tropical weather that's perfect for every traveler. However, each month has different weather, and understanding such information can help you plan your stay in this town.
Tulum looks its best from February to May, so if you want a perfect view, visit during these months. The weather is warm and clear during these months. For those who do not like warm weather, December is the most incredible month in this city. If you want to know more info, read Best Time to Visit Tulum.
Overall, we suggest you plan your Tulum trip based on the activities you want to do and choose the correct month for you. Hopefully, you will have a great time on the island and find today's blog helpful.