Food is one of the things that vary from place to place, so tasting food forms an essential part of every travel. Thus, if you have plans to travel to Cancun and enjoy a vacation in this city, you may wonder what food the city is known for. 
Cancun is home to many local Mexican dishes, including decadent desserts and egg-filled breakfasts. A large part of the cuisine is influenced by pre-hispanic Mayan food, seafood, and Yucatan cuisine. Many incredible dishes reflect the diverse background of the Mexicans who built Cancun.
Of course, you'll want something particular when asking about the famous food in Cancun. For this reason, we compiled some of the city's famous food and dishes, which are a must-try for every traveler.
Without further ado, let's get into it!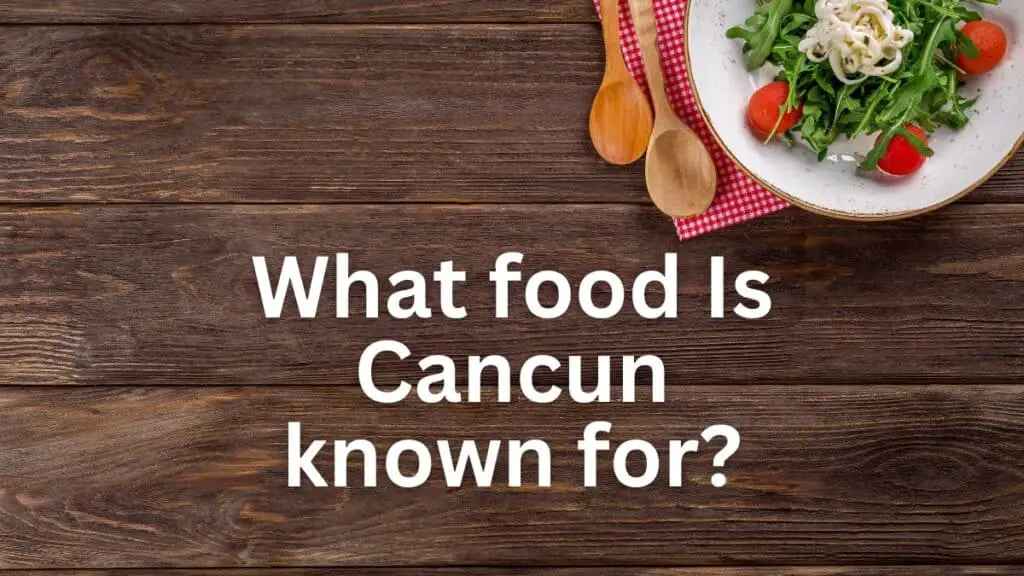 Huevos Motuleños
Huevos Motuleños belong to the Yucatan breakfast tradition. All over the region and beyond, it is a popular breakfast dish. 
The meal usually consists of two scrambled eggs with refried beans, tortillas, cheese, and spicy sauce. A chef may add peas, ham, or plantains to make the dish more flavorful.
The dish is named after Mutal, a Yucatan town from which it originated. These tasty morsels are commonly eaten at breakfast, but you can enjoy them anytime.
Shrimp Ceviche
Shrimp ceviche has long been a Cancun and world-famous raw seafood staple. Mexicans love raw fish dishes like this, making it Mexico's most popular seafood dish. 
If you want to know more about seafood in the city, read What Seafood is Local to Cancun?
Chefs marinate sea creatures with citrus juice, usually lime, instead of cooking them in pots. The acidity in the sauce completes the cure after a few hours of simmering. 
To bring out the flavors of the dish, the cook adds cilantro, onions, peppers, and tomatoes to the top.
Fish and marine life both exist in Cancun, including fish and crustaceans. Locally, shrimp ceviche comes with saltine crackers or tortilla chips.
Marquesita
Last but not least is the Marquesita, which resembles a crepe and is perfect for dessert. 
It's a Mexican take on the famous French crepe and is delicious! You're sure to find vendors selling sweet or savory delicacies throughout Cancun.
The cheese from Edam and peanut butter will be good choices if you're craving something savory. 
However, those with a sweet tooth will not be disappointed, as Nutella and jam topped with caramel sauce and whipped cream will be available. 
Besides seeing how the vendor prepares the snack, you can also enjoy watching the waffle iron at work.
Cochinita Pibil
Cochinita Pibil is a popular Mexican dish with pulled pork from a suckling pig. This dish is a mouth-watering taco with pulled pork featuring spicy and tangy sauces with a distinctive Yucatan kick. 
If you want to know the best places in the city to enjoy Mexican cuisine, read our article about Cancun Mexican Restaurants.
This dish is a must-try for pork lovers in Cancun and the Peninsula. It is prepared by marinating pulled suckling pigs in a sweet and sour mixture of annatto seeds, onion, and habaneros for hours at a time. 
The delicacy is sometimes wrapped in giant banana leaves to preserve its flavor. Alternatively, it can be served as a wrap or roll. In Cancun, this is simply one of the best places to try authentic Mexican cuisine.
Sopa de Lima
This dish combines citrusy flavors with meat and spices. If you prefer something subtle, this is an excellent option in Cancun. 
It is traditionally served in a citrus-flavored broth with meat. Sweet chili, garlic, and oregano are just a few spices that give the soup a unique flavor. 
However, the lime is the most prominent flavor, adding a zesty citrus twist that's ideal for hot days. Besides tortilla chips, local stores will offer warm bread to soak up any leftover liquids.
Chilaquiles
Chilaquiles are taco-like breakfast dishes made from soft tortillas. In Cancun, this breakfast dish is known as the breakfast of champions because of its mixture of crisp fried tortilla chips covered with sauce. 
The breakfast is tasty and filling, served in sidewalk stalls and downtown restaurants.
If you prefer something mild, go with red salsa, or if you prefer something hotter, go with green salsa. The toppings typically include sour cream, onions, cheese, and Mexican beans. 
Nachos are very similar to this dish. However, you eat these tortilla chips using a fork instead of a spoon.
Panucho
Panucho contains fresh vegetables along with traditional chicken tacos. With a generous serving of Mexican beans, it's the classic Yucatan taco. 
Stuffed tortillas are also packed with vegetables. Add pickled jalapenos, tomatoes, cabbage, lettuce, onion, and avocado to your salad.
You'll find many restaurants in Cancun where families and friends eat at night. The delicacy is commonly washed down with a large glass of soda. 
Your perception is correct if you believe it resembles salbutes. However, unlike the former, the latter does not contain refried beans and lacks crispiness.
Papadzules
Papadzules resemble enchiladas but are prepared in a Yucatan style. The Yucatan version of enchiladas, Papadzules, are corn tortillas covered in cheese, chicken or pork and hard-boiled eggs dressed in pumpkin seed sauce. On top, the dish is garnished with spicy tomato pepper sauce. It can be a hot dish, so be careful.
Papadzules may have existed before the Spanish conquest when the ancient Mayans consumed them. However, despite disagreements over its origins, it's generally agreed that the enchiladas we know today were inspired by it.
Castacan
Castacan refers to a taco with pork belly with cheese infused into it. Throughout Cancun and the Yucatan, this dish is a delicious cheese-laden taco filled with pork belly enjoyed in mass. 
It is delicious regardless of whether the filling is crunchy or juicy. 
Nonetheless, the shredded cheese that binds the tacos together adds a layer of decadence to the dish.
If you hadn't noticed, this calorie-laden concoction could be better for your waistline. However, this Cancun dish's juicy, tender delights will make you forget your guilt once you taste it.
Tamal Torteado de Pollo
This dish is Cancun's version of tamales. Food like this is a popular Mexican treat in Quintana Roo. 
Traditionally, tamales are made from corn dough and stuffed with vegetables, meat, chilies, cheese, and tangy sauces.
The leaves of corn or banana are used to wrap up this mouth-watering morsel and then simmered to allow the flavors to penetrate. 
Alternatively, spread the leaf flat before eating its contents as a serving plate. An achiote-infused sauce is traditionally used with Quintana Roo chicken, peppers, onion, garlic, and epazote.
Conclusion
When it comes to food, Cancun is a city that offers rich cuisine that will always be a delight to its visitors. With this list of popular Cancun dishes, you can savor and enjoy the local cuisine of Cancun. Thus, when you arrive in the city, try them out at the local Mexican restaurants.
Now, if you're a vegetarian and wondering if you have options to enjoy around the city, you can read Is Cancun Good for Vegetarians?