If you're searching for a travel destination for your vacation, it's common to see Cabo San Lucas as one of the options. However, while it's well-known to many, some people have yet to learn about this place. If you're also the same, you're likely wondering what the city is known for.
Cabo San Lucas is well-known for its beaches, marine life, scuba diving, Balnearios, and the famous arch. For this reason, it's not surprising that this small city located at the southern tip of the Baja California Peninsula is considered one of Mexico's top five tourist destinations.
In this article, we'll cover everything that makes Cabo San Lucas well-known to many travelers and tourists. This way, you can know what to expect in this city and see why it's worth visiting as a holiday or vacation destination.
Without further ado, let's get into it!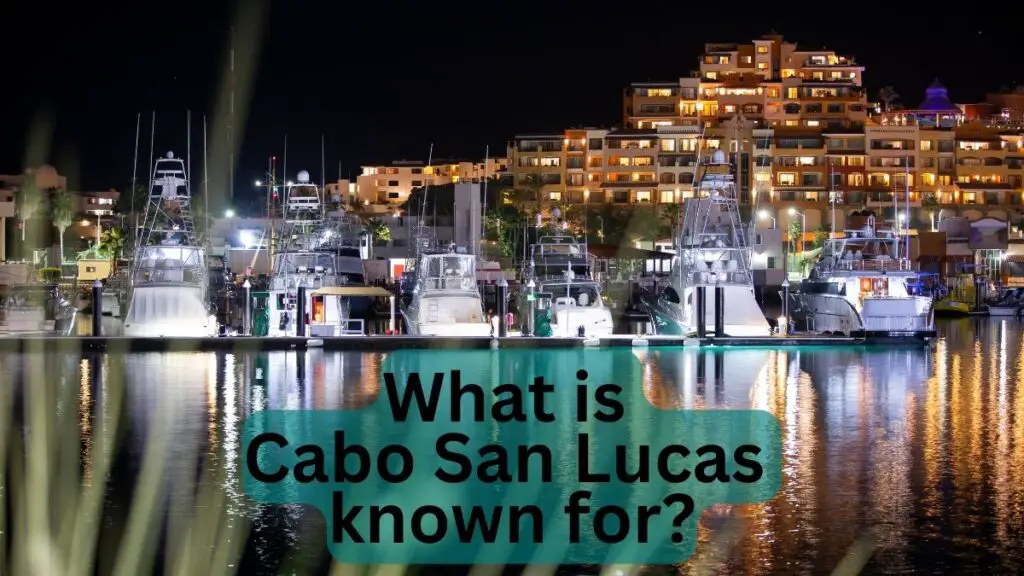 Stunning Beaches
The first things you'll see when you search for images of Cabo San Lucas are the stunning beaches. This city is known for being the home to several beaches, all of which boast crystal clear waters and fine golden sand.
Besides the waters and the sand, some of the famous beach areas in Cabo San Lucas have rugged rock formations that are aesthetically pleasing.
For this reason, it's not surprising to see many travelers prioritizing a tour to the famous beaches in Cabo San Lucas, such as Lover's Beach.
One thing to note is that some beaches are not swimmable due to the rough waves and powerful underwater currents from the Sea of Cortez and the Pacific Ocean. Nevertheless, this city would appeal to anyone who enjoys the beach.
To know the best spots to satisfy your beach craving, read our article about The Best Beaches in Cabo San Lucas.
Scuba Diving Locations
Besides the beaches, Cabo San Lucas is well-known for housing several scuba diving locations. Here, you can find a nearby protected ecosystem for marine wildlife. As such, this city is among the most sought-after locations for both snorkelers and scuba divers.
Whether you're a professional, beginner, or complete newbie in snorkeling or scuba diving, you'll find Cabo San Lucas an ideal option to enjoy the sight of marine wildlife.
To know the best spots around the city for snorkelers and divers, read our article about Snorkeling in Cabo San Lucas: A Guide to the Best Spots.
Marine Life
As I mentioned, Cabo San Lucas boasts of its marine life, and the waters embracing this city is among the richest in the world, especially in terms of rays, sharks, and various large fish.
For this reason, this city is well-known for being the venue for sport fishing, and it's also known as the Marlin Capital of the World. 
All year round, you'll find different species of fish to catch, and you can do so with plenty of fishing charter companies to guide you.
If you want to know more about fishing activities in this city, read: What Is the Best Fishing Month in Cabo San Lucas?
Besides the fish, you can also find several types of whales in the city. In general, the city is also famous for the whale-watching activities it offers. To learn more, read: When Is Whale Watching Season in Cabo San Lucas?
Balnearios
If you're still getting familiar with Balneario, it refers to any Latin American or Iberian resort city or town. As such, Cabo San Lucas is a famous area beside the coast.
In this city, you can feel the vibe of a coastal city. It's a place filled with fishing boats, water taxis, yachts, ships, and other water vessels.
You'll also enjoy the freshest seafood dishes prepared Mexican style. Overall, you'll enjoy the feel of a place filled with luxurious resorts and hotels with amazing beachfront views.
As a resort city, you can choose from an array of beachfront hotels and resorts and enjoy life beside the sea with excellent amenities.
Another thing that makes it one of the best Balnearios is situated on the southernmost tip of the Baja California Peninsula.
Here, you can enjoy the sight of the famous land's end, the spot where the Sea of Cortez meets the waters of the Pacific Ocean. As such, it's common to see Cabo San Lucas as a popular destination sought out by tourists.
The Famous Arch
The famous arch is the most popular spot in Cabo San Lucas and goes by El Arco. Located at the tip of the Baja California Peninsula, the famous arch is made of sea rock. It is also where the Pacific Ocean meets the Sea of Cortez. 
Overall, countless vacation photos have been taken of the arch, one of the city's most popular tourist attractions. For this reason, any trip to the city wouldn't be complete without a visit or a picture of the famous arch.
If you're curious about this tourist spot, read our guide article about The Famous Arch of Cabo San Lucas.
Conclusion
Besides these five things, Cabo San Lucas offers more fun activities and experiences. After all, these are simply what makes the city well-known. If that's enough to make you go on a trip and visit this city, you're in for a treat! As you explore the city, you'll find that it has more to offer and that a vacation in this area is always worth experiencing.
If you want to know more things to enjoy around, read: Experience the Magic of Cabo San Lucas: Top 10 Things to Do.