If you're planning to cross the border between Tijuana and San Diego, you might have encountered the Cross Border Xpress as an option. However, if you're unfamiliar with it, you may wonder how it works and how you can cross through it.
In general, the Tijuana Cross Border Xpress is a bridge that connects Tijuana and San Diego. It offers a quicker service for those using the Tijuana Airport and will help you avoid congested border crossings throughout the area.
This article will give you every information and detail you need to know about the Cross Border Xpress. This way, you can use this service if it applies to you and help you cross the border with less hassle. 
Without further ado, let's get started!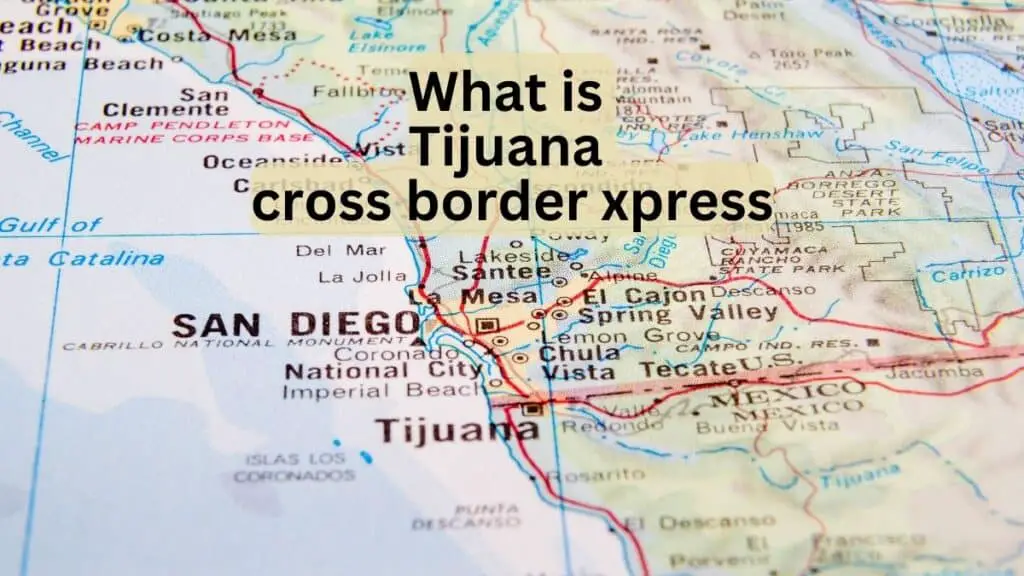 What is Cross Border Xpress?
Cross Border Xpress, called CBX, connects Tijuana Airport with San Diego through a pedestrian skywalk bridge. This bridge also serves as the American terminal at Tijuana Airport. 
Here, southbound travelers can check bags and print boarding cards. On the other hand, northbound passengers can avoid the long border crossing lines by walking into San Diego.
Tijuana International Airport has long offered cheaper travel between Mexico and Southern California, but customs clearance remains a nightmare. However, with the CBX, the customs clearance and border crossing process have become quicker and easier.
CBX is becoming a more viable and popular alternative to waiting in a car at one of the busiest border crossings worldwide as awareness and operations improve. 
You can go through three other crossings if the CBX doesn't apply to you. To know more, read Can You Walk Across the Border to Tijuana?
Difference Between CBX and other Border Crossing
The main difference between CBX and other Border Crossings on the US-Mexico border is that the CBX is only for travelers using the Tijuana Airport. On the other hand, the other border crossings are for commuting or traveling solely by land.
Other than that, the CBX operates like any border crossing in this particular border. So, if you want to use the CBX, you must have a boarding pass and other legal documents that you'll show at Tijuana Airport.
How Much Does CBX Cost?
The CBX has a fee of 30 USD, and you can purchase it on the site or online. As I mentioned earlier, passengers need a plane ticket and a passport to use the Cross Border Xpress. You can also find other concessions on-site if you need anything. 
Benefits of CBX
The operation of CBX offered many benefits for the countries and travelers. For instance, Southern California has benefited from this travel option due to increased Mexican travelers. 
Tijuana Airport, for instance, has seen its passenger traffic increase by 47 percent in the last two years. Moreover, Mexican airlines are expanding their routes and opening more destinations from Tijuana.
For travelers, some of the benefits of CBX include the following:
Quicker crossing from San Diego to Tijuana and vice versa
Quicker access to Tijuana Airport
Better crossing walkway or bridge
If you're traveling only into Tijuana and don't need to ride a plane, this crossing isn't for you. However, this crossing is for you if you want to save money by boarding a plane within Mexico.
Frequently Asked Questions About CBX
Below are some of the frequently asked questions you may have about the CBX:
Can I Go Through CBX Without a Passport?
You cannot go through the CBX without a passport since you'll be entering Tijuana Airport. In addition, the CBX requires a boarding pass for you to use the bridge, which means you need a passport since it involves air travel.
To know more, read Can You Cross Tijuana Border Without Passport?
How Long Does It Take To Walk Through CBX?
The walking time to get through the CBX is 15 to 30 minutes, but it still depends on how fast you are walking. The walking time may also depend on the travel season since peak hours can fill the bridge with more travelers.
However, the entire process and walking time remain quicker than the time of crossing through the other border crossing platforms.
How Early Should I Arrive at CBX?
If you're using the CBX, arriving at least two to three hours before your flight is best to avoid missing your plane. It also gives you plenty of time to walk through the bridge and prepare for your flight schedule.
Another thing to note is that you can use the bridge by 24 hours before your flight leaves.
Is the Cross-Border Xpress Safe?
The Cross Border Xpress is a safer way of crossing the border since it's exclusive for passengers flying into and out of Tijuana Airport. Only passengers flying through the airport can use its services, and proof of boarding pass is required. As a result, using it can avoid long lines at the border, and it is entirely safe to do so.
Requirements When Crossing Through CBX
When crossing through the CBX, you'll need to present several documents to be eligible for the use of the bridge.
The most important documents you need to cross through the CBX would be your boarding pass and CBX Ticket. However, since you'll be traveling internationally, you'll need other official travel documents. 
For Mexican Citizens
If you're a Mexican citizen, you'll need the following documents to go through CBX:
INE credential
CBX ticket
Passport (must be in book form)
Birth certificate
Consular card or Mexican Nationality Certificate
Boarding pass
For Foreigners and US Citizens
If you're a foreigner or US Citizen, you'll need the following documents to go through CBX:
CBX ticket
Passport (can be book or card form)
Migratory Rights fee (for travelers staying in Mexico for more than seven days)
Filled-out FMM Form (Forma Migratoria Múltiple)
Boarding pass
If you're using other border crossings, you'll want to know more about the travel documents. For example, you can read What Do You Need to Cross Tijuana Border?
Conclusion
The CBX or Cross Border Xpress is a service that offers a quicker way of passing through the border, but it's only for those who use the Tijuana Airport and fly to other parts of Mexico through it. 
This border crossing is best for those who want to travel faster to other parts of Mexico by plane. If you're only traveling to Tijuana and nearby areas, you can commute by land using other border crossings.