Since Cancun sits beside a beautiful beach, many of its guests would crave something from the sea. If you're also visiting Cancun, you'll want to know what seafood is local to Cancun to try and enjoy during your stay in the city.
Cancun is home to various types of seafood, and it's known to house several seafood restaurants serving the best dishes in the region. In this city, you can find plenty of local seafood, such as fresh fish, lobsters, crabs, shrimp, octopus, and many more. You can also enjoy different seafood dishes.
If you're visiting Cancun, one of the best ways to enjoy its culture is through food, and seafood is part of it. As such, if you're curious about trying some seafood dishes that the city is known for, this article is for you.
Below, you'll read through Cancun's most popular seafood dishes for you to try. We'll also include the places that serve the best seafood dishes to maximize your stay in Cancun and savor the seafood it boasts.
Without further ado, let's get into it!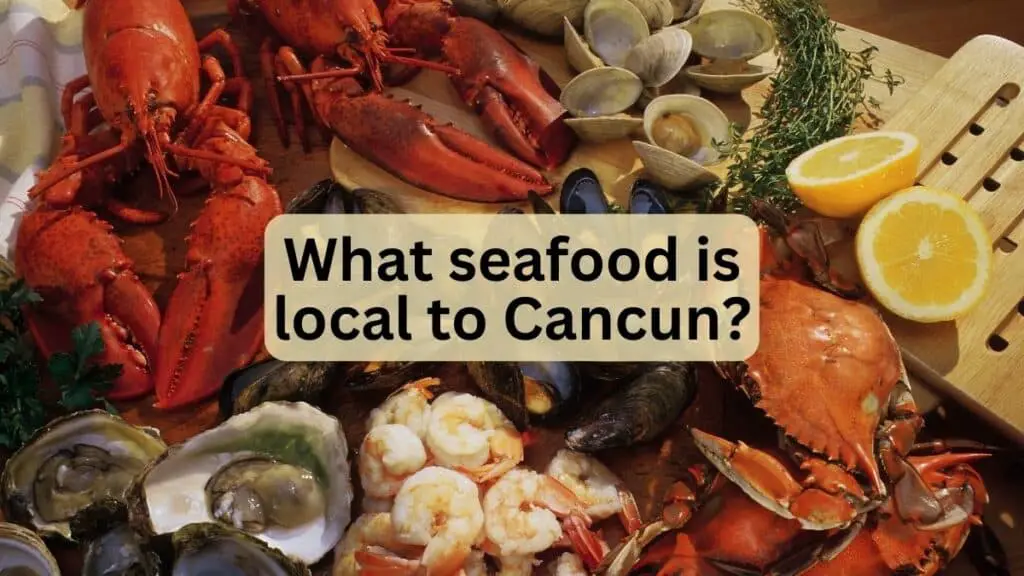 Popular Seafood Dishes in Cancun
As a city that sits beside the Caribbean Sea and the Gulf of Mexico, Cancun boasts of its vast source of seafood. Moreover, the entirety of Mexico and the Yucatan region has a rich culture that includes an array of seafood dishes and cuisine. 
If you're visiting Cancun, here are three of the best seafood dishes that you must try during your stay:
Ceviche
Ceviche is so widely available in Caribbean restaurants that you'll discover it on the menu. Moreover, you can enjoy this dish in nearby towns besides Cancun.
This dish consists of marinated meat seasoned with chili, cilantro, and tomato, accompanied by citrus and chili. It is prepared and contains different ingredients. 
Moreover, the preparation depends on the location and even the region of a country, such as Mexico.
Mexican Caribbean cuisine has a different version of this dish than other parts of the region. The ceviche ingredients in Cancun are tailored to the climate of the Yucatan Peninsula and its inhabitants' tastes.
Shrimp Cocktail
The shrimp cocktail dates back to the early 20th century in the United States. It's a light appetizer that serves as a prelude to the main course.
Ceviche and shrimp cocktail are both famous in Cancun and the neighboring towns and areas. Often, travelers need clarification before ordering because they differ in many ways.
Ceviche consists of raw fish or seafood mixed with tomatoes, and onions, masked in lime juice, as we saw earlier. As with the ceviche, the cocktail also contains seafood, but it has a sweeter flavor and is less citric due to the ketchup.
Tikin-xic fish
Tikin-xic fish is made with non-flake white meat fish, orange extract, achiote, peppers, red onions, and tomatoes. The dish goes well with a beer after spending time on the beach.
Snail Ceviche
This list wouldn't be complete without snail ceviche. In this region, snails have always been symbolic of beauty and flavor. Aside from lemon juice, avocado and habanero peppers, white onion, and lemon juice are also included in this ceviche.
Aguachile
Aguachile is third on our list of the best seafood dishes in Cancun. Mexicans consume it mainly in the country's north, originating on the west coast. However, in recent years, it has also gained popularity in several areas in Caribbean Mexico.
Aguachile is believed to have originated in Sinaloa's highlands. Due to its simplicity, you can prepare this dish in many colors and flavors.
Despite the basic version consisting mainly of seafood, water, and chilis, Caribbean restaurants usually serve Mexican versions. 
If you want to know other food local to Cancun, read What Food Is Cancun Known For?
Best Places to Enjoy Seafood Dishes in Cancun
Of course, when trying the seafood dishes in Cancun, you'll want to taste it at its best. Cancun houses a handful of seafood restaurants, so choosing where to enjoy seafood can be overwhelming. 
For this reason, we rounded up all options to give you five of the best seafood restaurants in the city. They are the following:
El Fish Fritanga
El Fish Fritanga provides simple seafood dishes that are a big hit with the locals.
The place offers authentic Mexican food and is among the best in Cancun. 
It's an excellent place for families, offering baby chairs and a play area for kids.
If you love fish tacos or ceviche, this is the place to go, especially if you want to enjoy them in front of a lagoon or beach.
Contact Info
Address: Blvd. Kukulcan, La Isla, Zona Hotelera, 77500 Cancún, Q.R., Mexico
Phone Number: +52 998 840 6216
Website: El Fish Fritanga
Lorenzillo's
Lorenzillo's is one of Cancun's oldest restaurants. It started operating in 1979 and is popular with locals and tourists alike. 
The restaurant is on the waterfront, so seafood dishes dominate the menu.
You can dine indoors, on the beautiful terrace, or in the wine cellar. 
If you're feeling adventurous, try the chipotle mayonnaise-topped lobster croquettes at Las Cornamusa.
Enjoy one of their delicious desserts, like their Chocolate Volcano, to end your dining experience.
Contact Info
Address: Km 10.5, Blvd. Kukulcan, Punta Cancun, Zona Hotelera, 77500 Cancún, Q.R., Mexico
Phone Number: +52 998 883 1254
Website: Lorenzillo's
Captain's Cove
As Captain's Cove is known for its generous portions, don't overindulge in salads before your main course.
The top items on the menu at this waterfront restaurant are steaks and seafood. 
Light starters such as calamari with golden batter or crab cakes make a great start to any meal.
A carrot cake is particularly recommended, as are a few desserts that will leave you wanting more.
Contact Info
Address: Blvd. Kukulcan KM16.5, Zona Hotelera, 77500 Cancún, Q.R., Mexico
Phone Number: +52 998 885 0016
Website: Captain's Cove
Fred's House
Fred's House offers a lovely waterfront dining experience featuring fresh seafood. Further, the menu has a variety of dishes with a bit of Mexican flair. 
You can dine outside overlooking the lagoon at tables with views of the lagoon. You can enjoy seafood here at a top restaurant.
Contact Info
Address: Blvd. Kukulcan 14.5, Zona Hotelera, 77500 Cancún, Q.R., Mexico
Phone Number: +52 998 840 6467
Website: Fred's House
Crab House Cancun
Crab House is a stylish eatery serving oysters, seafood plates, steaks, and cocktails. Our rich history of providing high-quality food distinguishes Crab House Cancun, Seafood & Steak. 
Initially, the place was a seafood restaurant specializing in premium dishes. But Crab House has grown into a modern and sophisticated restaurant that not only appeals to seafood lovers.
Contact Info
Address: Blvd. Kukulcan Km 14.7, Zona Hotelera, 77500 Cancún, Q.R., Mexico
Phone Number: +52 998 193 0350
Website: Crab House Cancun
If you're planning your budget in Cancun and want to know how much money to allot on food expenses, you'll want to read How Expensive Are Food and Drink in Cancun?
Conclusion
Seafood is an essential part of Cancun's culture, particularly its cuisine. As such, it's always one of the things to try during your stay in the city. Cancun houses many seafood restaurants, and you can enjoy seafood dishes whether you're on a budget or not. But, as always, a stay in Cancun will always be more delightful when you try the seafood dishes.
Mexican cuisine isn't mainly about seafood. Thus, if you want to try other Mexican delicacies, you'll enjoy them in the best restaurants in Cancun. To know the best options, read Cancun Mexican Restaurants.