Mallorca, one of the Spanish Balearic Islands, is one of the most desired tourist locations during the summer. It receives more than 300 days of sunshine a year, making it among the best spots to bathe in the sun at the beaches and cool down by the sea.
However, it's not all sunshine sometimes in Mallorca. There can be occasional rains during the summer. And if these rains happen to be during your trip to the island, there is no need to coop up inside and pass all your time looking out of the window or browsing the internet.
In this article, we have carefully compiled a list of fun activities and things you can do while it is raining in Mallorca. Ranging from indoor games, clubbing, and shopping, you can find everything worth your time during the rain in Mallorca. 
So, let's get started.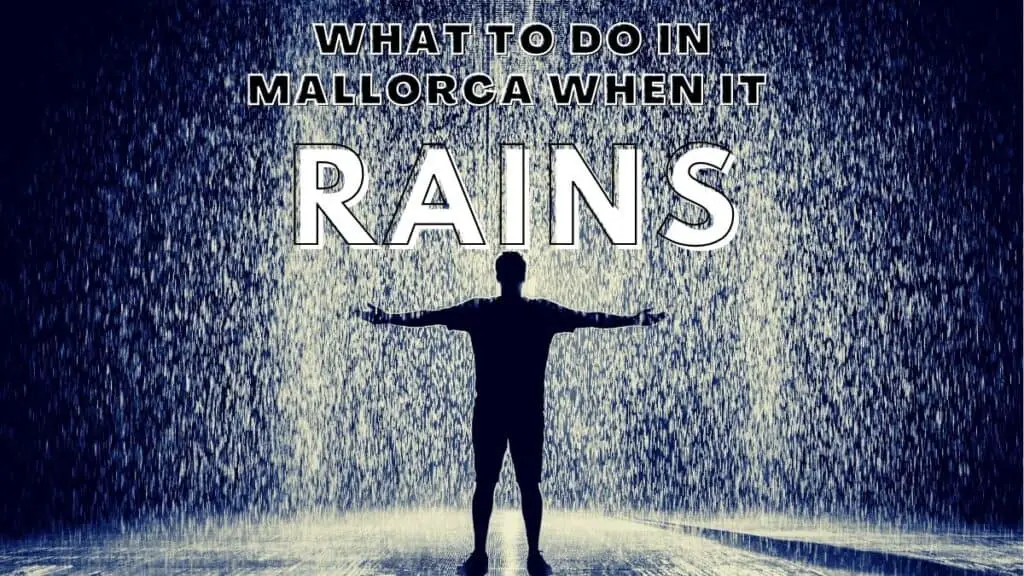 What To Do in Alcudia?
Alcudia is a popular resort in Mallorca. Alcudia isn't just for people who enjoy time in the sun. You can always enjoy the clubs if it's raining as drinks start to flow. Alcudia has so much to offer, with many bars and clubs for anyone. 
Here are a few things you can indulge in at this resort while it rains outside. 
Partying
When it's raining outside, and you are left indoors, getting to the club and partying is one of the best options you can choose. In Alcudia, you get to choose from multiple bars and clubs where you can drink and dance to your heart's content. You will find colorful people from all around the world to mingle and socialize with.
Alcudia is the perfect place to find some popular British-themed sports bars, where you can relax and chill out as you enjoy a nice football game with your friends. Some of the most famous bars that follow this description are the Linekers Bar, Legends, and Joker's Irish Pub, which have been around for a long time and have built a good reputation among their customers.
Shopping
If it's raining outside, why not visit a shopping mall for some shopping? Pay a visit to Mallorca's capital city, Palma. You can go shopping in one of the many shopping malls that cater to most of your requirements and taste. 
You can stuff from any international brand you recognize from back home; however, we encourage you to support small local businesses.
You can get many local specialty products, and the best part is that they provide great value for your money. Concurrently you can spend some quality time window shopping with your loved ones and have just as good a time. 
Visit the cinema and watch what's playing or take the virtual rides you find there. There is never a dull moment when you are out shopping in Mallorca, and rain will not hinder you from doing so.
Visit a Spa
Another great thing you can do in Alcudia as the rains fall and the sun hides behind the clouds is simply sitting back, relaxing, and giving yourself a fulfilling spa experience. 
Here in Alcudia, many high-quality spas will give you the best Jacuzzis, saunas, and therapies as you feel all the exhausting weeks building up to be washed away in mere minutes.
Next, get yourself some massage from natural oils like olive, almond, and lavender, and see it work like magic on you. One of the best things about Spas is that they help you relax while enhancing your sleep, helping you distress and make your skin radiant. 
So, if rain is stopping you from visiting the beach, consider going to a spa and having a relaxing time there. 
Maybe you like to know about: Mallorca Weather – Everything you need to know
What To Do in Magaluf
Magaluf is a resort town located in the popular southwest of Mallorca, near Palma Nova. When the name Magaluf comes up, the first thing that comes to mind is its vibrant and lively nightlife. 
It is filled with bars, clubs, theme parks, and other amazing indoor activity hubs that will help you spend some quality time during the rain outside. Some of the things you will find yourself doing here are as follows.
Are you wondering: Where is Magaluf?
Water Parks
Water park in the rain might sound weird if you haven't experienced it before, but it is quite a blast for those who have tried it. Water parks offer an excellent opportunity to take a break from the beaches and enjoy some time on the fun water slides and other delightful rides you would expect in a modern waterpark.
Going to a water park is undoubtedly among the best activities you can participate in and have a great time doing. Magaluf has many popular water parks that will provide you with the best rides and slides you can expect from a Waterpark.
Make sure to get your tickets in advance and make sure you know the latest ticket prices and up-to-date timing of these parks. Take life jackets with you as a precaution, and make sure to indulge yourself in the water as much as possible, and you are sure to have a great time.
Eat Out in Restaurants 
Hey, if you are a foodie like me, then rain will not deter you from tasting some good food from the top restaurants in Mallorca. And in Magaluf, you will find plenty of those. You can get some of the best Mediterranean cuisines you will ever taste.
The succulent Mediterranean meals are some of the tastiest cuisines in the world, but they are also among the healthiest. And Ibiza might just be the best place to enjoy these delicacies. 
Ibiza is a hotspot for tourists looking to have relaxed vacations or exciting parties on the coast. Being the diverse and beautiful place it is, it also provides extensive options for you to dine in that have been serving for years and have been serving built good reputations for themselves.
So, make all your preparations and weigh in all your options before choosing a place to dine in, as the food is something you always want to get right. And it will only enhance the experience to do so in the cozy backdrop of lightly falling rain and cool breeze. 
What To Do in Sa Coma
Sa Coma is a beautiful Resort located in eastern Mallorca. This resort is in a prime location near many markets and other alternatives. This resort gets a lot of visitors during peak season, making it one of the most desired places to stay in Mallorca. 
Here we will discuss some activities you can participate in when the sun isn't shining.
Drach Caves
Drach caves are some of the most sought-after locations for tourists in Mallorca. Located on the east coast of Majorca, in the town of Porto Cristo, these underground caves are the ideal location to visit during the rain.
The caves are known for the illumination present in them from the walls of the caves along with the Martel Lake, famous for being one of the biggest underground lakes in the world. You can cross this lake via a boat which is a unique and interesting experience.
Several live music concerts are held there, which create a party experience that you will not find in most places around the world. So, if you find yourself unable to relax at the beach due to the rain, make sure to visit this marvel of nature.
Bowling
One thing about bowling is that it's a unique blend of game and sport. You can socialize with people when you go bowling and build comradery through competition. When it's raining, you take your family or friends to one of these places and have a great time.
Bowling alleys usually also have other games like billiards and table tennis on-site, along with a café. Pick whichever game you like, and you can have all the fun you can doing anything else. 
Place bets with your friends, enjoy with your kids, or just have a nice cup of coffee. There is never a shortage of entertainment when you are here.
Wrapping Up
Mallorca is a fantastic place with so many diverse entertainment areas for tourists. Occasional rain should never spoil your perfect holiday on this majestic island. You can do many fun activities indoors that rain can never get in the way of.
Whether exploring the underground caves in Sa Coma, having a fun time in the Water Parks in Magaluf, or partying in clubs near Alcudia, there is a little bit of everything for everyone in Mallorca. 
This is probably nice to know: Is Mallorca Windy?
So, what are you waiting for? Book your dream vacation in Mallorca and get ready to have a great time on this fantastic island!