Packing for a vacation always seems tedious, especially since we are always scared of forgetting something. As such, if you're visiting Cancun, chances are you're traveling a long way to afford to forget something important. For this reason, we made a complete list of things to pack for you.
In this article, you'll read through our comprehensive list of what to pack for Cancun. This information includes a list of things to bring, outfits to wear, and essential items you should not forget. With this list, you can rest assured of packing everything you need to prepare for your Cancun vacation.
Without further ado, let's get started!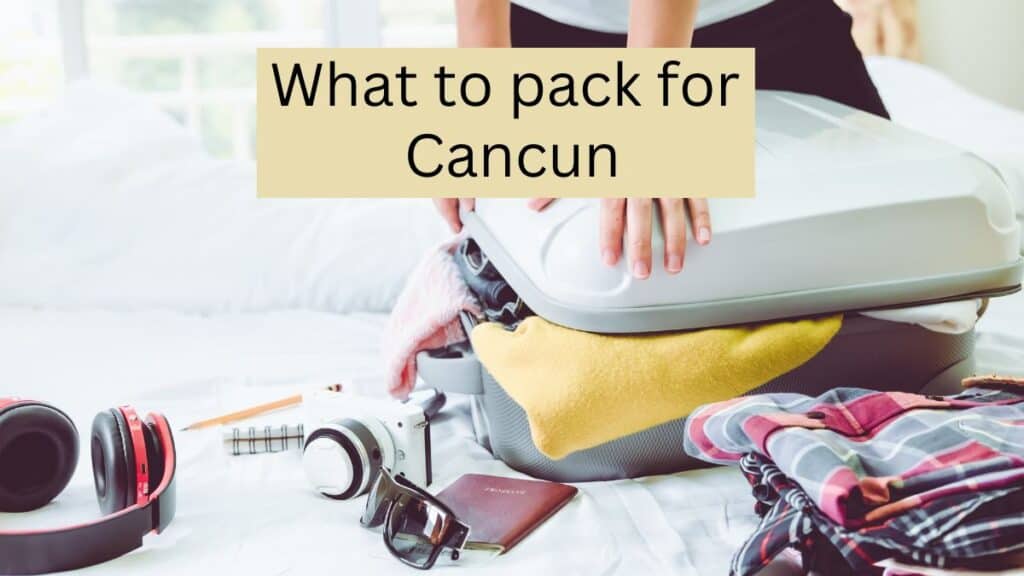 List of Things to Bring to Cancun 
Below are the items that you shouldn't forget when visiting Cancun. As such, we put them on the list for you to pack first.
Hat – To protect you from direct heat
Light scarf – For chilly nights
A good pair of hiking shoes – for excursions to Mayan ruins and other day trips
Sunscreen – for skin protection against direct heat
Light clothing – To stay comfortable against the harsh heat.
Rain Jacket – if you're visiting during a rainy season
Shorts
Tee shirts or tank tops
Sundresses
Swimsuit cover-up
Sunglasses
Now that we have these essentials set, let's move on to outfits and other items you might need on your trip to Cancun.
What to Wear in Cancun
Cancun offers a lot of activities for every visitor to try. As such, you need to ensure to attend all of these activities simply because you need to remember something. 
For instance, you need to know what to wear in the city and the destinations and spots you shouldn't miss. So here are some of the essential wardrobes you need in the city.
Swimsuits
Since Cancun is situated on a beach, swimsuits are the most obvious thing to pack. When it comes to Cancun clothing, a swimsuit is an absolute necessity. Clothing appropriate for the climate is required if you wish to enjoy the Cancun lifestyle. 
Nobody visits Cancun without going to the beach, swimming in a pool, or even scuba diving, boating, snorkeling, or playing with indigenous marine life. Thus, swimsuits should be the first thing on your list of Cancun outfit ideas.
It's also a good idea to have multiple swimsuits. This way, you can take advantage of other activities simply because your suit still needs to dry. 
Wearing a long-sleeved swimming suit is ideal. Or, you can wear a bikini and apply some sunscreen for protection against the direct heat of the sun.
Hat
Cancun is a city that receives a lot of sunlight, and it can be pretty harsh, especially without protection. As such, it's best to pack a hat with you to wear in Cancun. 
The hat will protect your eyes and skin from harmful UV radiation and help avoid sunburn. If you're concerned about overheating while wearing a hat, go for a straw hat that breathes well.
Shoes
Your mood in traveling can change if your feet aren't comfortable. As such, it's best to know the ideal type of shoes when visiting Cancun. In addition, the shoes you need when visiting Cancun might vary. 
Besides beach sandals, bring appropriate water-resistant walking or hiking shoes for Mayan excursions and forest exploration. Depending on your activity, you may also want swimming shoes or a great pair of dress shoes when you want to party and enjoy Cancun's nightlife.
Sun Protection
Cancun is where you'll enjoy most days under the sun's direct heat. As such, it's best to bring lots of sunscreens to protect your skin and health. 
Because the location is generally warm and sunny, more skin is exposed to the sun. Therefore, wearing sunscreen is just as crucial as bringing clothing.
Plan to wear a cover-up or shorts and a shirt when going to and from the beach. It also applies to any place where you wish to wear your swimwear. 
A combination of a hat, a pair of sunglasses, and a lot of sunscreens are also recommended. Remember that many sunscreens are not permitted in the seas due to toxic components, so choose a reef-safe, chemical-free sunscreen.
Clothing
As a tropical city, Cancun's fashion is more on the beach outfit. As such, it's easy to blend in with your swimsuit, tank tops, or shirts. 
Although Cancun is sunny most of the year, it also experiences a wet season, and sometimes it can be cold or windy. If you want to know more, read our article about Cancun Weather.
During such times, it's best to bring at least one piece of clothing suitable for such weather.
For instance, a pair of long pants or a light sweater should be enough for the chilly weather. Nonetheless, a beach outfit will always be your best bet throughout the rest of the year.
To help you out with clothing, here are the clothes you'll want to bring to feel comfortable during your entire Cancun vacation:
Tee shirts and tank tops
Sundresses
Shorts
Sunglasses
Clothing for a night out
Clothing for a special occasion
Formal clothing (if you plan on enjoying a meal at a fine-dining restaurant)
Swimsuit cover-up
Rain jacket (if you're visiting during the wet season)
When packing for your trip, try to strike a balance. Pack nothing that is too chilly or too hot. As a general rule of thumb, always pack a wardrobe that is flexible and breathable but also easy to cover if needed.
What to Bring to Cancun (besides Clothes)
In addition to clothing and sunscreen, there are a few items you want to be sure you have on your list of what to bring to Cancun.
Reusable Water Filter Bottle
Eco-friendly groups and public policies are conducting non-disposable plastic initiatives in Mexico, particularly in Cancun. 
As a result, you are strongly advised to carry your reusable water filter bottle. Saving and caring for the environment is something that we should do to preserve Cancun and other destinations. Check out this: Reusable Water Filter Bottle.
Furthermore, they are relatively easy to obtain, and you can find great local patterns – a perfect souvenir to take home!
If you're thinking of simply drinking water from any local source in the city, read Can You Drink the Water in Cancun?
Waterproof Phone Case
A waterproof case for your phone always comes in handy when going to places like Cancun since you'll find sand and water that can damage it. It's also essential whenever you're going on a cenote hopping, boat tour, or anything related to water activities.
Mosquito Repellant
Mosquitoes can be pretty annoying, especially when visiting destinations around Cancun. But, simultaneously, mosquitoes can continue biting when you're out at night, partying and drinking. As such, it's best always to bring a mosquito repellant and apply it whenever you're out.
Here you can find some good ones: Mosquito Repellent Spray.
Medication
If you're used to traveling, you know medications form an essential part of things to pack. If you have personal medication, you need to pack them and estimate the amount depending on how long you'll be in Cancun. 
Further, you should buy essential medications, such as over-the-counter medicines, for problems like diarrhea, dizziness, and flu.
Check out these: Travel Pill Cases.
Carry-on Bag
You'll need something to carry your essentials everywhere, such as a tote bag or a small backpack. You can use this bag to store essentials such as your phone, water bottles, wallet, sunscreen, medicine, and other things you always carry.
Umbrella (for the rainy season)
Although Cancun is a sunny city, it also has rainy or wet seasons. Now, if you're visiting the city during such a season, you may want to add an umbrella to your packing list. Of course, you can always buy one when you're in the city, but it will save you some money by packing one.
If you want to know more about the rainy season in the city, you can read When is Cancun Rainy Season?
Conclusion
With this comprehensive list of what to pack for Cancun, you can start preparing your items and your luggage. You can list all the things we've written and tick them off one by one to ensure you do not forget anything. 
As always, you can wear anything you want in Cancun and even in other tourist destinations. However, if you want to blend in and feel the city's vibe better, you can always go for that tropical chic style.
Now, if you're visiting Cancun mainly to party, you may wonder what to wear to clubs. If so, check out our article about What to Wear In Cancun Clubs.