Vacationing in Mexico can bring you some of the most memorable nights of your life! However, are you ready for a fun night out on the town? Or are you wondering what to wear to Cancun clubs?
Most clubs in Cancun, Mexico, do not have a strict dress code, although some, like the La Vaquinta and Daddy'O, require higher quality fashions for what guests wear. Some clubs also offer themed dress nights, while others have no stipulations.
There's a lot to unpack if you want to be prepared to have the time of your life in Cancun, Mexico! Luckily for travelers, this article covers everything from what to wear on a night out in Cancun to what Cancun's most popular nightclubs require visitors to dress.
What Do You Wear On A Night Out In Cancun?
The first question, even before looking into how to dress in a club, is what you should consider before dressing for going out on the town in Cancun! This can be broken down into a few simple things to make yourself aware of:
Local Temperatures – The weather in Cancun is usually pretty warm in the daytime, especially during the summer. However, if you're susceptible to getting chilly, you should remember that Cancun's evenings can drop into the 60s (Fahrenheit) even in the summer. Consider light layers, or even a jacket, to stay comfortable.
Local Weather Conditions – It's always a good idea to check the forecast before going anywhere, especially in Mexico! The driest months in Cancun are reportedly April, while autumn sees the most rain, and the summer months usually experience brief showers.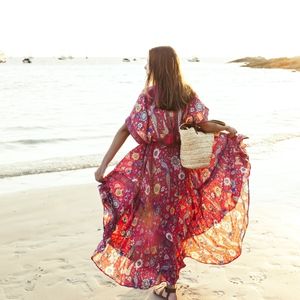 Current Fashion – Sundresses are incredibly popular even after the sun goes down! They're light, breathable, and look especially great as the skirt flares during dancing. Another excellent option is a collared, button-down shirt, whether patterned or one solid color. These have the benefit of looking both smart and casual for vacations.
While you'll likely want to impress friends and passersby as you go, you also want to make sure you're not uncomfortable enjoying yourself as much as possible! The above three things are important to balance when deciding what to wear on your big evening.
In addition to selecting the right outfit, consider elevating your look with some luxurious beauty products. Browse through this "Premium Beauty – Best Luxury Products" collection to discover high-quality items that will complement your ensemble and enhance your overall experience at Cancun's clubs. By indulging in these premium products, you'll not only look and feel your best but also fully embrace the glamorous nightlife that Cancun has to offer.
Check out these sundresses: Sundresses for Women
What is Acceptable To Wear To A Nightclub?
Now that we've covered enough considerations to generate ideas for hanging out in Cancun at night let's go over the city's most popular nightclubs and their dress codes if any!
Below is a list of the more popular nightclubs you might want to visit in Cancun, Mexico!
Daddy'O
Palazzo
La Vaquinta
Mandala Beach Club
Let's look a little more closely at each of these options to see what they offer and how you can dress accordingly!
1. Daddy'O
Daddy'O is unmistakable not only due to its popularity but thanks to its cool cave-like vibe and excellent music selection! It has been around for thirty years and has special theme nights several days out of the week.
The dress code in Daddy'O bar is "smart casual." Smart casual attire is best described as a mix of nice, fitting business clothes (like a suit jacket or a set of dress shoes) with casual clothes, like darkly washed jeans, blouses, and button-down shirts. You won't be allowed to come to Daddy'O's in ripped jeans and a hoodie!
However, some nights in Daddy'O bar are themed, as mentioned before! For example, Thursdays usually start the weekend with a bang during something they call "Bikini Night." For something like this, you'd not only be welcomed in wearing a bikini but expected to be sporting a swimsuit of some kind!
2. Palazzo
This bar in downtown Cancun is known for its fancy chandelier décor and the famous DJs that have enjoyed publicity there, like Marshmallow, Mak J, and Paul Van Dyk! Despite these high claims to fame, Palazzo only has a casual dress code.
"Casual" dress codes include a regular shirt, a pair of nice flats, and even jeans. One style Palazzo discourages is "sportswear," meaning baseball caps, sneakers, football jerseys, track jackets, or anything you might wear to your favorite team's big game.
Because it is such a notable, popular venue and has seen its fair share of celebrity guests, don't let the casual dress code keep you from dressing to impress! You never know if Marshmallow will show up.
3. La Vaquinta
If you're in Cancun and notice a bar decorated with cow print, you've found La Vaquinta! It is known for its huge drink sizes and reggaeton style of music selection.
Much like Palazzo, La Vaquinta disapproves of sportswear but is fine with casual dress, including blouses, jeans, and dress shoes. Remember that the façade is open, so you may benefit from a jacket or other light layers of clothing to stay comfortable.
4. Mandala Beach Club
Mandala Beach Club is praised for its excellent staff and mermaid attractions. Though the outdoor pool parties encourage nothing but a swimsuit to keep yourself comfortable, the Adult Zone does have a dress code.
The dress code for Mandala Beach's Adult Zone is listed as "casual-chic" beach clothes and sophisticated attire. This means you are not allowed to wear jeans, gym clothing, cargo shorts, or jerseys. You're also required to bring a bathing suit and beach-appropriate shoes.
In Conclusion
In conclusion, the best way to know what to wear in Cancun clubs is to take in the local weather and temperatures so that you're not uncomfortable and be aware of the nightclubs' dress codes and situations.
Check out these smart casual shirts for men: Smart Casual Beach Shirt
If you're going to hang out on the beach with the Mandala Beach Club, pack a bathing suit and wet shoes. If you're planning to go clubbing indoors, try business casual! Remember that light layers are always a good idea in Cancun's warm but nightly-dropping temperatures, and enjoy dressing to impress the other people loving a night on the town with you!
Now that you know what kind of outfit you're going to wear, you might be wondering Where is the party zone in Cancun?