If you're not living in a tropical country, hurricanes might not be typical. However, in a place like Cabo San Lucas, some months are prone to hurricanes, if not bad weather. As such, if you're planning a vacation to this city, you may wonder when is the hurricane season around.
Generally, the hurricane season in Cabo San Lucas starts from the middle of May to the end of November. However, you'll find most storms occur from August to October, and hurricanes only occur sometimes in the city. Nonetheless, the hurricane season means more bad weather days and rainy seasons.
When traveling to Cabo San Lucas or any other destination, the last thing you'll want is for bad weather to occur and ruin your plans. As such, it's best to understand the hurricane season in Cabo San Lucas to adjust your schedule and avoid the chances of visiting on a stormy or rainy day.
For this reason, we made this article to guide you about the hurricane season in Cabo San Lucas. This way, we'll inform you of the days when hurricanes, storms, and rains are most active in the city. Also, we'll give other insights to help you enjoy your stay should it rain or have bad weather during your vacation in the city.
Without further ado, let's get into it!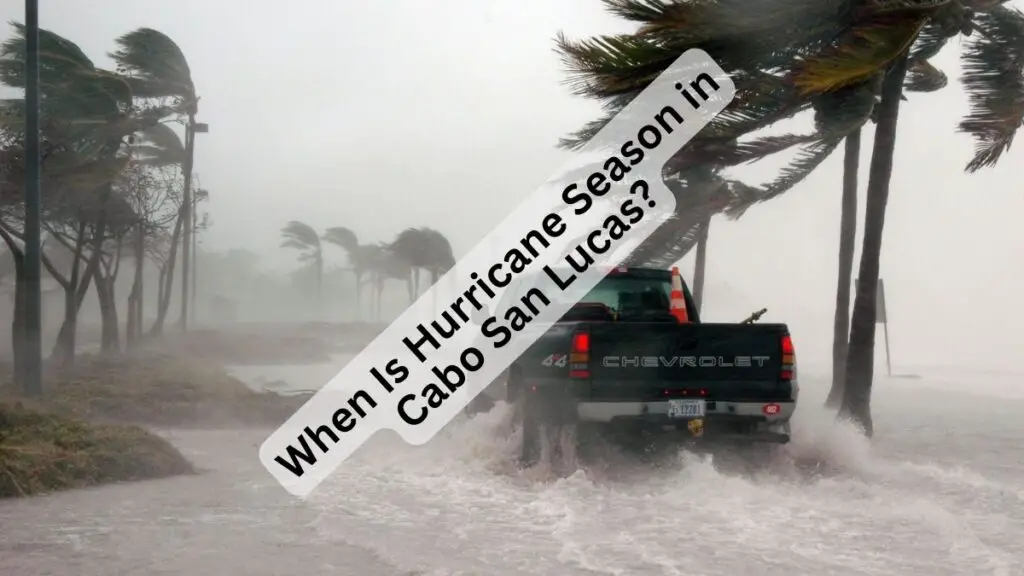 Does Cabo San Lucas Experience Hurricanes?
If you're searching for images of Cabo San Lucas, you'll always find the sunniest days in the city. As such, it's challenging to believe that this area can experience hurricanes.
Nonetheless, Cabo San Lucas is just like other coastal cities, and it experiences hurricanes, storms, and heavy rains from time to time. 
The good thing is that while it's possible to experience hurricanes, these calamities are rare. As such, even if you're visiting during hurricane season, chances are you won't encounter such.
Of course, the chances of heavy to moderate rainfall are higher than usual. Nonetheless, massive and extreme hurricanes are rare. The last extreme hurricane that hit this city happened in 2014.
Despite the severe losses many households and companies suffered, the city government's assistance enabled them to bounce back rapidly. 
Overall, the possibility that a storm will hit Cabo San Lucas during the hurricane season exists. Still, most are only tropical storms, and many pass over at sea.
What Is the Weather like During Hurricane Season?
As mentioned earlier, hurricane season doesn't mean hurricanes will come. In general, this season only refers to when hurricanes are prone to happen, and it's because of the weather conditions.
The hurricane season in Cabo San Lucas is pretty decent. However, you may find occasional heavy rain and winds during such a season. Further, most of the storms the city experiences are remnants, not direct hits.
Also, expect the weather this season to have one or two rainy days, and then the rest will be clear and sunny. 
Of course, hurricane season makes the weather hot and humid. As such, it's best to drink more water than you usually do and to cool your body off by swimming in the pool or the sea.
Activities to Do if It Rains in Cabo San Lucas
As a coastal city with the outdoors as the main tourist attraction, you may find most of your activities delayed by rains brought on by the hurricane season. Nonetheless, you'll find plenty of other activities if it rains in Cabo San Lucas.
Here are some of the activities you can enjoy on a rainy day in the city:
Spa
If it is rainy when you're about to head out and explore Cabo San Lucas' outdoors, it might be a sign for you to relax and pamper at a spa.
The city has numerous spas that offer different sorts of treatments and relaxation. With such, you can ease out on your day, pamper yourself, and head out relaxed and refreshed once the sun is out.
Shopping
Shopping will always be another form of entertainment you can do should it rain in the city. Use the rainy day to buy souvenirs or any item you want as a stay memoir.
Although experiences are better than items, it's still better than heading out into the rain and having a not-so-good activity due to bad weather.
Casino
Cabo San Lucas isn't significant when it comes to casinos or gambling. However, you can find several casinos around town where you can test your luck should you ever have some money to spare.
Here, you can find slot machines, roulettes, and other games of chances to consider. If you're not lucky with the weather, you may be with winning at casino games.
If you want to know more, read: Are There Casinos in Cabo San Lucas?
Gastronomy
Food will always have a spot in our schedule of things to do. However, when it tries, you can take that as a chance to explore your options and see what food you can enjoy around the city.
If you want to know more, we made an article including the best options for places to order food and drinks and even spots to enjoy some nighttime parties. 
To know more, read our article about The Best Restaurants, Bars, and Nightlife in Cabo San Lucas.
Is Cabo San Lucas Worth Visiting During Hurricane Season?
As mentioned earlier, Cabo San Lucas' weather is pretty decent during hurricane season. So even if you're traveling during these months, it will still be worth it.
Moreover, since it's off-season, you can find better deals and discounts with accommodations and activities. Also, you can find tourist destinations less crowded than usual.
You will enjoy your days by the beach while taking in the splendor of the Baja Peninsula if you visit Cabo San Lucas amidst hurricane season. Cabo San Lucas has predictable weather. As such, you will be okay with planning even during hurricane season.
Most visitors plan their outdoor excursions in the morning because most rainfall occurs in the afternoon and early evening. 
The employees at your resort will know what to do in case of storms in the city. They'll be prepared with an emergency strategy. 
You can generally stay safe during hurricane season by heeding their advice. However, you should also pay attention to the weather forecast and consider getting travel insurance if you are worried about the weather.
How to Stay Safe During a Hurricane in Cabo
If a typhoon or tropical hurricane forms, paying attention to all government warnings and instructions is crucial because you'll probably need to learn the precise weather forecast to reserve your holiday ahead. 
If you're concerned about taking an autumn vacation, you may get travel insurance for a refund if the weather turns bad. 
But since the unforeseen might occur at any time, knowing how to keep safe in Cabo San Lucas during a storm is equally crucial.
Follow any warnings about going outside or into the sea, and get ready by storing up on necessities like food, drink, lamps, and lights. 
However, the employees at a resort will have an emergency plan and provide you with all specific guidelines and supplies. 
If the weather worsens, several hotels also have backup locations where guests may be evacuated.
Best Time to Go To Cabo San Lucas
Even if you're planning a vacation to Cabo San Lucas during the hurricane season, you'll enjoy more days in the sun than in the rain. 
Nonetheless, if you want better chances of sunny days and clear skies, it's best to avoid trips during the hurricane season.
Now, before you skip the possibility of booking during the hurricane season months, you should know that there are benefits to this season as well.
For instance, travelers know this is an excellent time to find great travel deals. In addition, flight tickets and accommodation prices are at their lowest rates of the year because many tourists are reluctant to visit when the city is prone to storm occurrences. 
You'll also find fewer visitors, so you'll have plenty of space to stretch out on the coast and no waiting queues for a seat at the famous restaurants.
Although it is just around the horizon, if you check Cabo San Lucas hurricane season dates, most storms won't arrive until the late days of summer or early days of fall. 
Even then, the majority pass by, and during the past few years, the city has stayed secure. However, as hurricane season approaches, heed all travel warnings. You can also request information from your accommodation about their storm preparedness strategy. 
In short, travelers who seek clearer days and the best weather conditions should book outside May to November. However, budget travelers seeking deals and discounts on flight tickets and accommodation may book during hurricane season.
Conclusion
Hurricane Season in Cabo San Lucas is generally from the middle of May and ends by the last days of November. Nonetheless, the worst weather and storm occurrences happen from August to October. 
With this guide, we hope you plan your trip well and depend on your preference to find the perfect date for your holiday. Cabo San Lucas is a beautiful destination you'll enjoy, in or outside hurricane season.
If you want to know the best time to visit the city, read: When Is the Best Time to Visit Cabo San Lucas?