The weather and season play an essential part when it comes to snorkeling. A rainy season can generally lead to darker skies and less sunlight, providing a muted look of the underwater scene you enjoy from snorkeling. If you're visiting a beautiful place like Cancun to snorkel, you should know the best time.
The best time to snorkel in Cancun is from March to August. In general, the waters of Cancun are at their coldest during February and March. However, by the end of March, it's usually bearable. The warmest temperature of Cancun waters is usually between July and October. 
This article will discuss the best time to snorkel in Cancun and answer some related questions. This way, you can learn when is the best time to book your stay in Cancun, especially if you want the best snorkeling weather and experience.
Let's get started!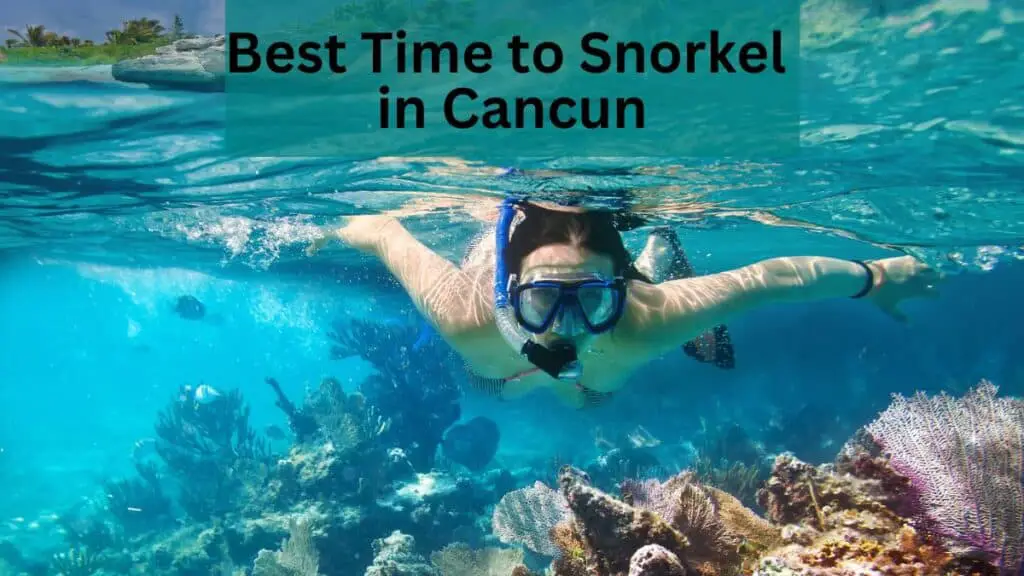 What Is the Ideal Weather for Snorkeling in Cancun?
The ideal weather for snorkeling is always sunny, with clear skies and calm waters. During this weather, you can enjoy marine life in vibrant colors, and you can have a better snorkeling view overall.
However, you can also enjoy snorkeling with a light wind and a few overcast skies. This weather leads to cool water temperatures for snorkeling, giving you a more comfortable experience.
If you're snorkeling in Cancun, you can always enjoy sunny weather (unless you visit during the rainy season). As such, it's always best to plan your vacation in Cancun during the dry season to have a better chance of a pleasant snorkeling experience.
Can You Snorkel on a Cloudy Day?
Although it's best to snorkel with clear skies, you can always snorkel even on a cloudy day. Overcast weather doesn't affect snorkeling much. However, if it's a heavy overcast and leads to a darker setting, you may not find the marine life enjoyable for snorkeling.
During such weather, you'll find the colors more muted, and you'll find it challenging to see from a far distance. However, if you're snorkeling at the good spots in Cancun, you may find a lot of marine life to enjoy, even on a cloudy day.
Can You Snorkel if It Rains?
You can always continue snorkeling even if it rains. Light or moderate rain generally doesn't affect the experience of snorkeling. 
However, if the rain comes with strong winds or even storms, it can cause the stirring up of the seabed and even lead to current changes. 
Furthermore, it can lead to river runoff, dangerous tidal conditions, and reduced visibility when snorkeling. For this reason, it's always best to do a weather check when planning a snorkeling experience. 
Also, some snorkeling tour companies would want to continue even during bad weather. If uncomfortable with such, you're always entitled to reschedule the experience.
Is It Better to Snorkel at High or Low Tide?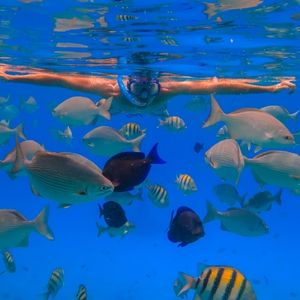 If you can choose between high tide or low tide, it's always best to choose low. Low tides give you a shallower snorkeling spot, giving you close and clear marine life to enjoy.
Generally, the tide level doesn't play an essential role in snorkeling. Instead, what you should consider most is the temperature and the season, as it would be the cause of weather conditions and can affect the entire snorkeling experience.
What Time of Year Is the Water Calmest in Cancun?
Calm waters improve the snorkeling experience, and if you're in Cancun, the water is calmest from July to October. Still, since September and October are the rainiest months in Cancun, July and August remain your best bet for a better snorkeling experience. 
These months are also the best time for fishing. If you want to know more about this activity in Cancun, read Fishing in Cancun.
When Is the Worst Time to Snorkel in Cancun?
The worst time to snorkel in Cancun is during the hurricane season, usually from June to November. Unfortunately, the hurricane season is also at its worst during September and October, so it's best to avoid visiting Cancun during these months if you want the best snorkeling experience.
There is a spike in average rainfall in June, a drop in July and August, and a rise in September and October of more than eight inches.
Quintana Roo's unbeatable weather makes Cancun a snorkeling paradise and contributes to its reputation. Still, if you need to avoid certain times, you should avoid the months of June to November, which are the peak of hurricane season.
Is the Off-Season Ideal for Snorkeling in Cancun?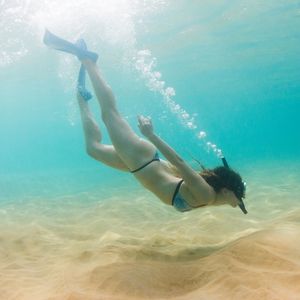 If you're on a budget, you're likely interested in visiting Cancun during the off-season. However, it's not the best time to do so in Cancun if you want to snorkel.
While the price of accommodation, flights, and other fees are lower during the off-season, you may not find it a suitable time for snorkeling.
During the off-season, the temperature, rainfall, and humidity are at their peak. Unfortunately, such weather and season aren't the best for snorkeling.
The best month to visit is May if you want to enjoy the discounts and deals from the off-season while still enjoying some snorkeling action.
May isn't the best month to snorkel in Cancun, but the weather is already bearable, and you can enjoy abundant marine life during this month. 
The months between December and April are considered the best for a holiday and for snorkeling in Cancun too. The weather is near perfect during these months, and you can find cheap flights, transfers, excursions, and room rates!
Best Time to Snorkel With Whale Sharks in Cancun
If you want to snorkel to see some whale sharks in Cancun, your best bet is to do so from June to September. During these months, the temperatures are around 30 degrees Celsius, which invites more whale sharks near Cancun and other neighboring coasts.
To enjoy watching the whale sharks migrate in numbers, you should visit Cancun between January and March. During this time, you can find whale sharks migrating to Central Mexico.
Conclusion
Overall, March through August are the best months to snorkel in Cancun. While you can also snorkel during the other months, it's best to avoid the months of June to November as it's the peak of hurricane season.
As always, it's best to check the weather when booking a snorkeling tour company. This way, you can enjoy the best snorkeling experience in Cancun. Now, if you want to know about other activities to enjoy in Cancun, read What To Do In Cancun?