If you're heading to Cancun, you are probably already wondering where the Party Zone is. You'll want to make the most of your holiday, so it's important to know where you're going, what you're doing, and how to get there.
Cancun's nightlife is definitely a highlight of the place, and it has its own Party Zone, which is sometimes referred to as Punta Cancun. It is packed with hotels and activities, DJs, live music, and more. It is found at the end of the Hotel Zone.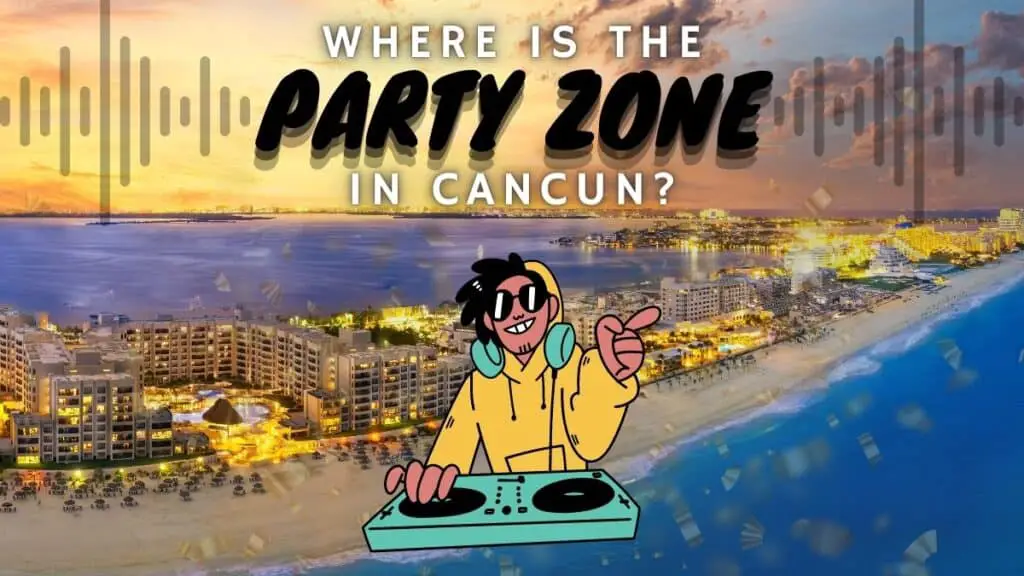 Is Cancun A Party Holiday?
Many people think of Cancun as a party holiday, and the fact that it has its own Party Zone reinforces this. It is up there with some of the other top party destinations you can visit, and people who are looking to enjoy an energetic, vibrant holiday will love going there. While you're in Cancun, you can:
Attend nighttime festivals and parades with fancy dress
Try local cuisine and alcohol, with dozens of restaurants and clubs staying open until morning
Dance to local music and listen to some amazing DJs light up the streets with sound
See live contests and competitions
Watch circus-style activities
Of course, Cancun does have many other things to offer, including breathtaking white beaches and amazing sunshine. Still, on the whole, it is considered perfect for parties, and it's a popular destination for many teenagers and young adults who want to dance, drink, and have fun. As soon as the sun goes down, the party starts.
This makes Cancun a great option for families that have teenagers, as it offers both daytime activities and fun for the teens at night.
Other things to do – Check out this article: What to do in Cancun.
Does Cancun Have Good Nightlife?
Cancun has great nightlife, and this is one of its biggest attractions for many people. It is positively crammed with bars and clubs, and the place really wakes up from about 11 PM onward. You will find open-air bars, cocktail lounges, dancing on the beaches, street food, and more wherever you look.
There are some amazing clubs to visit, and if you're a dancer, you'll never run out of fun. If you get bored of one club, you can easily head on to the next, and you'll enjoy themed party nights, festivals, and a wonderful atmosphere overall.
One of the reasons that Cancun is so great for its nightlife is the weather – because it's so warm, it's easy for people to be out all night without getting cold. You might find yourself dancing on a beach at 3 in the morning!
Where Is The Main Strip In Cancun?
There's a lot of debate about what the main part of Cancun is, but many people say that the main strip is known as Avenida Kukulkán, and it houses many of the hotels. If you are staying in Cancun, you will likely be staying on or near this strip, and almost everything you could want is located here.
The strip is home to a whole range of shopping plazas, restaurants of every kind and for every budget, clubs, bars, and a whole lot more. However, almost anywhere in the Hotel Zone can be considered the "main" area of Cancun, depending on what you are looking for.
The north of the Hotel Zone has the best dining and nightlife within easy walking distance and also includes amazing beaches and soft sands. This is the better place to stay if you want to be at the heart of the hustle and bustle, where all the action is happening. The south side is quieter, which may suit you if you'd like a more relaxing vacation.
How Much Does It Cost To Get Into Clubs In Cancun?
The prices will vary depending on where you go, so it's important to check out the costs for the venues you particularly want to visit. You might pay around $35 for most of the clubs, although some are lower and only cost around $10 for their cover charge.
Of course, there are also a few high-end clubs, like the Coco Bongo, which costs up to $150 for the cover charge – so make sure you check this out and decide where you want to spend your money before you go.
If you've got money to burn and you want an impressive night out, try one of the high-end clubs. If not, even the cheaper clubs will give you a fun, memorable experience.
If you want to go all-in, why not rent your own yacht? Check out this article: Renting a Yacht in Cancún – What You Need to Know
Best Bars And Clubs In Cancun
It can be difficult deciding where you want to go because there's just so much choice. Some of the best bars and clubs in Cancun include:
Dady 'O
Coco Bongo
Palazzo Nightclub
Senor Frogs
Mandala Beach Club
H Roof
Let's learn more about each of these so you know where you should go for your vacation!
Dady 'O
This is one of the oldest clubs in Cancun, and it hosts bikini contests, themed parties, and open bar promotions. It has great DJs and plays pop, techno, electro, and more, so it's a great place for young party animals.
It also offers an all-you-can-drink open bar that serves until 3:30 AM and has some amazing architecture. If you can find the time admire its cavernous walls while you're busy dancing. If you want lights, incredible costumes, and phenomenal music, this is the place to be!
It's only open 3 nights a week, so make sure you check this out before you go. On Thursdays, you can see the classic Bikini Bash, and on Saturdays, you can listen to a DJ light the place up with a fantastic mix of current and past music, pleasing any partyholic who steps through the doors!
Coco Bongo
One of the most famous and prestigious clubs, Coco Bongo, is known for putting on wild, breathtaking shows of every description, and it's a must-visit club for anyone who loves a bit of theater and drama.
Their shows include a range of dances, such as samba; stories like The Mask; and themed nights of famous music, like The Beatles. Alternatively, if you fancy watching Spartans doing stunts or anything else wild and wonderful, you should definitely check this club out.
Live acrobatics, great music, and a central location have made this place a must-visit and a top favorite among tourists. It also has a beach party experience with further acrobatics for everyone to enjoy.
Palazzo Nightclub
This one is famous with the bar hoppers because it offers strippers poles and contests and is open until 5 in the morning. Its open bar costs $60 per person, and the choice of music is usually electro.
It does have a higher cover charge of around $60, and the drinks aren't the cheapest, but there's a lot to see and do, and the place has amazing energy, with a great range of drinks to try.
Senor Frogs
An immensely popular bar, this place serves food, music, and fun and is usually packed with party-goers. It's located in the Hotel Zone and offers traditional Mexican food at reasonable prices. The atmosphere is great, and there's plenty for both kids and adults, so this one is wonderful if you're hitting Cancun with your family.
This place may not be as wild as some of the other options, but its focus is fully on having fun – and that's what you'll do if you visit it!
Mandala Beach Club
This beach club is the best place to go for anyone who loves pool parties. It's open from 10 PM to 5 AM, making it perfect for anyone who wants to make the most of Mexico's nightlife and watch the sunrise!
With a jacuzzi, 3 different pools, and talented DJs to turn the whole thing into a party, it's bound to pull in the tourists, and you won't regret a visit. You will also make the most of the phenomenal scenery while enjoying a vibrant and lively atmosphere. The music is excellent, the service is superb, and you won't regret checking it out.
H Roof
Anyone looking for nightlife that is positively electric will love H Roof, which combines house beats and skilled DJs, amazing decor, and pulsing energy. It's highly techno, with zizzy lighting and a decidedly cool vibe that any patron will enjoy.
A lot of people call this the best night out in Latin America, and for a good reason. If you're looking for a modern, intimate, exciting experience, it's the place for you. It's also pretty exclusive, with its #NotForEveryone tag and amazing atmosphere, so if you go here, be prepared to be wowed.
It's a good idea to check out the dress code in advance, as some people complain about being denied entry.
Conclusion
The Party Zone in Cancun refers to a large area that is positively crammed with bars and nightclubs to visit, and this place comes alive after dark. As the name suggests, it's got everything you could want in terms of vibe and atmosphere, making this one of the hottest places in Mexico!
If you are going to Cancun, did you know this: Can You Drive to Cancún From the United States?