When it comes to checking out a new place or planning a trip, the first question that we want to be answered is its location. We want to know where it is, how to find it, and how to reach it. For this reason, if you're interested in checking out Tulum, the first thing you'll ask is where it is located.
Tulum is a town situated in Quintana Roo, a state in Mexico. It's found on the Yucatán Peninsula and is reachable within an hour and a half drive from Cancun, a city of the state and the starting point for most Tulum tourists.
The location of every place we visit plays a significant role in deciding and making travel plans. The distance, the things to bring, and even the culture all start and depend on it. As such, if you need a precise guide to know the location of Tulum, then this one's got all you need.
In this article, you'll know where Tulum is located, its place on the map, its distance from other Mexican cities, and everything else you need to know its exact location. After reading this article, you'll have a detailed guide about reaching the town of Tulum to enjoy your fantastic vacation.  
Without further ado, let's get started.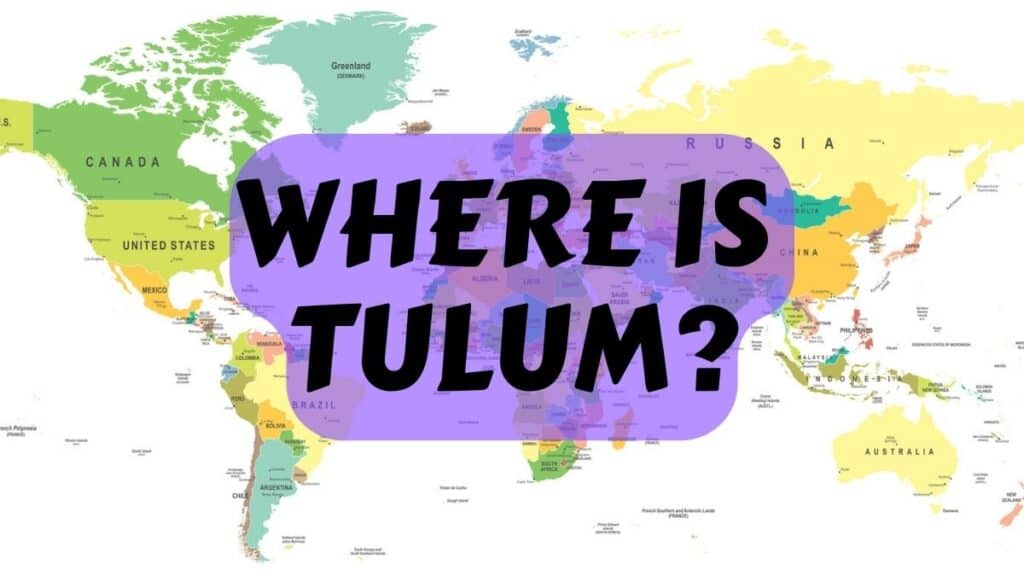 Where is Tulum Located?
Tulum is a town located within the state of Quintana Roo in the country of Mexico. The town often called Tulum Pueblo, and the nearby Tulum Mayan Ruins are in the heart of the Riviera Maya on the Caribbean Sea.
This town is also known as Tulum Pueblo. It is also popularly known as the home of the Tulum Mayan Ruins. Since it's located beside the Caribbean Sea, you can enjoy excellent beaches with the crystal clear blue waters welcomed by the fine white sand beaches on the shores.
As a tropical town, Tulum also homes a fantastic array of lagoons and luscious jungles. Further, the town offers warm accommodations through restaurants, and hotels, promising fun nightlife after exploring the area's beauty.
Which Country is Tulum In?
Tulum is located in the country of Mexico. It's one of the towns of Mexico's state Quintana Roo. As such, you should note that the town shares the same currency, language, climate, and other things any Mexican town has.
Now, if you haven't traveled to Mexico and it's your first time, you may wonder about the prices of food and drinks here. To give you an idea, we have written an article about it. You can read more on: How much do food, drinks, and beer cost in Tulum?
Where is Tulum Located on the World Map?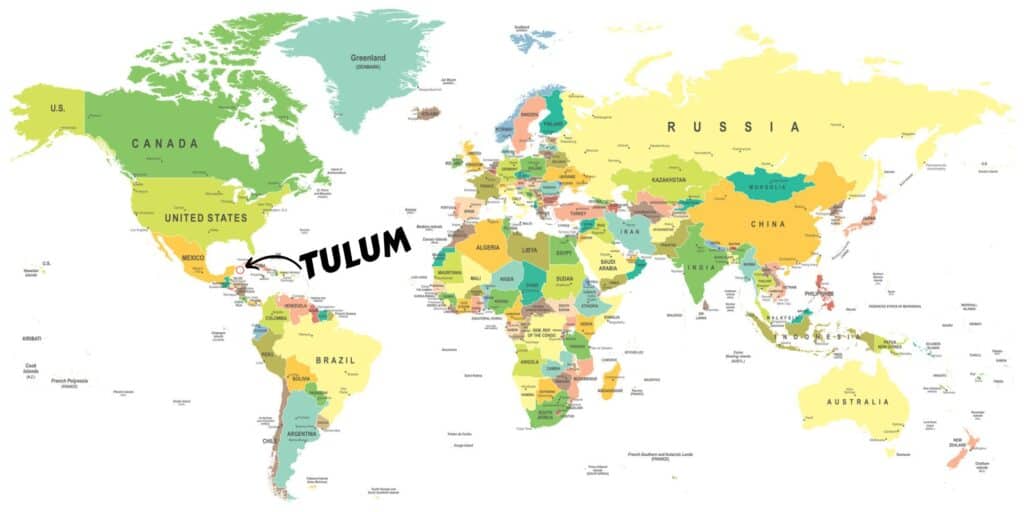 When you look at the world map, you'll see Tulum as a small spot on the far right side of the country of Mexico. It may even seem to be located almost on the tip of the tail-like image of Mexico.  
Tulum is a town that serves as a welcoming shore to the Caribbean sea's waters. Also, it sits beneath the Tropic of Cancer and above the earth's equator. As such, you can expect a hot tropical climate to suit this town at almost all times of the year.
For this reason, Tulum is one of the many options for travelers seeking to enjoy the warm weather with the mesmerizing sight of crystal clear waters, fine white sand beaches, and other types of natural wonders such as jungles, caves, and lagoons.
How far is Tulum from Mexico City?
Mexico City is the capital of Mexico and the largest city in the country. If you're coming from this city, Tulum is reachable by land, but the distance is 1533 kilometers or 952.5 miles. Thus, it will take you around 19 hours of drive (with only quick stops). If you're commuting, it can even consume a couple more hours. Thus, your best bet is to fly from the city to Cancun and then take a bus, a taxi, a shuttle, or a car rental to reach Tulum.
How far is Tulum from Oaxaca?
Oaxaca is another famous city in Mexico, and it's possible to reach Tulum through a long drive. However, it will take 19-20 hours to drive (with only quick stops) since the distance between the two places is 1583 kilometers or 986.6 miles. If you also commute by land, it can take more than that. Your best bet is still to fly to Cancun and travel by land from this city to Tulum. 
How far is Tulum from Merida?
If you're coming from the city of Merida in Mexico, Tulum is just 4-5 hours of drive away. With only 264 kilometers or 164 miles, you can reach this town within a couple of hours if you have a car. You can also find a bus that travels between Merida and Tulum, and this bus ride usually takes 5-6 hours. 
How far is Tulum from Guadalajara?
Guadalajara is a city in Mexico, and it's the farthest city among the ones we included on the list since it has a distance of 2069 kilometers or 1285.6 miles from Tulum. Thus, traveling by land will take a non-stop drive of 24 hours or more to reach the town. The fastest way is to travel by plane; it takes around 3 hours to reach Cancun. It will only take another few hours from this city to reach Tulum.  
How far is Tulum from Cancun?
Cancun is the most accessible city for everyone who wants to visit Tulum. In fact, almost every international (even local) tourist from Tulum starts at Cancun International Airport. To give you a better idea, look at our answer to the question: How far is Tulum from Cancun?
Conclusion
Tulum is a promising town if you want the best out of your vacation. If you're eyeing a vacation with access to fine white sand, crystal blue waters, other natural spots, and good nightlife, you'll find it all in this town. The only concern you'll need is to know where Tulum is and how you can find it.
After reading this article, you'll have an idea about Tulum's location and an answer to the first concern you may have about it. But, of course, you may have other concerns about this town, which is why we have a handful of helpful guide articles about Tulum to help you. For instance, if you're on a budget, you may find some helpful tips if you read more on: How To Do Tulum On A Budget?