If you're planning a visit to Tulum, you probably already know that the main areas in this town are the beach and downtown. Both areas offer a variety of hotels, apartments, and other accommodations. Thus, you may be wondering which area you should stay in. Is it better to stay by the beach or downtown?
If you are on a budget, staying long-term, or if partying is essential to you, Tulum town is the best place to stay. However, if you are on vacation and can afford it, you will find Tulum's beach zone to be the most memorable.
We know it can be challenging to choose from both areas. As such, we've written this article as a guide to let you know what these two areas can offer you. This information can help you plan according to your preference and choose the most convenient option.
Without further ado, let's get into it!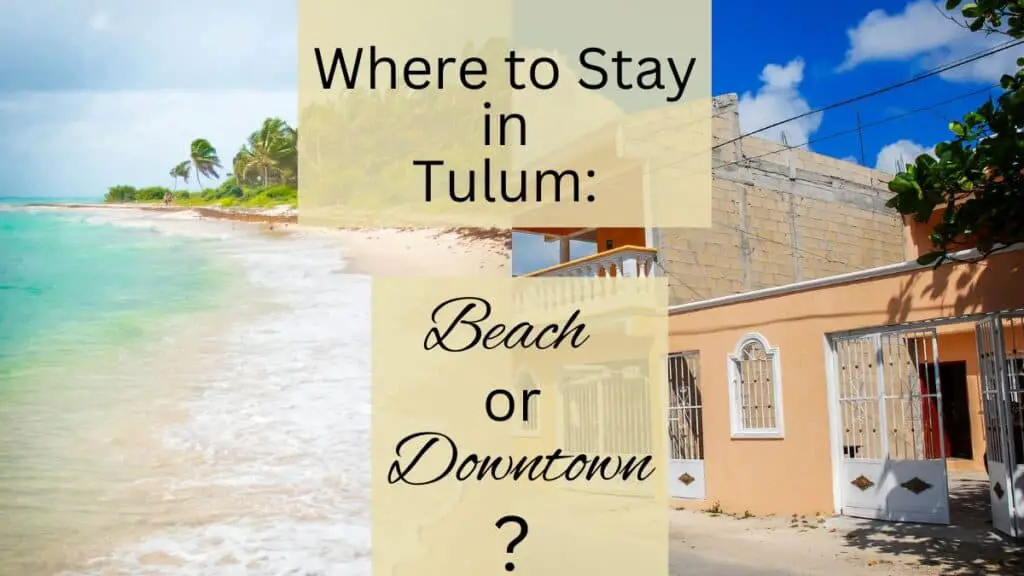 Tulum Downtown (Tulum Pueblo)
Tulum Downtown is the center of Tulum, and it's the area where locals tend to stay. Here, you can enjoy affordable shops, restaurants, and hotels. Thus, it's the area to choose if you're visiting Tulum on a budget or if you plan on having a long-term stay in town.
Although the downtown lacks beachfront access, hotel owners compensate for it by providing other experiences and amenities.
For instance, you can find hotels downtown offering a jungle vibe setting, a chic bohemian style, and other aesthetically pleasing vibes. It's also where you can find stylish Airbnb properties for rent. If you want to know some Airbnb options in Tulum, read: Best Airbnb in Tulum.
In short, you won't regret booking a hotel in downtown Tulum since they fall nothing short with design.
Plunge pools and other stuff also compensate for the lack of beach access. These things make hotels downtown worth considering. 
The hotels also compensate for it by providing several amenities and activities. For instance, you can enjoy spa treatments, yoga classes, local ceremonies, and other activities centered on wellness and healing.
Of course, staying in downtown Tulum doesn't mean you're prohibited from enjoying the beach. Most hotels offer complimentary bikes for rent if you want to explore the beach zone. 
The town also has various taxis if you want to hit the beach. The travel time to the beach takes around ten minutes, so you won't miss anything by staying downtown.
Pros and Cons of Staying in Tulum Downtown
Here are some of the pros and cons of staying in Tulum Downtown if you want to consider booking accommodation in this area:
Pros
You'll find the cheapest accommodation in this area.
It's budget-friendly, especially for long-term stays.
Experience the local life of Tulum.
You can enjoy affordable groceries, restaurants, and local shops.
You can find some jungle vibes and chic boutique hotels.
Cons
It takes a few minutes of traveling to go to the beach.
Parking can be limited.
There's a lot of traffic, especially during peak hours.
How Far Is Downtown Tulum From the Beach?
Downtown Tulum is about 3 miles (5 kilometers) from the beach zone. The travel time will be around 10 minutes if you're driving a car or taxiing. If you're on a bike, you can reach the beach zone within 15 minutes of downtown.
Can You Walk From Downtown Tulum to the Beach?
You can walk from downtown Tulum to the beach zone. However, it may take around 45 minutes. If you're up for some long walks, then it's something you can consider. Overall, the route is safe for walking but can be hot at midday. Thus, it's best to walk early in the morning.
Tulum Beach (Hotel Zone)
Tulum Beach, also known as the Hotel Zone, is the area in town that houses some of the best hotels, restaurants, and even bars. Most of these establishments provide a fantastic overlooking view of the beach.
For this reason, the Beach or Hotel Zone makes the perfect area for travelers to stay. But, of course, the best views and quality establishments come with a high price.
In general, most of the activities in this area offer a fantastic view, and it's usually by the beach. For instance, you can enjoy some barefoot dining, yoga sessions, massages, and spa therapies, all beside the beach.
You can also find some chic stores here, but they won't be as affordable as the ones in downtown Tulum. 
In short, if you have the budget and want to enjoy the best of Tulum, your best bet will always be booking a hotel within the beach zone. 
If you're staying at the beach zone, it's even best to book a beachfront hotel. But, if you want to know more about it, read: Why Should You Book at a Beachfront Hotel in Tulum?
Areas in the Beach Zone
If you plan on staying at the beach zone, you should note that there are four different areas around, each offering a different vibe from the others.
North Beach
The North Beach gives off an intimate, secluded, and romantic vibe. As such, you can find adult-exclusive and couple-friendly hotels in this area.
Beach Town
The beach town is near the center, where you can find the cheapest options by the beach. Still, it's not as affordable as the ones you'll find downtown.
Middle Beach
You'll find restaurants, beach clubs, and bars at the middle beach. As such, it's the area to check out if you're up for nightlife and parties by the beach. If you want to know more about parties and nightlife in this town, check out: Tulum Nightlife.
South Beach
The south beach offers another area that's secluded and less crowded. Here, you can find family-friendly hotels, the center of wellness activities, and other healing areas. The south beach is also the nearest to Sian Ka'an Biosphere Reserve, a popular tourist spot in town.
Pros and Cons of Staying in Tulum Beach
Here are some of the pros and cons of staying in Tulum Beach if you want to consider booking accommodation in this area:
Pros
Excellent beach hotels and amenities
Near fine-dining restaurants
Availability of several activities and water sports
Near beach-view bars and beach clubs
Cons
The costs of accommodation can be expensive.
The food and other items are also pricey.
The hotel zone can be crowded.
Aldea Zama: A New Developing Area in Tulum
While Downtown and Beach are the two main areas in Tulum, the Aldea Zama is a new area under development.
Aldea Zama is a luxury area about halfway from Pueblo and the Beach. As a luxury development, the neighborhood offers a suburban feel. 
Further, Aldea Zama already houses several boutique hotels and restaurants. As such, you can already book some accommodations in this area.
Still, it's worth noting that most of the area is still under development. Thus, if you plan on visiting the area, you will find many establishments are still under construction. 
Nevertheless, this area's available hotels and accommodations are already fully furnished and ready to welcome guests.
Conclusion
In a nutshell, the downtown area is for budget travelers and those looking for long-term stays. The beach area is the best for travelers who don't mind paying extra for accommodations to enjoy the best out of Tulum. The Aldea Zama might be worth considering if you want to try something new.