If you're looking for hotels in Tulum, you'll find several options with the term 'boutique.' While boutique hotels sound appealing, you may be confused and wonder what it means. So, you may wonder: Why are boutique hotels better? 
Boutique hotels are better than typical hotels because they are smaller but upscale properties. These hotels have a distinct appearance, better guest experience, and more personalized accommodations. Most boutique hotels in Tulum offer a chic establishment with a beachfront view or access.
If you're unfamiliar with boutique hotels, you'll first wonder how they can be better than typical chain hotels. This article has rounded up everything you should know about boutique hotels. This information can help you decide whether it's worth booking this type of hotel during your Tulum vacation.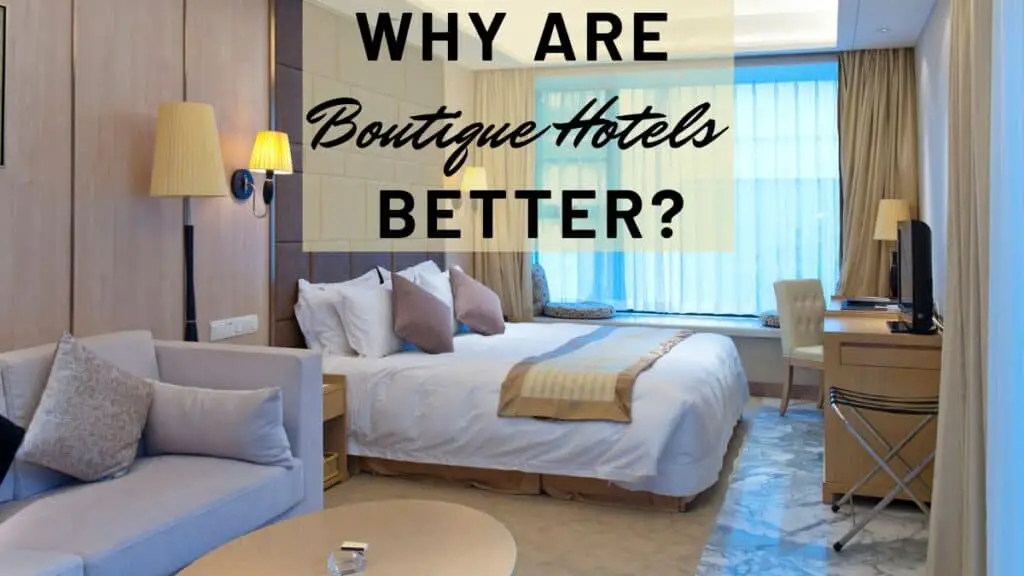 7 Things That Make Boutique Hotels Better
To give you a better idea, we've rounded up every reason that makes boutique hotels better than regular hotels. Thus, after reading these reasons, you can understand why choosing a boutique hotel as your accommodation in Tulum is ideal.
1. Authentic Tulum Experience
One of the best reasons boutique hotels are better is that they offer an authentic living experience, which applies to Tulum's boutique hotels.
If you stare at the pictures of boutique hotels in Tulum, you'll find a jungle or beach vibe, and these two themes improve boutique hotels.
It's incomparable compared to typical chain hotels' generic designs and services. These options have no lengthy structure, making the design and vibe as flexible as possible.
For instance, most boutique hotels in Tulum use locally sourced food, furniture, flowers, and even amenities. In short, boutique hotels take advantage of the area, usually Tulum Beach or Tulum Pueblo.
Further, since owners can upgrade and develop interiors and amenities, the potential of living a Tulum lifestyle for guests is possible.
As such, boutique hotels are trending as travelers seek authentic experiences of living in Tulum, even if they're simply guests.
2. Minimal Guest Capacity
Boutique hotels are typically small and usually house ten to a hundred rooms. Some boutique hotels even include suits. In Tulum, boutique hotels usually contain only 20 to 30 rooms. 
You'll find these hotels more intimate than regular chain hotels. It also means that the service is more personal (which we'll cover later on).
The minimal guest capacity makes a boutique hotel feel more homey and cozy. You'll enjoy it, especially when you're on a Tulum vacation.
3. Unique and Stylish Design
As mentioned earlier, Tulum's boutique hotels offer a unique and stylish design that blends well with the lifestyle of the laid-back town. As such, it adds to why they become better options.
In general, travelers visiting Tulum will prefer staying in chic places rather than plain-looking ones. Since some boutique hotels imbibe the Tulum lifestyle, it's a place that will surely attract many people.
You may even house boutique hotels in Tulum in renovated homes or modern, innovative buildings. Additionally, they can feature trendy artwork, bands, and music.
It is common for boutique hotels to create a distinctive atmosphere. They avoid providing a 'cookie-cutter' hotel experience to their guests, even if they are part of a chain.
Furthermore, most boutique hotels are independent, although bigger chains have also begun to create their own.
In some cases, the hotel has a theme that runs throughout. As I mentioned, most of Tulum's boutique hotels have a lush jungle vibe or an ocean or beach vibe.
Alternatively, while a few boutique hotels offer out-of-this-world themed rooms, most follow a contemporary look that combines chic, stylish, and some personality.
4. Personal Attention and Care
Another reason boutique hotels are better is their more personal and attentive service. But, again, this feature concerns fewer guests than typical chain hotels.
When you stay at a chain hotel, chances are you're among the hundred guests they accommodate. With only a few staff, you will always see them busy and doing several tasks. In short, you won't get the personal attention you want. 
Guests at boutique hotels have a positive experience because they are smaller and have fewer rooms. As a result, you can inquire with staff, make reservations at on-site restaurants, and rest assured that everything you need will be available without delay.
In addition, boutique hotel guests benefit from more personalized service since they are smaller. You may select a hotel that offers bespoke amenities or an extensive guide to the area based on your preferences.
Every staff member will do their part during your stay to ensure you have an enjoyable experience.
5. Great Value
Many boutique hotels in Tulum are trendy and hip, so they often possess the latest technology and delectable food that is in season and flavorful. 
For instance, most boutique hotels in Tulum blend Tulum's tropical lifestyle and contemporary design to give guests a relaxing, modern experience while still giving the best image of Tulum.
Also, most boutique hotels in Tulum have on-site restaurants, each offering Mexican or other local cuisines. 
As a result, you get to enjoy more exciting hotel perks for a pretty good price compared to what you would spend at a large chain hotel that may not be as modern or niche as this one.
6. Located in Fashionable or Popular Areas
Boutique hotels are often located in stylish or popular areas, almost in the center of cultural spots. Some are on busy streets, while others are in back alleys or residential areas. Nevertheless, they are easily accessible from the city.
In Tulum, most boutique hotels are situated on the outskirts of the hotel zone or Tulum Pueblo. Further, they are located either on a beachfront or beside the jungle. Some are even located in the new Aldea Zama area, where development is still ongoing.
At the same time, while it quickly differs from one hotel to another, one thing is for sure: they prioritize providing an easy option to go to some of the best cultural and artistic spots. They also aim to be a great jump-off point to explore the rest of the city.
In most cases, Tulum's boutique hotels often offer easy access to cenotes, lush jungles, beaches, and even the famous Tulum Ruins.
7. Lots of Activities
Since boutique hotels provide an authentic experience related to the place, they also offer activities. In most cases, they range from culture to art and food. 
In most cases, these hotels incorporate details of their cities into what they offer and serve their guests. 
Regarding boutique hotels in Tulum, you'll find each option offering lots of wellness activities and excursions, as the town is famous for such.
Some of the activities they may offer are:
Yoga classes
Spa treatments
Bike rentals
Scuba Diving
Boutique hotels always highlight local artists and serve locally sourced ingredients, and Tulum's boutique hotels are no exception. 
As a result, they have become more popular than ever among travelers who want to experience a place as authentically as possible.
Conclusion
With these features and advantages, you've likely already realized why many visitors to Tulum book a boutique hotel. Now, if you have already decided to book a boutique hotel in Tulum, chances are you're searching for the best ones around. Lucky for you, we rounded up all boutique hotels and listed five of the best options.
If you're ready to discover the boutique hotels in Tulum, read our article about the Best Boutique Hotels in Tulum.