If you're interested in visiting Tijuana, one of the first things you'll wonder is why people go and visit the city. For instance, the stats mention that the crossing in Tijuana accommodates around ninety thousand travelers daily. Also, Tijuana is among the most visited cities in the world.
Thus, if you want to know why people go to Tijuana, here are the seven most common reasons. Each one will tell you why this city receives numerous visitors and is worth visiting.
Without further ado, let's get into it!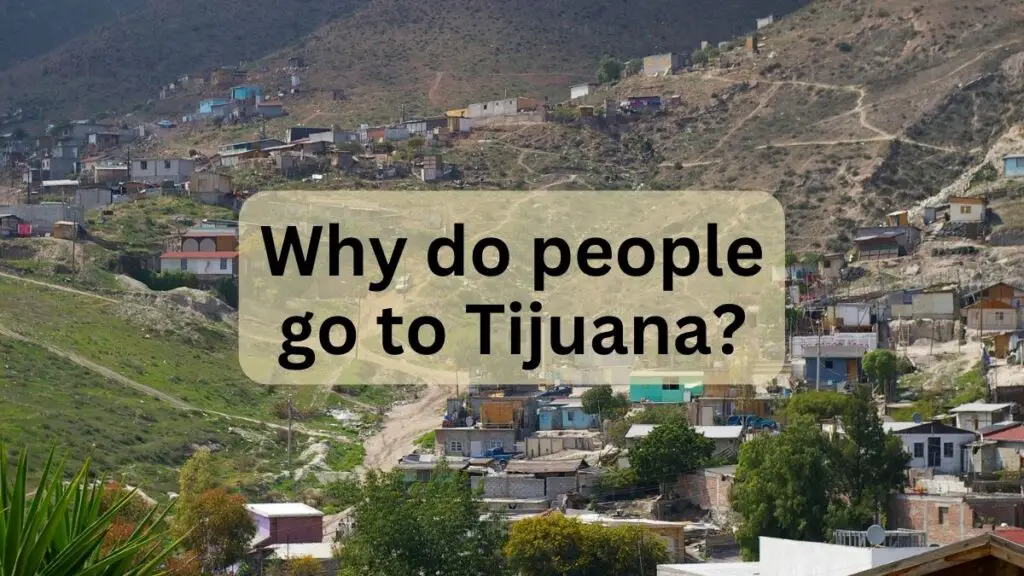 Accessibility
Tijuana is one of the most accessible cities in Mexico, especially if you're coming from the US. Since Tijuana is adjacent to San Diego, it sits directly across the border. As a result, the border only takes a few minutes to cross, be it on foot or in a car.
For this reason, many people from San Diego and nearby towns and cities of the US can enjoy Tijuana within the day. Some people generally cross the border early in the morning, explore the city, and return to the US before the day ends.
Many people visit Tijuana to experience the border crossing process. They cross a border on foot and have already visited another country.
If you want to visit Tijuana from San Diego, read How to Get to Tijuana from San Diego?
Authentic Mexican Food
Although San Diego and other US cities have many Mexican restaurants, nothing beats the experience of Mexican food in Mexico itself.
As such, many people find it satisfying to eat authentic Mexican food in Tijuana since it's just a few minutes away from the US. 
Also, some Mexican restaurants in the US have redefined Mexican cuisine so that they aren't authentic anymore. So if you want to try some, Tijuana is your best option.
Finally, enjoying authentic Mexican food in Tijuana costs less than it would in the US. 
For instance, you can already enjoy three full meals for your breakfast, lunch, and dinner for only 200 MXN, which is only roughly 10 USD.
Moreover, Mexican snacks like tacos only cost around 50 MXN or 2.50 USD. In short, you can satisfy your hunger by eating some Mexican food without hurting your wallet.
Family Visits
Some people go to Tijuana because some of their relatives live there. However, many people choose to live in the city due to the proximity to San Diego and other nearby US areas. 
As time passes, numerous US citizens have stayed in Tijuana, and most of their relatives visit them by crossing the border every weekend.  
Nightlife
The nightlife in Tijuana isn't the same as in the US. One of the main differences is that prostitution is legal, and many people come to Tijuana for that part.
At the same time, it's common for people to enjoy some bars and parties in Tijuana since the drinks and food are cheaper around the area.
Finally, the Mexican vibe for parties is something many people want to experience. As such, it's one thing that makes US citizens cross the border often if they want to have something fun.
Lower Cost of Living
While some people only visit Tijuana, others prefer to live here, and the reason is none other than a lower cost of living.
Whether renting or buying a property in Tijuana, you'll spend less than in cities like San Diego. 
For instance, a small apartment with a single bedroom and bath can cost only as low as 5000 MXN. Such a price is only around 250 USD a month. 
On the other hand, the same-sized apartment in San Diego would likely be 5 to 6 times higher at around 1200 to 1500 USD a month.
For this reason, some people decide to live in Tijuana, even if they're working in San Diego. With such a way of living, they earn the rates in San Diego and spend less while living in Tijuana.
Now, if you're considering buying a property in the city, you can read How Much Does a House Cost in Tijuana? 
Leisure
Of course, tourism will always be one of the common reasons why people go to Tijuana. However, by simply crossing the border for a few minutes, you can enjoy what Mexico offers through this city.
Here, you can find endless options of malls, local stores, and restaurants to enjoy Mexican culture. Moreover, a trip to Tijuana doesn't cost much, making it a perfect vacation destination for budget travelers.
If you're interested in shopping in the city, read our guide about Shopping in Tijuana.
Work and Business
As mentioned, many people decide to live in Tijuana, but others also cross the border and visit the city for work or business. 
Some people cross the border every day to work on the other side of the border. Some people work by crossing the border to transfer or deliver goods from one country to the next. 
With this city's fast border crossing process, many people use the crossing every day without any problems. As such, it's an ideal place to do some work or business.
Medical Reasons
Another common reason why people go to Tijuana is that this city's medical expenses are cheaper than in the US. 
For instance, a check-up with the doctor is more affordable in Tijuana. As a result, some people cross the border and go to the city to see the dentist.
Also, most people who need prescription drugs visit the city since it's also more affordable to buy these medicines in Tijuana. 
---
The reasons mentioned above only show how special Tijuana is for many people. Here, you'll find plenty of things to enjoy, and you can do so by spending less than you would in the US. 
While most of the reasons why people go to Tijuana are personal, some might be interesting to experience for a traveler. 
As such, if you're still wondering if Tijuana is worth visiting, you can check it out and discover what this Mexican city offers. To know more, read about the 15 Things Tijuana Is Known For.