Mexico City is the country's largest city by number of residents. Here, you'll find over a hundred museums, historical landmarks, and a stellar food scene, making this city a must-see. However, despite all these attractions, you won't find any beach. 
As such, if you're visiting Mexico City and want to see a beach at least once, this article is for you. Since Mexico City has no beach, this list contains the best beaches to visit from Mexico City, and the nearest beach areas you can find. We'll also cover the distance and the estimated time travel to help you enjoy a nice beach getaway even if you're in the city.
Without further ado, let's get into it!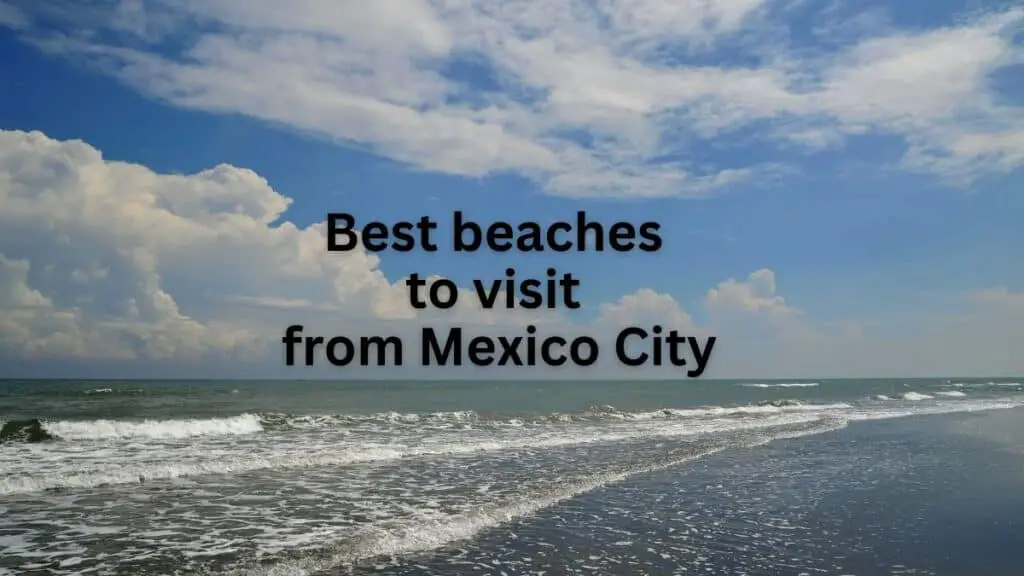 Best Beaches Near Mexico City
Listed below are ten beach areas near Mexico City. We'll start the list with the closest beach to the farthest. Each beach may take several hours to travel; some would be faster by air travel. Nonetheless, they are the nearest beach areas you'll find best from the city.
Tecolutla, Veracruz
The Tecolutla Beach in Veracruz is the closest beach area you'll find from the city. With only 321 kilometers of distance, you can enjoy the beach's beautiful emerald-green waters and much space. Easily accessible by car from the city, the area offers plenty of hotels and restaurants.
Costa Esmeralda (Emerald Coast)
Another nearby beach from the city is Costa Esmeralda which is only around 340 kilometers away. This beach area offers beautiful views of the Gulf Coast and delicious local cuisine. Casitas Beach, Montegordo Beach, and Guadalupe Beach are the most popular beaches in the area.
Acapulco
The following nearby beach from the city is Acapulco, with a distance of 380 kilometers, and it's considered the most famous out of all the country's beaches. Hollywood movie stars frequented Acapulco in the 1950s and 1960s, but now this city is more popular with Mexican residents who want to get away on the beach without flying.
In recent years, Acapulco's reputation has been adversely affected by gang violence, but budget travelers remain attracted to the Pacific beaches of the city for its affordability. The beach of Acapulco is famous near the city, and it's a great budget destination since hotels and food are cheap there.
Playa de Barra Vieja
With 396 kilometers from the city, Playa de Barra Vieja is the fourth nearest beach. This beach is also located in Acapulco, and it's famous for its gastronomy and long beach that stretches for 15 kilometers. Due to its warmer water and better sand, many tourists say this option is one of the best beaches in the area. 
Troncones
Another excellent beach area to consider is Troncones. It's 482 kilometers away from the city. A significant community of North American ex-pats lives in Troncones, a beachside village.
Despite its reputation for being a wild Pacific coast paradise, Troncones is becoming increasingly popular. You can relax in a hammock and listen to the crashing waves while enjoying the tranquil scenery.
Approximately five hundred permanent residents live in the community. Sunsets here are spectacular, and the beach is clean and uncrowded. Surfers will find the waves in this area ideal for surfing.
Ixtapa-Zihuatanejo
The Ixtapa-Zihuatanejo beach lies along a tropical mountain range in Guerrero State, and it's only 482 kilometers from the city. In contrast to Acapulco, these towns offer a more relaxed atmosphere and fewer tourists.
You'll find secluded golden-sand beaches a bit south of town, so you can spend the afternoon relaxing.
Enjoy a tasty margarita while watching the colorful sunset in one of the beachfront bars. In this authentic small town, you'll find the best place to watch a sunset than a cozy bar on the Pacific Coast of Mexico.
Bahia San Agustin
Bahia San Agustin is 716 kilometers from the city, but it's worth visiting because of its offers. With rocky cliffs surrounding it, this beach provides the perfect getaway along the Oaxaca Coast. 
The nearby reefs make the area ideal for snorkeling and diving. If you're in a hurry, you can stop for lunch or dinner at the small local restaurants in the fishing village nearby.
Huatulco
Huatulco is another excellent beach, although it's 727 kilometers from the city. Here, you'll find 36 bays, making it one of the most popular beach towns on the Oaxaca Coast. You'll need a car to explore the area and visit some of the most popular bays, but you can also take a boat tour.
Mazunte
Mazunte is one of the best beaches and unspoiled views along the Pacific Coastline along the Oaxaca Coast. It's an excellent option if you're coming from the city since it's only 731 kilometers away. Once discovered, Mazunte became popular with yoga lovers and travelers who enjoy spending time in nature after being a hidden gem for centuries.
Puerto Escondido
Puerto Escondido is a surfing town famous for its high waves and nesting turtles. Despite its 762 kilometers from the city, it's worth a visit. Zicatela hosts many surfing events yearly, making it a surfer's haven. A visit to this beachside town will be a blast, whether you want to surf or release newly-hatched baby turtles into the ocean.
Easiest Beach to Get to from Mexico City?
Acapulco is the most accessible beach to reach from the city. It takes just a few hours to get to Mexico City by bus. Although Mexico City doesn't have beaches, it is close to several. Mexico City is an hour's flight from Puerto Escondido and Bahias de Huatulco, and you can drive to Acapulco and Ixtapa-Zihuatanejo.
What Is the Closest Beach from Mexico City?
In Veracruz, Tecolutla is the closest beach to Mexico City, just 190 km away. It's just a few hours' drive from the capital, and Tecolutla has several beaches along the Gulf of Mexico.
Where Do People in Mexico City Go to the Beach?
You will find no beaches in Mexico City since it is in the middle of the valley. Nonetheless, you'll find nearby beaches within a few hours of land travel or an hour by plane. If you want a quick weekend getaway from Mexico City, you can head to Acapulco or Tecolutla.
How Long of a Drive Is It from Mexico City to the Beach?
Mexico City's closest beach is Tecolutla in Veracruz, just 190 kilometers away. It is a perfect getaway from the capital because Tecolutla's beaches are along the Gulf of Mexico.
Conclusion
While Mexico City does not have beaches, several beach towns are just a few hours' drive away from the country's largest city. So whether you decide to ride a bus, rent a car and drive, or take a flight, you'll indeed have an excellent beach getaway with any of the abovementioned options.